Convert 2D Blu-ray to Glasses-free 3D Blu-ray for LG Optimus 3D P920
Do you have a 3D smartphone and would like to view your favorite Blu-ray movies just on your phone with great 3D effect? Then you may have a look at the next tutorial about how to convert 2D Blu-ray to glasses-free 3D Blu-ray with DVDFab Blu-ray Ripper and DVDFab 2D to 3D Converter. You don't need 3D glasses, don't have to be tethered to a 3D TV, just enjoy 3D wherever you go with your eyes.
Glasses-Free 3D Blu-ray > Step 1: Run Blu-ray Ripper and 2D to 3D Converter
Start up DVDFab and run Blu-ray Ripper. Choose "3D device" mode. Then import in the source Blu-ray. After the source movie is opened, you will notice that the "2D to 3D" option is automatically checked, which is the incarnation of DVDFab 2D to 3D Converter.And you can also see all movie titles with the longest one selected by default. Just choose any titles you want to convert. Then choose a profile based on the smart phone you own, such as HTC EVO 3D, LG Optimus 3D P920, Sharp SH-12C Aquos 3D, or Sharp SH-12C Aquos 3D. Note that besides 3D smartphones, there're also other profiles for Fujifilm FinePix REAL 3D V1 viewer and iPhone 4. Let's take LG Optimus 3D P920 for example.
Glasses-Free 3D Blu-ray > Step 2: Shape your desired 3D output
You can customize the glasses-free 3D Blu-ray as desired. It's very easy for you to choose audio tracks and subtitles just on the main interface. Want to convert part of a title? OK. Click "Title Start/End Settings" to re-specify the title's start/end chapter. For 3D video effect settings, just hit "Video Effect Settings" button. In the settings window, there're 3 pages: 3D, Crop, Resize. In the 3D page, the "Left/Right (side-by-side)" option is selected in default for glasses-free 3D output. You can still freely set "Visual Depth" and "Gain" value right in here.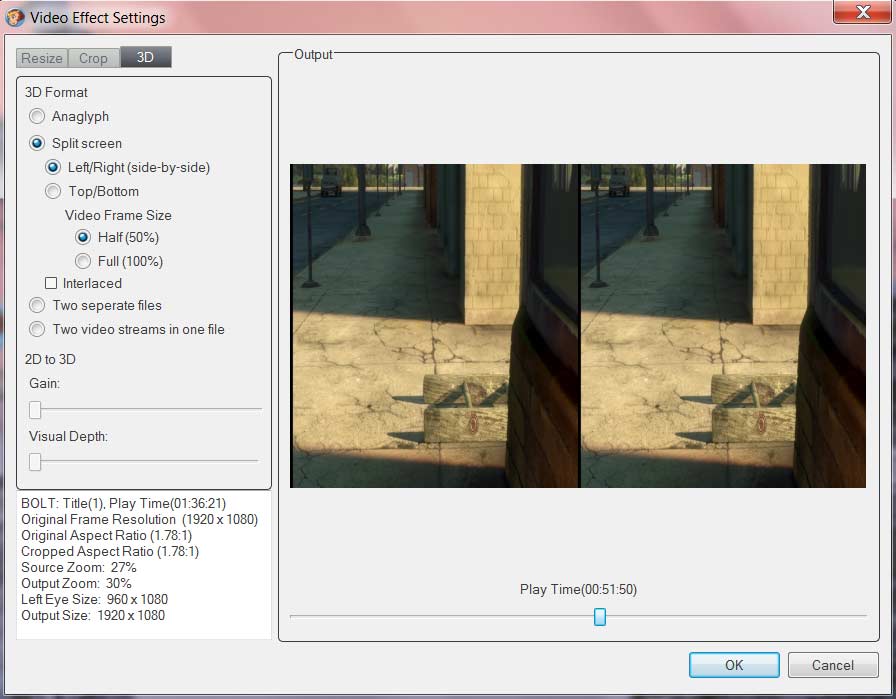 In Crop page, you can crop automatically or manually for a satisfactory active region of the image for display.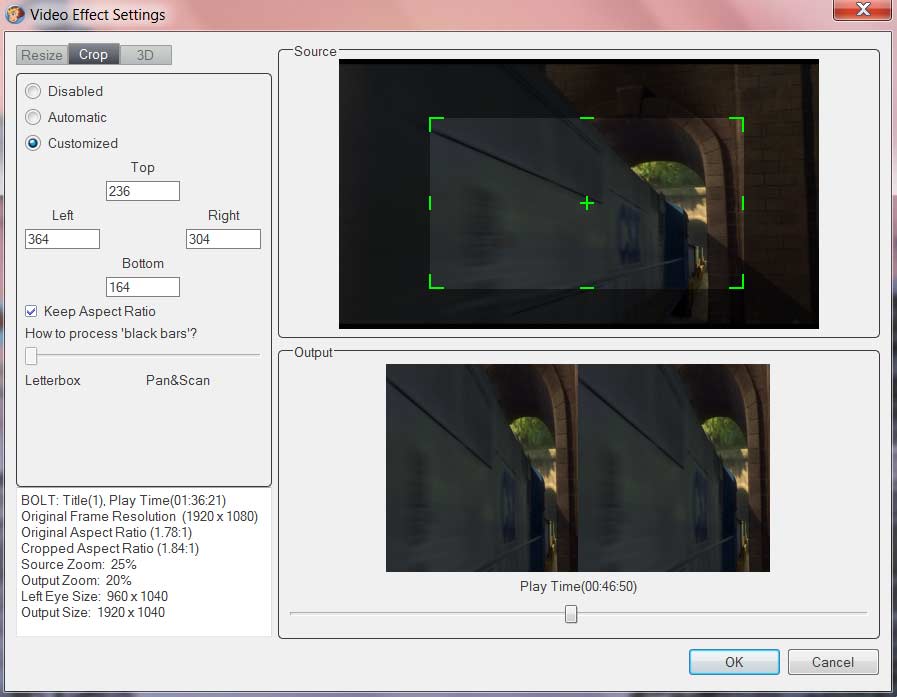 The Resize page is where you resize the source aspect ratio and frame resolution.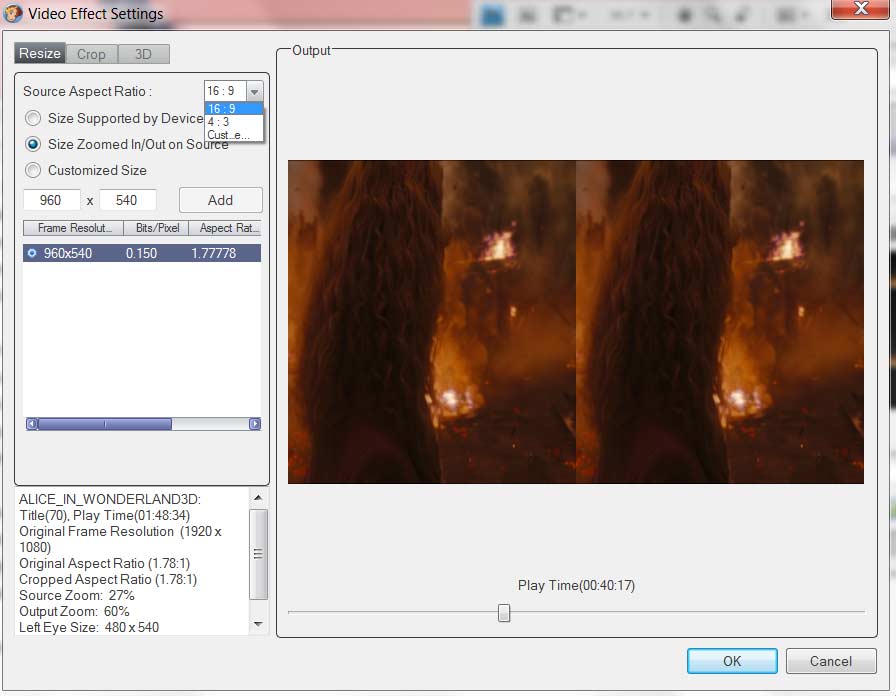 Do you know that you're allowed to set all video/audio parameters? If you're professional at this, click "Edit" button to "Conversion Settings" window. The bit rate, frame rate, frame resolution, aspect ratio, audio channel, volume, etc. are ready for you to set up.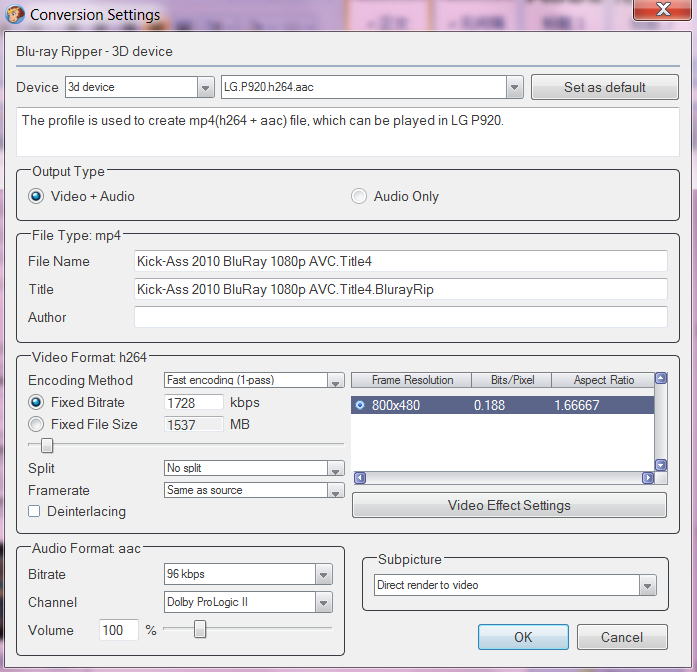 Glasses-Free 3D Blu-ray > Step 3: Hit Start button
When you're ready, hit Start button to start converting. The conversion process provides you detailed progress info, source movie preview, and auto shutdown functionality. And the whole process will be finished successfully quickly.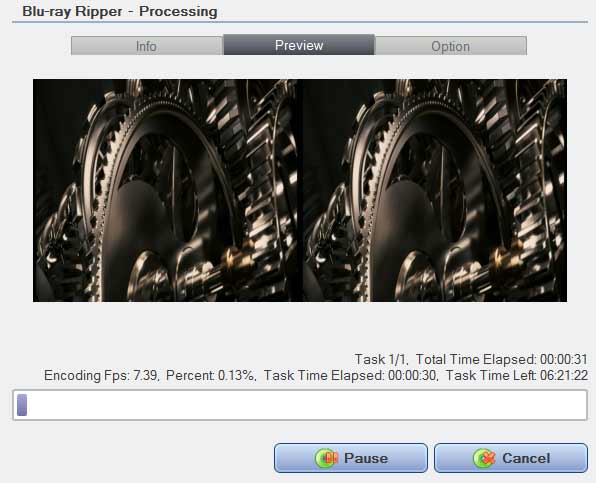 How to view converted 3D Blu-ray onLG Optimus 3D P920?
After you get the converted 3D Blu-ray on your computer, you need to transfer it to your 3D smartphone. The requirements of different phones for converted file viewing may differ, so please arm yourself with all things you need to know to get a smooth and happy glasses-free 3D Blu-ray experience. Take LG Optimus 3D P920 for instance.
At first transfer the converted file to "movie" folder, or "etc" folder, or "Camera" subfolder under "CDIM" folder of your USB storage.
Then touch Applications menu on the screen of your phone.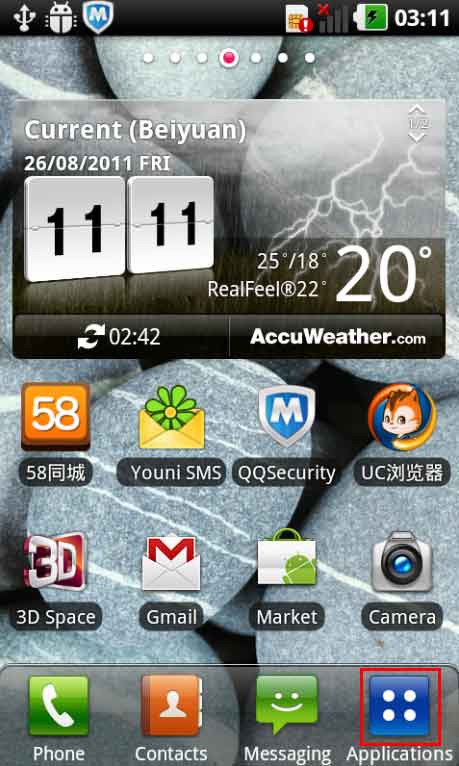 And go to "Video Player".
All videos including the fresh ones are listed there.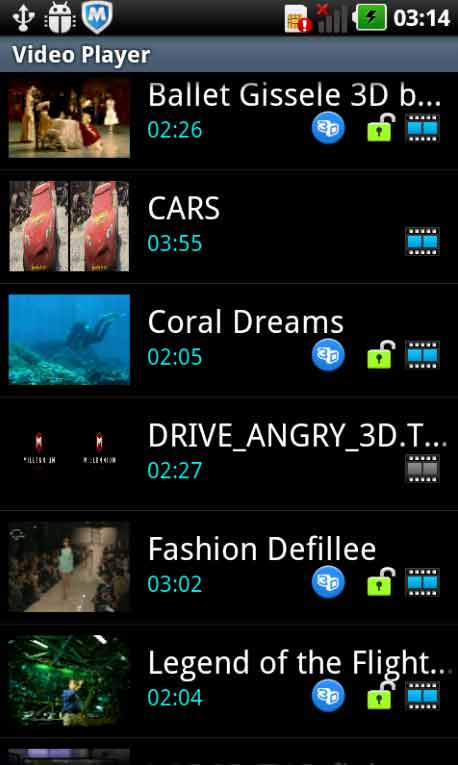 Then choose the converted video you want to view. And the video will be showed with two side-by-side pictures. Please don't hesitate to choose "3D" in the pop-up at the bottom of your screen to change the display to 3D mode since it will disappear in a couple of seconds, or you can also achieve this by pressing "3D" button on the right side of the phone body.

And you need to go a further step to touch the Menu button to bring up the below small interface.
Choose "3D formatter" then select "L/R" mode and "OK".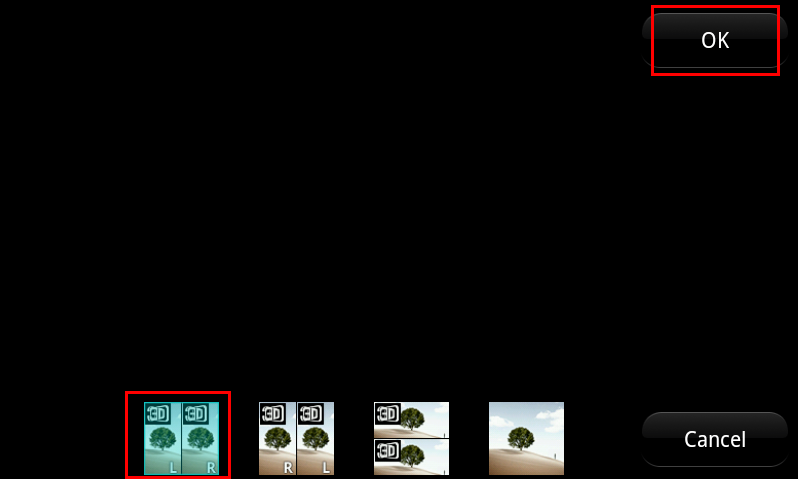 Note: If the image you're viewing has black bars, just touch the Menu button on your phone, and choose "Screen ratio" in the following pop-up.

Then select "Fit to screen". OK. Now the display image goes well with your phone screen with no black bars.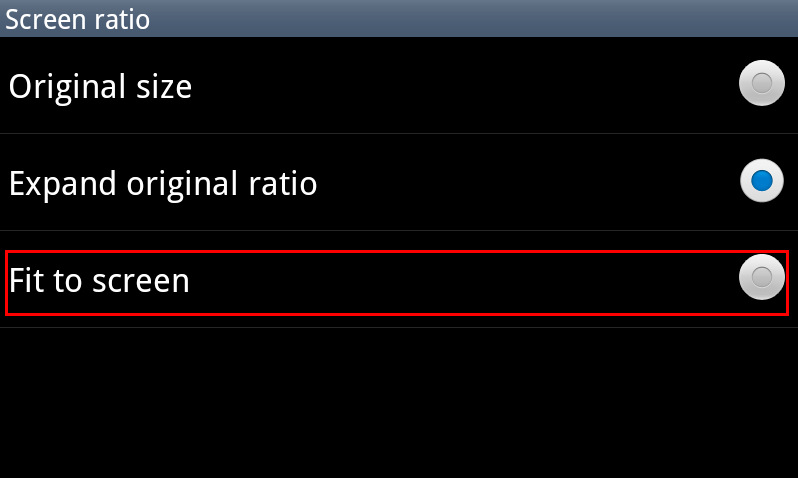 Alright, now you can enjoy your glasses-free 3D Blu-ray with vivid 3D effect on your LG 3D smartphone. Have fun!
For more info about glasses-free 3D, please visit: http://www.dvdfab.cn/glasses-free-3d.htm
You may also want to know:
Glasses-free 3D Video Converter for Sharp SH-12C Aquos 3D Smartphone
Glasses-free 3D Video Converter for HTC EVO 3D Smartphone
How to View Converted Glasses-Free 3D on Various Smartphones