Enjoy Glasses-Free 3D DVD on Sharp SH-12C Aquos 3D Smartphone
With the increasing popularity of 3D smartphones, these phone users need more and more glasses-free 3D content to enjoy on their mobile 3D display. Here is the question that where to get these content and how to ensure the content are what people want? If you happened to have a HTC EVO 3D, LG Optimus 3D P920, Sharp SH-12C Aquos 3D, or Sharp SH-10C Aquos 3D (4 dominant 3D smart phones in the market currently), do you know that you can create your own glasses-free 3D movie out of any 2D DVD? Yes, you can view your favorite DVD with great 3D effect just in your palm. How to achieve this?
The very tool for you to convert 2D DVD to glasses-free 3D DVD is DVDFab DVD Ripper and DVDFab 2D to 3D Converter. The two apps work together to provide you 3D smartphone compatible DVD movies. And all operation steps are very simple as follows.
Step 1: Run DVD Ripper and 2D to 3D Converter
After easy download and installation of DVDFab, start it up. Run DVD Ripper, then choose "3D device" mode. Now import your source DVD into the program, you can insert DVD disc, and if the DVD movie is backup on your hard disk, just click folder or image file icon in the UI to load it in. Seconds later, you'll see all movie titles listed in the interface with the longest one selected by default, and you can free choose any titles for conversion. And you can see that the "2D to 3D" option is checked automatically telling you that 2D to 3D Converter is ready to work. Now you need to choose a profile for the title you want to convert according to what 3D smart phone you're using. For example, if your phone is Sharp SH-12C Aquos 3D, choose the profile as "sharp.sh12c.h264.aac" in Profile menu.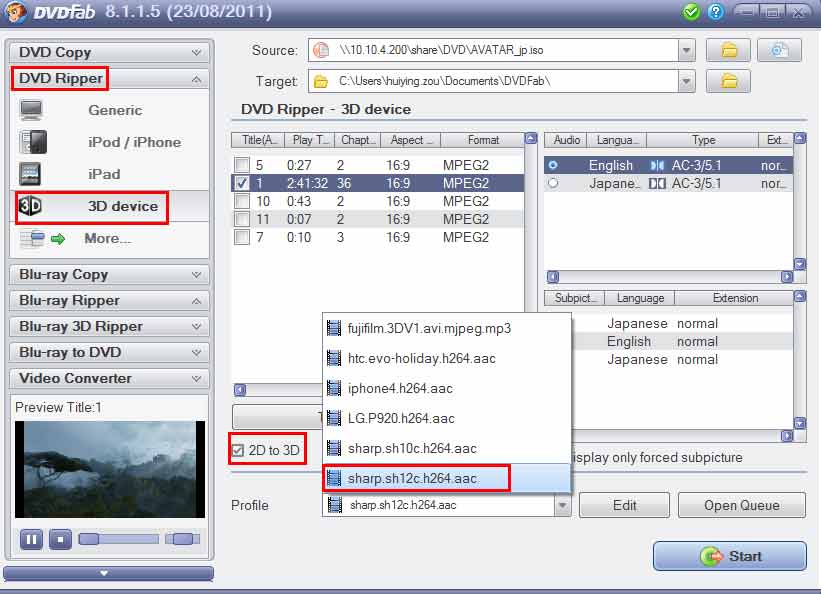 Step 2: Customize your own glasses-free 3D DVD
You can choose your favorite audio tracks and subtitles in the main UI. If you'd like to convert a segment of a title, just arrange the title's start/end chapter in the below screen via "Title Start/End Settings" button.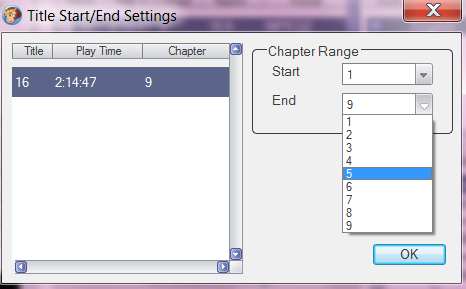 Click "Video Effect Settings" button, then you'll see Video Effect Settings window. In the 3D page, "Left/Right (side-by-side)" option is selected by default as the format for glasses-free 3D content , and you can freely change the "Visual Depth" and "Gain" value.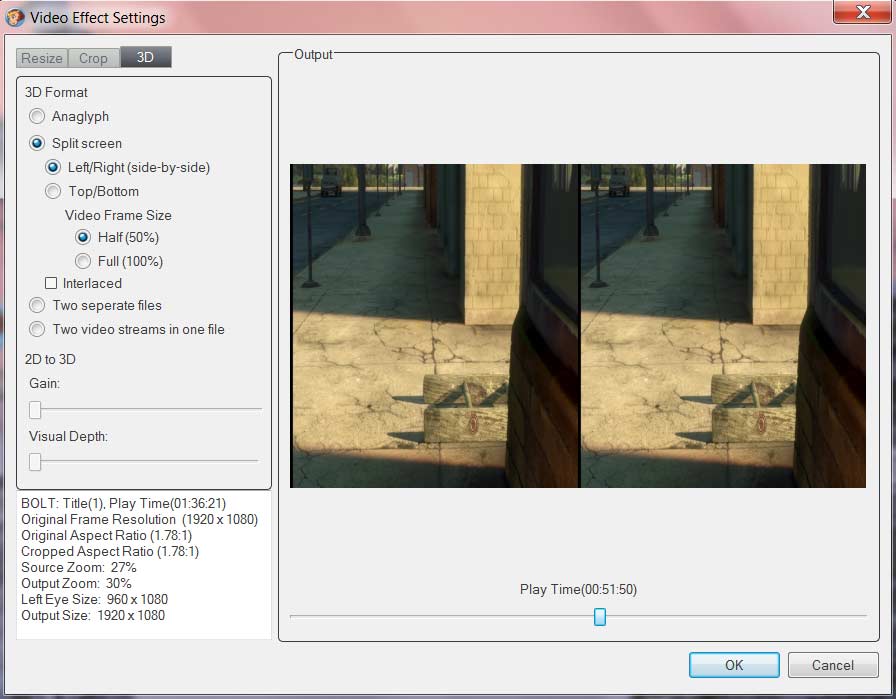 In the Crop page, you can crop active region of the image for playback as you like.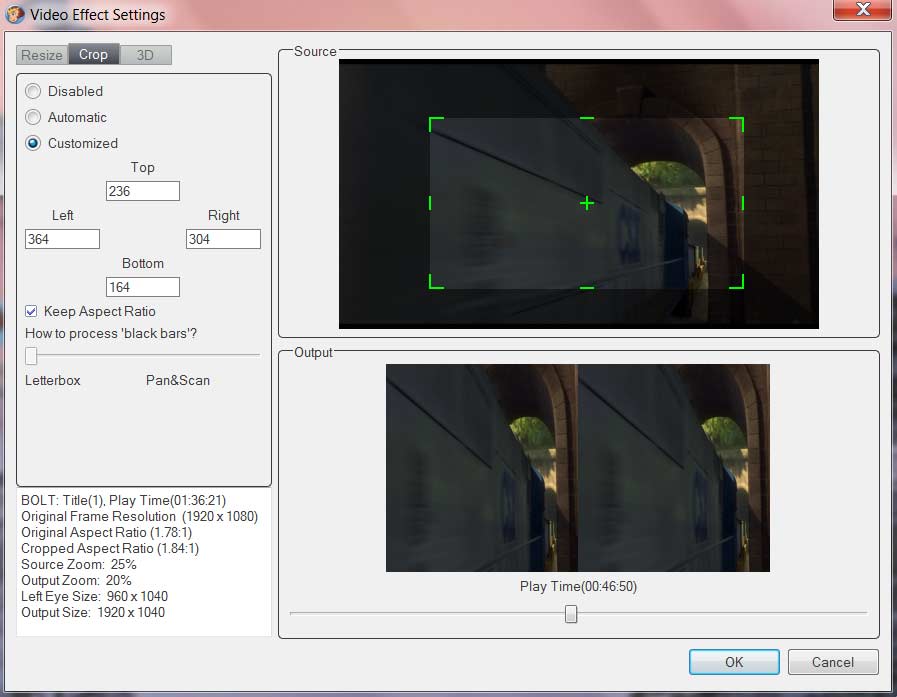 And you can also resize the source aspect ratio and frame resolution in Resize page if you like.
Now the video effect settings are finished, if you want to go further to edit all video/audio parameters in detail, just click "Edit" button. You can set bit rate, frame rate, frame resolution, aspect ratio, audio channel, volume, etc.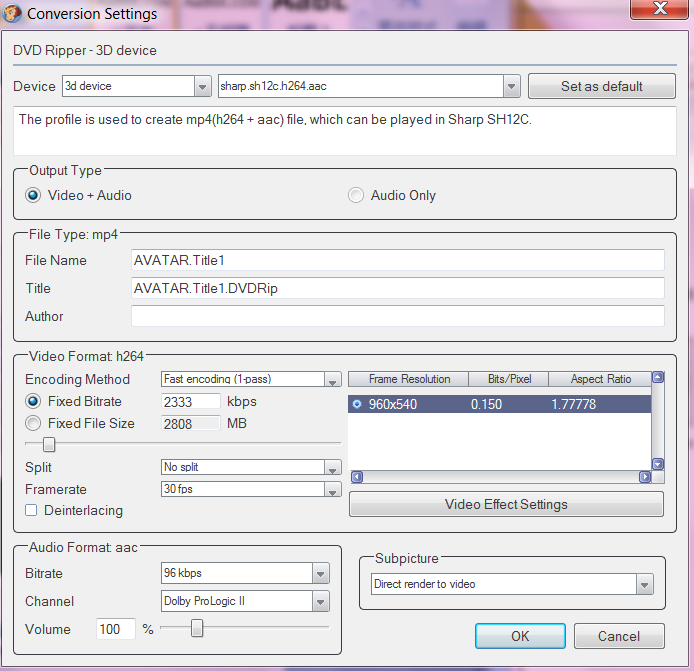 Step 3: Start converting
When finishing all settings about your glasses-free 3D DVD, hit "Start" button on the main UI to start converting. During the process, you can monitor all detailed progress info in the Info page, preview source movie in Preview page, and set auto shutdown for your PC in Option page.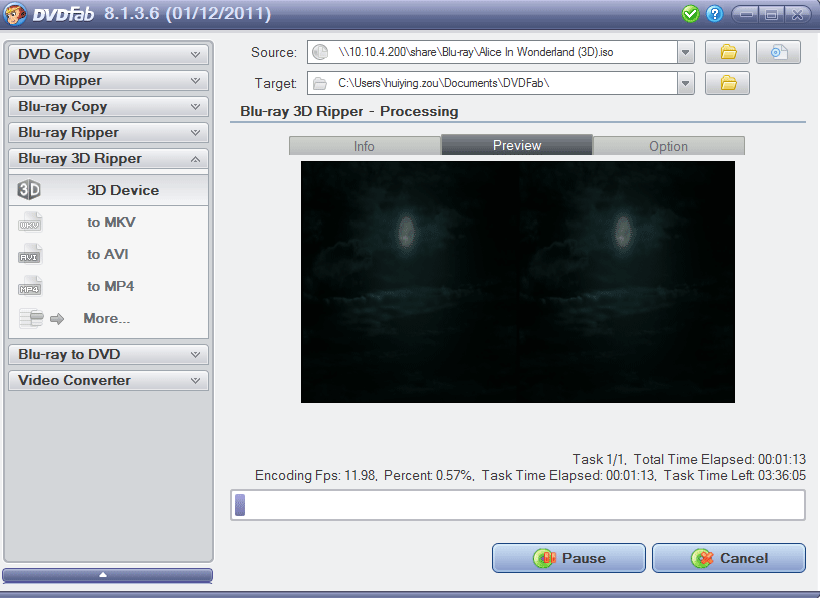 DVDFab has super fast speed, so very soon, you'll get your customized glasses-free 3D DVD for your 3D smartphone. Cheers!
How to view converted glasses-free 3D on 3D smartphone?
It's very easy for you to transfer converted files to your phone. Just connect your phone to your computer via USB. But different phones have different requirements and steps for you to finally view your converted 3D content, and you'd better be aware of that clearly beforehand. Take Sharp SH-12C Aquos 3D for example.
Before transfer your converted file, you need to add the prefix [[3D]] into the file name for the phone to recognize it as 3D content. After the rename, just save it in the "movie" folder of the phone as USB is connected. Then disconnect the USB.
Your newly transferred glasses-free 3D file is supposed to be stored in the "Contents Manager".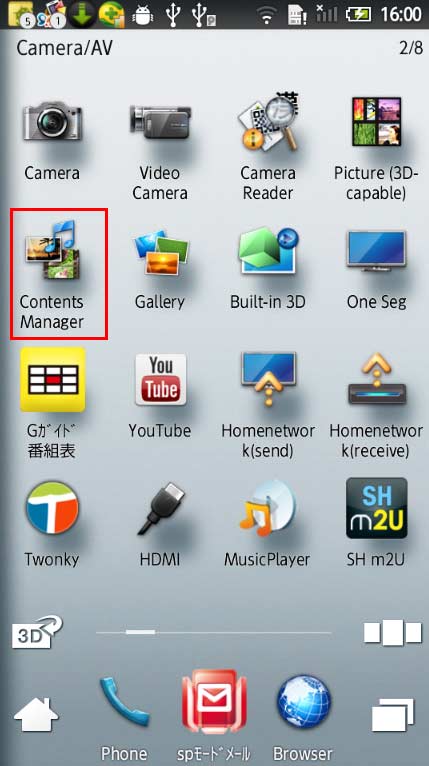 Head into Contents Manager -> Movie, but you can't see what you want there. Why? You need to update the info now. Just press Menu button on your phone, and in the pop-up on the lower part of the screen, go to "APP setting".
Then select "Update Information".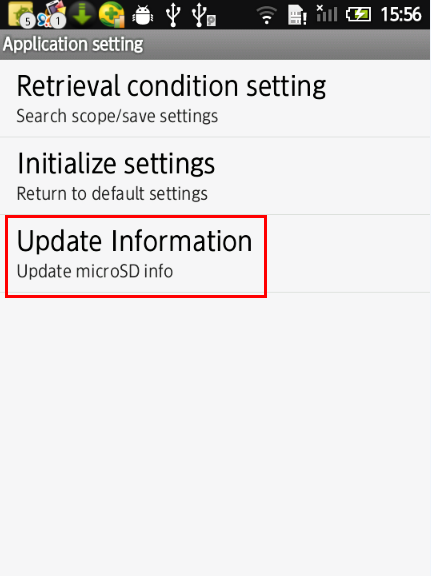 A couple of seconds later, the update will be finished, and you can see your newly transferred glasses-free 3D file.
Note: Please make sure the display is under "3D" mode for enjoying 3D videos.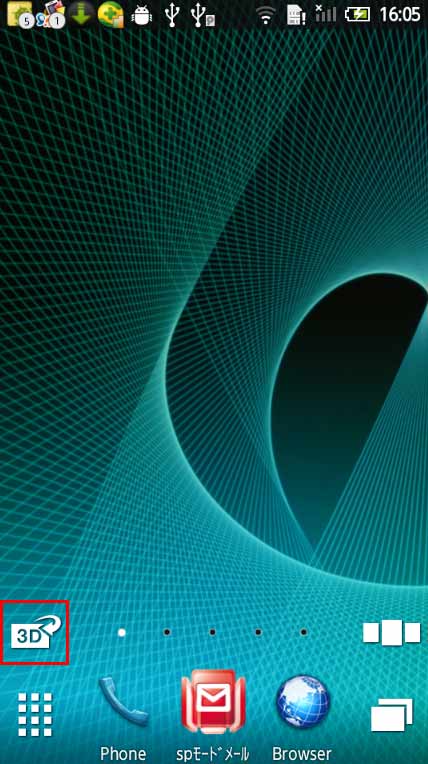 OK. That's all there is to it. For more info about glasses-free 3D, please go to: http://www.dvdfab.cn/glasses-free-3d.htm
Get more info about how to view converted glasses-free 3D on various smartphones, please hit up the link: http://www.dvdfab.cn/2d-to-3d-converter/how-to-view-converted-glasses-free-3d-on-various-smartphones.htm