Convert 3D Blu-ray to Glasses-Free 3D
Ever thought that you can view your 3D Blu-ray without 3D glasses? If you happened to use glasses-free 3D smartphone, just turn your 3D Blu-ray to glasses-free 3D content, then you can view it just on your phone wherever you go with no glasses. The very tool you need is DVDFab Blu-ray 3D Ripper.
DVDFab Blu-ray 3D Ripper can rip any Blu-ray 3D to high-quality glasses-free 3D compatible with various 3D smartphones and other glasses-free 3D devices. And it's very easy to operate.
3D Blu-ray to Glasses-Free 3D > Step 1: Run Blu-ray 3D Ripper
Start up DVDFab and run Blu-ray 3D Ripper. Select "3D device" as the conversion mode. Then load your source 3D Blu-ray into the program. Once the source movie is in, you can see all movie titles and among them the longest title is selected by default. You are free to choose any titles you want for conversion. Then specify a profile for the title according to what smartphone you're using.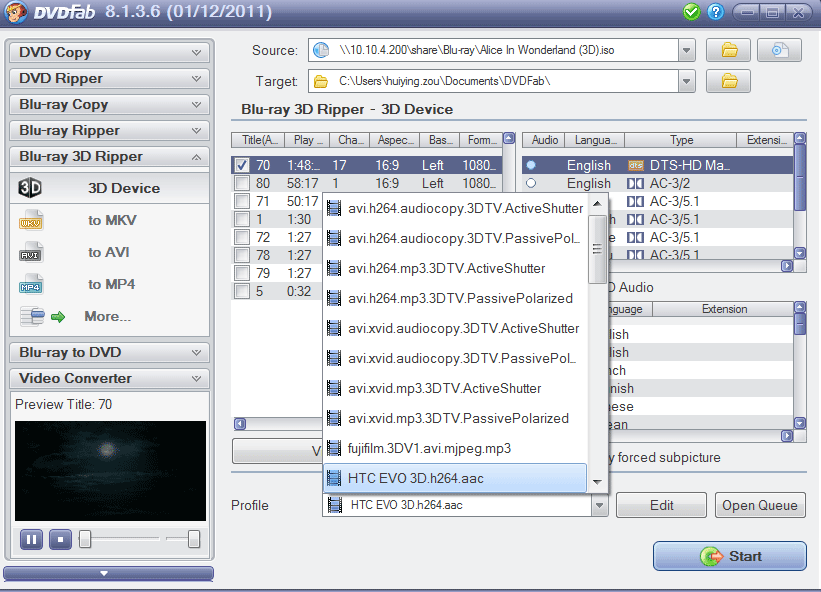 3D Blu-ray to Glasses-Free 3D > Step 2: Set for the conversion
You can freely choose your favorite audio tracks and subtitles in the main UI. And if you want to set for the video effect, click "Video Effect Settings" button, then you'll see 3 pages – 3D, Crop, Resize. In "3D" page, the 3D format for glasses-free 3D is Left/Right (side-by-side) which is selected by default. And you can freely customize the "Visual Depth" and "Gain" value.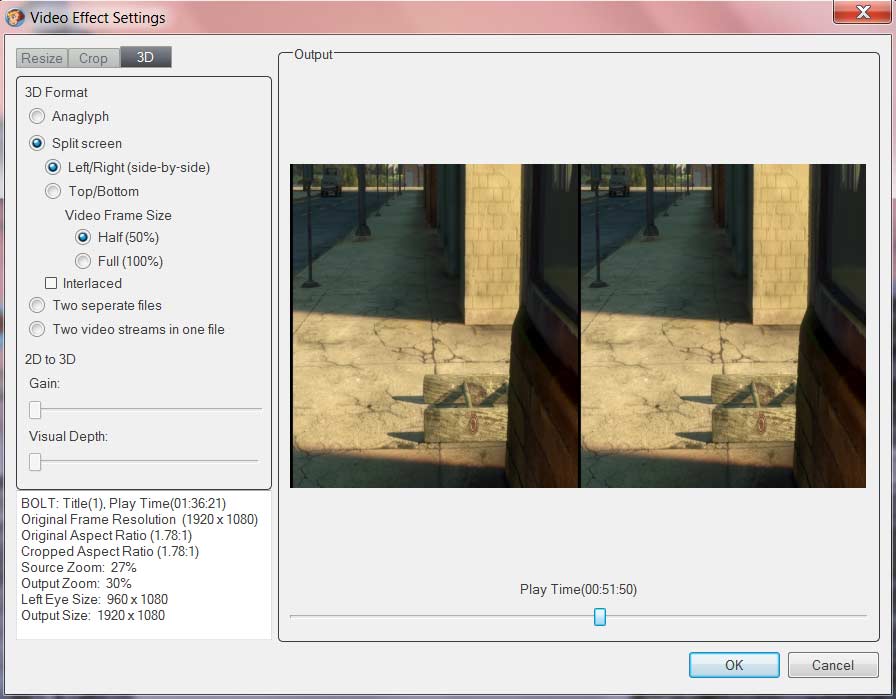 In "Crop" page, you can choose to use the automatic way to let the image show without black bars, or crop manually with specific values or freely move the crop marks to choose the active image region when playback.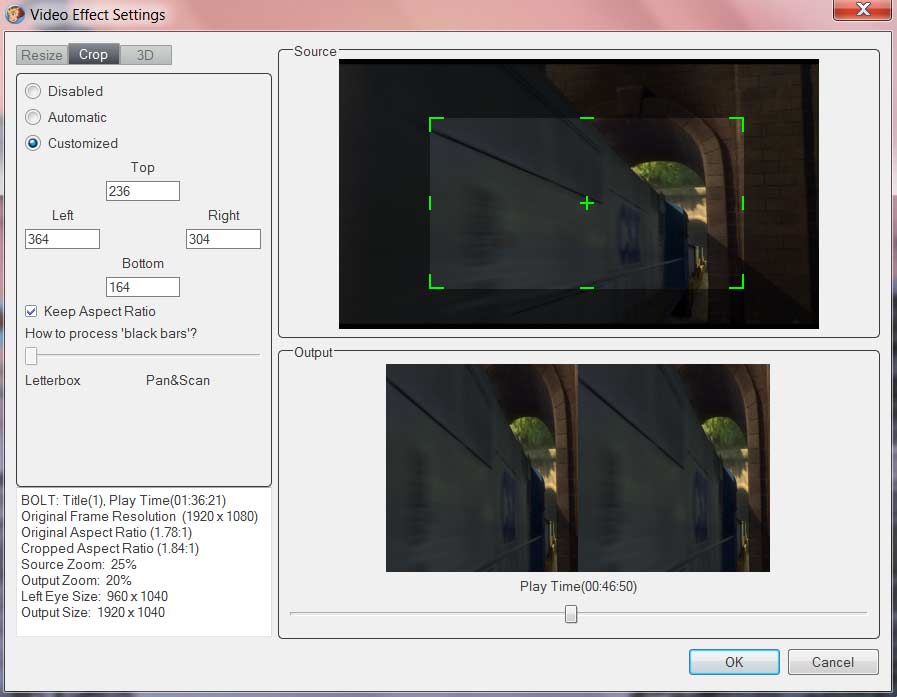 And if you like, you can go to "Resize" page to resize the source aspect ratio and frame resolution.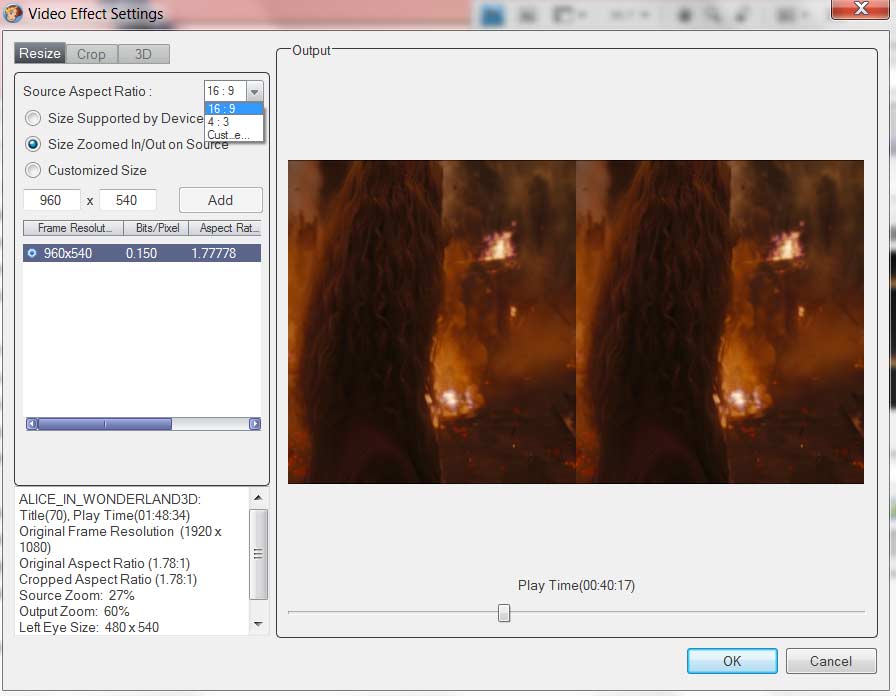 After the video effect settings, you can even set all parameters of video/audio via Edit button. You can freely edit bit rate, frame rate, frame resolution, aspect ratio, audio channel, volume, etc.
3D Blu-ray to Glasses-Free 3D > Step 3: Start conversion
Once everything is OK, click Start button on the main interface to start converting. During conversion process, you can monitor the progress with detailed info and source movie preview, and you can also enable auto shutdown functionality for your PC if needed.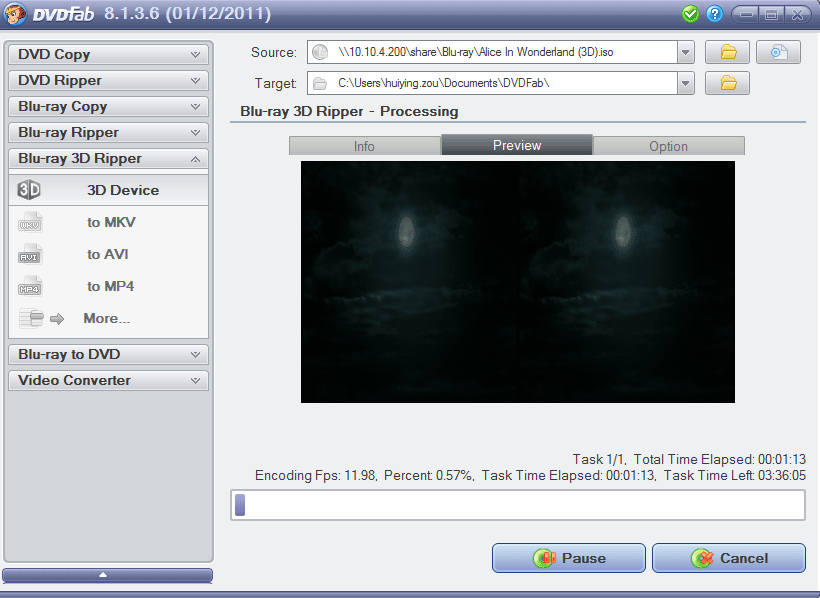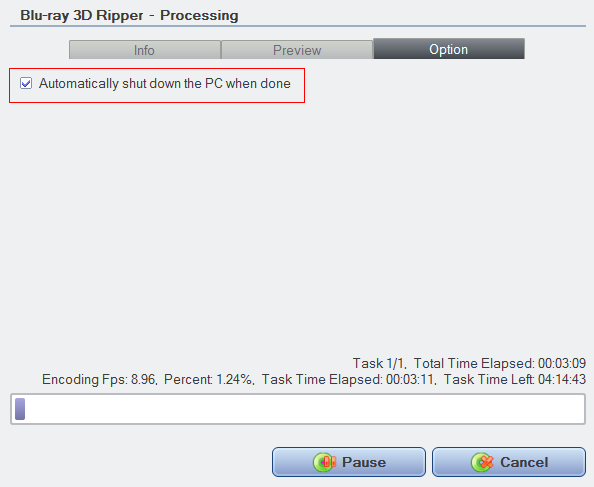 OK. That's all there is to it. Just transfer the converted glasses-free 3D to your 3D smartphone, then enjoy your glasses-free 3D viewing. If you want to learn more about how to view converted glasses-free 3D on various smartphones, please hit up the link: http://www.dvdfab.cn/2d-to-3d-converter/how-to-view-converted-glasses-free-3d-on-various-smartphones.htm
For more info about glasses-free 3D, please go to: http://www.dvdfab.cn/glasses-free-3d.htm