Blu-ray Ripper for PS Vita
As the next generation of Sony's gaming console, PS Vita, short for PlayStation Vita, was officially released on December 17, 2011, in Japan and some other Asian countries. Why did not Sony address it as PlayStation 4000 or something else? Well, that's a question we are not able to answer here. The device employs a 5-inch OLED multi-touch capacitive touch screen, and supports 3G, Bluetooth and Wi-Fi. Internally, the device features an ARM Cortex-A9 quad core CPU and a PowerVR SGX543MP4+ quad core GPU.
As you can see, although it is primarily designed for playing video games, it also does a very good job in playing movies, because its 5-inch touch screen has a 960*544 resolution. You can enjoy your collected movies whenever you want. Don't forget that as the most popular Blu-ray Ripper software available on the market, DVDFab Blu-ray Ripper can rip your personal Blu-ray movies to PS Vita compatible videos.
Here is how:
Rip Blu-ray for PS Vita: Step 1 -> Download the latest version of DVDFab and install it on your computer.
Rip Blu-ray for PS Vita: Step 2 -> Start DVDFab, navigate to Blu-ray Ripper option and PS Vita mode, and then load the Blu-ray you are about to convert. Next, choose the audio track and subtitle stream you want to keep.
Rip Blu-ray for PS Vita: Step 3 -> Click the "Edit" button to rename the output file, fix output file size, bit rate, etc and click "Video Effect Settings" button to resize the frame resolution, crop the display area and so on, if you do not want to use the default settings. Next, wait for the task to be completed.
Note: the critical factor of this converting process is the PS Vita mode you choose.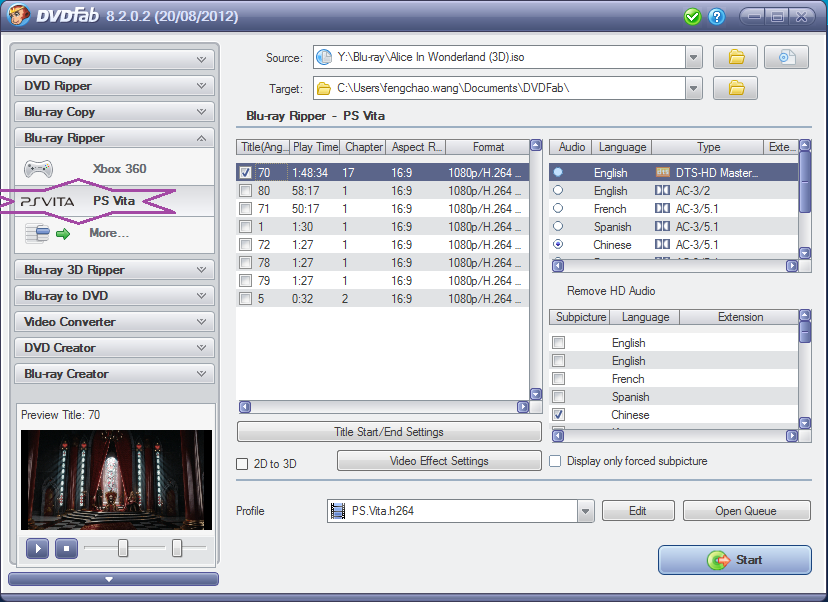 For more information, please refer to DVDFab Blu-ray Ripper page.