How to convert videos for Samsung Galaxy Tab 10.1 on Mac?
It's the thinnest and lightest 10-inch tablet the world has ever made, and a gorgeous bit of design. If you want the best Android tablet, this is it. Right, this is the verdict Samsung Galaxy Tab P7510 gets from the expert's review. You may be curious about its authenticity. Before you have you own judgment, why not take a general vision on what this tablet really looks like. Housing a 1 GHz ARM Cortex A9 processor chipset, a Tegra 250 T20 nVIDIA GeFore graphics card, and a 1 GB memory, this tablet runs at lightning's speed. As to its 1280*800 super PLS screen, with a viewable size of 10.1 inch, it is definitely amazing to display any HD video, as you can hold a quite number of videos on its 16GB onboard storage. With all of these, it weighs only 560g and measures 8.6 mm thick. It seems that P7510 wins its big name by real muscle power, not just by Samsung's fame.
Okay, do you have the impulse to justify its 1280*800 resolution screen? Just convert your personal HD videos to P7510 compatible videos to see whether it worths the praise or not. You can use DVDFab Video Converter, a piece of well-designed Mac video converter software, to do that.
Follow the tip here to go through that process:
Convert Videos for Samsung Galaxy Tab P7510 on Mac: Step 1-> Download and install onto your Mac computer the latest version of DVDFab for Mac.
Convert Videos for Samsung Galaxy Tab P7510 on Mac: Step 2 -> Start DVDFab for Mac, navigate to Video Converter option and Samsung mode, and then load the videos you'd like to convert. Next, choose the profile "Samsung.p7510"at the bottom part.
Convert Videos for Samsung Galaxy Tab P7510 on Mac: Step 3 -> Click the "Edit" and "Video Effect Settings" buttons and do the Conversion Settings and Video Effect Settings respectively, then hit "Start" button to go converting. Next, wait for the task to be completed.
Note: the key points are to select Samsung mode from the navigation panel, and choose profile "Samsung.p7510". Pay enough attention.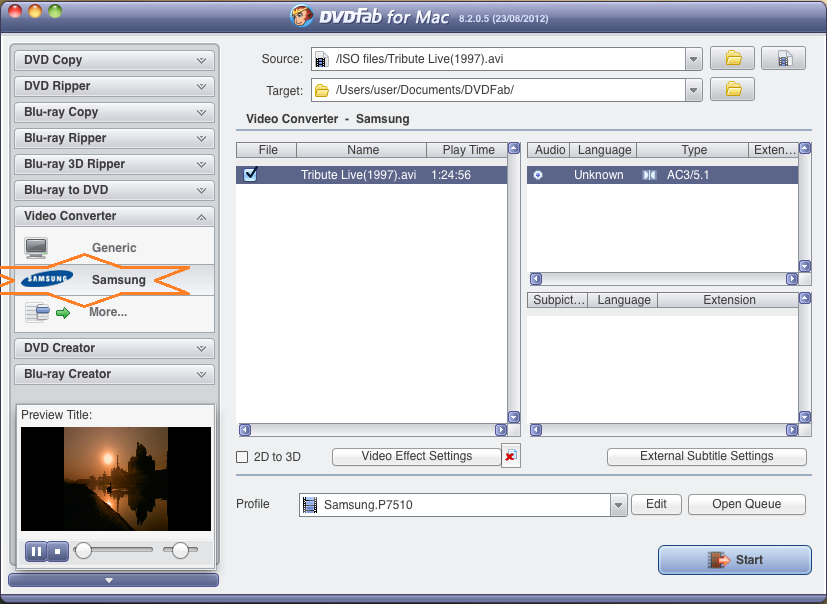 For more information, please go to DVDFab Video Converter for Mac page.