Convert videos for Google Nexus 7
Just how sweet is that Jelly Bean? As Google's latest Android build goes to public, many hardware manufacturers step on the gas to roll out various devices carrying this second most popular mobile operating system, among which, there are cell phones in all shapes, as well as tablets in various inches. Well, this Jelly Bean is just so sweet that Google itself cannot hold from taking its own bite. And that bite, in return, brings Google Nexus 7, a tablet in 7 inch, into people's sight.
Nexus 7 bears an IPS HD display with 1200*800 in resolution and 216 in ppi. A very sweet HD Video Player. Then, you may wonder is this beautiful handset powerful enough to play all the videos? Um…that's might be a question, but, there is an all-inclusive video converter software called DVDFab Video Converter. It can help you convert all your videos to Nexus compatible videos.
Here is a tip, easy and simple, illustrates how you can convert all the video files for Google Nexus 7.
Convert video for Google Nexus 7: Step One -> Download the latest version of DVDFab Video Converter and install it on your computer.
Convert video for Google Nexus 7: Step Two -> Launch DVDFab, navigate to Video Converter option and Google mode, then simply drag and drop the video file you are about to convert into the main interface. Next, choose the audio and subtitle you need to keep.
Convert video for Google Nexus 7: Step Three -> Click the "Edit" and "Video Effect Settings" buttons and do the Conversion Settings and Video Effect Settings respectively, then hit "Start" button to go converting. Next, wait for the task to be completed.
Note: the key point of this conversion is the Google mode, pay enough attention.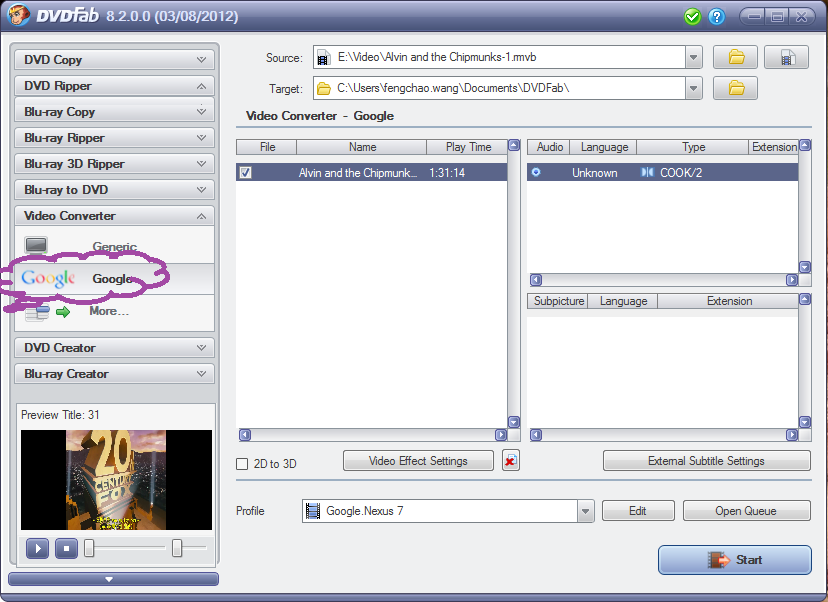 For more information, please go to DVDFab Video Converter page.