Rip Blu-ray for Google Nexus 7
Such a 7-inch tablet running the latest Jelly Bean of Android from Google may not be able to dethrone Apple's reigning champ, but at least it does pose a strong threat on Amazon's Kindle Fire. Yes, the 7 inch tablet I am referring here is Google's own son, a freshman of the tablet sector, Nexus 7, manufactured by ASUS, in the name of Google. Instead of gunning at Apple's iPad, will Google really mean to compete with most of its past partners by releasing this middle-end tablet? Well, let those top decision makers decide.
To end users, most of them would very like to watch movies on Nexus 7, because it has an HD backlit IPS display, with a resolution of 1200*800 and a remarkable 216 ppi onto the screen. Here is the question, it is HD capable, is there a way to watch Blu-ray video on it? Yes, there is, as the best Blu-ray Ripper software available on the market, DVDFab Blu-ray Ripper now can rip any Blu-ray to Google Nexus 7 compatible video files.
Follow this tip below to see how to make that happen:
Rip Blu-ray for Google Nexus 7: Step 1 -> Download the latest version of DVDFab and install it on your computer.
Rip Blu-ray for Google Nexus 7: Step 2 -> Start DVDFab, navigate to Blu-ray Ripper option and Google mode, and then load the Blu-ray you are about to convert. Next, choose the audio track and subtitle stream you want to keep.
Rip Blu-ray for Google Nexus 7: Step 3 -> Click the "Edit" button to rename the output file, fix output file size, bit rate, etc and click "Video Effect Settings" button to resize the frame resolution, crop the display area and so on, if you do not want to use the default settings. Next, wait for the task to be completed.
Note: the critical factor of this converting process is the Google mode you choose.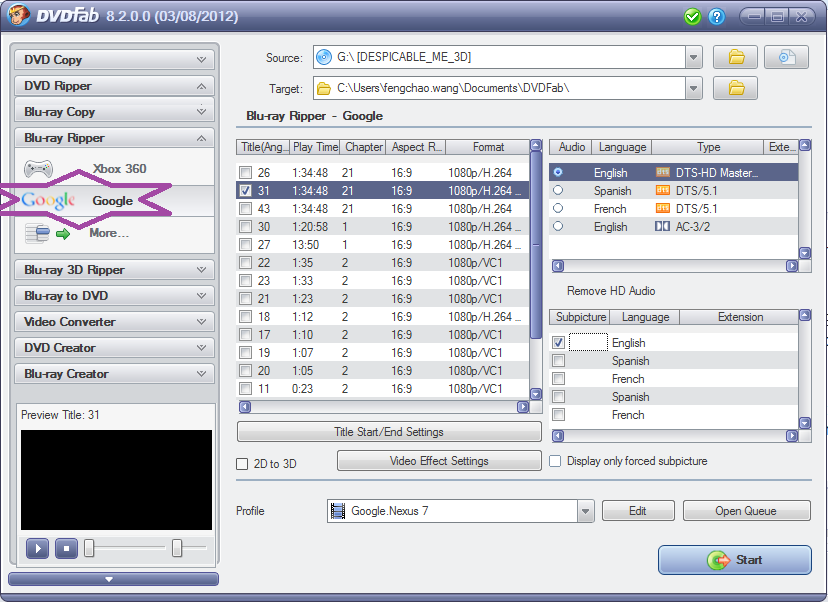 For more information, please refer to DVDFab Blu-ray Ripper page.