Best DVD Cloner for Mac
DVDFab DVD Copy for Mac can be reasonably called the best DVD cloner for Mac. It can clone DVD bit to bit perfectly, clone DVD easily with a couple of mouse clicks, clone flexibly with two cloning options available to users, and it has fast speed and high quality. It runs stably on Mac, and gives you a quick and smooth and fantastic DVD cloning. Next is a simple tutorial about how to use this DVD cloner to clone DVD and how nice it is.
Best DVD Cloner for Mac > Run DVDFab DVD Copy for Mac as DVD cloner
Start DVDFab for Mac, and choose DVD Copy, then we'll come to DVD Copy for Mac interface. On the left pane, you can see the 8 copy modes under DVD Copy, just choose "Clone" mode, so that DVD Copy for Mac is in fact a DVD cloner for Mac.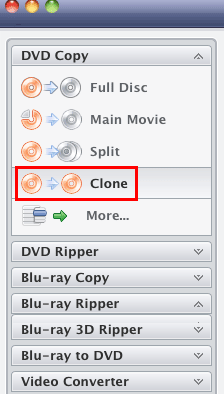 Best DVD Cloner for Mac > Two cloning options available after source DVD loaded
Now go to insert DVD into DVD-drive, and seconds later, the DVD cloner will load it in. There're two options for you to choose how to clone DVD: "Copy DVD-Video Data Only", or "Copy Original IFO Files".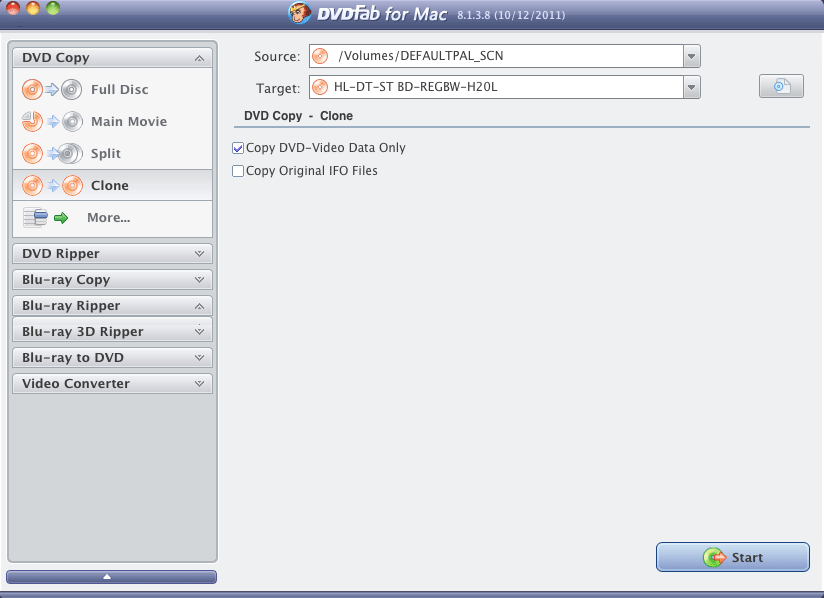 By the way, please make sure that in this interface, you set Target as DVD drive (DVD burner).
Best DVD Cloner for Mac > Every info is viewable during cloning process
Click Start button to start cloning DVD. During the process, every detailed info can be viewed.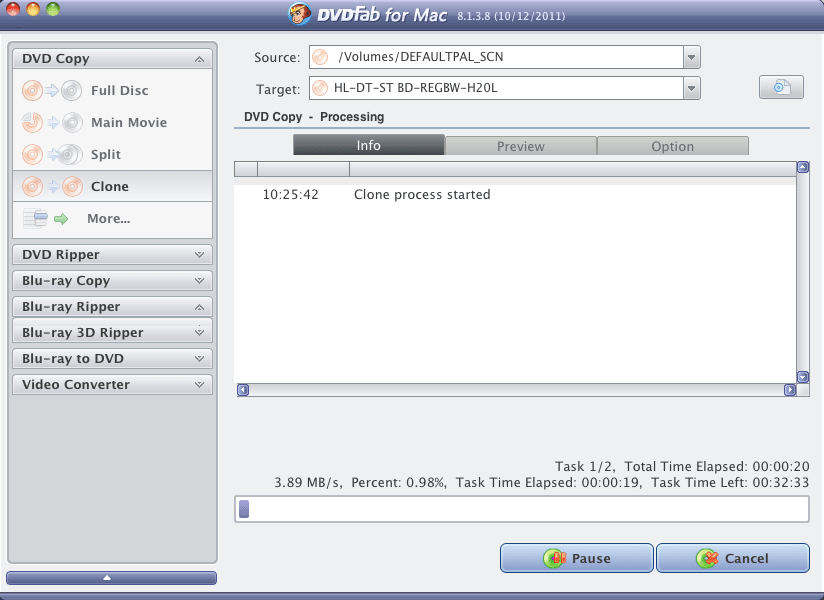 And you'll be asked to insert compatible media to start write process to some point (after ripping process and before write process). Just insert a target disc to make it continue.

OK. That's all there is to it. For more info about this best DVD cloner for Mac and also about DVDFab DVD Copy for Mac, be certain to see: www.dvdfab.cn/dvd-copy-for-mac.htm