Blu-ray to Audio Ripper - Rip Blu-ray to Audio
Maybe you will have the need to only hear subtitles of a Blu-ray movie, or make a special music collections from a Blu-ray disc. Is it possible? Yes, you can make it with DVDFab Blu-ray Ripper, which can act as a Blu-ray to audio ripper supports almost all audio formats compatible with your personal devices. You can find a step by step guide below.
Rip Blu-ray to Audio>Step 1: Set Blu-ray Ripper to "Audio" mode
Start up DVDFab after its installation. Run DVDFab Blu-ray Ripper, and select "Audio" mode on the left panel of the UI.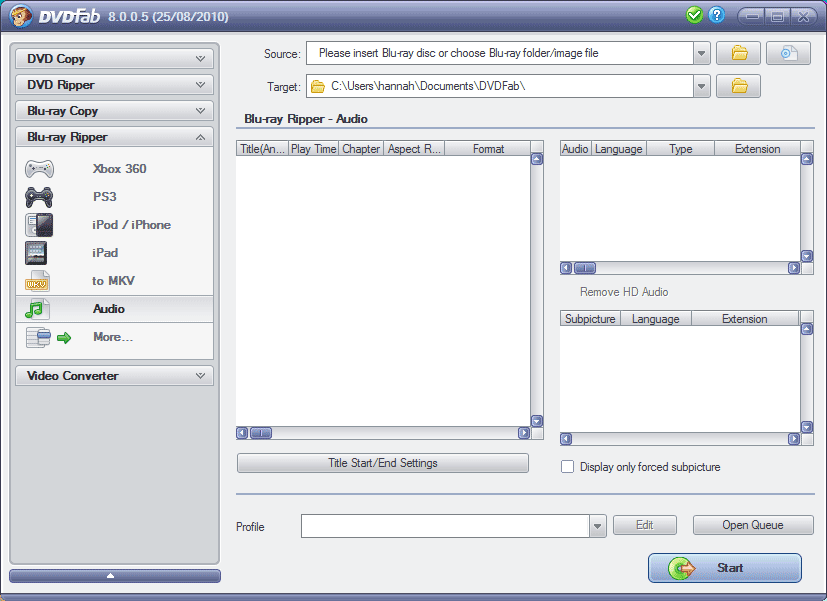 Rip Blu-ray to Audio>Step 2: Insert Blu-ray disc and specify its region code
Insert your Blu-ray disc, then you will be asked to specify a region code, just choose a corresponding one of the disc, and it will be opened as source a couple of seconds later.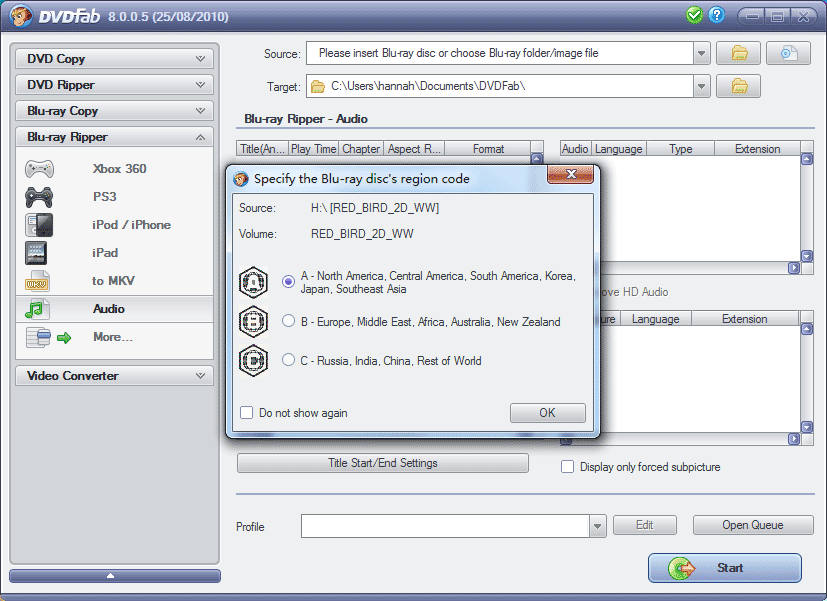 Rip Blu-ray to Audio>Step 3: Select exact titles you want to convert
After the Blu-ray movie is opened as source, you can see all its titles. Choose one or more titles you want to rip, a built-in video player on the lower left will help you avoid choosing mistake which allows you to preview any highlighted and checked titles. If you want to rip only a segment of a title, just click "Title Start/End Settings" to specify its start and end chapter. Then choose profiles from the Profile drop down list in which all profiles are optimized and preset. You can select the output audio track according to your need, and also can select subtitle if you want any.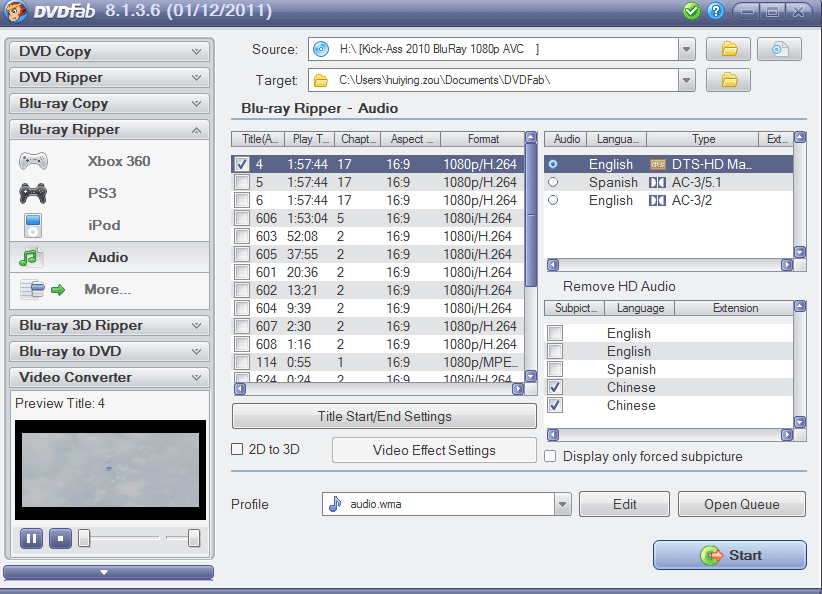 Rip Blu-ray to Audio>Step 4: Advanced settings
Click "Open Queue" on the main interface to enter Mobile Task Queue window. All the ripping tasks are listed here. A notable feature here is that you can add new tasks with different profiles of a same title. Just highlight a task, click "Copy" button, activate the profile drop-down of the copy by clicking on its profile, and select a different profile from it. You can also remove a task by highlighting it then clicking "Remove" button.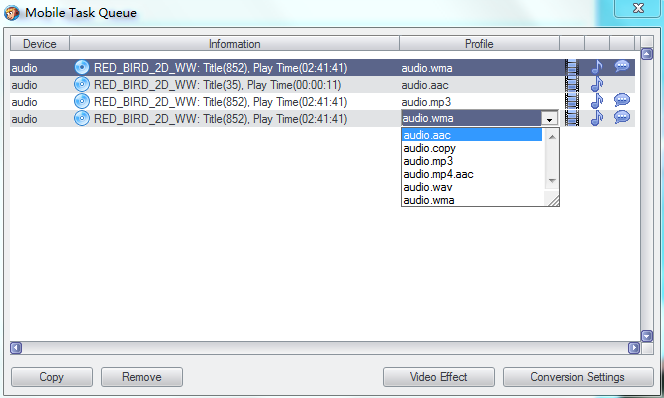 Click "Conversion Settings" to go to set the bit rate, channel and volume of output audio. Apart of that, you can split source video by chapter, and rename the file and title if you like.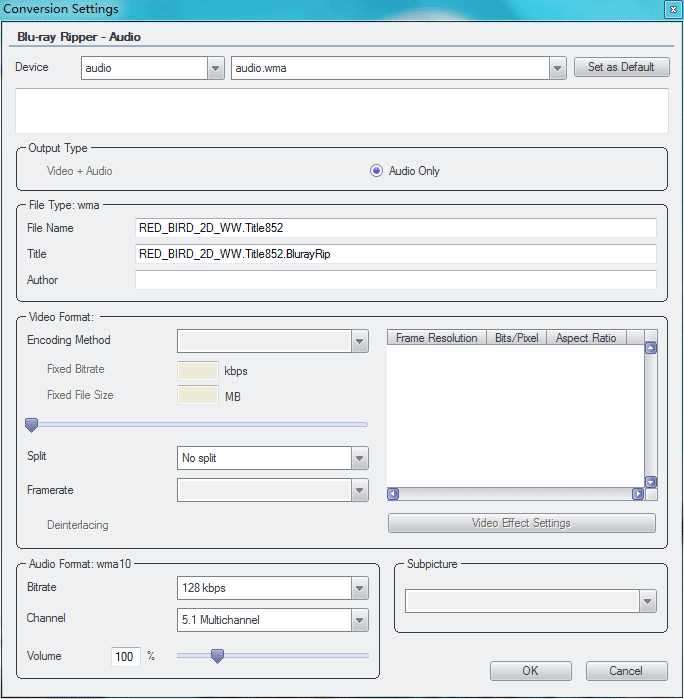 Rip Blu-ray to Audio>Step 5: Click "Start" to rip
Click "Start" button on the main interface to start ripping. The process and progress can be overviewed as below.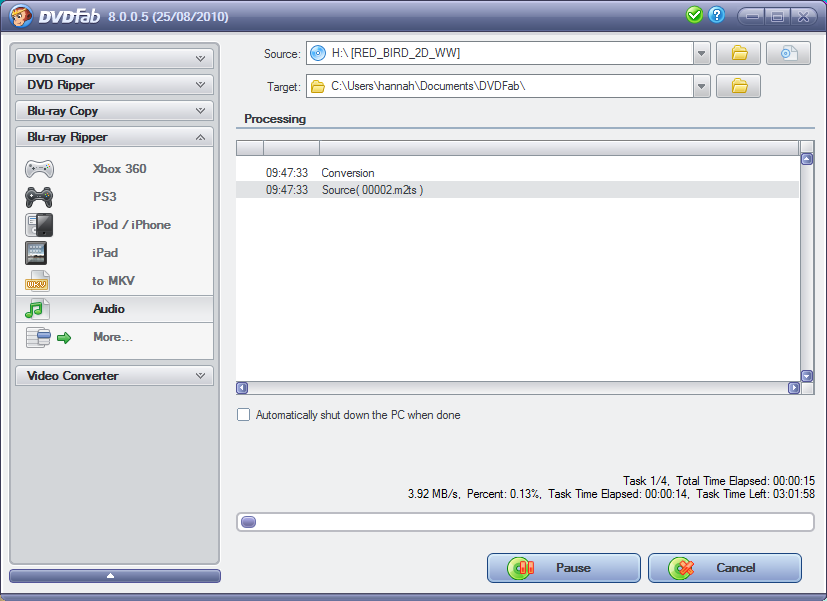 Some time later, you will successfully get your ripped audio files through Blu-ray to Audio conversion with DVDFab Blu-ray Ripper, which definitely is a flexible and easy to use Blu-ray ripping tool, then enjoy yourself.