Blu-ray to Samsung Galaxy S III
Galaxy SIII, the newly released smartphone by Samsung, has caught much attention soon after it was debuted on May 5. Customers, media's, as well as IT insiders or tech savvies were pouring their impressions on this elegantly designed phone, positive or negative. Some even claimed that this phone was intentionally designed by IT outsiders, more precisely, by lawyers, so as to avoid any possible patent issues. Whether or not, it had already been released, and seemed to have obtained much spotlight. People are wondering, is this phone going to take over iPhone, the 5th generation? A big question to be answered by the market responsiveness.
Galaxy S III has a very amazing entertainment capability, largely attributed to its 4.8 inch HD Super AMOLED screen, which is of 1280*720 in resolution. What's more, this smartphone can play a vast range of videos and audios. Can't wait to test its performance? Just convert one of your Blu-ray movies for it to checkout your expectations.
How? As the best Blu-ray Ripper software available on the market, DVDFab Blu-ray Ripper can help you do this. The tip now walks you through the process of converting Blu-ray movie to Galaxy S III, in great detail.
Rip Blu-ray to Samsung Galaxy S III: Step 1 -> Download the latest version of DVDFab Blu-ray Ripper and install it on your computer.
Rip Blu-ray to Samsung Galaxy S III: Step 2 -> Download the special profile for this smartphone and add it onto your computer.

Rip Blu-ray to Samsung Galaxy S III: Step 3 -> Launch DVDFab, navigate to Blu-ray Ripper option and Samsung mode, and then load the Blu-ray you are about to convert. Next, select the audio track and subtitle stream you want to keep.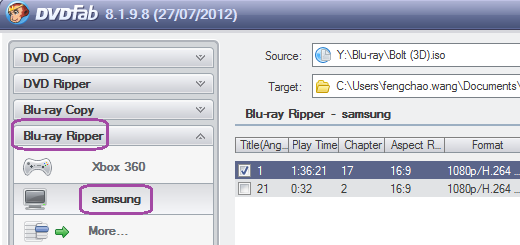 Rip Blu-ray to Samsung Galaxy S III: Step 4 -> Click the "Edit" button to rename the output file, fix output file size, bit rate, etc and click "Video Effect Settings" button to resize the frame resolution, crop the display area and so on. Then, just hit the "start" button to begin converting. The only thing left behind is to wait for a while until the conversion is done correctly.
Note: the key points are to download the profile for Galaxy S III and select Samsung mode from the navigation panel, pay enough attention.
For more information, you can go to DVDFab Blu-ray Ripper page