Convert MKV to DVD
MKV, standing for Matroska, is a new arising multimedia container format, compared to some old container formats such as AVI, MP4 etc. It can hold unlimited quantities of video streams, audio tracks, pictures or subtitle tracks in one file. Some lossless MKV videos have very exquisite audio and video qualities, even better than the regular DVD-video discs. So, if you ever want to share your personal MKV videos with your friends or preserve them on DVD media so that you can watch them on your home DVD player. You need a MKV to DVD converter software, that's when DVDFab DVD Creator comes in.
Being a popular DVD authoring tool itself for Windows platform, DVDFab DVD Creator supports convert all the leading videos into standard DVD-video format and consequentially burn them to blank DVD discs.
Here this great tip will show you how to do that in just a few steps.
MKV to DVD Converting -> Step 1: Download, install and run the latest DVDFab DVD Creator, then click the yellow folder icon at the source loading section to load a folder which contains your MKV videos, or click the film&paper icon right behind to load the MKV videos directly, insert a blank DVD disc into your DVD writer, and choose an output size at the bottom middle part of this interface, according the blank DVD you inserted in, for example DVD 5;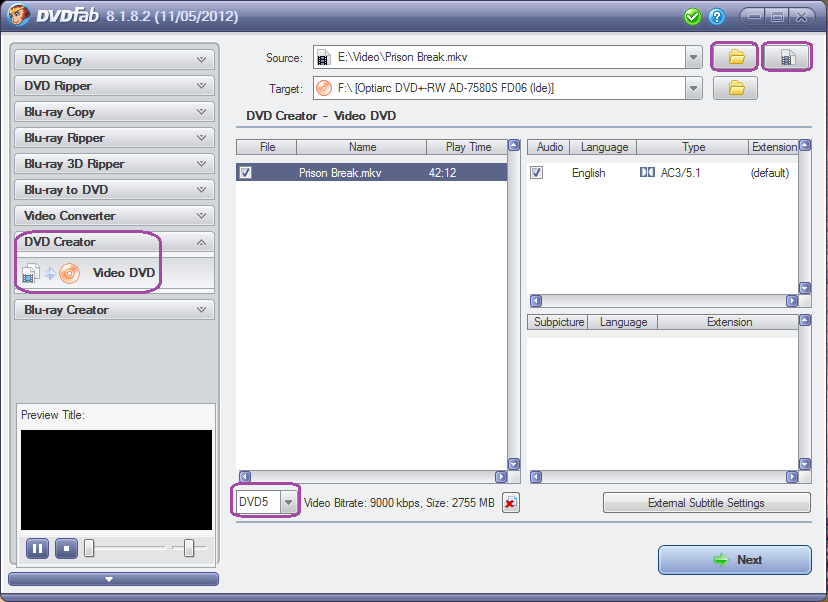 MKV to DVD Converting -> Step 2: Move on to next page, rename the resulting DVD-video disc if you do not want the default name, at the Volume Label section, then click "Start" button to let go.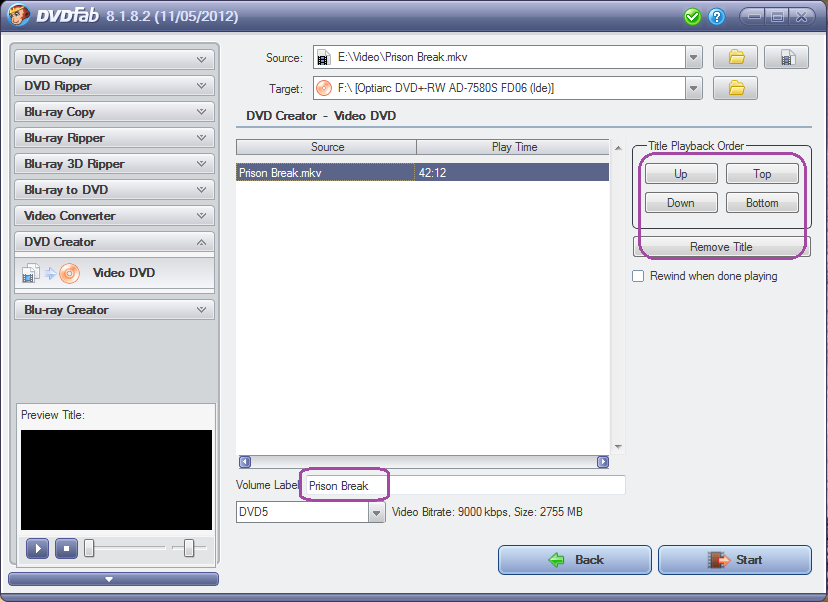 Sidenote:
1). If you are converting a couple of MKV videos at one time, you can use the "Up", "Down", "Top" and "Bottom" buttons to decide which one plays first, and which one goes secondly.
2). Use the "Remove Title" button to remove the MKV video you do not want the keep, after highlighting it.
When the burning process comes to the end, you can check the created DVD-video disc on your home DVD player. The whole process may cost you 20 minutes or so, depending on the MKV video size.
For more information, please go to www.dvdfab.cn/dvd-creator.htm