How to Convert Blu-ray to iPhone 6
DVDFab supports iPhone 6 and iPhone 6 Plus in its Blu-ray Ripper option. If you're interested, you could follow me to take a look at how to use Blu-ray Ripper to convert a Blu-ray movie to the video playable on iPhone 6/ iPhone 6 Plus.
Convert Blu-ray to iPhone 6 > Step 1: Start DVDFab, choose Ripper, then import in the source
Start up DVDFab, then select Ripper option on the ribbon of the interface to activate Blu-ray Ripper. Load in the Blu-ray movie. After the movie is imported in, you can see the longest movie title, ie., the main movie title is selected by default. If you want to choose other titles, just click Other Titles to bring them about. And you and also freely change the audio tracks and subtitles of the selected title.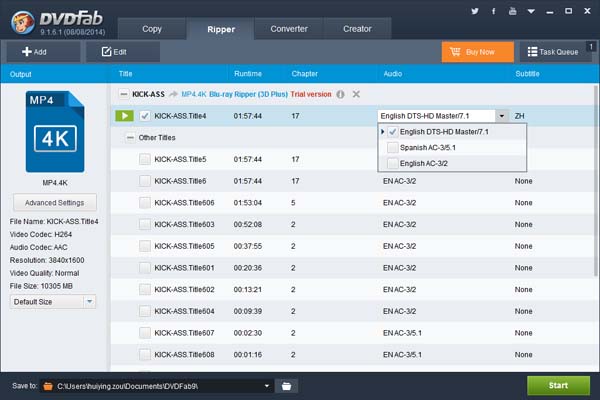 Convert Blu-ray to iPhone 6 > Step 2: Choose iPhone 6 profile
OK. Now click on the profile icon on the left part of the interface then you can find all supported profiles. Go to Device->Apple to choose iPhone 6 or iPhone 6 Plus according to your phone.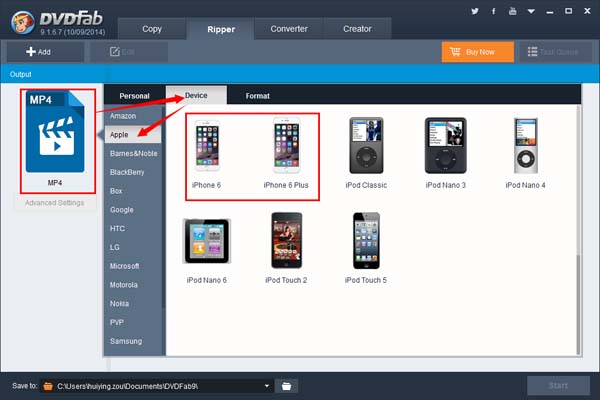 Convert Blu-ray to iPhone 6 > Step 3: Start conversion
OK. Now you can hit Start button on the main interface to start Blu-ray to iPhone 6 video conversion. The process will be very fast and the output will be outstanding in quality and effect. By the way, if you want to set more about the video and audio parameters, you can click Advanced Settings and/or Edit on the main interface to freely set up.
More information of this Blu-ray to iPhone 6 converter can be found at: http://www.dvdfab.cn/blu-ray-ripper.htm