Convert DVDs for Kindle Fire
When speaking of Amazon, the first impression people would think is that, wow, that's a huge E-commerce company. Yeah, it was in the first place. This Seattle headquartered electronic commerce giant is the world biggest online retailer whose business coverage has been and is keeping expanding much more multinational. If it is correct to say that Sam Walton used to build the world No. 1 indoor department store, then it is definitely okay to say that Jeff Bezos has constructed the world second-to-none supermarket on the web.
Out of everyone's expectation, on September 28, Amazon announced a mini tablet computer named Kindle Fire, an enhanced edition of its predecessor, Kindle e-book reader. That's to say, Kindle Fire can be a mini entertainment hub. But, how can I watch my favorite DVD movies on this Kindle Fire? Don't worry, with the help of DVDFab DVD Ripper, the best DVD ripper software available on the marketplace, you will have no difficulty in doing that.
Here is an in-depth tip, telling you how to do:
Convert DVD for Kindle Fire: Step 1 -> Download and install to your computer the latest version of DVDFab.
Convert DVD for Kindle Fire: Step 2 -> Start DVDFab, navigate to DVD Ripper option and Amazon mode, and then load the DVD you'd like to convert. Next, choose the audio track and subtitle stream you need to keep.
Convert DVD for Kindle Fire: Step 3 -> Click the "Edit" and "Video Effect Settings" buttons and do the Conversion Settings and Video Effect Settings respectively, then hit "Start" button to go converting. Next, wait for the task to be completed.
Note: the key point is to choose Amazon mode from the navigation panel, pay enough attention.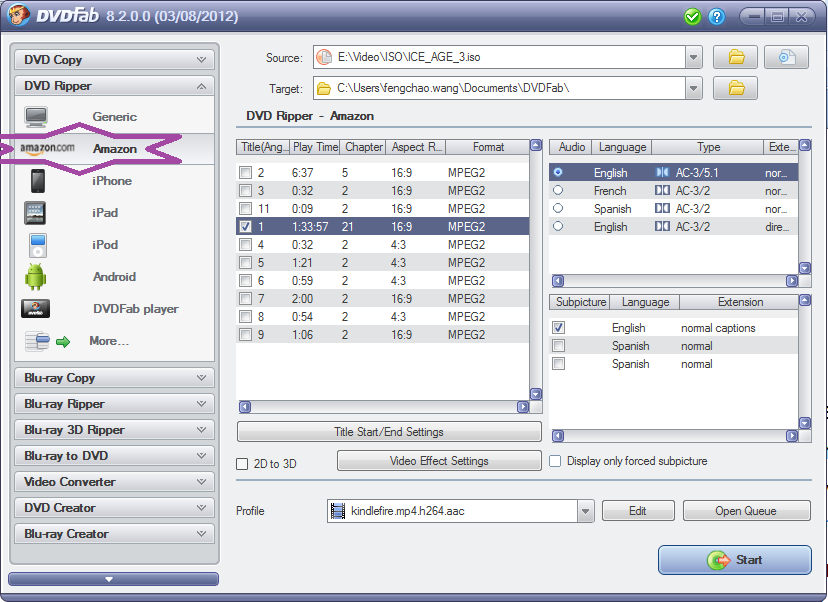 For more information, you can go to DVDFab DVD Ripper page.