Convert videos for Samsung Galaxy Tab P7510
Simply type tablet PC in Google Shopping and then trigger the search engine, guess how many pages you will get? The answer is thousands of, if not millions of. Yes, it is true that tablet PCs are trying to replace traditional computers in an unprecedented way. Maybe as a side effect of the popularity of Apple's iPad, all the other computer producers are investing huge money and efforts to roll out their own tablets, even MS is going to marketing its Windows 8 based Tablet—Surface. As one of those millions of competitors, Samsung, of course will not be left behind. Up to now, Samsung has released a bunch of tablets, in which, Galaxy series has made remarkable sales on the market.
Do you have a Samsung Galaxy Tab P7510? As one module of Galaxy Tab 10.1 series, P7510 has been amazingly welcomed, maybe because of its excellent shot in playing videos. How to convert your personal video collections for this tablet? Here follow this tip to see how to do that with DVDFab Video Converter.
Convert Video for Samsung Galaxy Tab P7510: Step 1-> Download and install to your computer the latest version of DVDFab.
Convert Video for Samsung Galaxy Tab P7510: Step 2 -> Start DVDFab, navigate to Video Converter option and Samsung mode, and then load the videos you'd like to convert. Next, choose the profile "Samsung.p7510"at the bottom part.
Convert Video for Samsung Galaxy Tab P7510: Step 3 -> Click the "Edit" and "Video Effect Settings" buttons and do the Conversion Settings and Video Effect Settings respectively, then hit "Start" button to go converting. Next, wait for the task to be completed.
Note: the key points are to select Samsung mode from the navigation panel, and choose profile "Samsung.p7510". Pay enough attention.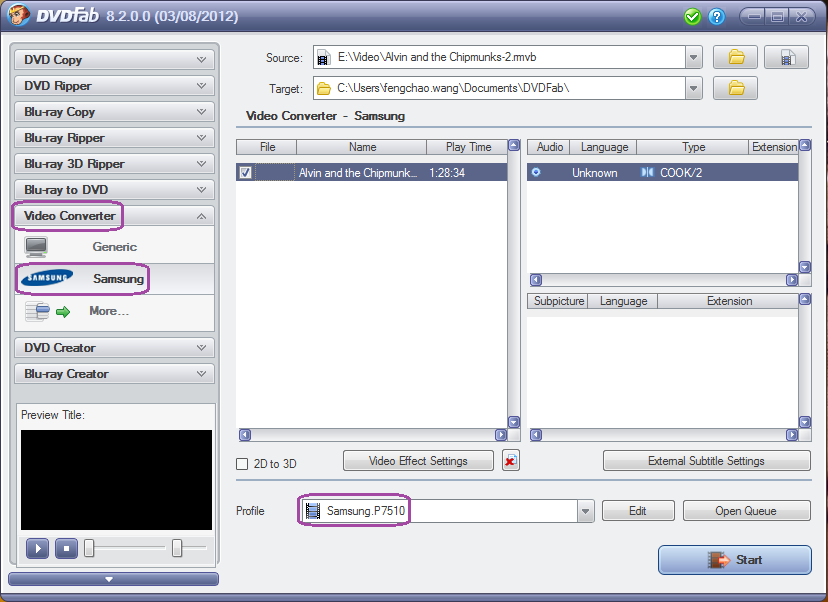 For more information, please go to DVDFab Video Converter page.