Convert videos for Amazon Kindle Fire
Wherever success is made, fame follows. And the success and fame in return will drive the reputation bearer to go forward. It is true that Amazon Kindle e-book reader is a major success. As it reinvented the way people read their books. Some even foresee a serious recession of the traditional publishing industry, worrying the extinction of printed books in the future, just like they worry about the surviving of printed newspapers when more and more media agencies offer online editions of their papers. The fact is that the printed newspapers still have markets. Maybe the scent of ink is the only thing that holds them back from going online.
So, can Amazon repeat its success of its e-book reader on its mini tablet Kindle Fire? Hopefully, it will. To be part of that hope, people can take their videos with Kindle Fire and enjoy on the go. DVDFab Video Converter, one of the best video converter apps, can help you convert all your videos to Kindle Fire compatible videos.
Here is a tip for your reference:
Convert video for Amazon Kindle Fire: Step One -> Download the latest version of DVDFab Video Converter and install it on your computer.
Convert video for Amazon Kindle Fire: Step Two -> Launch DVDFab, navigate to Video Converter option and Amazon mode, then simply drag and drop the video file you are about to convert into the main interface. Next, choose the audio and subtitle you need to keep.
Convert video for Amazon Kindle Fire: Step Three -> Click the "Edit" and "Video Effect Settings" buttons and do the Conversion Settings and Video Effect Settings respectively, then hit "Start" button to go converting. Next, wait for the task to be completed.
Note: the key point of this conversion is the Amazon mode, pay enough attention.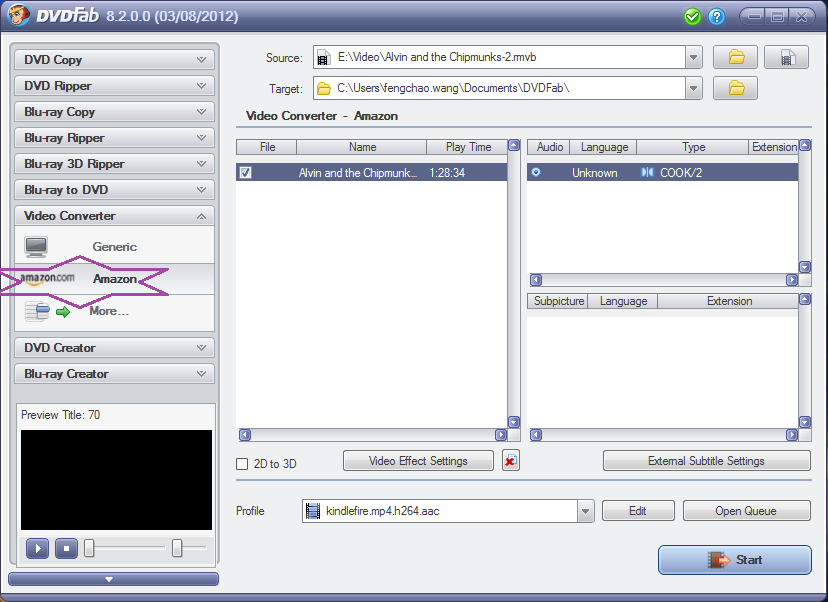 For more information, please go to DVDFab Video Converter page.