Copy Blu-ray to ISO file
Sometimes, if you are running out of blank Blu-ray discs, or simply just want to keep your budget down, or you happen to have ample free space on your local hard disk drive, you can backup your Blu-ray disc to your local HDD, by doing which, you can 1) save money on buying expensive blank Blu-ray media, 2) slim down the chance of messing up with bunch of folders and, 3) load the ISO image file as source to burn to blank Blu-ray media whenever you feel necessary.
How to do this? As an all-inclusive Blu-ray Copy software, DVDFab Blu-ray Copy can help you achieve this goal. Here is an in-depth guide on this step by step.
Copy Blu-ray to HDD as ISO: Step One -> Preparations: Download and install the newest DVDFab here, run it and go to Blu-ray Copy option, then insert your Blu-ray disc into the optical drive to let DVDFab access the movie;
1.1 Case 1. Full Disc mode: click the disc&paper icon at the target area to choose a location where you are gonna store the resulting ISO image file, for example E drive, and make sure the location you choose has plenty free space as the entire Blu-ray disc requires about 50 GB.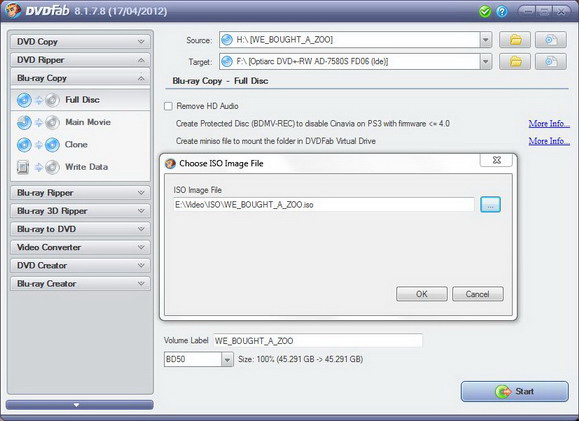 Sidenote: You can also output to BD 25 size by the dropdown selector, which requires less free space.
1.2 Case 2. Main Movie mode: choose a location to store the output ISO file as in case 1, then choose the main movie title, audio tracks and subtitle streams you want to retain, and select an output size, BD 25 1080p for instance, and click "Next" to go forward;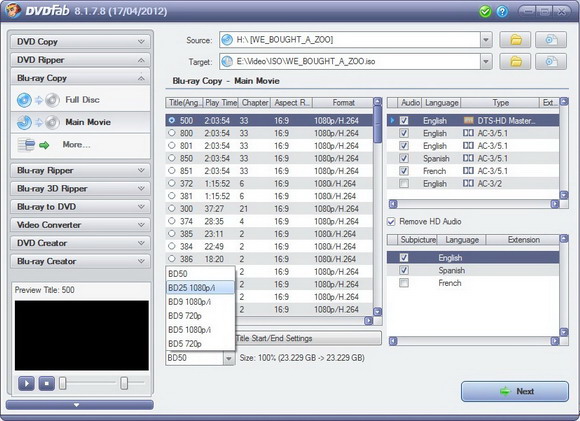 Copy Blu-ray to HDD as ISO: Step Two -> Start Copying: whether in Case 1 Full Disc mode or Case 2 Main Movie mode, when it comes to the real copying stage, just click the "Start" button to let go. The only thing you need to do following is to wait for the task to be completed, should not be long, 25 minutes or so, according to the disc size;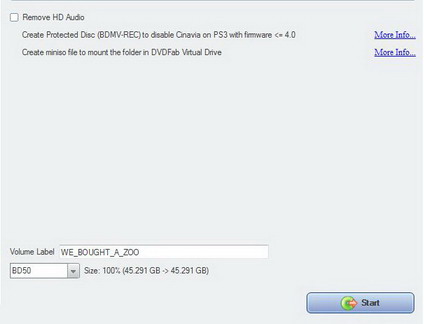 2.1 During the copying process, you can trace the information at the "Info" page: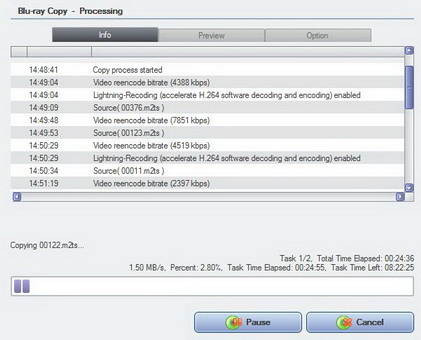 2.2 Under the "Preview" page, you can vividly check the progress when it comes to the ISO creating stage: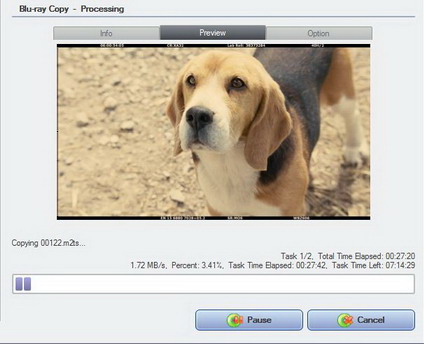 2.3 At the "Option" page, you have the chance to shut down your PC automatically when the job is done right:
FYI: DVDFab media player can play the ISO image file directly, you do not need to mount the ISO with a virtual drive first any more.
For more information, please visit DVDFab Blu-ray Copy page.