Copy DVD Movie with DVDFab DVD Copy in a Flexible and Simple Way
Wanna copy and backup your favorite DVD movie to a blank DVD disc, or to the hard drive on your PC? And split, customize or merge DVD to copy? All can be accomplished using DVDFab DVD Copy, which can copy DVD movie in a flexible and simple way. You will like it. Following are its flexibilities and simple operation while copying DVD movie.
Copy DVD movie > Step 1: Open DVD movie as source
After easily install and run DVDFab DVD Copy, the first you should do is insert your DVD movie to let it be opened by the app. You need to define a region code, then wait few seconds when it's being loaded.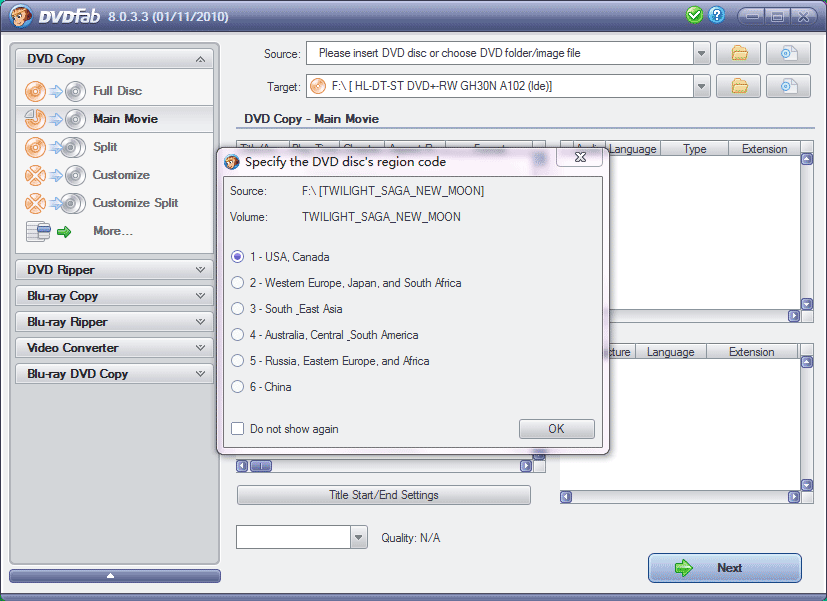 Copy DVD movie > Step 2: Copy in any way you want
1) Choose a copy mode:
DVD Copy offers 8 modes for you to freely copy movie in any way you want. They are: Full Disc, copies all content of DVD disc; Main Movie, copies only the longest title; Split, splits a DVD movie into two DVDs; Customize, lets you choose any titles you want to copy; Clone, copies in 1:1 ratio; Merge, merges two DVDs into one; Write Data, copies movie on your hard drive to a disc or ISO image file; and Customize Split, allows you to allocate movie titles to two disc.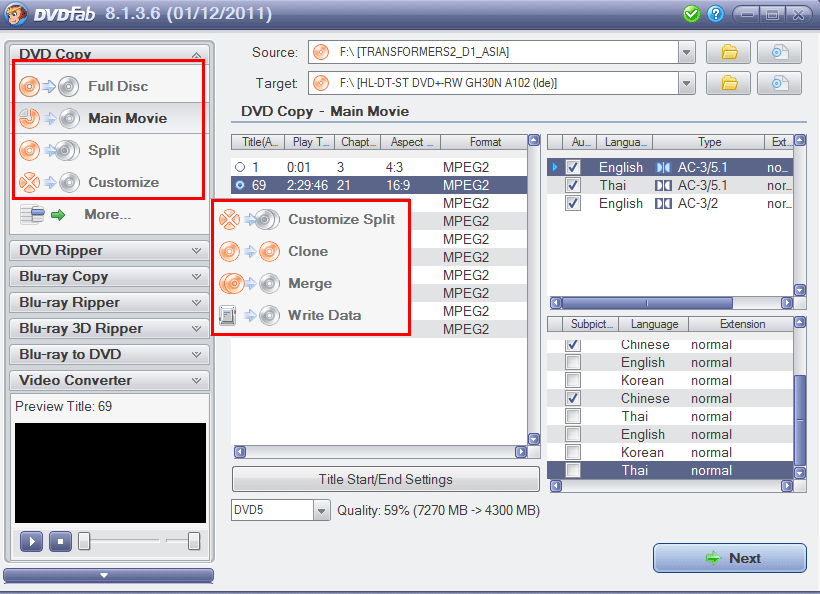 2) Choose a target:
DVD Copy outputs your source DVD movie to disc, file folder or ISO image file on your computer. So, you need to decide a target. By the way, don't forget to select output type in the lower part of the interface. Here we select disc to copy DVD movie to DVD for example.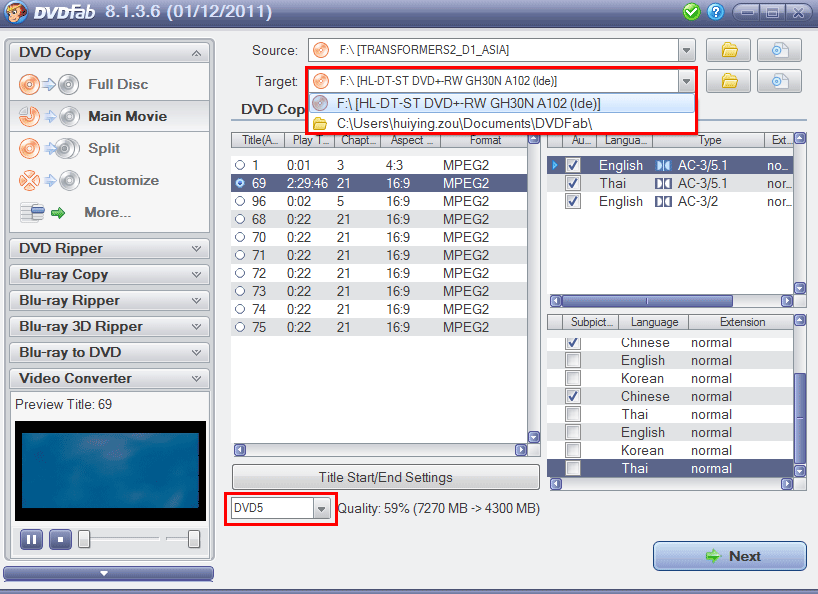 Copy DVD movie > Step 3: Set up something
1) Subtitles and audio tracks settings, and real time title preview function:
You can freely check your favorite subtitles and audio tracks for the title. And the built-in real time preview window in the bottom left corner will help you set.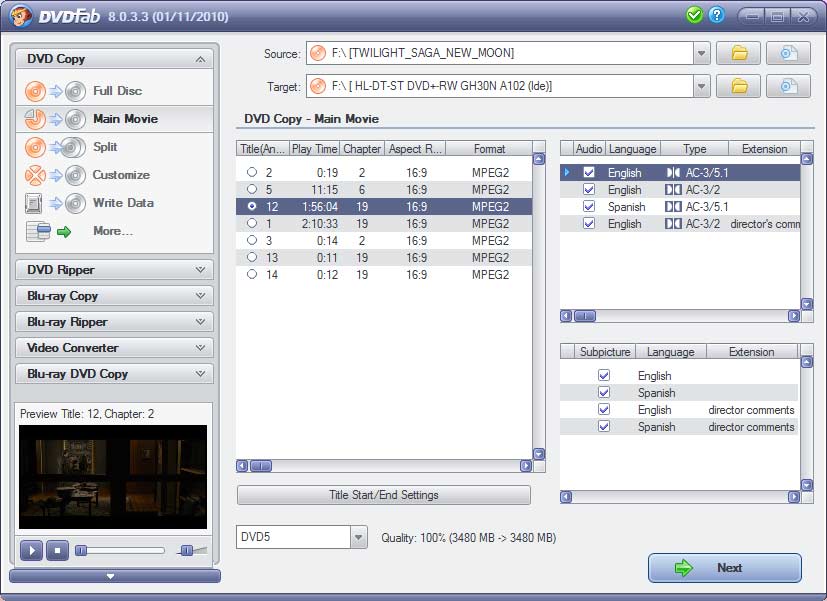 2) Set loop play mode, change volume label if you need:
Click Next button, then you will be brought to the following interace. You are also enabled to set loop play mode for your movie copy here. If you like, the volume label can be changed.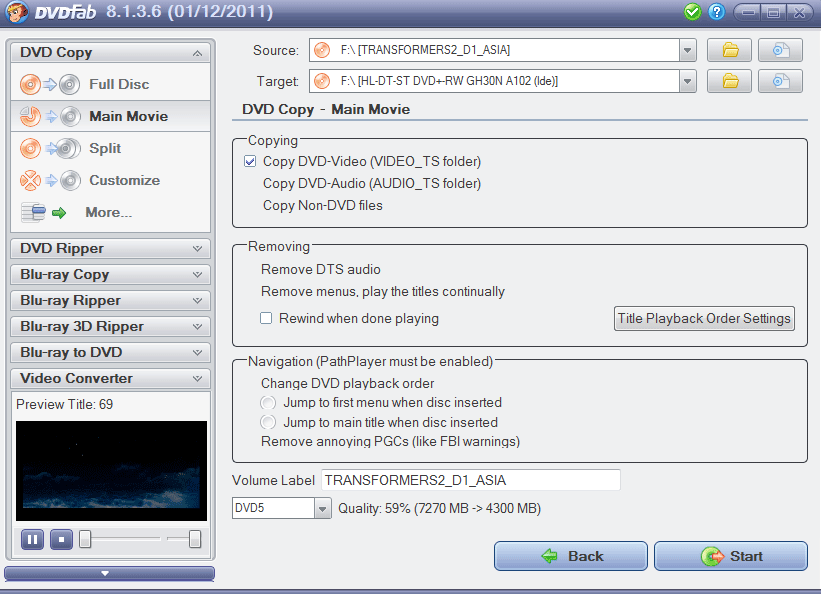 Copy DVD movie > Step 4: Start copy
Click Start button on the main interface to start copy. The detailed progress information can be checked.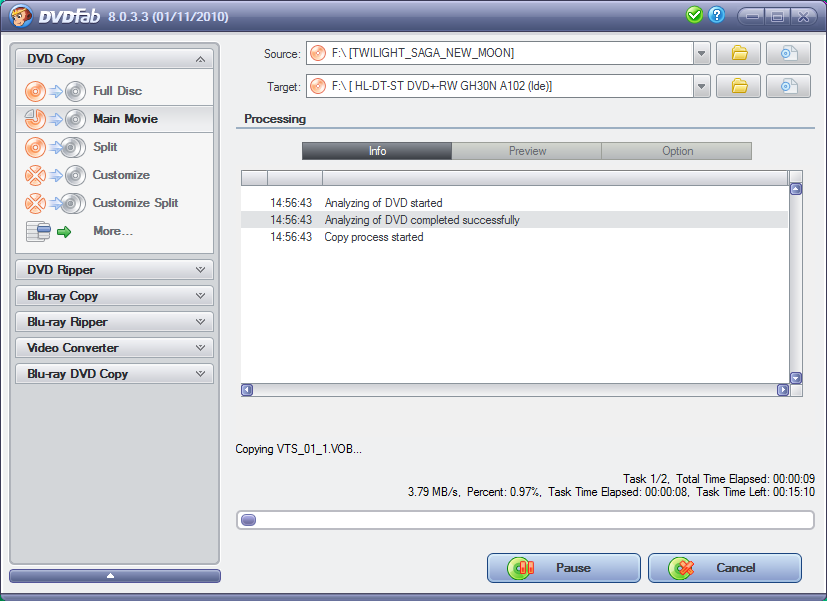 And you can "view" the progress with ever changing movie pictures.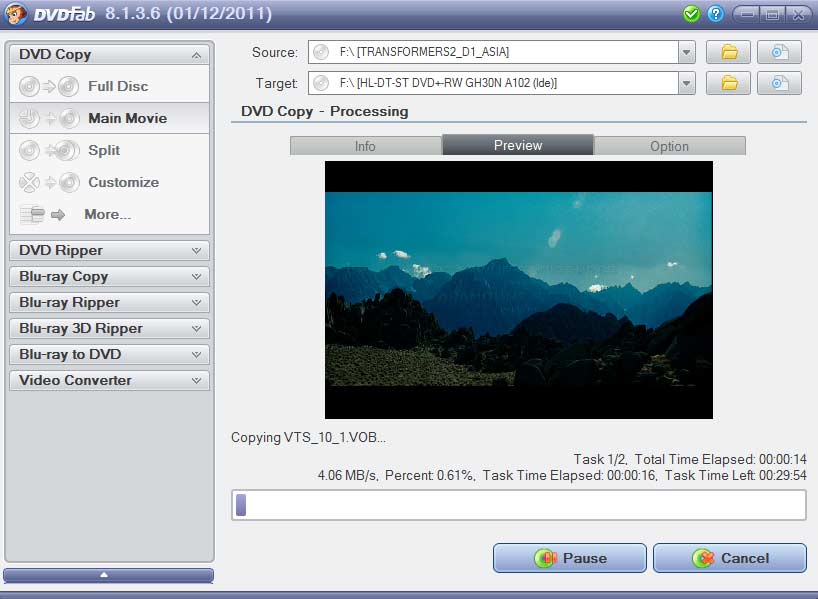 Set auto shutdown to relax yourself.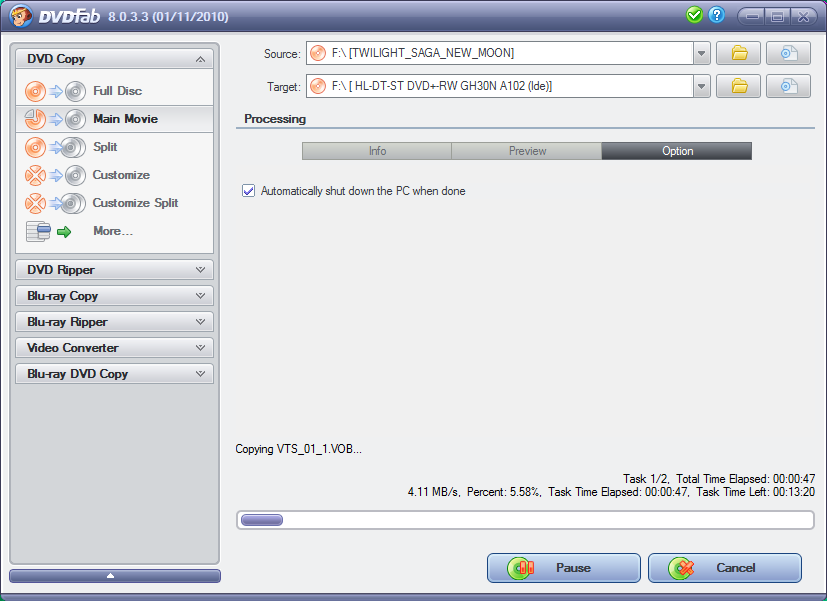 Note that if you are copying your DVD movie to another DVD disc, after the copy process completed, you will be asked to insert a compatible media to start write data, just insert a blank disc or a rewritable disc to save your movie.
OK. Above is what you can do using DVDFab DVD Copy to copy DVD movie. I think it's really flexible and simple to use. What's your thinking?