Copy DVD Movie with DVDFab DVD Copy in a Flexible and Simple Way
Do you know how many ways you can back up your DVDs? Well you may say that depends on what tools we use. Correct, most DVD copy software on the internet allow people to back up their DVD collections in a handful ways, but DVDFab DVD Copy, the outstanding contestant, allows you back up DVD movies in up to six flexible ways. Yes, you are hearing correctly, SIX! And that still does not include the flexible settings you can do according to your own needs.
Let's check out the guide below to see how you can do that:
Copy DVD in a Flexible Manner: Step 1 > After downloading and installing DVDFab 9, start it and navigate to Copy option, and then load the DVD you want to back up;
Copy DVD in a Flexible Manner: Step 2 > Select one copy mode from the mode bar, like Full Disc, or Main Movie, or Clone, choose an output size at the bottom part of the main interface, and then press the Start button to go copying;
Copy DVD in a Flexible Manner: Step 3 > When prompted by a window asking you to insert a blank media, you can replace the DVD disc with a blank DVD to continue the process.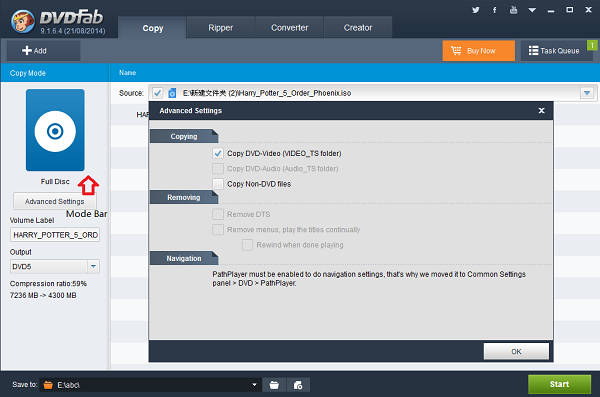 Note: 1. Apart from the six copy modes, you can even select to choose a certain chapter range of the movie title, some certain audio tracks and subtitle streams to copy if you choose the Main Movie mode;
2. When it's time to insert a blank media, you need check the output size you have selected, if you selected DVD 5, then just put in a blank DVD 5 disc, or else, put in a DVD 9 disc.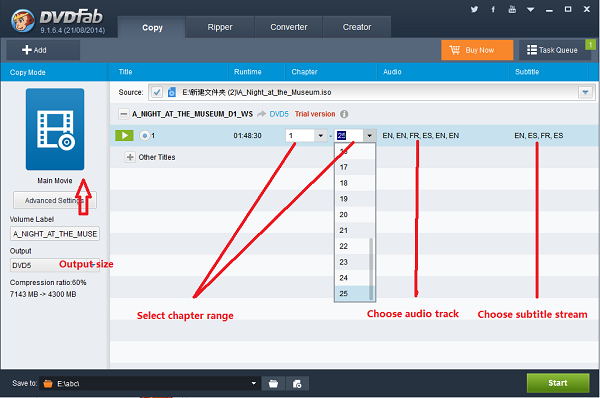 Software you need: the latest build of DVDFab 9
Product you need order: DVD Copy
For further information, please visit www.dvdfab.cn/dvd-copy.htm