DVD to Samsung Galaxy S III
May 5, 2012, London, Samsung released its new flagship smartphone, Galaxy S III, another blockbuster of its Galaxy series. Soon, attentions and focuses came. Somebody rumored that Galaxy S III was the world first smartphone which was designed by lawyer, instead of professional designers, with the only purpose to avoid any potential infringement. Well, no matter what the original intention of such design was, it was a destined to be associated with the next generation of iPhone.
Galaxy S III has a 4.8 inch HD Super AMOLED display, with the screen resolution up to 1280*720, perfect for enjoying movies, to those on-the-go movie fans. Here comes the question, how to transfer DVD-video from physical DVD disc to this 4.8 inch guy? DVDFab DVD Ripper, the best DVD Ripper software for Samsung Galaxy S III, can do this for you in a quick and efficient manner.
Follow the step-by-step tip below to see how to convert DVD movie for Samsung Galaxy S III, with the DVD Ripper software from DVDFab:
DVD to Samsung Galaxy S III: Step 1 -> Download and install free dvd ripper software to your computer the latest version of DVDFab.
DVD to Samsung Galaxy S III: Step 2 -> Download the profile for Samsung Galaxy S III and double-click it to add the profile on your computer.

DVD to Samsung Galaxy S III: Step 3 -> Start DVDFab, navigate to DVD Ripper option and Samsung mode, and then load the DVD you'd like to convert. Next, choose the audio track and subtitle stream you need to keep.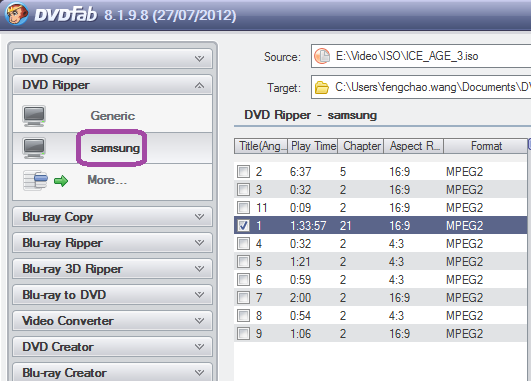 DVD to Samsung Galaxy S III: Step 4 -> Click the "Edit" and "Video Effect Settings" buttons and do the Conversion Settings and Video Effect Settings respectively, then hit "Start" button to go converting. Next, wait for the task to be completed.
Note: the key points are to download the profile for Galaxy S III and select Samsung mode from the navigation panel, pay enough attention.
For more information, you can go to DVDFab DVD Ripper page.