How to Burn Blu-ray with DVDFab Blu-ray Copy for Mac?
If you want to use some software working on your Mac to burn Blu-ray into blank discs for backup, collection, etc, then give DVDFab a shot. DVDFab Blu-ray Copy for Mac can burn Blu-ray into BD 50 or BD 25, even to BD 9 and BD 5, and can burn all Blu-ray content or just the movie part. Everything is under your choice and easy to control and operate. You'll be impressed with its superior output quality and fast speed. Next is a simple tutorial about how to burn Blu-ray with DVDFab Blu-ray Copy for Mac. Follow me if you're interested.
How to Burn Blu-ray > Step 1: Run Blu-ray Copy for Mac, and choose how to burn
Start DVDFab for Mac, and choose "Blu-ray Copy". Import in the source Blu-ray you want to burn. If you want to burn all the content of the Blu-ray disc, make sure the "Full Disc" option on the left pane is selected. As showed in the below screenshot, you can choose the output type as BD 50 or BD 25, and you can remove HD Audio to save space, and if the source disc is protected by Cinavia, you can also choose to disable Cinavia to output a playable output disc.
Full Disc: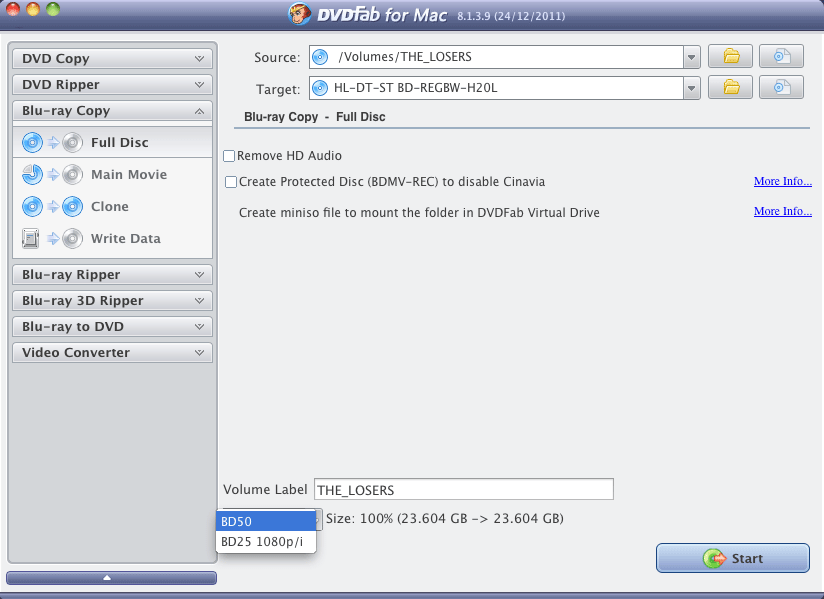 If you want to burn only the main movie part of the Blu-ray, just select "Main Movie" mode on the left pane. After the source is in, the longest movie title is selected by default for you, and you can freely choose your favorite audio tracks and subtitles. For the output type, you can specify proper one from BD 50 and BD 25 to BD 9 and BD 5 according to your need. One more thing, you can preview the movie title in real time in the bottom left corner to avoid setting mistakes.
Main Movie: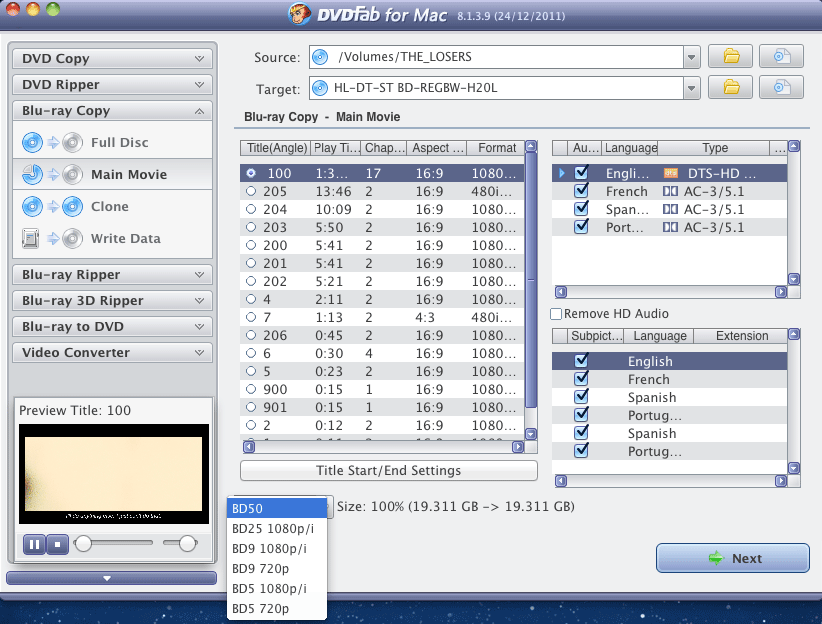 Click Next button to come to the next interface as below.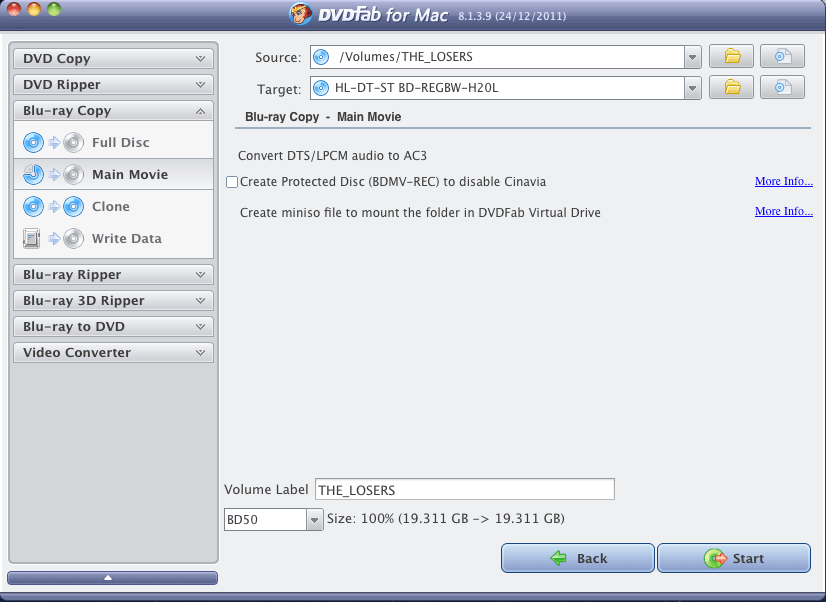 How to Burn Blu-ray > Step 2: Click Start button to start burning
OK. Now just click Start button to start Blu-ray burning. During the process, you can view detailed progress info. And you'll be asked to insert a compatible media to start write process if you use one Blu-ray drive in this operation. And the prompt window is similar to the following one.

So just insert a compatible one to continue the process. DVDFab has very fast processing speed, soon you'll get what you want. If you would like, you can also set your computer to auto shutdown.
For more info about DVDFab Blu-ray Copy for Mac, please go to: www.dvdfab.cn/blu-ray-copy-for-mac.htm