How to Rip and Convert Blu-ray to MKV with Blu-ray to MKV Converter?
The Matroska Multimedia Container is an open standard free container format, a file format that can hold an unlimited number of video, audio, picture or subtitle tracks inside a single file. Matroska has 3 types as video file, audio-only file, and subtitles file. MKV is the video type with subtitles and audio which takes up more capacity yet maintains higher visual quality. If you want to enjoy your Blu-ray movies on PC or home theater system by converting them to other formats and decrease the inevitable quality damage, then you can go to DVDFab Blu-ray Ripper, also a Blu-ray to MKV Converter, to convert Blu-ray to MKV.
Rip Blu-ray to MKV>Step 1: Run Blu-ray Ripper – to MKV
Free download and install DVDFab. Run Blu-ray Ripper and select "to MKV" option on the left panel of UI.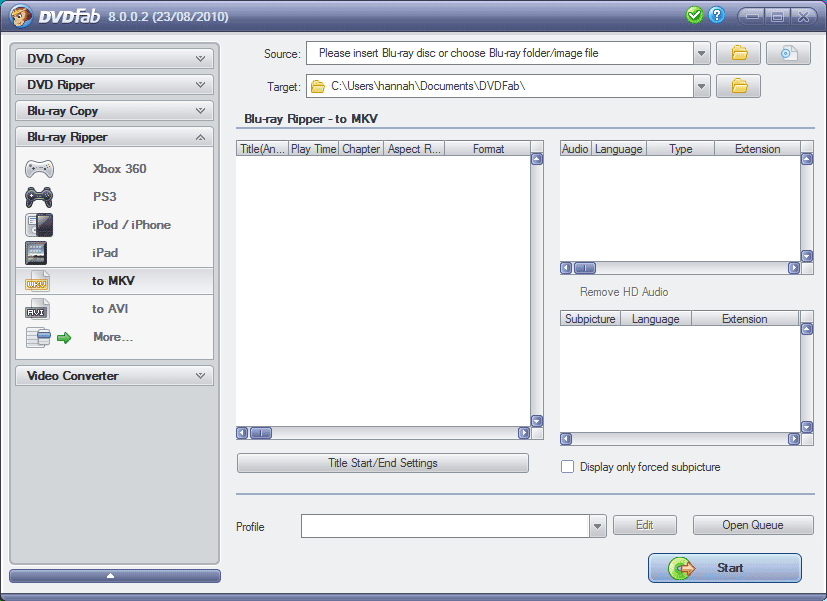 Rip Blu-ray to MKV>Step 2: Insert Blu-ray disc
Insert Blu-ray disc to Blu-ray drive for the program to load it in. You are going to select the region code of the inserted Blu-ray, and wait a while till it is opened.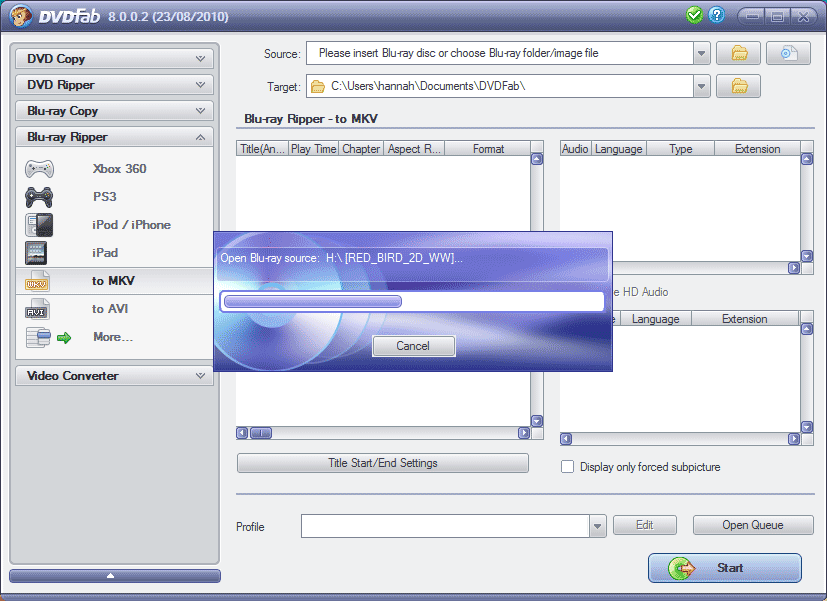 Rip Blu-ray to MKV>Step 3: Select titles
Select as many titles as you want to convert from the title list on the main interface, since Blu-ray Ripper supports batch conversion. You can also convert part of a title by clicking "Title Start/End Settings" to arrange its start and end chapter. In the Profile drop-down list, choose one profile for one title among these preset and optimized profiles. You can specify the subtitles and audio track for output as you like. And the movie titles can be viewed through an internal video player to help your selecting.
Rip Blu-ray to MKV>Step 4: Set further
Click "Open Queue" to open the conversion task queue window. You can add in new tasks with the same title of other task but a different profile by highlighting a task, hitting "Copy", clicking on the profile of the newly produced task copy to activate a profile drop down, then choosing another different profile from it. You can also remove a task by highlighting it and click "Remove".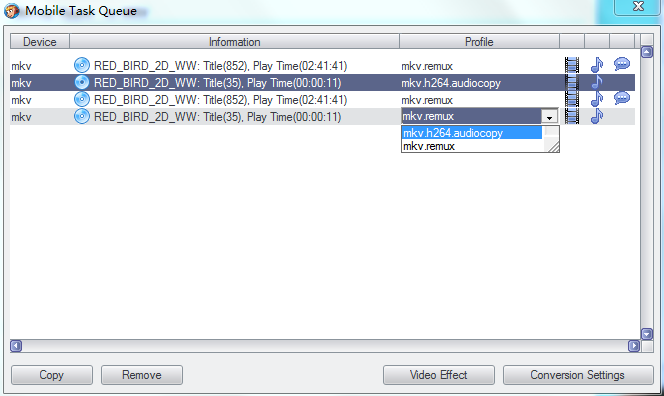 Click "Conversion Settings" to set a lot of things for the conversion. Such as the video bit rate, frame rate, aspect ratio, frame resolution, etc.; and the audio bit rate, volume and channel. You can extract audio from video if you need by "Audio Only" option of the Output Type.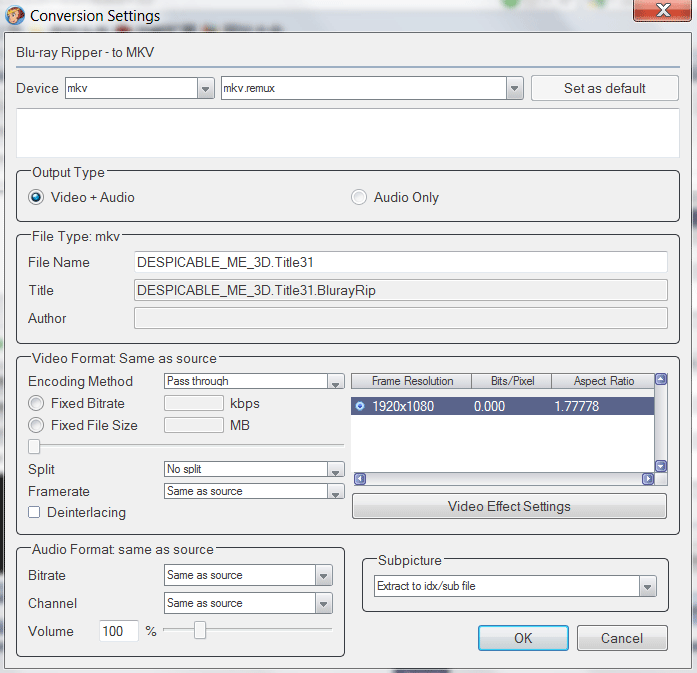 Click "Video Effect Settings" to set output video effect to your desired one. The "Resize" option will resize the frame resolution.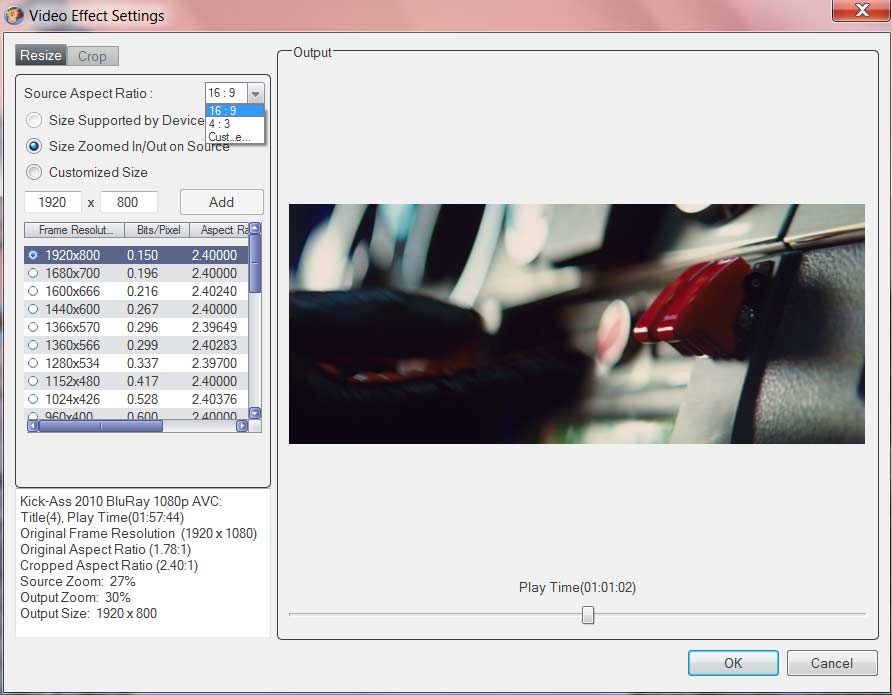 The "Crop" option will let you freely crop video through adjusting the frame mark on source video or values in the 4 boxes (Top, Bottom, Left, Right), or let Blu-ray Ripper cut off the black bars automatically on the source video. By the way, you can resize your output from Letterbox to Pan&Scan; and the checkbox "Keep Aspect Ratio" won't change the aspect ratio during cropping.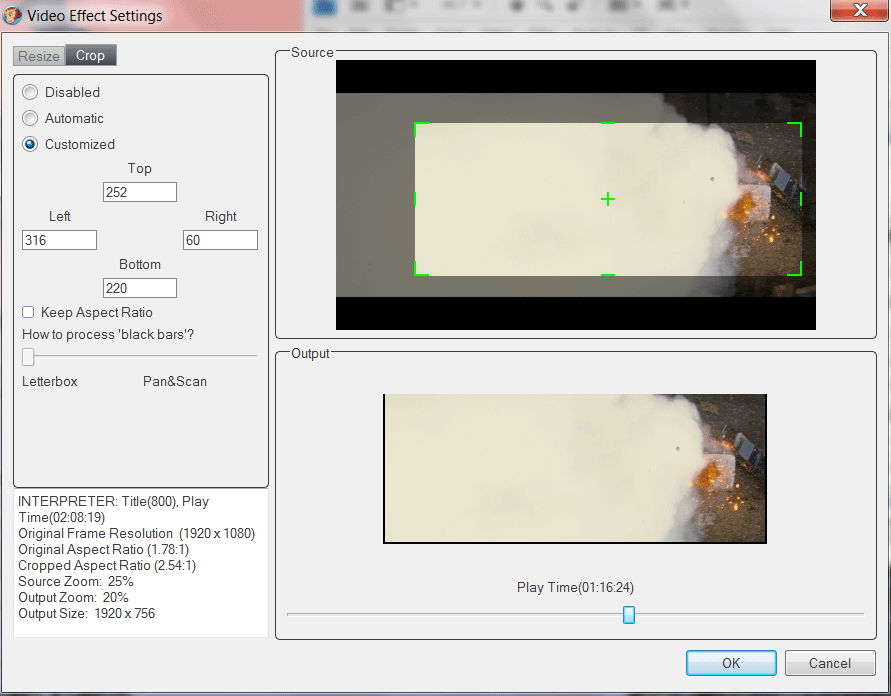 Note: The lower left of Video Effect Settings widow is detail information of title.
Blu-ray to MKV>Step 5: Start converting
Make sure everything is OK, and you have a large enough target folder to save output files, then click "Start" on the main interface to start converting. All converting information during the whole process can be viewed.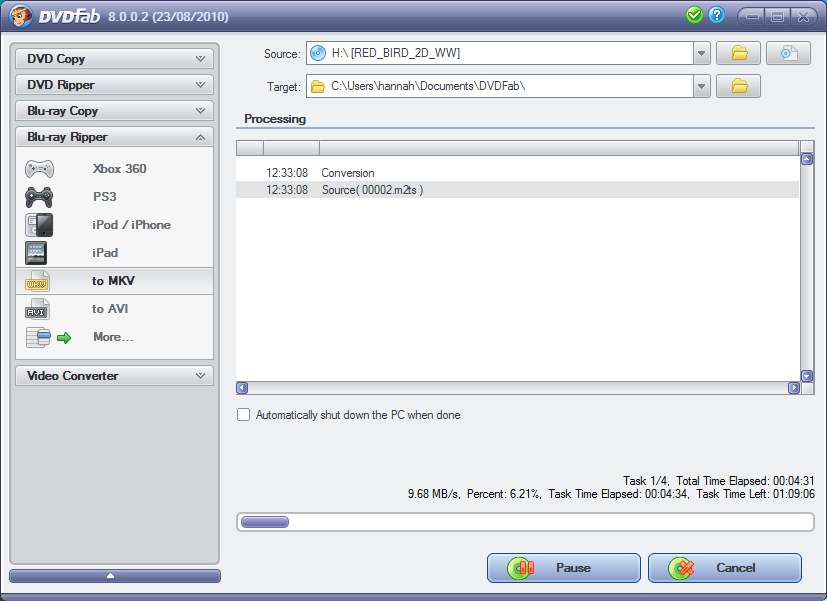 Yes. Converting Blu-ray to MKV with DVDFab Blu-ray Ripper (Blu-ray to MKV Converter) is just so simple. Now, you can enjoy your Blu-ray with MKV format with your family or friends.