How to Rip and Convert Blu-ray to MP4 with Blu-ray to MP4 Converter?
Do you have problems in converting Blu-ray to MP4 playable on most MP4 players such as iPod, iPhone, Apple TV, PSP, etc. with Blu-ray to MP4 Converter? Then DVDFab Blu-ray Ripper is here, which can convert Blu-ray to various video/audio formats compatible with multi-devices, also including Blu-ray to MP4 conversion. With DVDFab Blu-ray Ripper, you will find converting Blu-ray to MP4 is just a piece of pie. Next is a step by step guide.
Rip Blu-ray to MP4>Step 1: Run DVDFab Blu-ray Ripper – to MP4 and open source
Install and run DVDFab Blu-ray Ripper, go to "to MP4" mode. Insert Blu-ray disc, now you are asked to select its region code. Choose a corresponding one then it will be opened as source.
Rip Blu-ray to MP4>Step 2: Choose titles and profiles for conversion
There is a title list on the main interface including all the titles of the source movie. You can choose more than one title if you need to convert for DVDFab Blu-ray Ripper supports batch conversion to save your time. Go to Profile drop down list on the lower part to choose a proper profile for each title among those optimized preset profiles. The output subtitles and audio tracks can also be chose on the right side. And a mini video player allows you to preview a checked and highlighted title on the lower left. Note that DVDFab Blu-ray Ripper enables you to arrange start and end chapter of a title for segment conversion through clicking "Title Start/End Settings".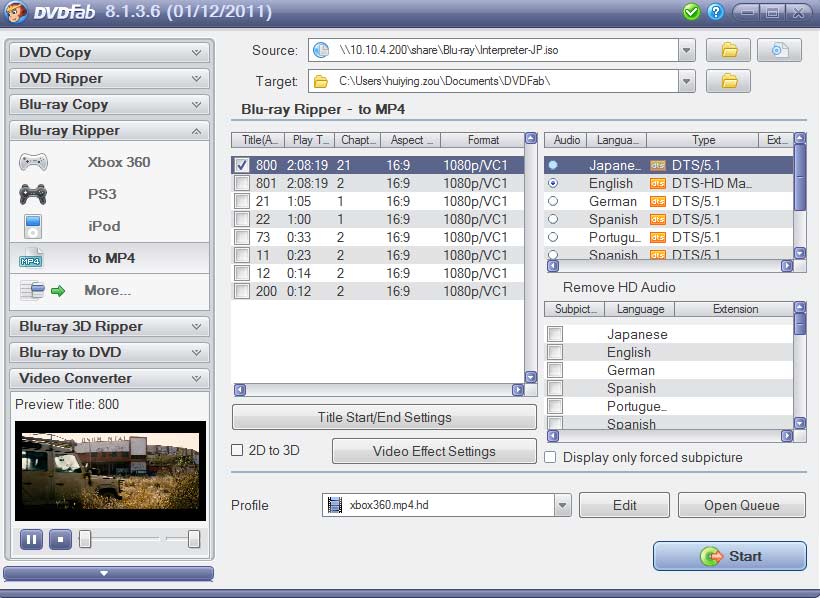 Rip Blu-ray to MP4>Step 3: Easily make professional settings
If you want to convert a title with different profiles simultaneously, or you want to invalidate a conversion task you have set previously, just click "Open Queue" button, which will lead you to fulfill all the above requirements in Mobile Task Queue.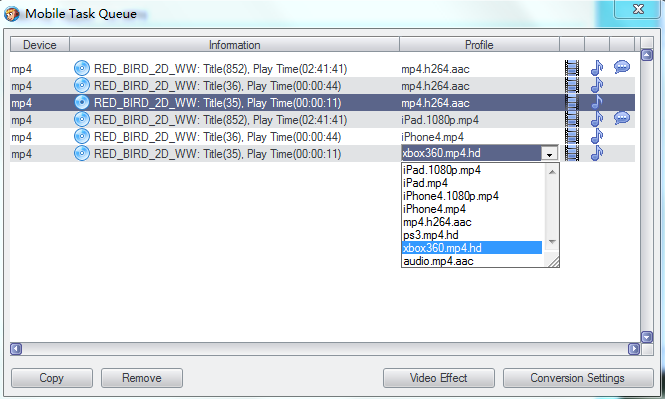 Click "Conversion Settings" to bring about Conversion Settings window, you can set a lot of things for output video and audio. Such as bit rate, frame resolution, aspect ratio, frame rate, file size, volume, channel, etc. And you are free to choose whether or not to split a title by chapter, or rename the file and title.
DVDFab Blu-ray Ripper enables you to set video effect as you like. Just click "Video Effect Settings" to enter a free word. You can use "Resize" option to resize the video's frame resolution; you can use "Crop" option to remove black bars on the source video automatically, to adjust crop frame on the source video, to set crop values in the Top, Bottom, Left and Right boxes, and to resize output from Letterbox to Pan&Scan. If you don't want to change aspect ratio while cropping, we recommend you to check "Keep Aspect Ratio".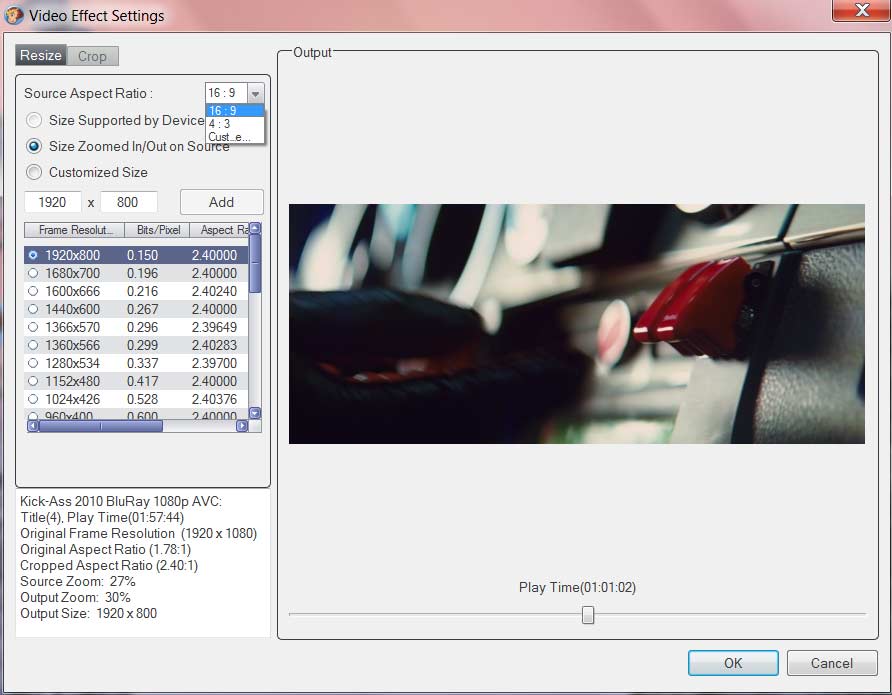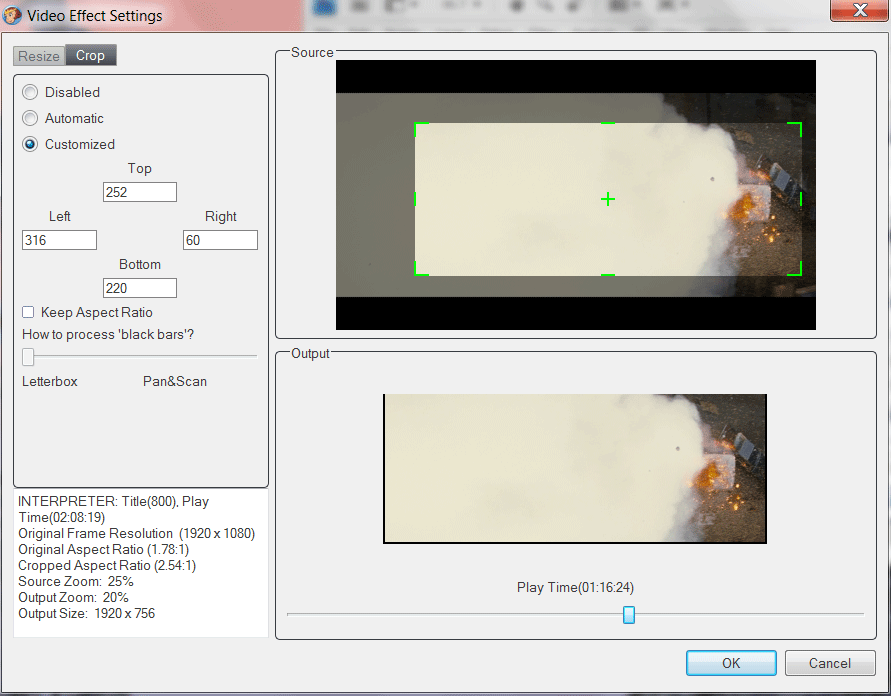 Rip Blu-ray to MP4>Step 4: Click "Start" to convert
Once you are sure that there is no more setting work, you can click "Start" button on the main interface to start converting process. The detail converting information and progress are visible.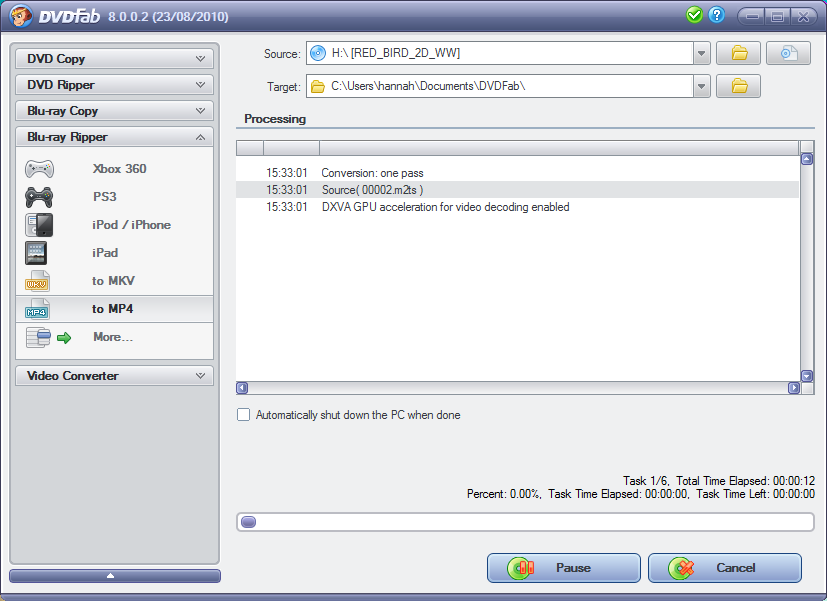 OK, the whole process of Blu-ray to MP4 conversion has been done. Now, you can freely enjoy your Blu-ray with MP4 Player. If you have the need to convert Blu-ray to other formats, you can also get help from DVDFab Blu-ray Ripper, which is not just a Blu-ray to MP4 Converter, but also a versatile Blu-ray to X Converter. Find it yourself!