How to Rip and Convert Blu-ray to PS3 with Blu-ray to PS3 Ripper?
Ever thought of enjoying your Blu-ray movies better on your PS3? PS3 is always regarded as the best Blu-ray Player because it's developer Sony is a master in the Blu-ray and Blu-ray technology. But if you want to have a better visual experience and save your space on PS3 hard drive, you need to convert your Blu-rays and make sure the output video is of high quality.
DVDFab Blu-ray Ripper is a powerful but flexible Blu-ray ripping tool which can rip and convert any Blu-ray to various video/audio formats to play on portable devices, next generation consoles, etc. with just one or two clicks. Next, let's have a look at how simple it is to convert Blu-ray to PS3 with DVDFab Blu-ray Ripper.
Rip Blu-ray to PS3>Step 1: Run DVDFab Blu-ray Ripper – PS3
Download and install DVDFab easily. Run DVDFab Blu-ray Ripper, go to "PS3" mode.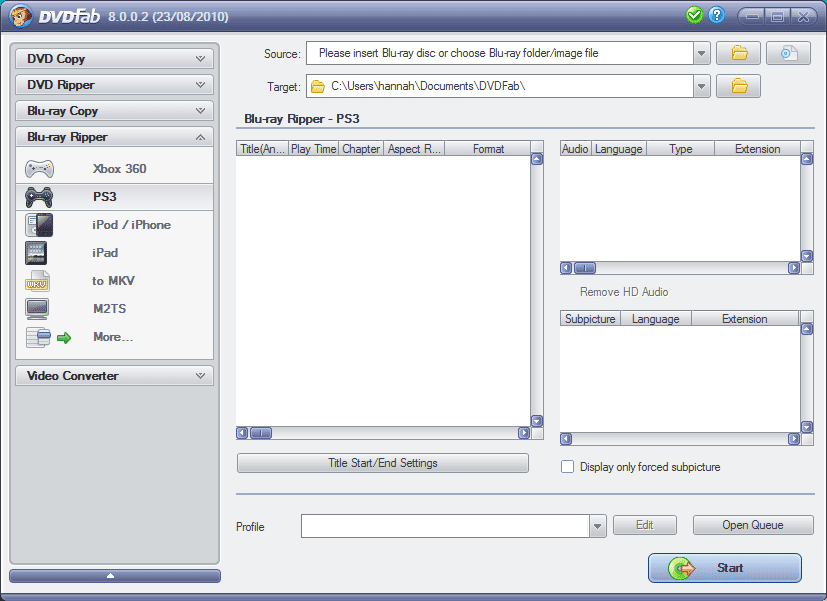 Rip Blu-ray to PS3>Step 2: Open Blu-ray as source
Insert Blu-ray disc, specify a corresponding region code, then wait a while for the program to open it as source.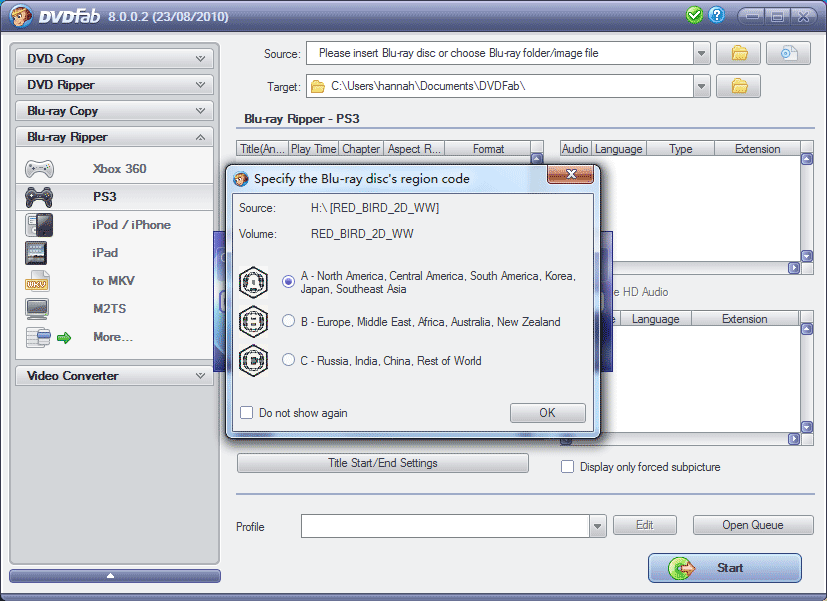 Rip Blu-ray to PS3>Step 3: Select titles for conversion
Select one or more titles to convert, since Blu-ray Ripper can convert multi-titles simultaneously, if you need, you can select as many titles as you like. You can also specify a segment of a title for conversion by clicking "Title Start/End Settings" to arrange the title's start and end chapter. About the profile for the title, you can rely on the fully optimized default one. The output subtitle and audio tracks are there on the right part of the main interface for your selection. You can also preview title with its built-in video player.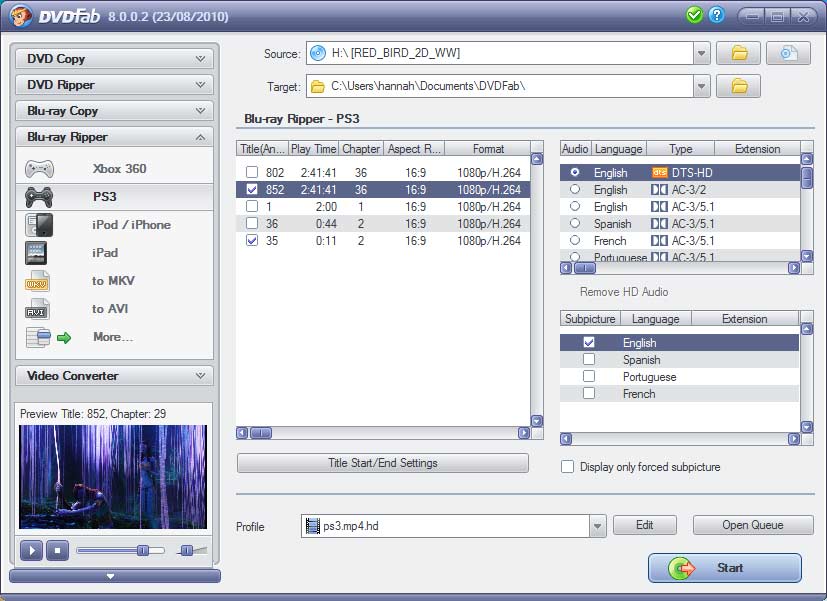 Rip Blu-ray to PS3>Step 4: Set freely
1) You can freely set a lot of parameters for conversion. If you want to remove an existing task, just click "Open Queue" button to open Mobile Task Queue window and highlight it then click "Remove".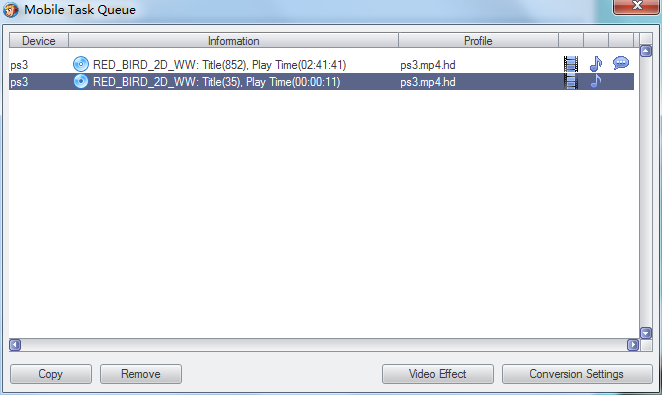 2) Click "Conversion Settings" to go to set video and audio format such as bit rate, frame resolution, aspect ratio, frame rate, file size, channel, volume, etc. You can rename file and title name, split a title by chapter, and decide how to deal with subpicture of a title.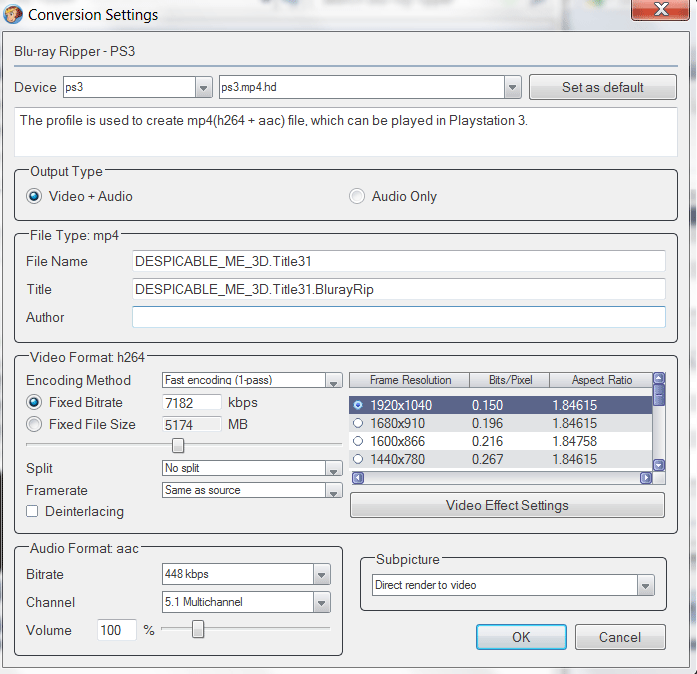 3) Click "Video Effect Settings" to set video effect according to your needs. You can resize the frame resolution by "Resize" option; and you can adjust crop frame and value boxes of the source video to get your favorite output effect. By the way, the output size can be reset by sliding between Letterbox and Pan&Scan. We recommend you to check "Keep Aspect Ratio" if you don't want to change aspect ratio during cropping.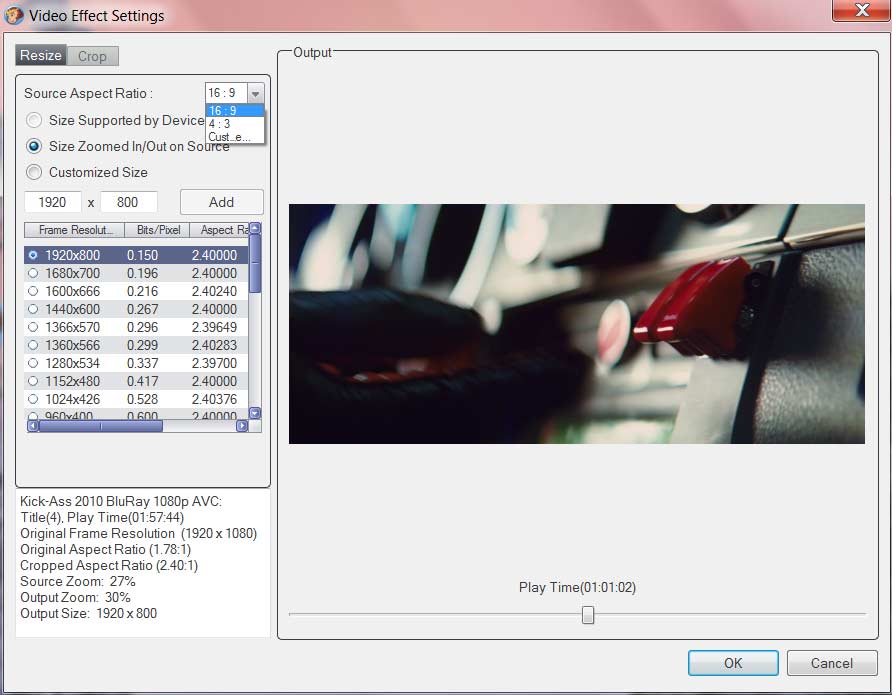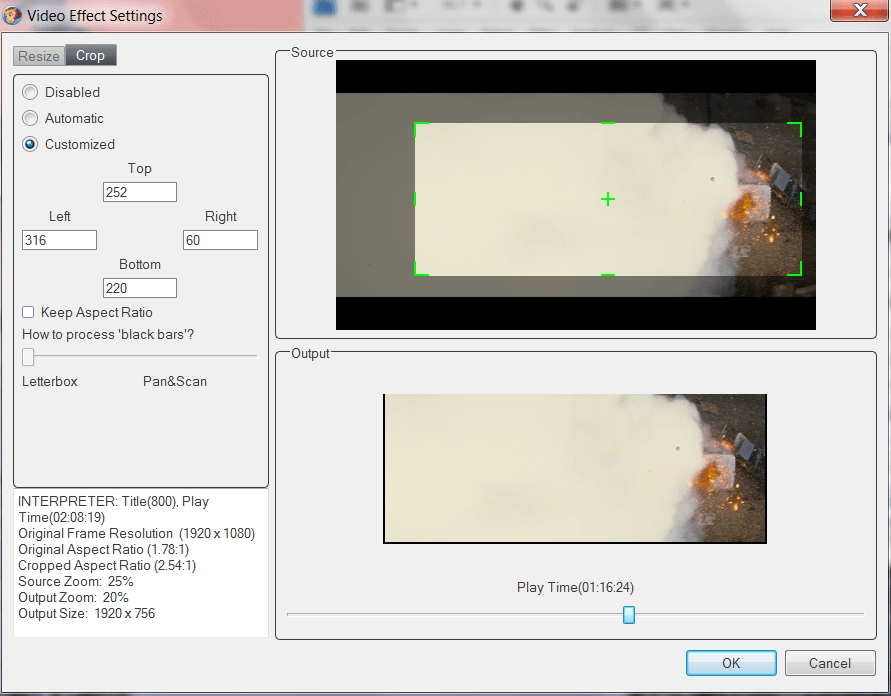 Rip Blu-ray to PS3>Step 5: Convert
Now that it's all right, just click "Start" button on the main interface to convert. And the converting information and progress show as below.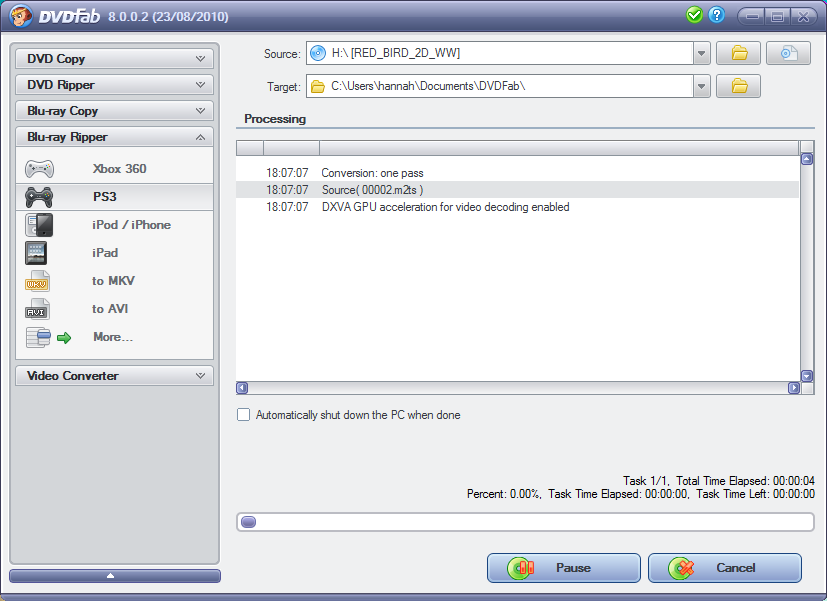 The whole process of Blu-ray to PS3 conversion is just as simple as above. Now, you can enjoy your masterpiece on your PS3, or show it off to your friends. Have fun!