How to Rip and Convert Blu-ray to TS Files with Blu-ray Ripper?
Do you want to rip and convert your Blu-ray movie to TS files which can be played on some high definition devices? If you want to achieve this in an easy and professional way, just give DVDFab Blu-ray Ripper a try, which is powerful to help you rip any Blu-ray to various video/audio formats based on your specific need.
Required tool: DVDFab Blu-ray Ripper
Rip Blu-ray to TS>Step 1: Run DVDFab Blu-ray Ripper, choose "to TS" option
DVDFab Blu-ray Ripper is ridiculously easy to download and install. After it is installed, just start it up. You'll see all DVDFab options are available on the left panel in the main UI since it's an all-in-one package, and you are only allowed to use the option you've registered after 30-day free trial. Just select "Blu-ray Ripper", and choose "to TS" option for this task.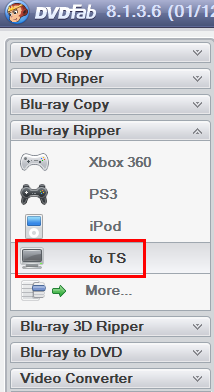 Rip Blu-ray to TS>Step 2: Load in the source movie
Now it's time to load in the source movie to this app. 3 ways to import the source: insert disc, choose DVD folder, choose ISO image file. Just use the way suit you. Then you'll be prompted to specify the region code for the Blu-ray.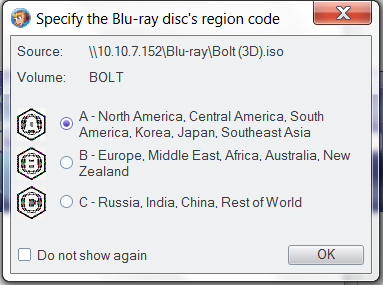 Choose a region code, and the source movie will be opened in seconds.

Rip Blu-ray to TS>Step 3: Set up for conversion
Once source movie is imported in, you'll see this interface.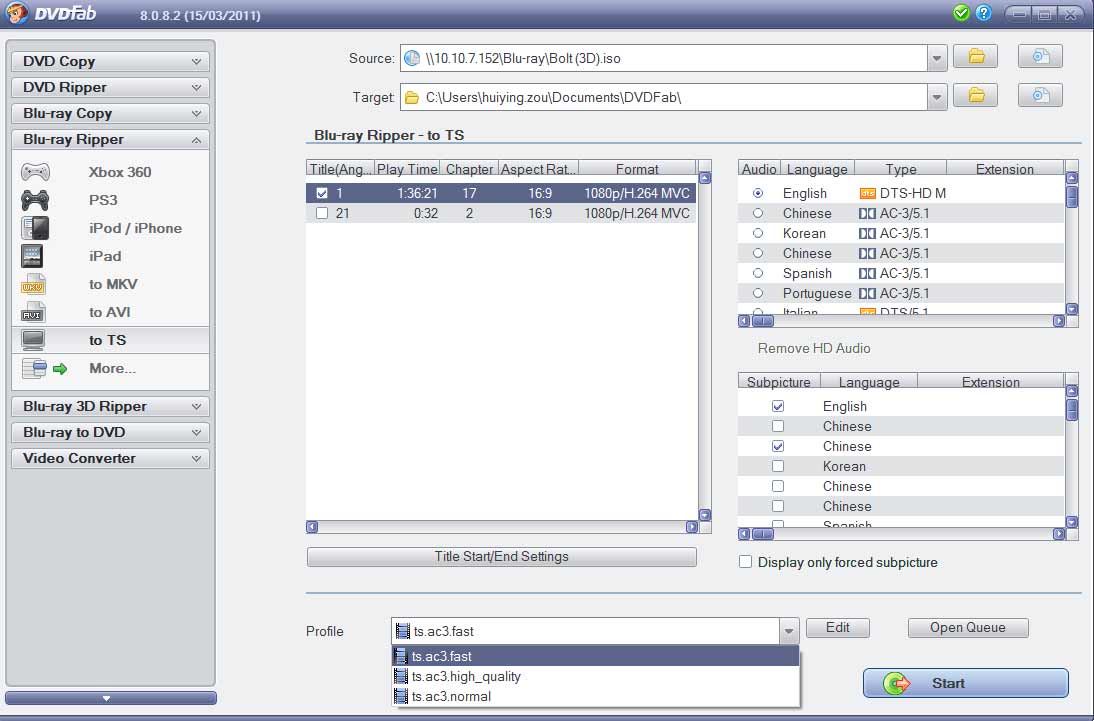 In the middle is a title list of the movie, and the main title is checked by default. And batch conversion is supported if you want to convert many titles at a time. On the right side near the center, are audio tracks and subtitles for you to freely select for the title. You can also choose to display only forced subpiture and there is an option just under the subpicture list for you to fulfill this. In the lower part, you can see from this interface that there are many profiles available for you to define for the title, and all the profiles are optimized and preset.
If you want to convert only part of a title, just click "Title Start/End Settings" on the UI, then you can arrange the start/end chapter for the title in the below window.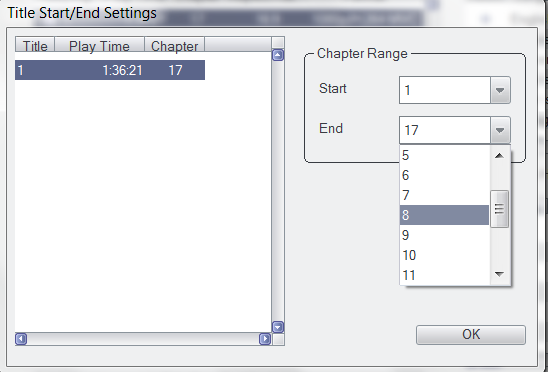 Click "Edit" button on the main UI, then you are going to open "Conversion Settings" window, just at here, you can set lots of parameters for the audio and video, such as bit rate, frame resolution, aspect ratio, subpicture, audio channel, audio volume, etc.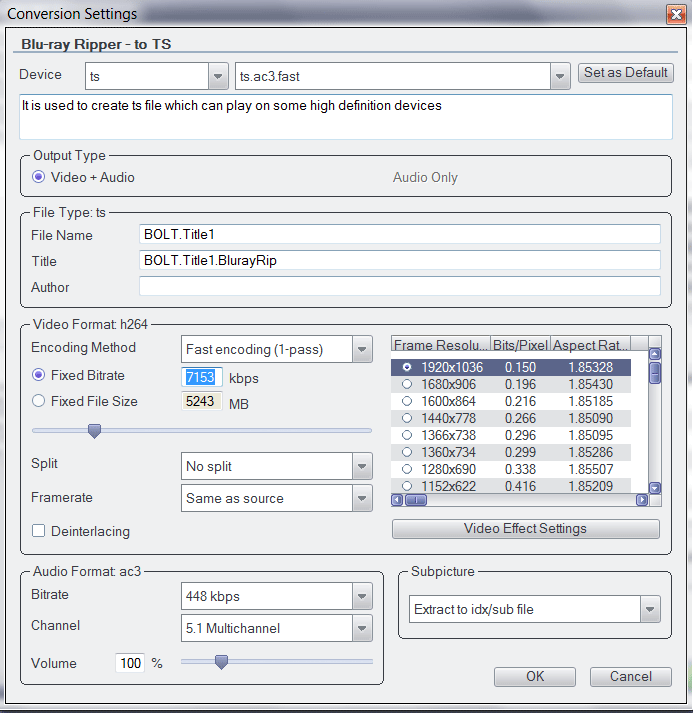 A notable function in this window is "Video Effect Settings". Hit "Video Effect Settings" button to open up "Video Effect Settings" window. Here, you are totally free to customize the video effect through "Resize" and "Crop" option.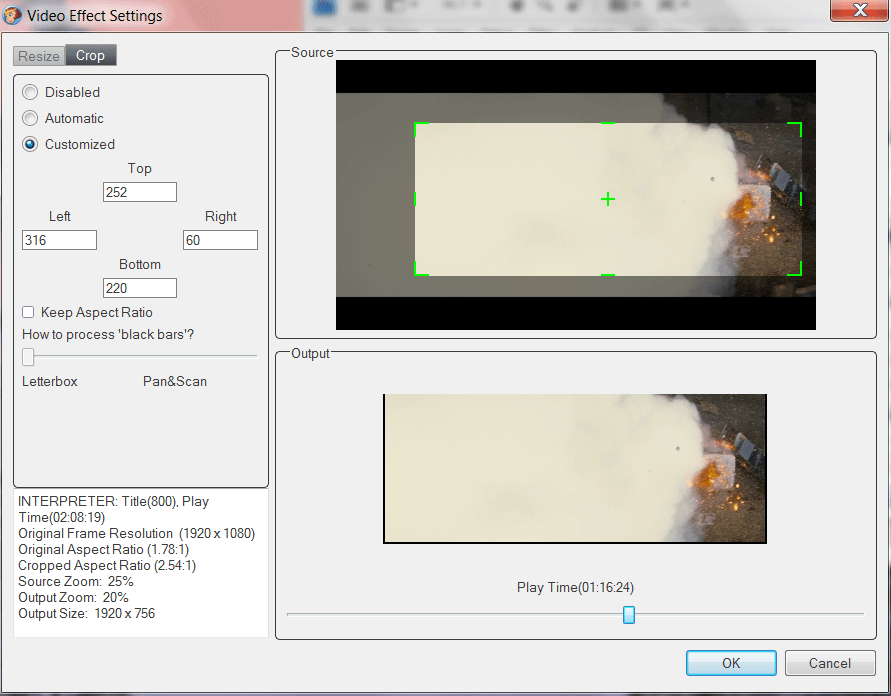 Now let's come back to the main UI, there's also a useful button there. Click the "Open Queue" button you will see a "Mobile Task Queue" window. This window is for you to flexibly manage all the tasks. You can copy a highlighted task then change the profile for the copy to make it a whole new task. You can also easily remove a highlighted task here to totally delete it from DVDFab's task list.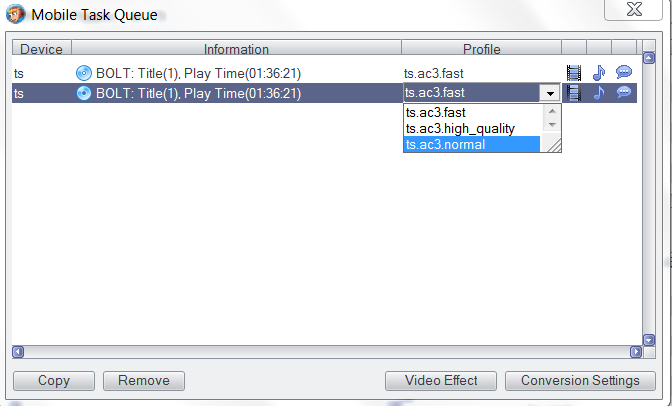 Rip Blu-ray to TS>Step 4: Start converting
After everything is OK and ready for conversion, go ahead to hit "Start" on the main interface. Then conversion process is triggered. During the process, you can see the detailed progress info; you can preview the movie; and you can set auto shutdown once task completed.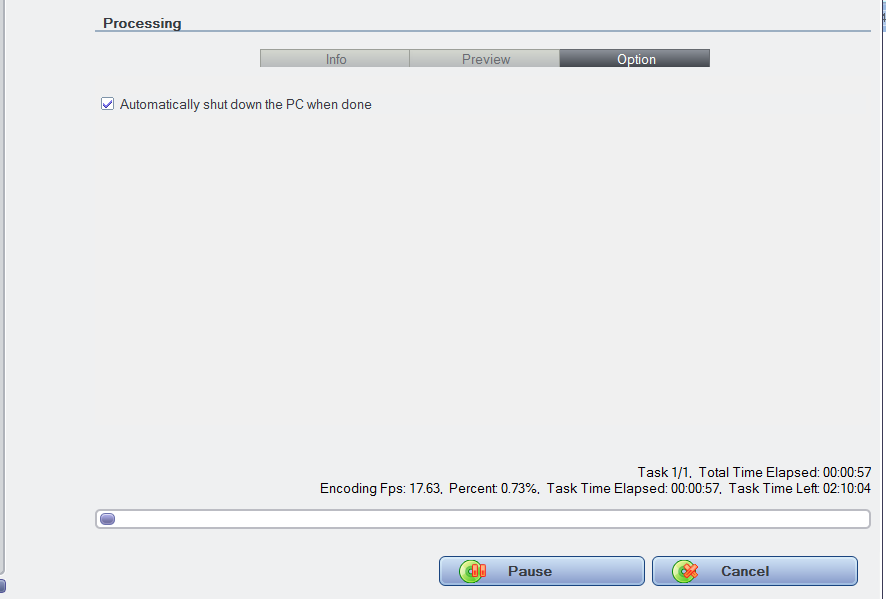 That's all steps about Blu-ray to TS conversion. The processing speed of Blu-ray Ripper is very fast for the newest CUDA technology and multi-core CPUs supported, so you'll get the output video with .ts format very soon. For more info about DVDFab Blu-ray Ripper, please hit up http://www.dvdfab.cn/blu-ray-ripper.htm.