How to Rip and Convert DVD to Cell Phone with DVD to Cell Phone Ripper?
Finding a best way to convert your DVD movies to your Blackberry or any other cell phone and enjoy them whenever and wherever you want? DVDFab DVD Ripper is just the answer. This DVD to Cell Phone Converter can rip and convert your DVD movies to various formats such as 3GP, 3G2 and MPEG-4 formats which can be played on various cell phones. With numerous settings, you can customize and personalize the video into your favorite one. The fastest speed, best quality and fabulous effect will never let you down.
Now, go to turn your cell phone into a movie theater.
Rip DVD to Cell Phone> Step 1: Open DVD source
Open DVDFab, make sure you are under the "DVD Ripper" mode, and select "Cell Phone". Insert your DVD, wait a while for the program to open it as source.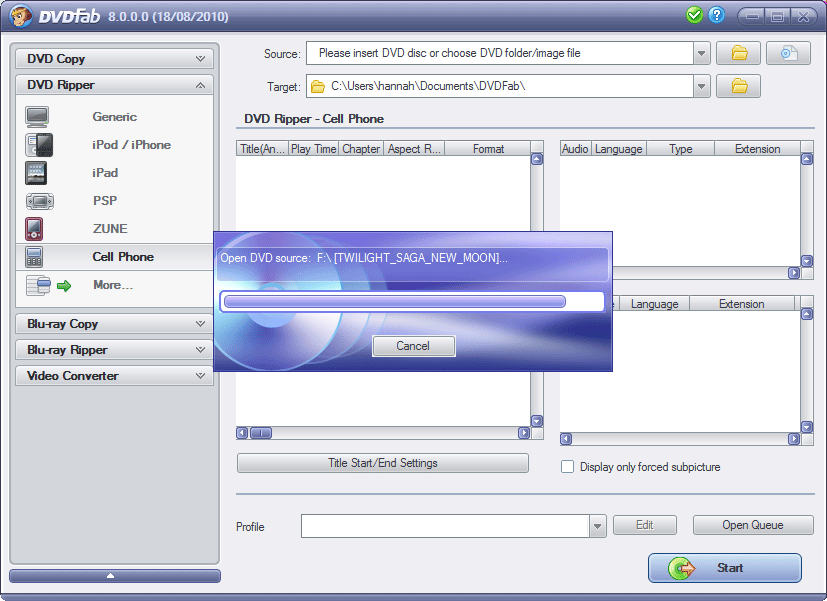 Rip DVD to Cell Phone> Step 2: Select titles and profiles
Once your DVD is opened, you will see all the movie titles in the main UI. Just select one or more for conversion (DVDFab supports batch conversion to save time). You can also preview the checked and highlighted titles on the left bottom. Then go to "Profile" to select a profile for each checked title. On the right side are audio track and subtitle for output. Choose the ones you like. By the way, under the "Source", you can specify a target file folder.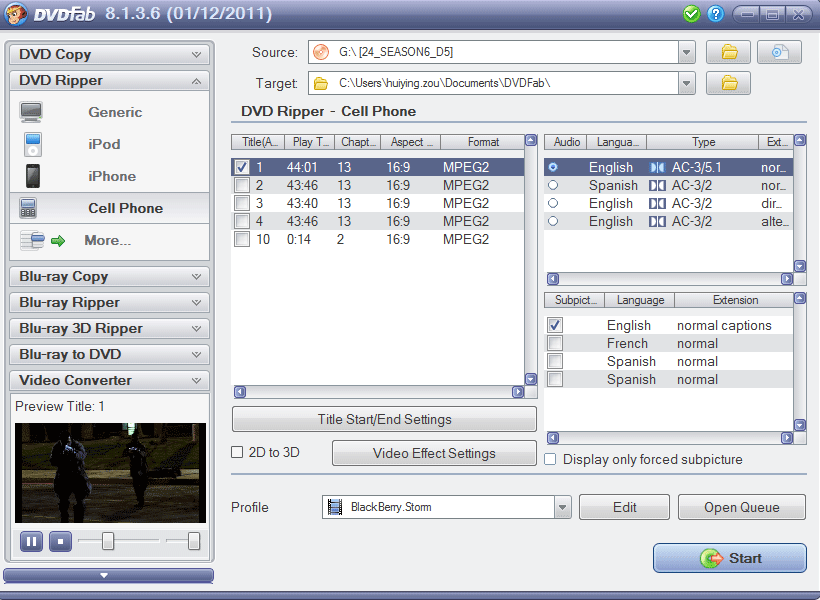 Rip DVD to Cell Phone> Step 3: Set for conversion
1) Click "Open Queue" button on the main UI to open "Mobile Task Queue" window.
The special feature of this window is that it allows you to set a title with different profiles for simultaneous conversion. For example, highlight a task, and hit "Copy" button on the bottom, you will get a same item of the highlighted one. Then move your mouse to its profile and click, a Profile dropdown will be activated, you can choose a different profile from it thus to produce a whole new task of one title but with a different profile. The function of "Remove" is obvious: to remove a highlighted task out of this queue.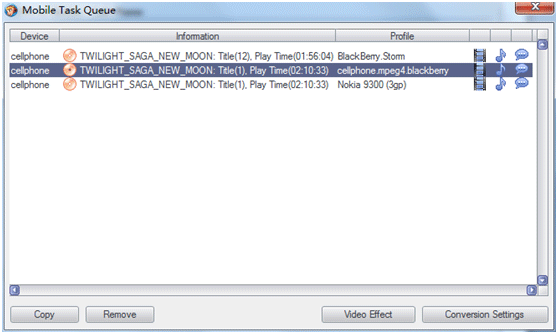 2) Conversion Settings window can be opened by clicking "Conversion Settings" button on Mobile Task Queue or click "Edit" on the main UI.
Here you can set something about Video Format and Audio Format. For example, you can choose bit rate, file size, frame resolution, aspect ratio, frame rate, etc. for the video and bit rate, channel, volume for audio. You can also decide the encoding method and whether to split the title by chapter or not. In addition, if you want, you can rename the file and the title.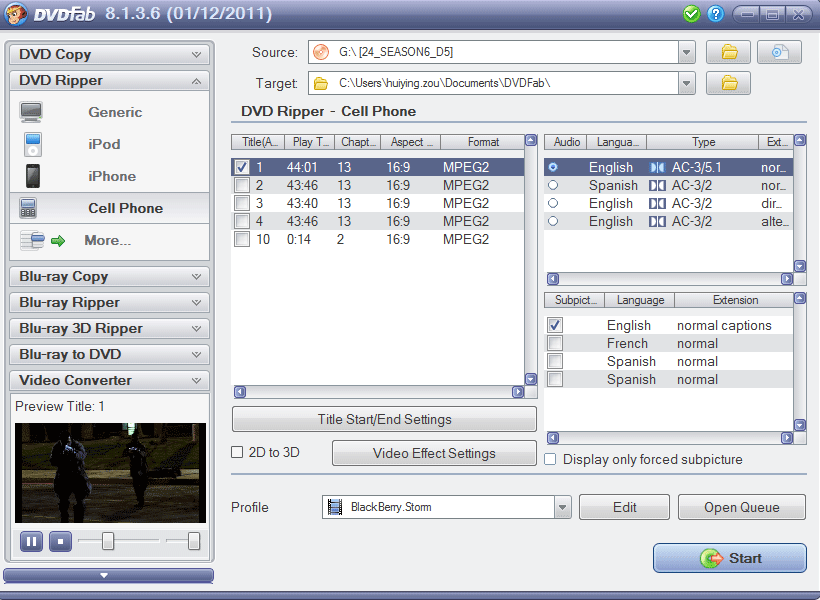 3) Video Effect Settings window enables you to resize and crop your output video.
Click "Resize" to reset frame resolution and aspect ratio. Hit "Crop" to crop the play region on your cell phone. "Automatic" option in the "Crop" mode will let DVDFab crop the video automatically; "Customized" option will let you crop personally either by adjusting the frame mark on the source video or setting the 4 (Top, Bottom, Left, Right) crop values.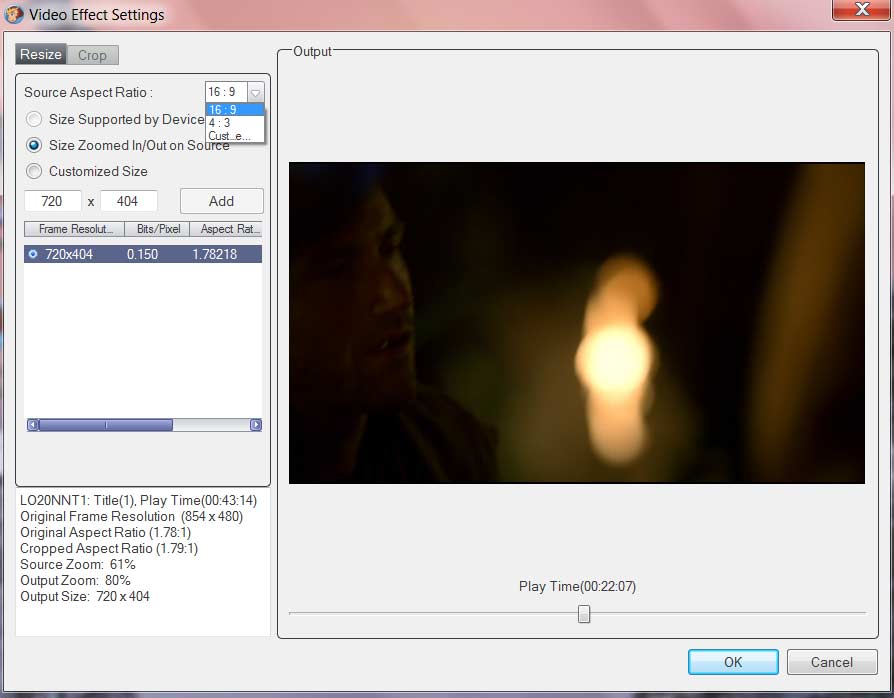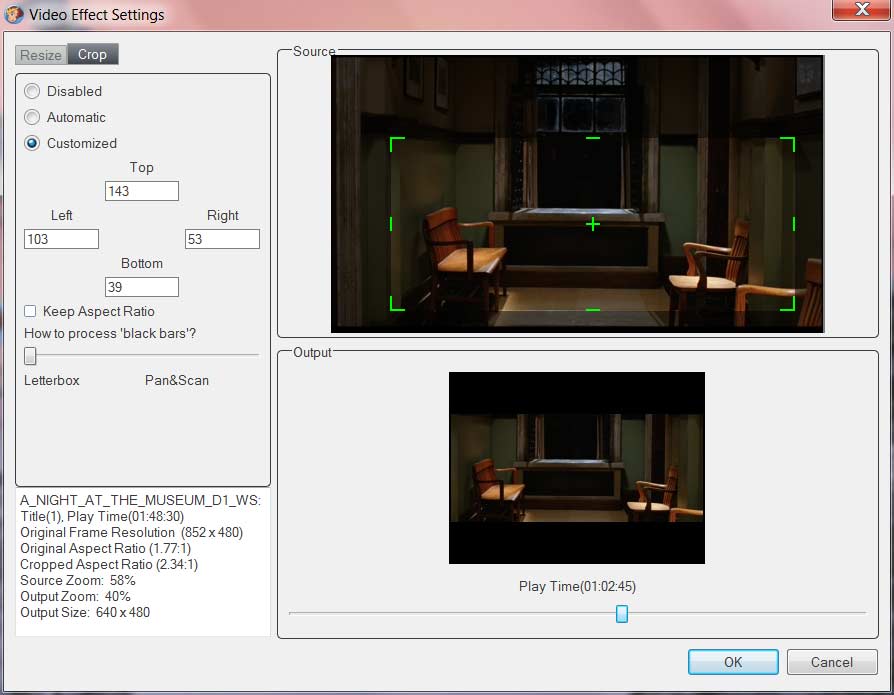 Note: In the left bottom corner is the video's detail information.
Rip DVD to Cell Phone> Step 4: Start converting
Once all is set up, just hit "Start" on the UI to start converting. The progress can be viewed when everything is converting.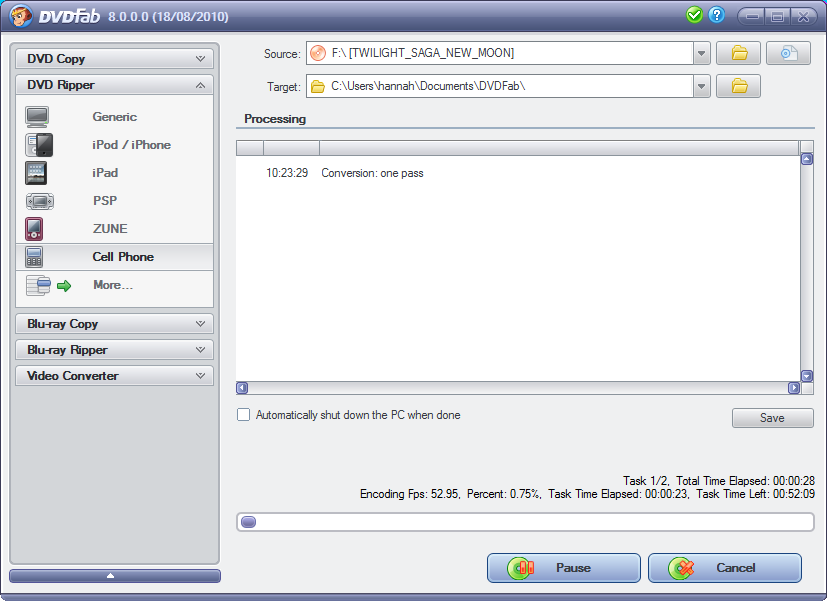 Note: If you want your computer shut down automatically after the conversion, just check "Automatically shut down the PC when done".
You see? With DVDFab, DVD to cell phone conversion can be completed with such a few simple clicks. Turning your cell phone into a movie theater is really not a big deal.