How to Rip and Convert DVD to PS3 with DVD to PS3 Ripper?
You may have never thought of loading up your PS3 with movies instead of games as an alternative, have you? Want to experience this feature of your PS3? I will show you how to.
DVDFab DVD Ripper can rip DVD movies to PSP videos with unbelievable speed and quality. With so many settings, you can customize the conversion to get fantastic output PS3 videos as what you want.
1. How to import DVD?
Run DVDFab DVD Ripper, select "PS3" and insert your DVD for the program to import.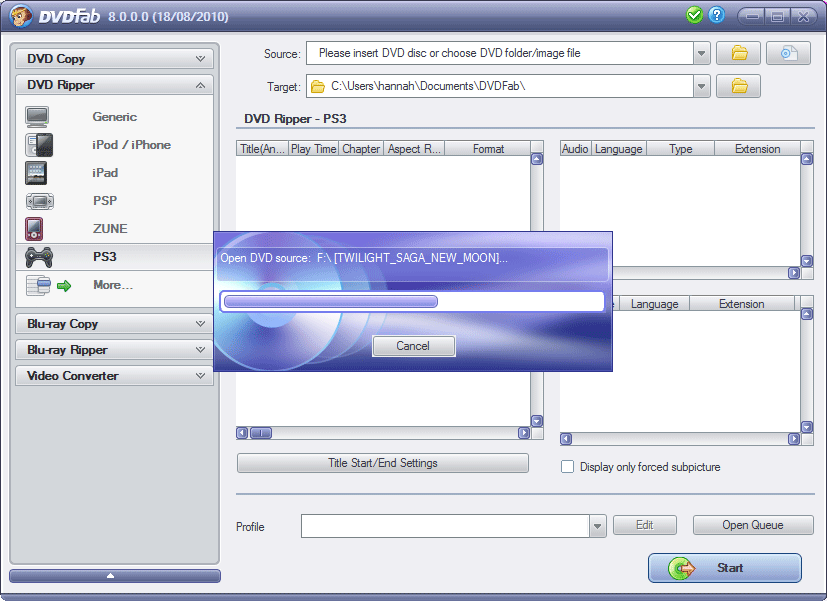 2. How to select the part you want to convert?
All the titles of the movie will appear in front of you once your DVD movie is imported in. You can select more than one title to convert since DVDFab allows batch conversion to save time. If you want to convert just part of a title, highlight the tiltle and click "Title Start/End Settings" to arrange the start and end chapter of it to specify an exact part for conversion. Then go to "Profile" to set output profiles for those titles. On the right, the target audio track and subtitle are there for you to choose.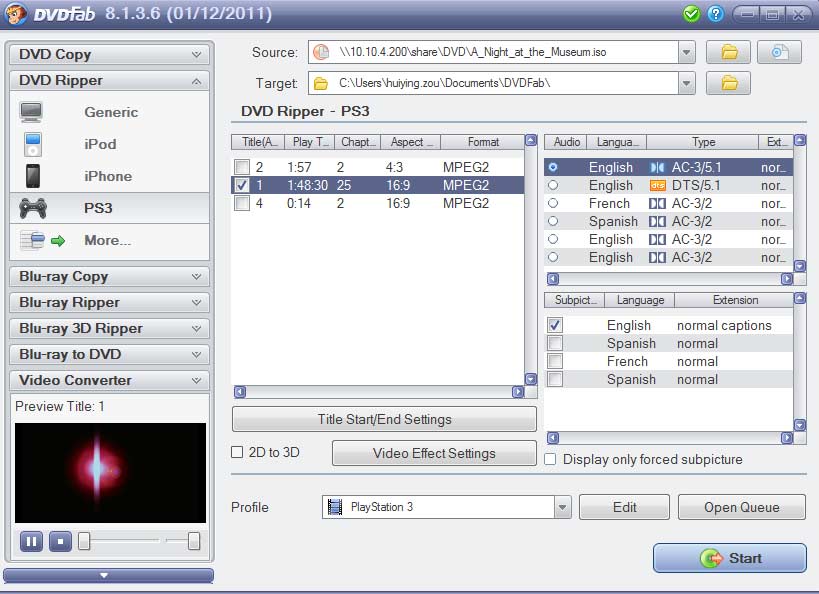 Note: On the left bottom of the main interface is an internal video player for you to preview highlighted titles. On the top, there is also a "Target", don't forget to choose a large enough target file folder to save converted files.
3. How to set for a wonderful PS3 video?
1) Click "Open Queue" button to copy new tasks with a different output profile or remove tasks out of the task queue. Explain in detail about "Copy": Highlight a task and click "copy", then a same item will be added. Click its profile, and you will open a profile drop-down list, choose a different profile from it. Thus, a whole new task is produced.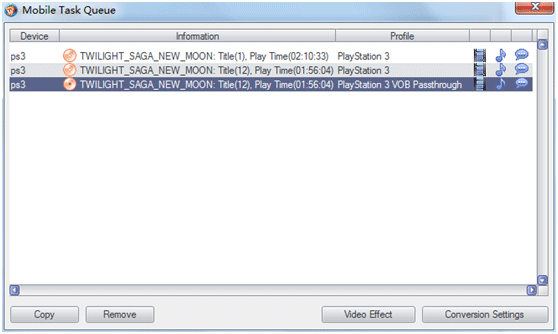 2) Click "Conversion Settings" to set for your highlighted titles. You can rename the file and title; you can choose encoding method, bit rate, file size, frame rate, frame resolution and aspect ratio, and whether or not to split the title for video format; you can also choose bit rate, channel, and volume for audio format.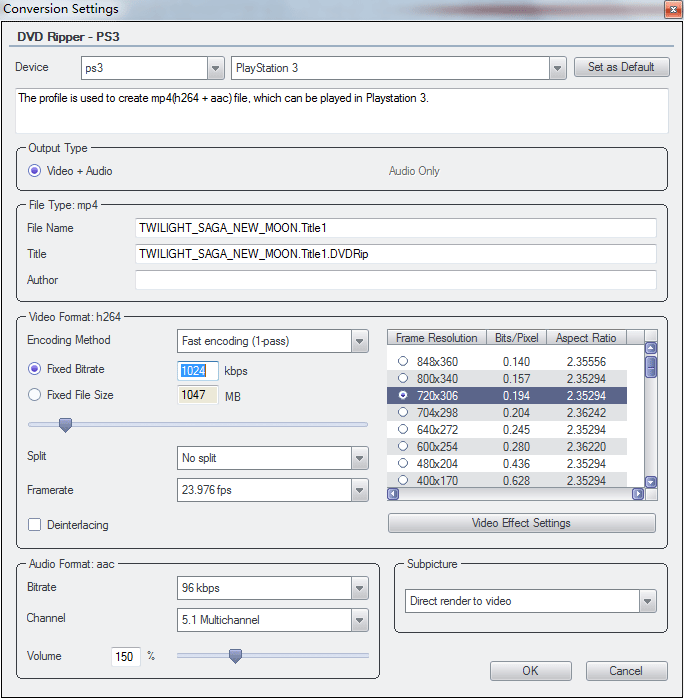 3) Customize your output video by "Video Effect Settings".
The "Resize" button let you resize the frame resolution of the video.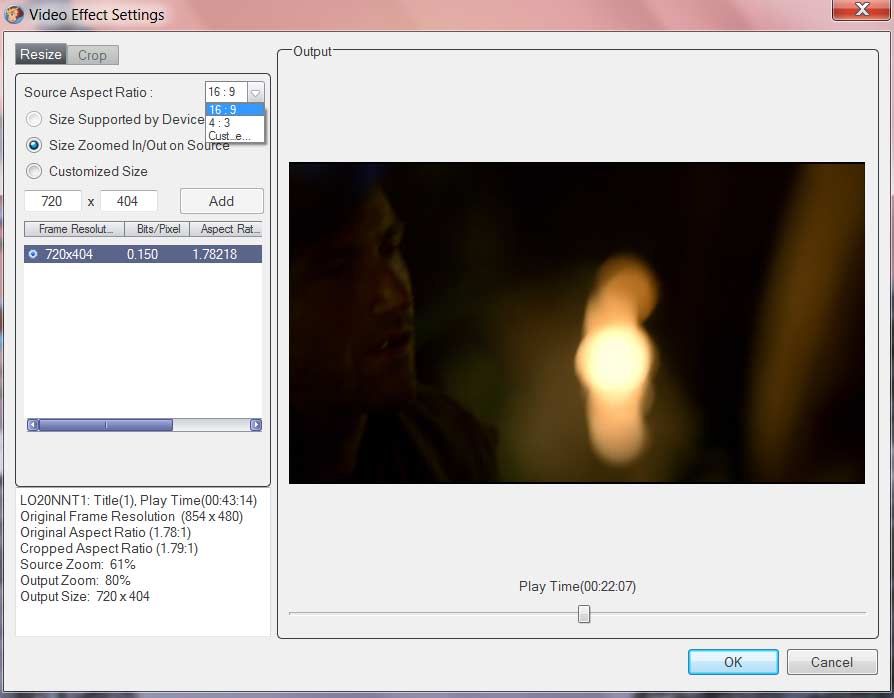 The "Crop" button let you crop and adjust the video to match your PS3 screen. Two cropping ways are available: one is setting the crop frame or crop values by "Customized", the other is automatically cutting off black bars on source video by "Automatic".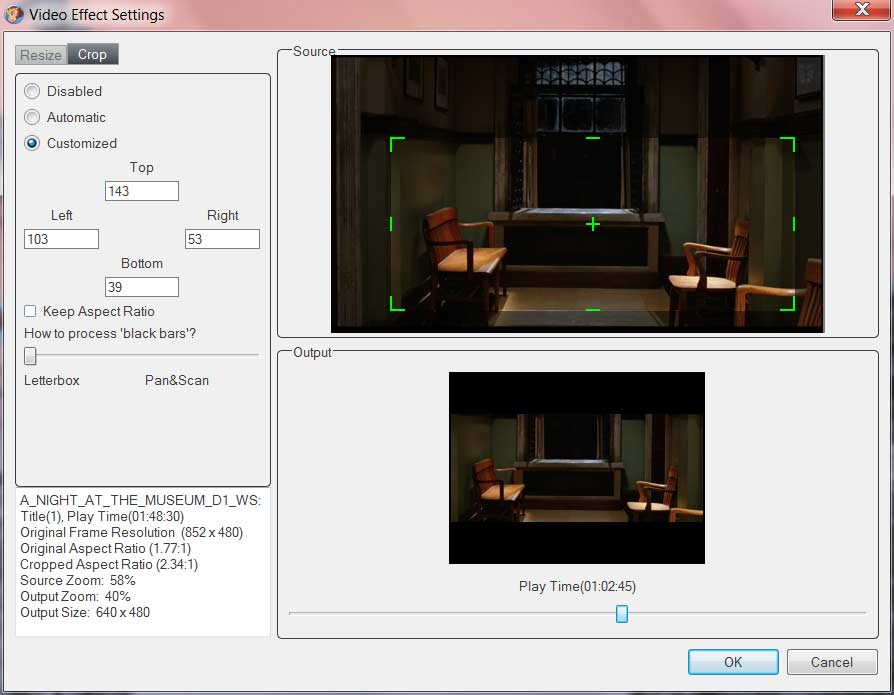 Note: If you don't want to change aspect ratio, check "Keep Aspect Ratio". "Letterbox – Pan&Scan" slider bar enables you to process black bars of the video. Detail information of the video in the Video Effect Settings window shows on the left bottom.
4. How to start converting?
Click "Start" button on the main interface to start converting DVD to PS3. You can see the detail of the processing.
Note: "Automatically shut down the PC when done" will let your computer shut down automatically when finished.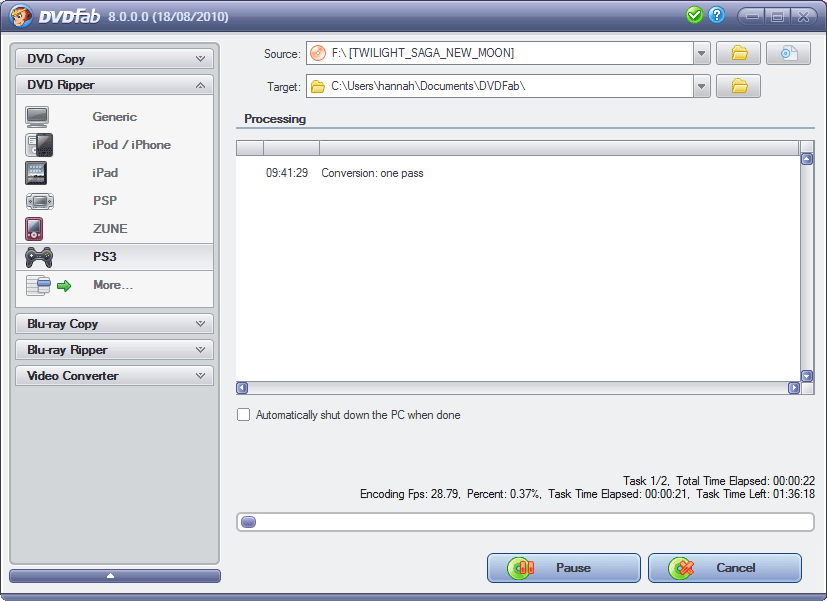 That's the whole process of DVD to PS3 conversion. Simple, isn't it? Transfer the converted files to your PS3 then. Have fun.