How to Rip and Convert DVD to WMV with DVD to WMV Ripper?
If you have a WMV player such as Xbox 360, or Zune, you may have a need to load them with your favorite DVD movies in WMV format. Then you need to look for a tool to do the converting task. You have full reasons to stop here, since DVDFab DVD Ripper is the right tool which is flexible and powerful to convert DVD to WMV, also to other various popular formats with outstanding image and sound quality. All you have to do is move your finger and do some simple clicks as followed.
Rip DVD to WMV>Step 1: Run DVDFab DVD Ripper – to WMV
Start up DVDFab DVD Ripper, click "to WMV" option in the navigation bar. Then insert DVD disc, wait seconds for DVDFab to open it as the source.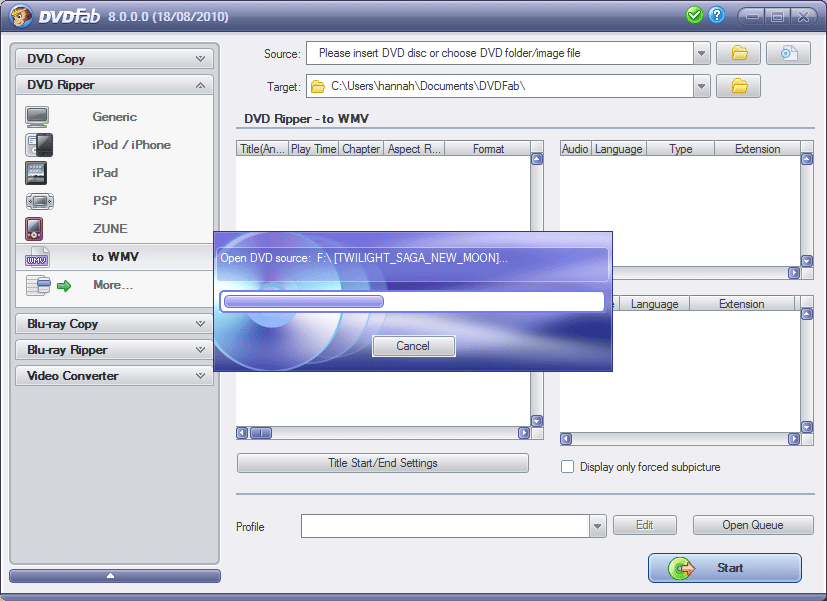 Rip DVD to WMV>Step 2: Select titles for conversion
Once the source DVD is opened, you need to select one or more titles for conversion in the title list, and DVDFab supports batch conversion. In the left bottom corner of the UI, you can preview title like in a real DVD player. In the Profile drop-down list, it's easy for you to choose one profile for one title, since these profiles are all optimized and pre-set. You can also select the audio track and subtitle as your preferred.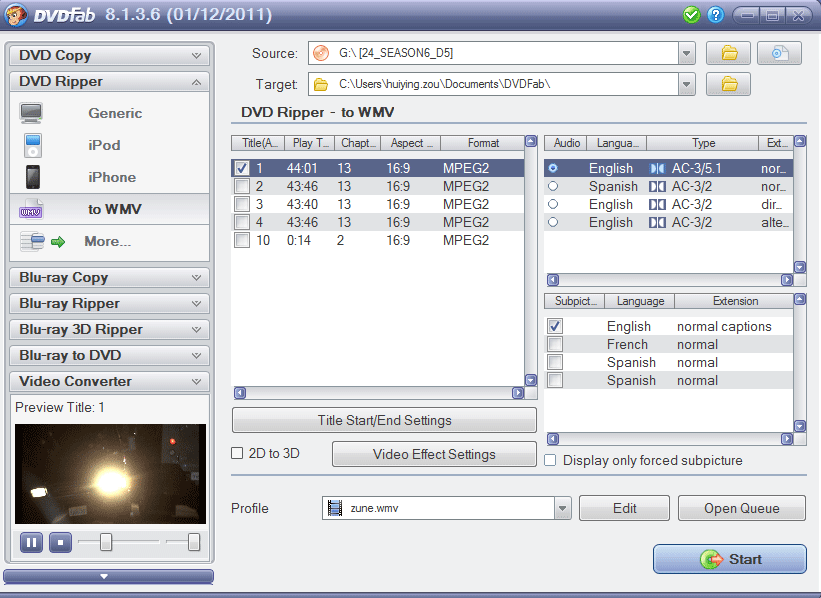 If you want to only convert part of a title, just click "Title Start/End Settings" to range start and end chapters to get exact segment for conversion.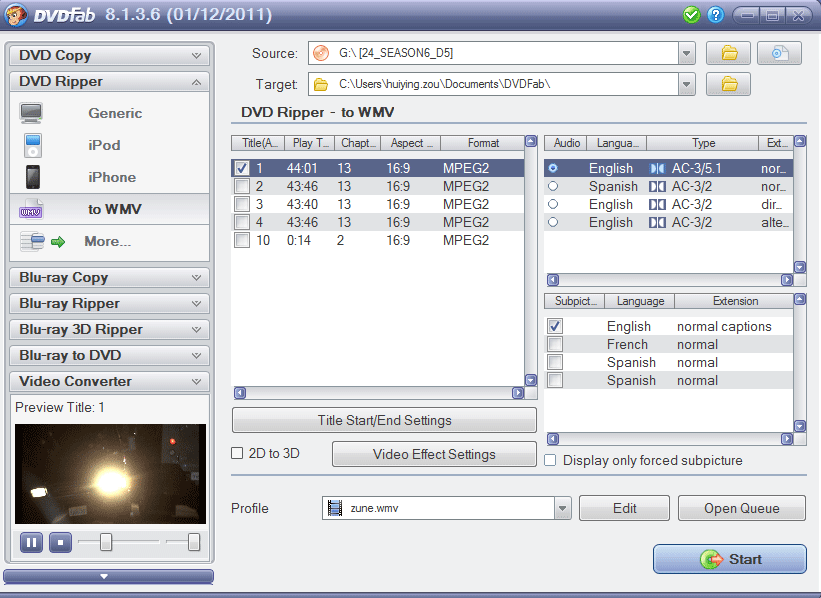 Rip DVD to WMV>Step 3: Make settings
You should first highlight one title, then make the following settings for it.
1) Open Queue: Click "Open Queue" on the main interface to bring forth Mobile Task Queue window. Here, you are allowed to set a title with different profiles to convert simultaneously. Explain in detail, highlight a task, hit "Copy" to get a same task, then go to its profile and click to open a profile drop down, you can choose a different one from here to produce a new task. If you want to disable a task, highlight it also, then click "Remove" button.
2) Conversion Settings: Click "Conversion Settings" to open the Conversion Settings window as below. There are multiple settings here for you, for example, you can set the video format such as bit rate, frame resolution, aspect ratio, frame rate, file size, etc.; also can set the audio format such as bit rate, channel, and volume; you are free to change the file name, select encoding method, decide whether or not to split title by chapters.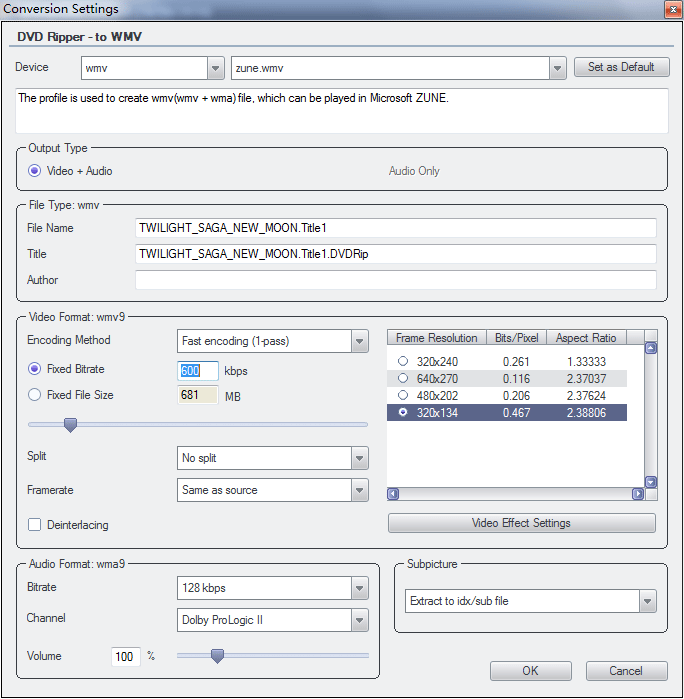 3) Video Effect Settings: Click "Video Effect Settings" to go to set video effect. Two modes in this settings window: Resize and Crop.
"Resize" will let you reset the frame resolution and aspect ratio of the video, and "Crop" enables you to crop the video automatically to cut off black bars or crop personally by adjusting the crop frame or the 4 crop value boxes.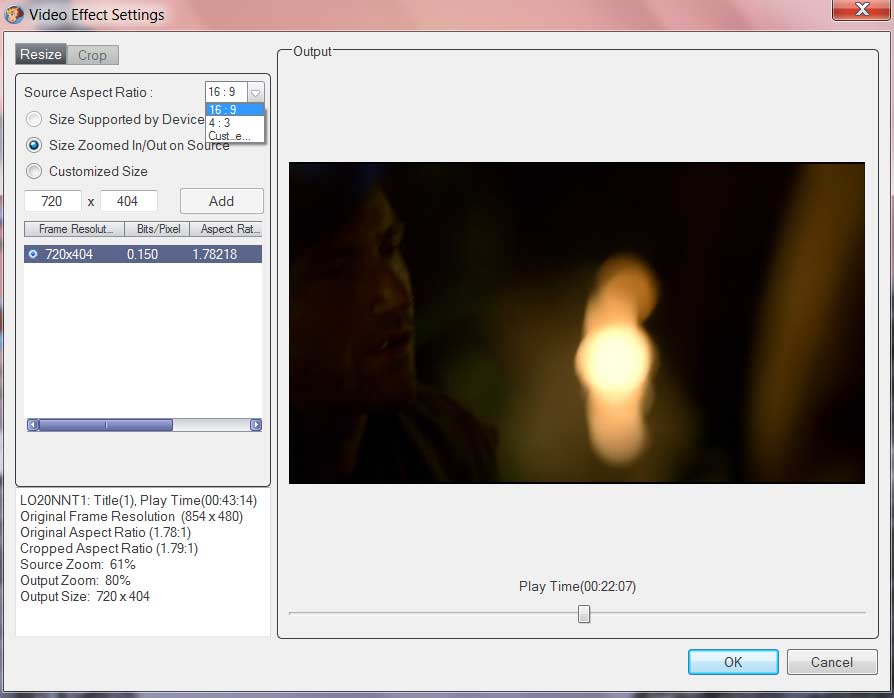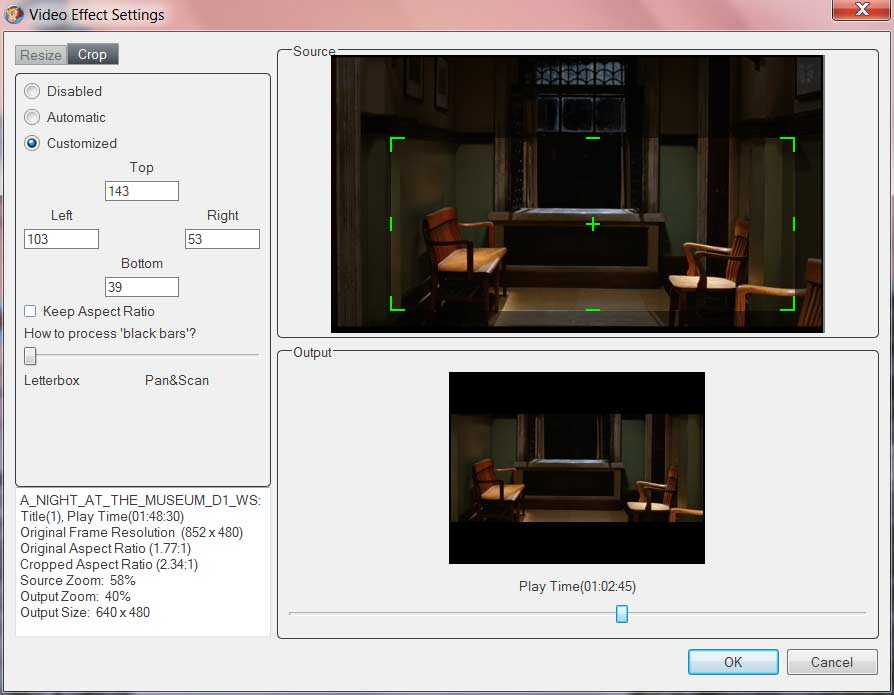 Note: If you don't want to change the aspect ratio, check "Keep Aspect Ratio" please; you can freely move between "Letterbox" and "Pan&Scan" to process black bars.
Rip DVD to WMV>Step 4: Convert
Now that everything is set up, just return to the main UI and hit "Start" button to start converting. The detail converting progress is visible.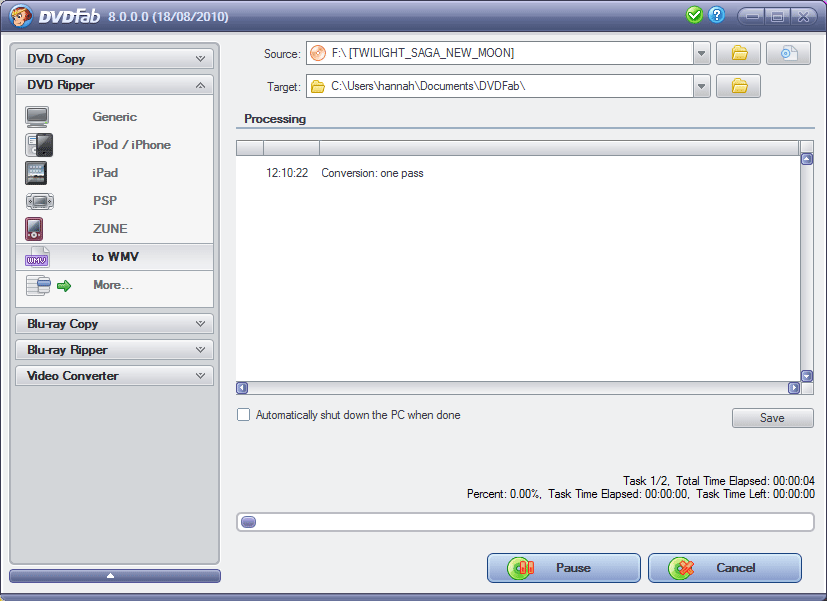 Note: If you check "Automatically shut down the PC when done", then the computer will shut down automatically after the conversion is completed.
OK, above is on how to convert DVD to WMV with DVDFab DVD Ripper, follow these steps, you will definitely get your favorite and special WMV video files within minutes.