How to Rip and Convert DVD to ZUNE with DVD to ZUNE Ripper?
Are you a ZUNE user? Do you want to watch your DVD movies just on your ZUNE? Yes. But how to convert DVD to ZUNE? DVDFab DVD Ripper is here to clear up your problem.
DVDFab DVD Ripper is also a DVD to ZUNE Converter which can convert DVD to ZUNE video and audio in minutes with perfect quality. It has unimaginable multiple parameters for you to set to get a special and wonderful video/audio which only belongs to you. Come with us to see the detail.
Rip DVD to ZUNE>Step 1: Import DVD into DVDFab DVD Ripper
Run DVDFab, go to "DVD Ripper", choose "ZUNE" to click to be under the DVD to ZUNE mode. Then import DVD to DVDFab for conversion by inserting DVD disc.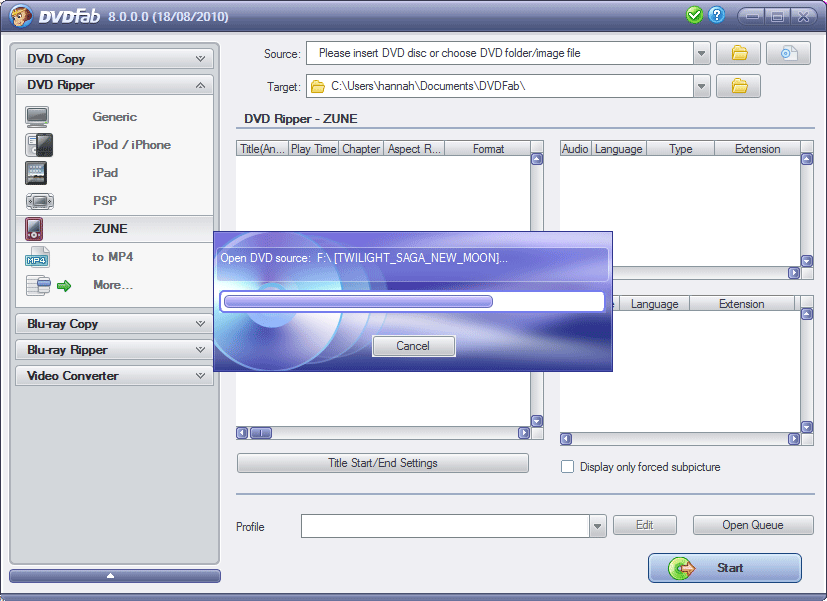 Rip DVD to ZUNE>Step 2: Choose titles
Now that DVD was imported into the program, you need to choose those titles you want to convert to your ZUNE. You can also convert part of a title by clicking "Title Start/End Settings" to select a start chapter and an end chapter. Here, this DVD Ripper supports batch conversion to save your time and make it simple. It also enables you to preview titles for you to choose or confirm. After the titles were selected, go to "Profile" to select a pre-set profile for your highlighted title, and go to "Target" to specify a file folder to save converted files. On the right of the main interface, you are free to set your favorite audio track and subpicture.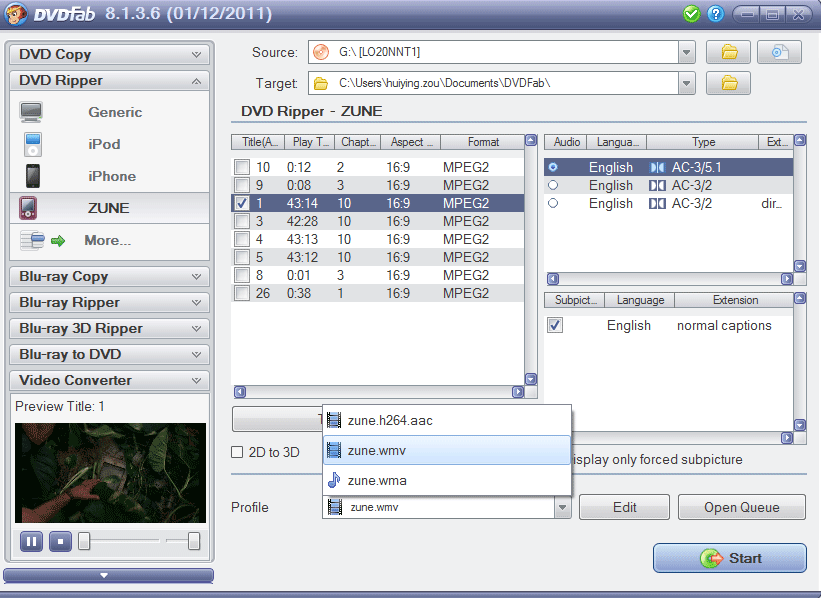 Note: DVDFab can preview title like a real DVD Player.
Rip DVD to ZUNE>Step 3: Just do some settings
1) Conversion Settings: Click "Edit" button on the main interface, you will open a Conversion Settings window. You can set "Video+Audio" or "Audio Only" as your output type; you can rename the title and the file if needed; you can set video formats and audio formats by choosing bit rate, frame rate, frame resolution, aspect ratio, etc. for the former, and bit rate, channel, volume for the later.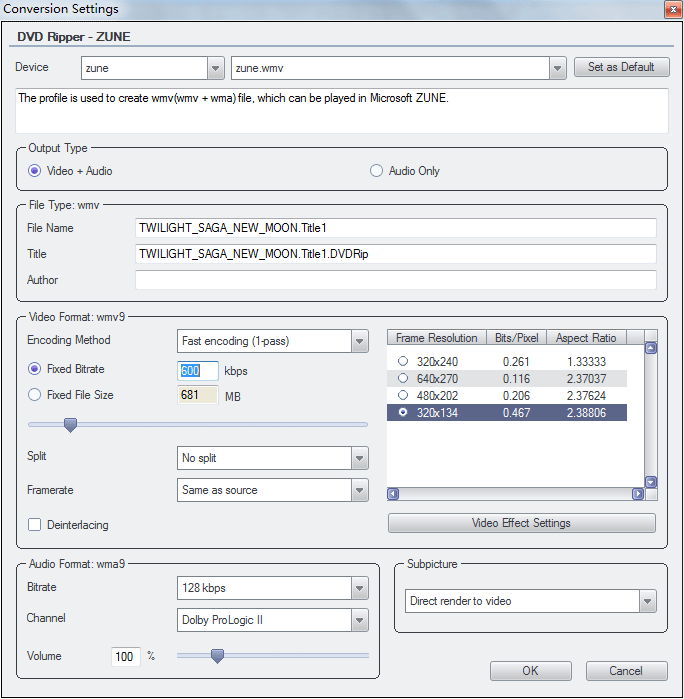 2) Mobile Task Queue: Click "Open Queue" on the main interface to open the Mobile Task Queue window. All the tasks are listed here. The "Copy" button enables you to copy a same task under the original highlighted one and change its profile by clicking the profile position to activate the profile drop down list. The "Remove" button is for you to remove a highlighted task out of the queue.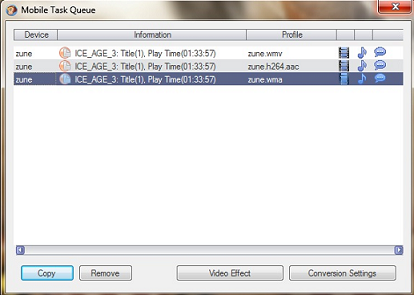 By the way, Conversion Settings window can be opened here as well.
3) Video Effect Settings: This window allows you to customize the video to fit your ZUNE. You can come here through "Video Effect Settings" button on the Conversion Settings window and "Video Effect" button on the Mobile Task Queue window.
Click "Resize" to resize the frame rate and aspect ratio for the video.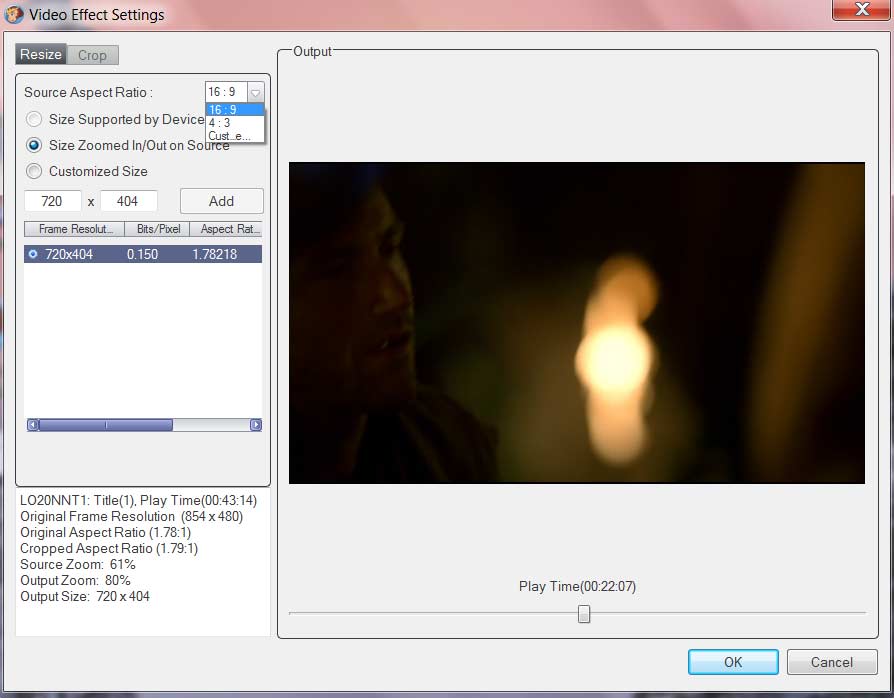 Click "Crop" to set a suitable play region for your ZUNE. The video can by cropped by moving crop frame or setting crop values for Top, Bottom, Left and Right. "Keep Aspect Ratio" keeps the output aspect ratio as the original one. What's more, the video's black bars can be processed by sliding between Letterbox and Pan&Scan.
Rip DVD to ZUNE>Step 4: Start converting
Everything is OK now, you can do your last click of the main interface—"Start" button—to start converting. The detail of the progress can be seen as below.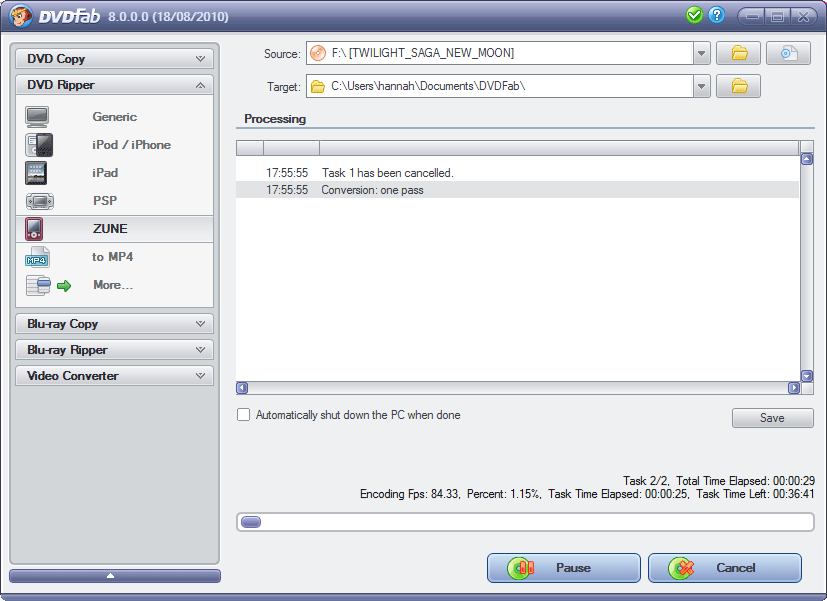 When DVD to ZUNE conversion is completed, you will get some converted video/audio files, then transfer them to your ZUNE. Enjoy yourself!