How to Copy Blu-ray with DVDFab Blu-ray Copy for Mac?
DVDFab Blu-ray Copy for Mac is the very Blu-ray copy software you're looking for to use on your Mac, and it's definitely powerful and professional. You can use it to copy Blu-ray onto your Mac, clone Blu-ray bit to bit, and burn Blu-ray perfectly. What's more, you must will be impressed by its robust decryption capability: all Blu-ray protections can be removed and you can copy any Blu-ray with it! So, just give it a shot. It's simple to operate even if you are new at this. Now let's head over to look at a simple tutorial about how to use DVDFab Blu-ray Copy for Mac to copy Blu-ray.
Copy Blu-ray with Blu-ray Copy for Mac > Step 1: Run Blu-ray Copy for Mac, import source Blu-ray
DVDFab for Mac is easy to download and install, and has a free 30-day trial period with all full function available. So, after it's installed on your Mac, just run Blu-ray Copy. Unlike DVD Copy for Mac which has 8 copy modes, Blu-ray Copy has 4 modes: Full Disc, Main Movie, Clone, Write Data. We're going to choose Main Movie for instance. Then insert the Blu-ray into Blu-ray drive for DVDFab for Mac to import it.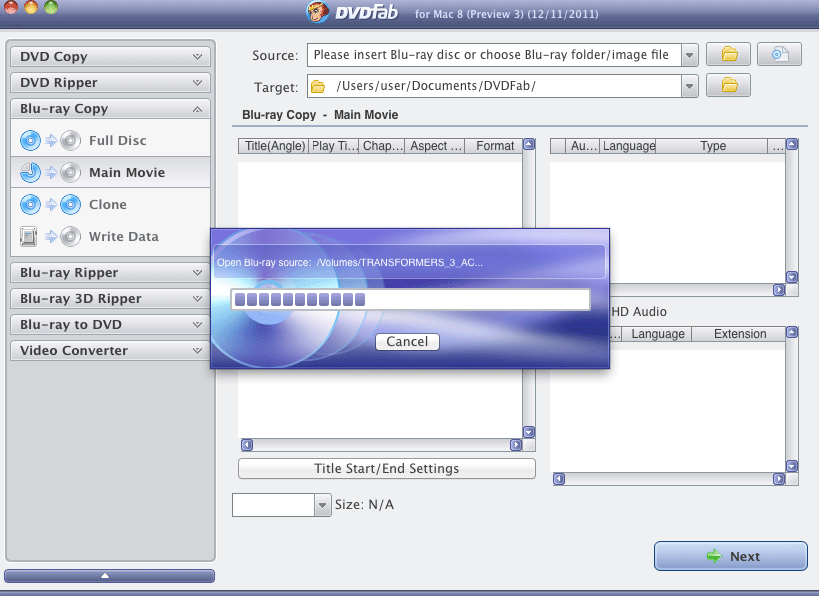 Copy Blu-ray with Blu-ray Copy for Mac > Step 2: Customize the copy at your whim
Seconds later, the source Blu-ray movie will be imported in, and you will see that the longest movie title is auto selected by DVDFab. Of course, you can choose any movie titles you want to copy. On the right hand side of the UI, there're multiple audio tracks and subtitles for you to select. And what's more, you can choose the output type from BD50, to BD9, and to BD5 accordingly. It's good that you can always preview the movie title in real time while you're setting to avoid any mistake in the bottom left corner of the interface.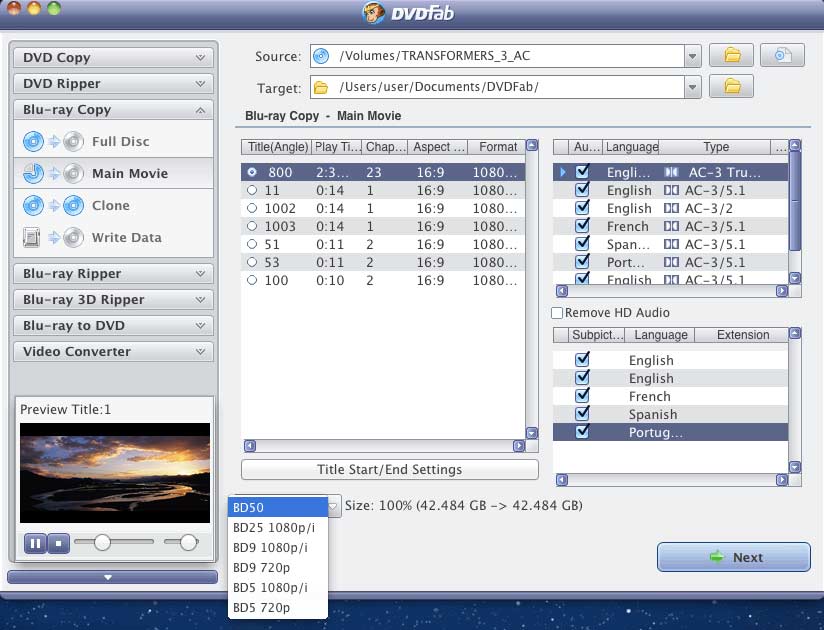 Copy Blu-ray with Blu-ray Copy for Mac > Step 3: Start copy process
Click Next button to the next interface, then if everything is OK, just hit the Start. During the copy process, you're provided with detailed progress info in the Info tab. And you can preview the source movie to monitor the progress vividly. If needed, you can also set auto shutdown to your Mac via Option tab.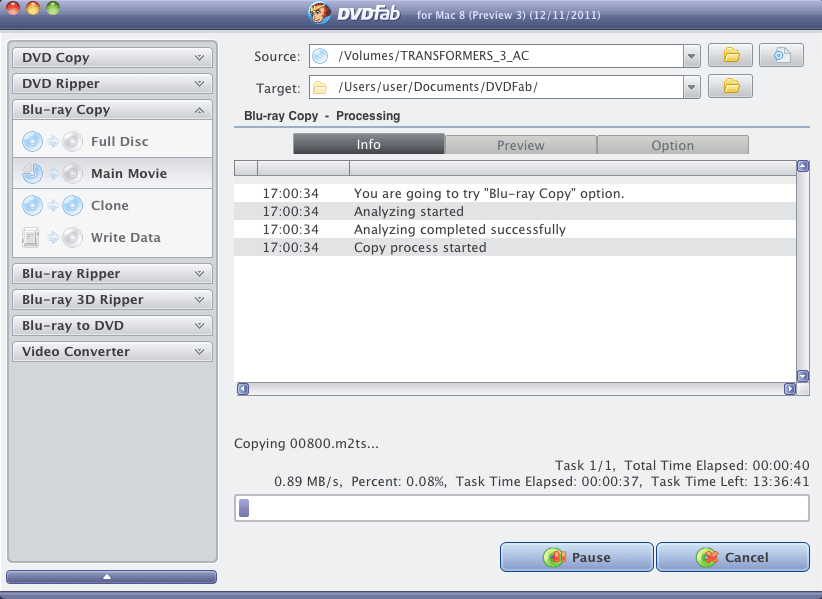 With blazing fast speed of Blu-ray Copy for Mac, you can get what you want very soon. Alright, that's all necessary steps for a successful Blu-ray copy. For more info about Blu-ray Copy for Mac, just go to: http://www.dvdfab.cn/blu-ray-copy-for-mac.htm