How to Rip Blu-ray 3D to 3D Videos?
Intend to rip your 3D Blu-ray content to display on some software players or 3D TV? No good tool after long time's hard searching? Now, you can stop here, DVDFab Blu-ray 3D Ripper, the first Blu-ray 3D to 3D video ripping software, can manage this issue at ease with 4 ripping modes, fast speed, high output quality, powerful editing tools, etc., but with no help from any other utility. Take a couple of minutes to find out in the following content whether or not it is the very app you desire.
Rip Blu-ray 3D to 3D video > Step 1: Run DVDFab Blu-ray 3D Ripper, open source
Free download DVDFab Blu-ray 3D Ripper then install it. You will get a free trial version of all valid DVDFab options in a pack, just go to "Blu-ray 3D Ripper" option. There are 4 modes: to MKV, to AVI, to MP4, to WMV. Just choose the one you want to rip to. Then insert 3D Blu-ray disc, or click the folder icon or ISO image file icon beside "Source" to import Blu-ray 3D content in as source. You will be prompted to specify a region code as below.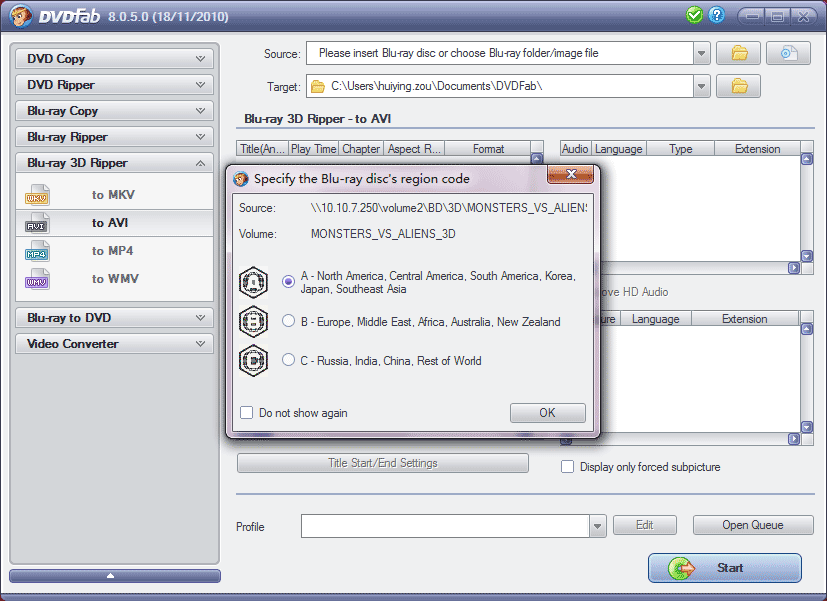 Choose the region code of your Blu-ray disc, then wait a while for it to be opened.

Rip Blu-ray 3D to 3D video > Step 2: Select your favorite audio/subpicture streams and profile
All the titles of the origin content appear in a title list, and the longest title is selected by default. On the right side of the main interface, a wide array of audio/subpicture streams are available for you to freely choose. And all supported profiles of Blu-ray 3D Ripper are optimized and preset for you to just click to define without any need to change or set anything.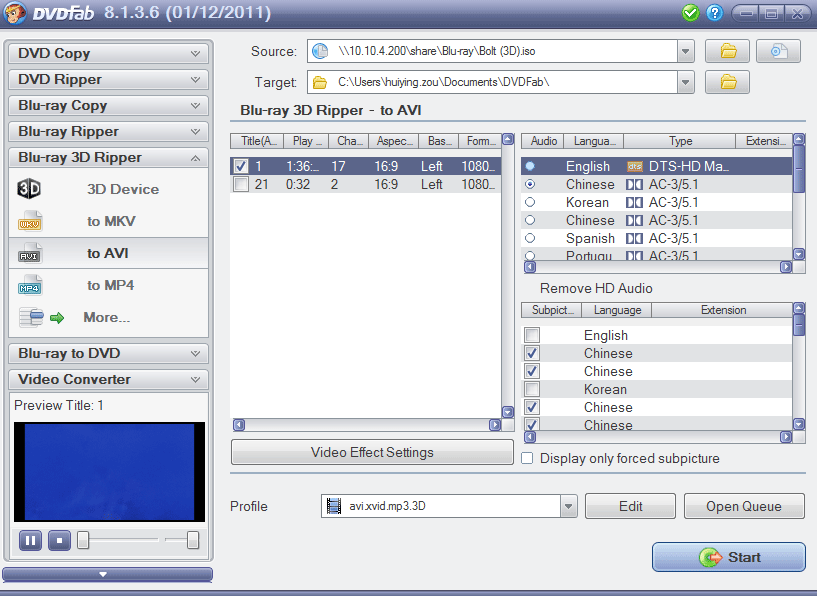 Rip Blu-ray 3D to 3D video > Step 3: Flexible and professional customization
1) Set video/audio format. Click Edit button on the main interface, you will be brought to Conversion Settings window as below, here, you are able to set the video/audio format freely, such as, bit rate, frame resolution, aspect ratio, frame rate, channel, volume, etc. And the file/title name can also be changed if you like. There is still one more thing need to particularly point out, that is you can choose to split a title by chapter for smaller and individual outputs in the Split drop-down box.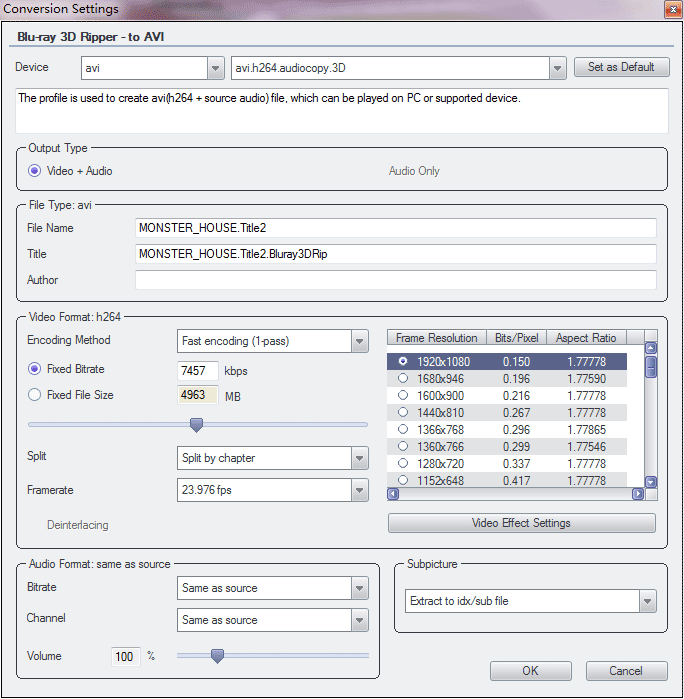 2) Edit video effect and 3D type. Click Video Effect Settings on the Conversion Settings window, then you will enter a total free land to edit your desired video effect.
Resize: You can reset the source aspect ratio and frame resolution in Resize option. On the lower left corner is the detailed info of the title on.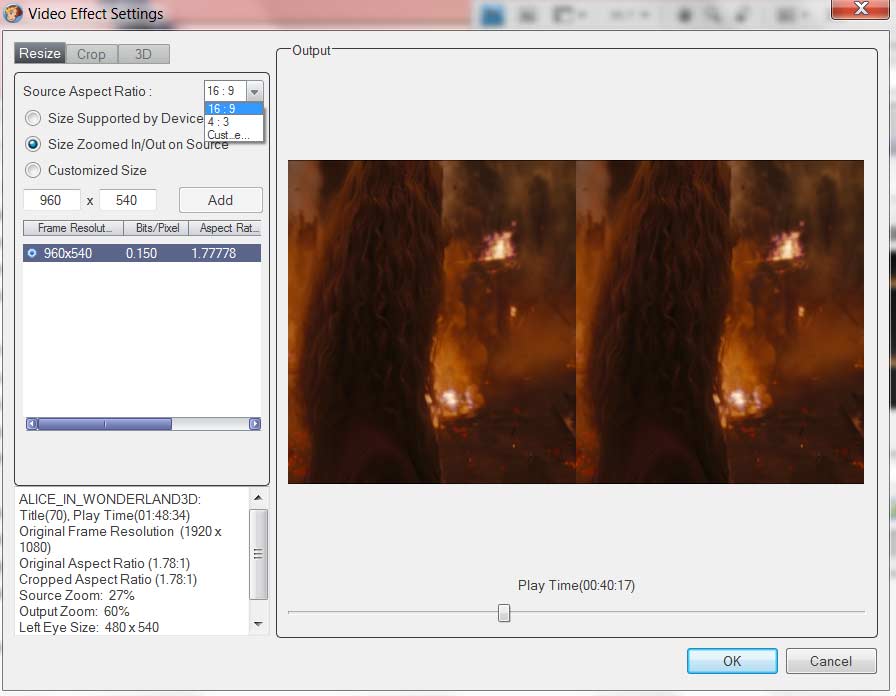 Crop: In Crop option, you can crop the play region automatically without black bars or manually in a flexible and accurate way. If you don't want to change the aspect ratio while cropping, you should check "Keep Aspect Ratio".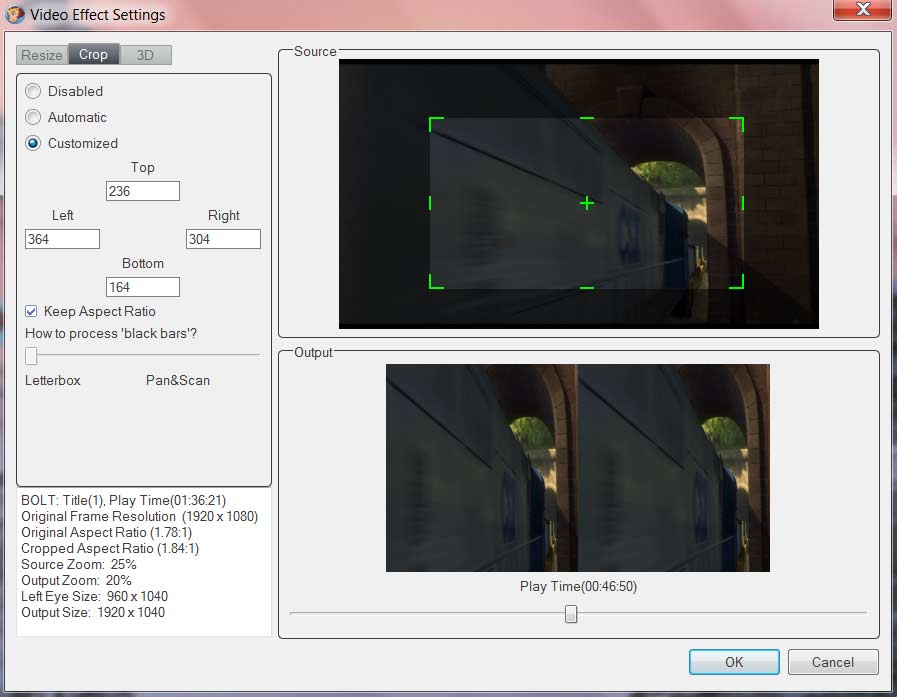 3D: This 3D option enables you to set the 3D format and video frame size. The 3D format can be left/right, and top/bottom. And the frame size can be full (100) or half (50). All are based on the needs of both display device and you.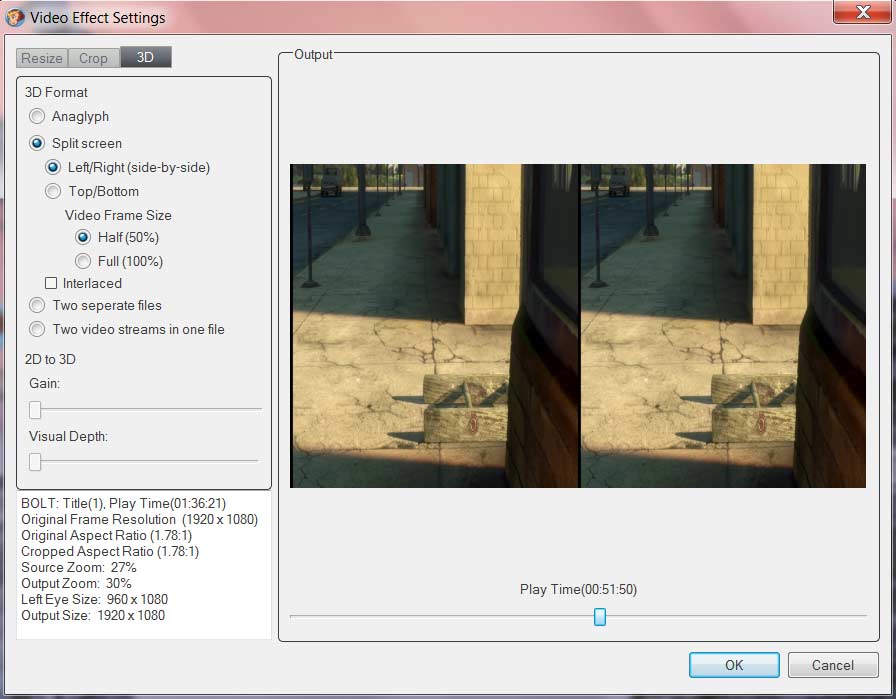 Note: The "Open Queue" tab beside "Edit" on the main interface can manage tasks for the conversion perfectly, you can remove task or add new task there. Another thing to say, all the default settings of Blu-ray 3D Ripper work well if you don't want to do further setting.
Rip Blu-ray 3D to 3D video > Step 4: Start converting
After all are ready, just hit Start button on the main interface to start the converting process. You can check the detailed info about the progress under "Info".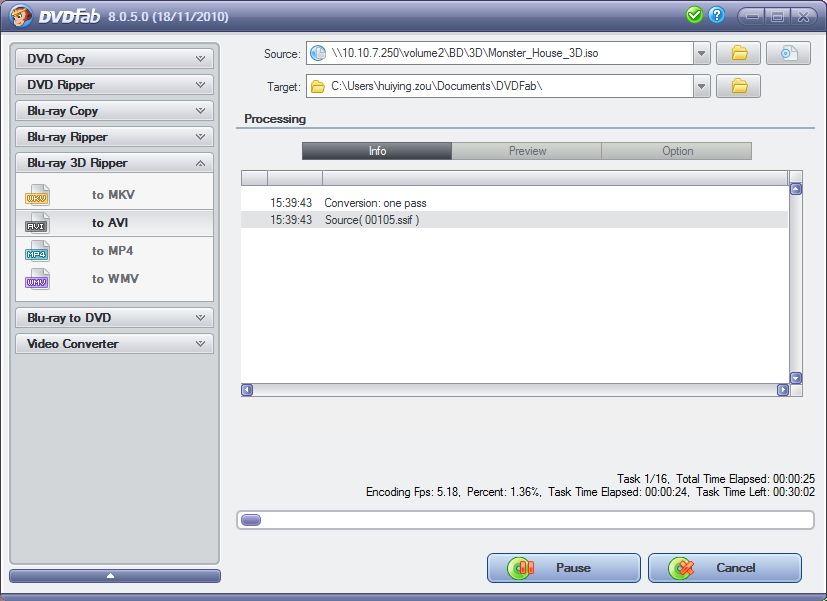 Click "Option", then you are allowed to set auto shutdown function in order to release you from the chair before the computer screen, then the computer will automatically shut down after conversion completed.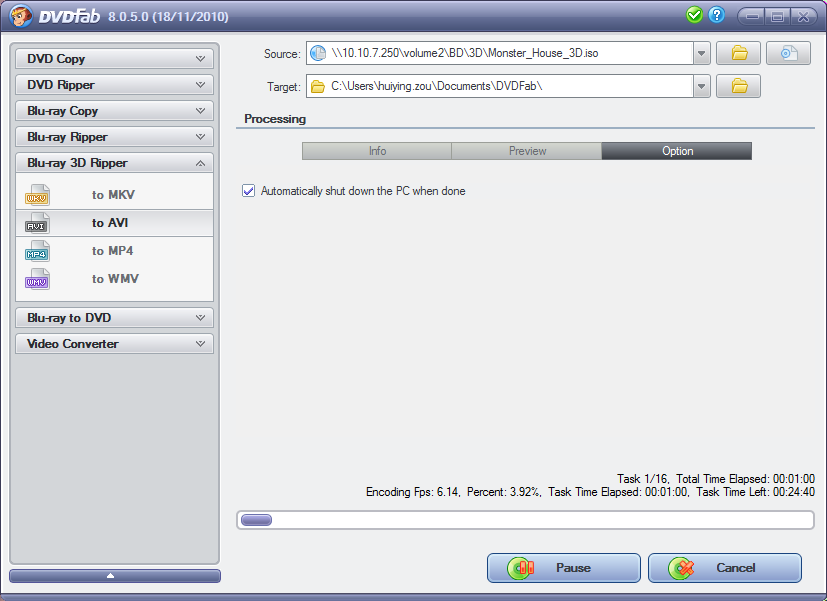 That's all. Convert Blu-ray 3D to 3D video is no big thing with DVDFab Blu-ray 3D Ripper. Is it your desired app? Take some time to try it out yourself, you will be rewarded more.