How to Rip and Convert Blu-ray to M2TS with Blu-ray to M2TS Ripper?
M2TS is a container file format based on the MPEG-2 transport stream container. It is used for multiplexing audio, video and other streams. This container format is commonly used for high definition video on Blu-ray Disc and AVCHD. If you want to convert your Blu-ray to video files in high definition playable on computer, PS3 or WDTV, you can rip your Blu-ray movie to M2TS which is even superior to common HD files in image. How to? DVDFab Blu-ray Ripper can help you.
Rip Blu-ray to M2TS>Step 1: Run DVDFab Blu-ray Ripper – M2TS
Free download DVDFab, and follow its intuitive Wizards to easily install it. Run DVDFab Blu-ray Ripper, then choose the option "M2TS".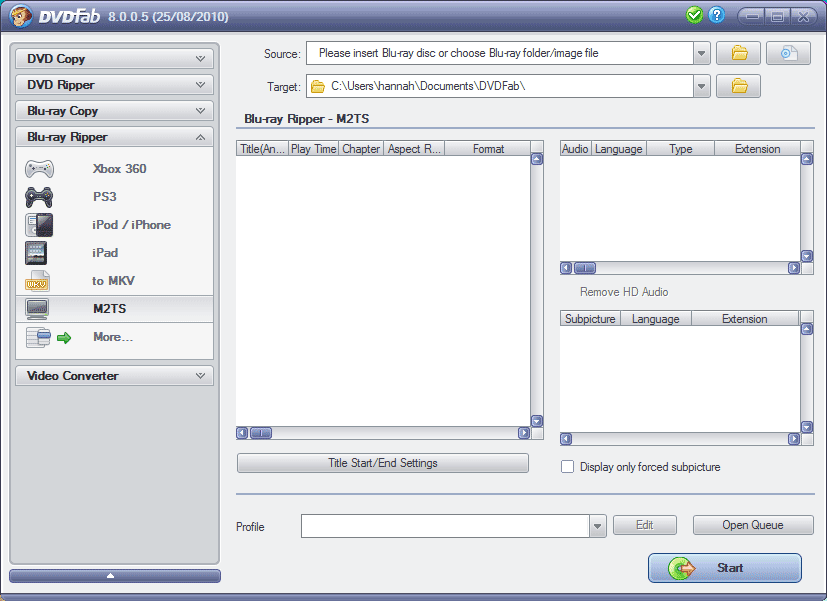 Rip Blu-ray to M2TS>Step 2: Open Blu-ray source
Insert Blu-ray disc to Blu-ray drive, and specify its region code in a subsequent pop up window, then DVDFab Blu-ray Ripper will analyze and open it as source.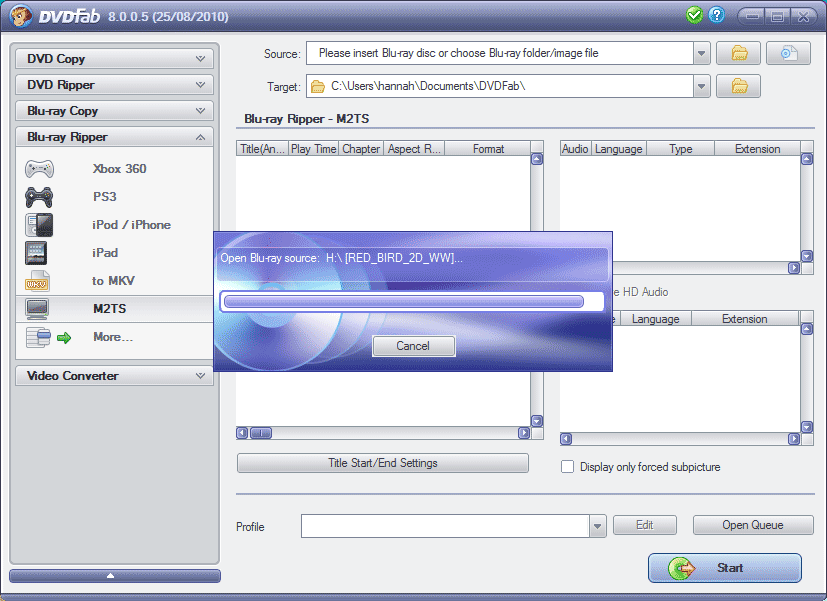 Rip Blu-ray to M2TS>Step 3: Choose one or more titles
Once the source Blu-ray movie is opened, you need to choose one or more titles you want to convert. Note that DVDFab Blu-ray Ripper supports batch conversion, and it enables you to preview title on the lower left corner of the main interface. Click "Title Start/End Settings" to arrange start and end chapter of the title if you only want to convert just part of it. What's more, you are free to set audio tracks and subtitle for the output video.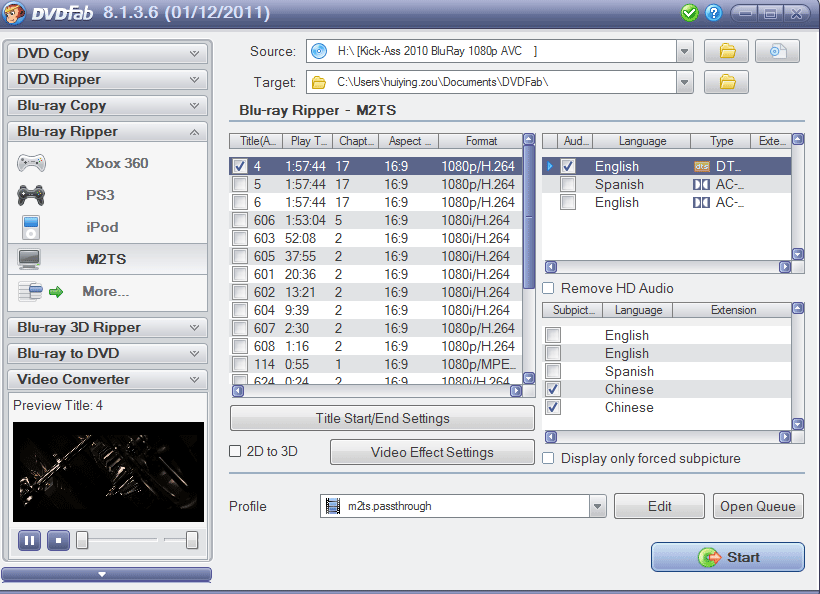 Rip Blu-ray to M2TS>Step 4: Conversion settings & video effect settings
If you want to split title by chapter, or rename the file or title, you can make it in Conversion Settings window opened by clicking "Conversion Settings" button on the main interface.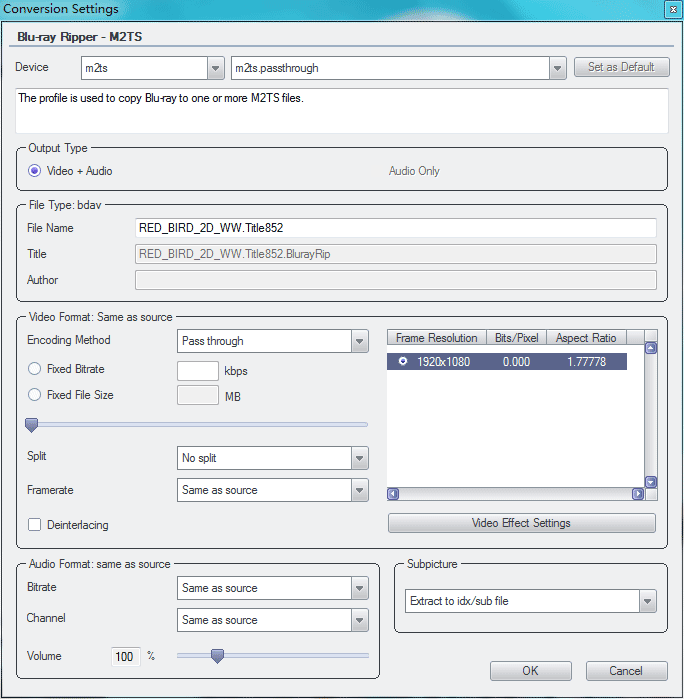 You can set the output video effect as you like. Click "Video Effect Settings" you will go to resize or crop the video.
"Resize" lets you reset source aspect ratio and frame resolution if you need.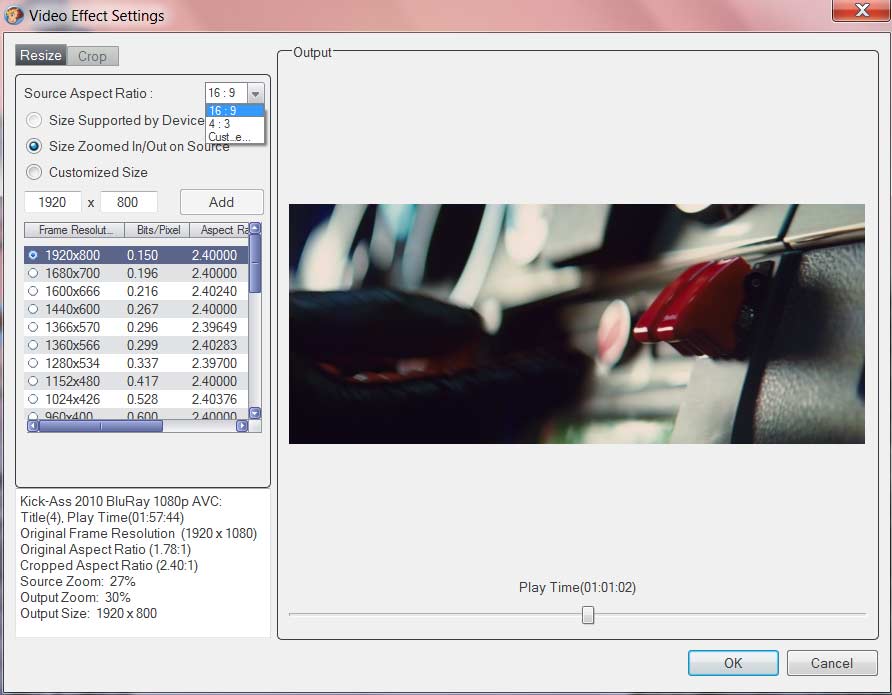 "Crop" enables you to control play region of the output video by "Automatic" or "Customized" way.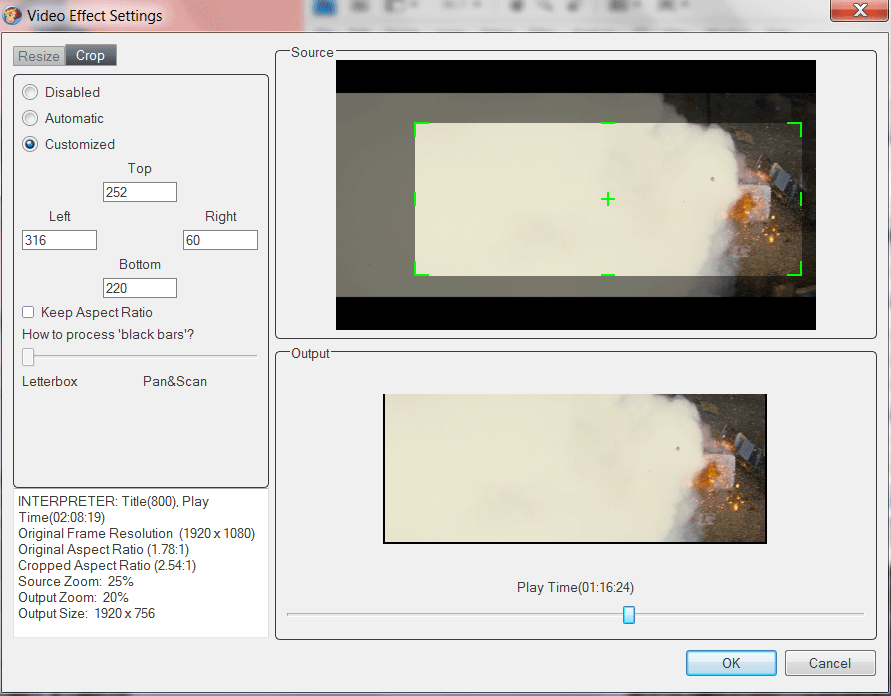 Rip Blu-ray to M2TS>Step 5: Start converting process
When all is OK, click "Start" button on the main UI to start converting process. You will get a process screen as below.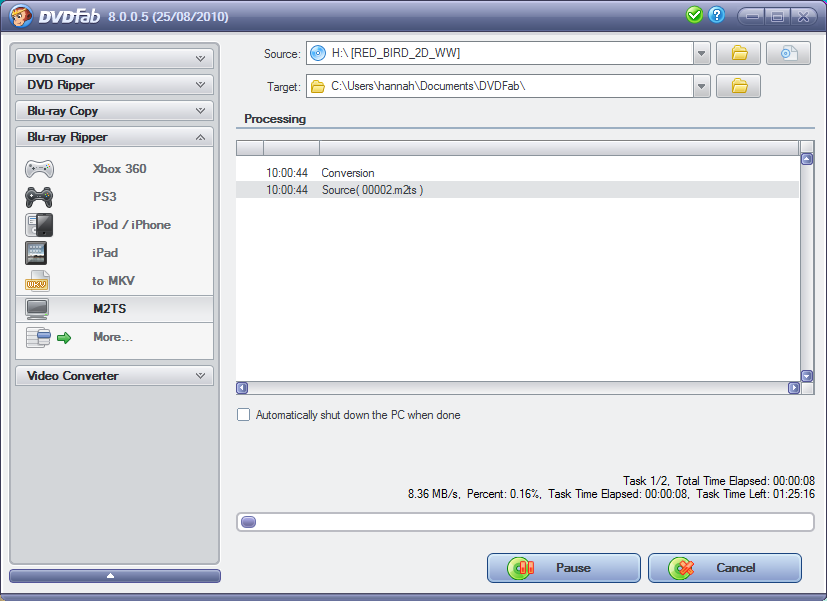 OK, done. Ripping Blu-ray to M2TS with DVDFab Blu-ray Ripper is just so simple, only needs a few clicks.