How to view Blu-ray on iPhone 5?
Do you have a load of Blu-ray collections and want to view them on your iPhone 5 on the go? You can easily fulfill this with this professional software – DVDFab Blu-ray Ripper, which can rip and convert any Blu-ray to iPhone 5 compatible video, also can yield other videos for playback on other portable devices. It's intuitive to use, high in quality, and it allows you to customize output video at your whim. Want to be a master at this Blu-ray ripping/conversion thing, just follow the below tutorial step-by-step.
Convert Blu-ray to iPhone 5 Step 1: Launch DVDFab Blu-ray Ripper, choose "iPhone" mode
Start up DVDFab after easy downloading and installing. On the main interface, choose "Blu-ray Ripper" option. Under this option, go to "iPhone" mode, the right setup for Blu-ray to iPhone conversion.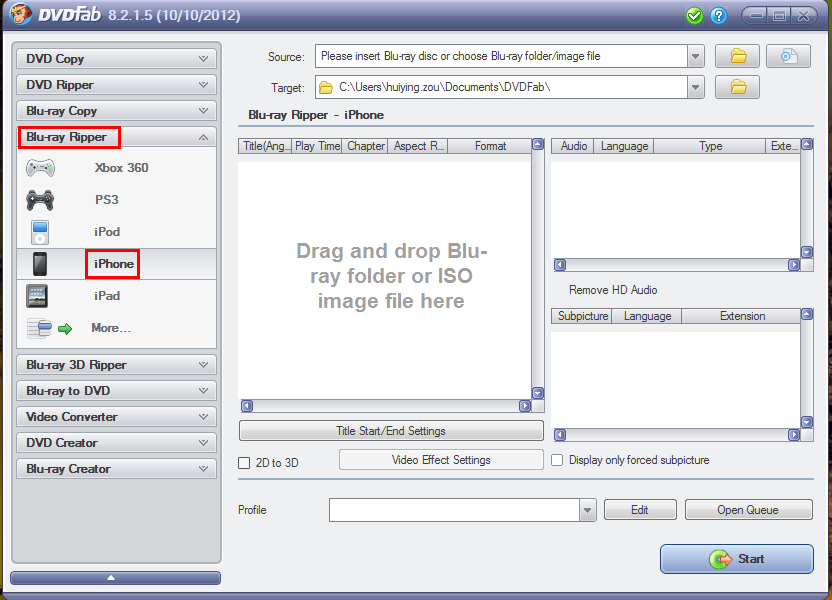 Convert Blu-ray to iPhone 5 Step 2: Load in Blu-ray for conversion, and choose a profile for iPhone 5
Now you need to load the Blu-ray you want to convert into this program as the source content. There're 3 ways for loading, you just choose accordingly: 1. insert BD into Blu-ray drive; 2. Drag and drop Blu-ray folder or ISO image file on your HDD into the working zone; 3. click folder icon or ISO file icon to locate the Blu-ray on your HDD then click to load.
After the Blu-ray is in, you can see form the below screenshot that the longest movie title is selected by default. If you want to choose other titles for conversion, it will always do of course. Note that in the Profile list, there're various profiles for iPhone, just choose iPhone 5 related one from 1080p H264, multichannel H264 and regular H264.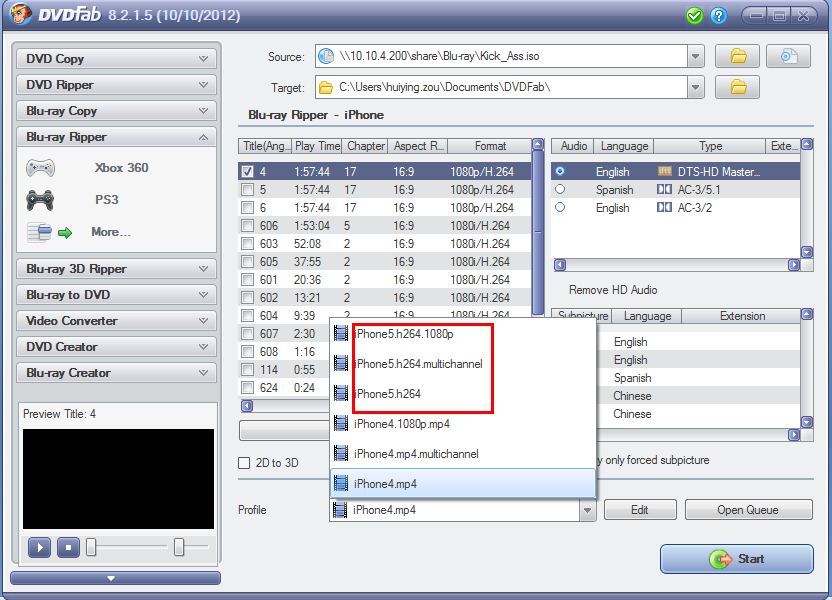 Convert Blu-ray to iPhone 5 Step 3: You shape the output freely
If you want to customize the output video, just click "Edit" button, to come to "Conversion Settings" window. As the screenshot shows, you can change the default settings about encoding method, frame resolution, frame rate, bit rate, channel, volume, subpicture rending way, etc.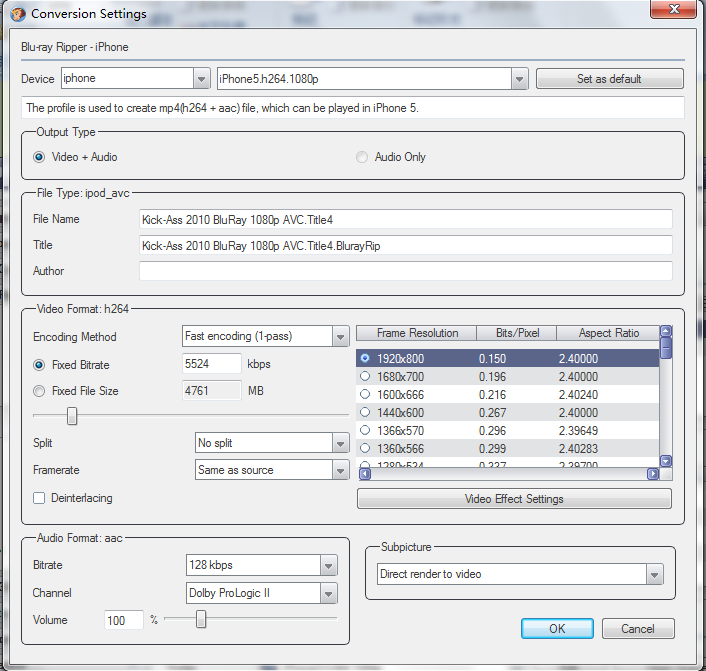 Click "Video Effect Settings" button to bring about "Video Effect Settings" window, and under "Resize" mode of this window, you can resize the source aspect ratio and frame resolution.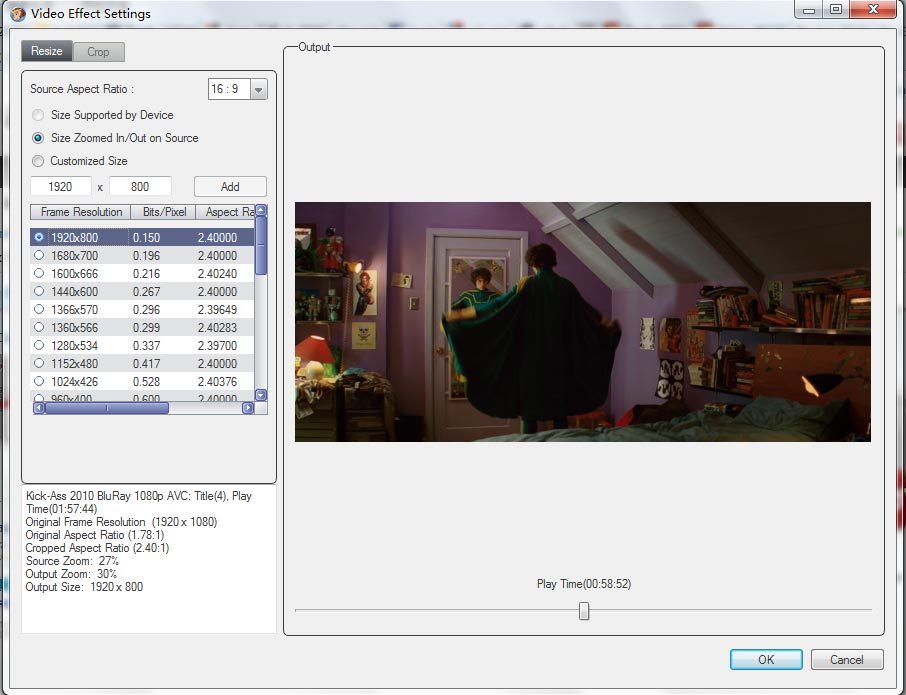 Under "Crop" mode, you can then remove black bars of the image, or cut out unwanted part from the image for display.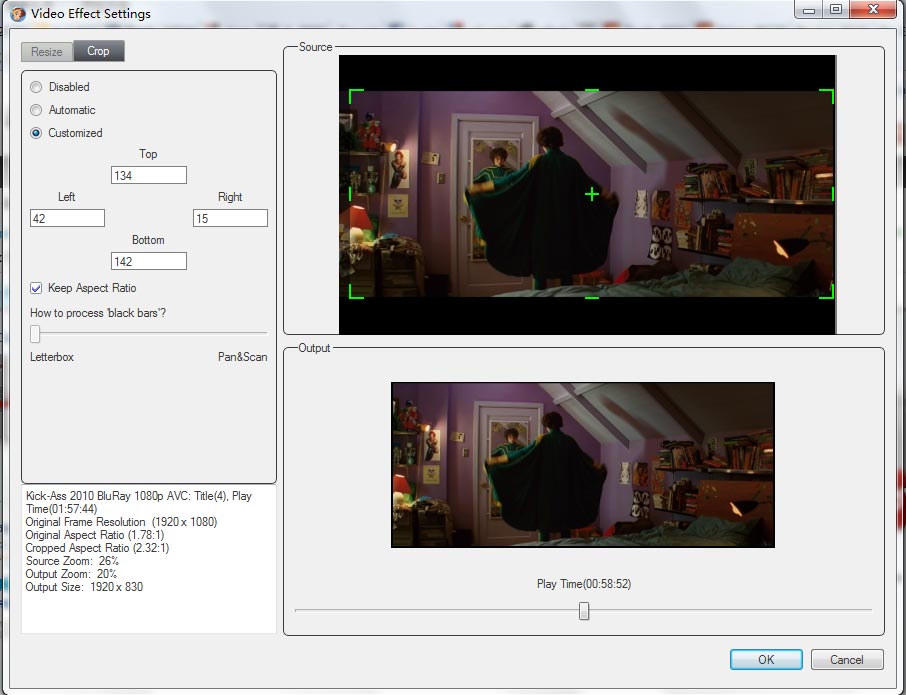 Convert Blu-ray to iPhone 5 Step 4: Click "Start" button
OK. Now let's come back to the main interface to click "Start" button, then leave the rest to DVDFab Blu-ray Ripper. Of course, during the conversion process, you can always monitor the progress with detailed info and image preview.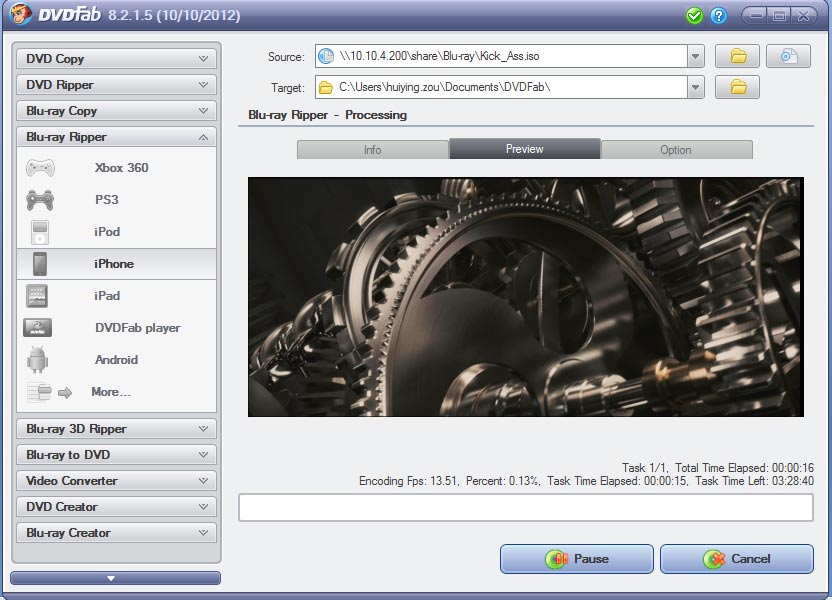 If you want to set auto set down function, choose "Option" please.

OK. That's all there is to it. More info about DVDFab Blu-ray Ripper can be found at: http://www.dvdfab.cn/blu-ray-ripper.htm