Mac DVD Ripper for Samsung Galaxy SII
Being the second largest smart phone manufacturer next only to Apple Inc in the world, Samsung released series of hit models, among which, Galaxy S II is very popular in the streets. In consideration of the increasing reputation of this phone, DVDFab feels the need to add a special support to this sought-after device.
This three-step tip below shows you how to convert DVD for Samsung Galaxy S II on your Mac, with the Mac DVD Ripper from DVDFab:
Step 1-> Download and install on your Mac the latest version of DVDFab DVD Ripper for Mac.
Step 2-> Launch DVDFab for Mac, navigate to DVD Ripper option and Android mode, then load the DVD you are about to convert. After doing the audio and subtitle settings, go to the bottom of the main window where you can find the profile selection area, then choose "Samsung Galaxy S II 9100".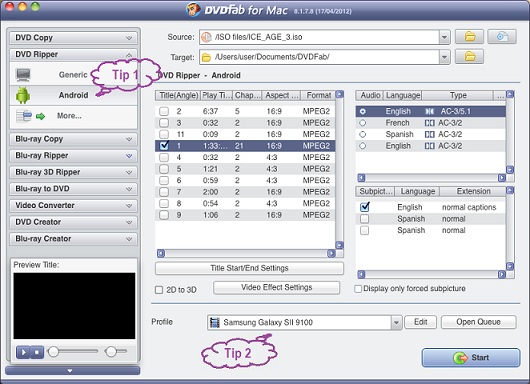 Step 3-> Click the "Edit" and "Video Effect Settings" buttons and do the Conversion Settings and Video Effect Settings respectively, then hit "Start" button to go converting. Next, wait for the task to be completed.
Note: the key point of this conversion is the Android mode and profile, pay enough attention.
For more information, you can go to DVDFab DVD Ripper for Mac page.