How to rip Blu-ray movies for Kindle Fire
Do you think it is reasonable for Amazon to release its own branded tablet computer? What's the logic under this expanding strategy? As of its specs, Kindle Fire does not give people very strong impressions, as its configuration cannot make such a noise among tech savvies. Amazon's motivation behind this probably is that people can use Amazon account to download e-books onto Kindle Fire, and also stream videos, songs etc. The question is, will customers buy this kind suggestion?
Sure, there will be followers. To those who already purchased this tablet, instead of streaming videos from Amazon account onto Kindle Fire, here we offer a solution to convert your own Blu-ray movies to Kindle Fire compatible videos, using the most popular Blu-ray Ripper software available on the market, DVDFab Blu-ray Ripper.
Follow this tip below to see how to make that happen:
Rip Blu-ray for Amazon Kindle Fire: Step 1 -> Download the latest version of DVDFab and install it on your computer.
Rip Blu-ray for Amazon Kindle Fire: Step 2 -> Start DVDFab, navigate to Blu-ray Ripper option and Amazon mode, and then load the Blu-ray you are about to convert. Next, choose the audio track and subtitle stream you want to keep.
Rip Blu-ray for Amazon Kindle Fire: Step 3 -> Click the "Edit" button to rename the output file, fix output file size, bit rate, etc and click "Video Effect Settings" button to resize the frame resolution, crop the display area and so on, if you do not want to use the default settings. Next, wait for the task to be completed.
Note: the critical factor of this converting process is the Amazon mode you choose.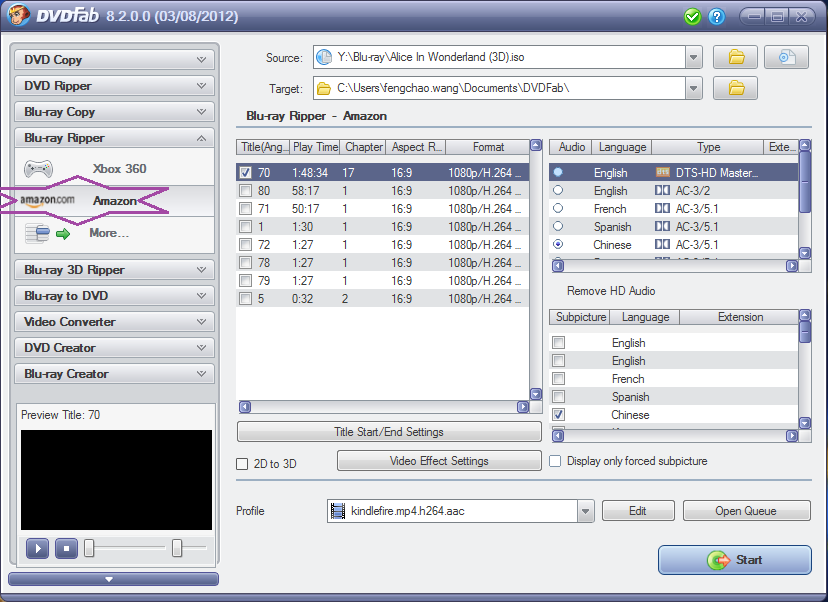 For more information, please refer to DVDFab Blu-ray Ripper page.