The best video converter for Samsung Galaxy 9100
Apple is the leader in smart phone industry, but it is not the only leader. Not everyone sing songs about iOS, there are a lot of people falling in love with Android. As the biggest smart phone producer running Android OS, Samsung is enjoying skyrocketing reputation among smart phone enthusiasts.
If you happen to be a Samsung holder, and you happen to have a Samsung Galaxy S II 9100, now you are the lucky guy when you come across this page, as in this page, you will be able to know how to make the most out of your Galaxy 9100, with the help of DVDFab's video converter software.
Here is a tip, easy and simple, illustrates how you can convert all the video files to your Galaxy 9100.
Convert videofor Samsung Galaxy S II: Step One-> Download the latest version of DVDFab Video Converter and install it on your computer.
Convert video for Samsung Galaxy S II: Step Two-> launch DVDFab, navigate to Video Converter option and Android mode, then simply drag and drop the video file you are about to convert into the main interface. After doing the audio and subtitle settings, go to the bottom of the main window where you can find the profile selection area, then choose "Samsung Galaxy S II 9100".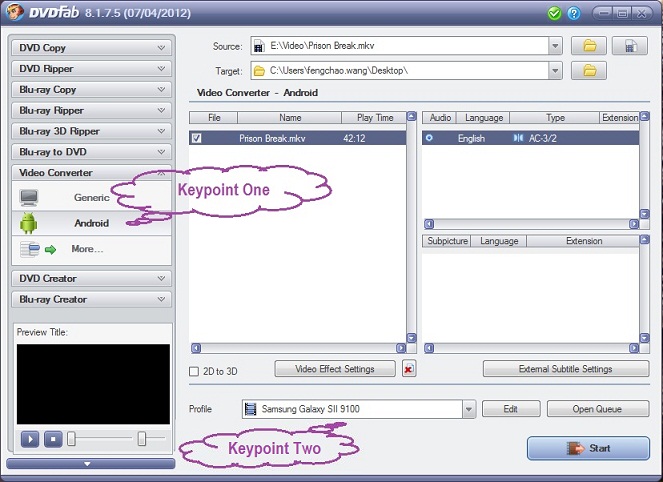 Convert video for Samsung Galaxy S II: Step Three-> Click the "Edit" and "Video Effect Settings" buttons and do the Conversion Settings and Video Effect Settings respectively, then hit "Start" button to go converting. Next, wait for the task to be completed.
Note: the key point of this conversion is the Android mode and profile, pay enough attention.
For more information, please go to DVDFab Video Converter page.