DVD Copy Software - Perfectly rip DVD and copy DVD to blank DVD disc or hard drive
Refer to DVD copy software, DVDFab DVD Copy is definitely the most powerful and professional. It has 8 copy modes for you to freely copy, burn, clone, rip, merge your DVD. And you will be strongly impressed by its super fast speed and perfect output effect. What's more, it's easy-to-use, flexible to edit movie content, and with bunch of helpful functions to ensure you happy experience.
As the best DVD Copy software used by more than 40 million users, DVDFab DVD Copy has eight copy modes meet different needs in DVD copy. The following is the detail on how to copy DVD with DVDFab DVD Copy.
Best DVD copy software > 1: 8 copy modes of DVDFab DVD Copy
Don't be surprised that DVD Copy has 8 copy modes available for you to choose how to deal with your DVD. They are: Full Disc, Main Movie, Split, Customize, Write Data, Customize Split, Clone, Merge.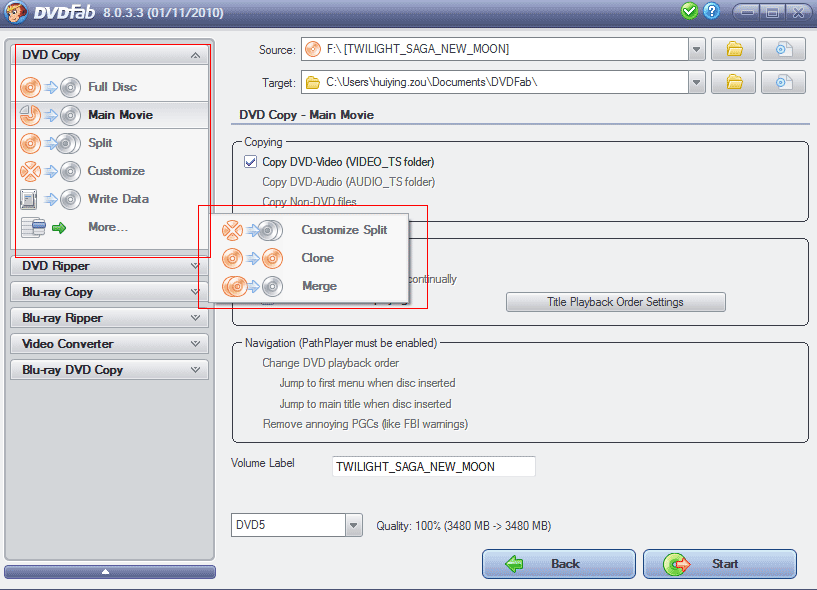 Best DVD copy software > 2: Fast processing speed with batch conversion, multi-core CPUs, and NVIDIA CUDA supported
DVD Copy processes files in batches, supports multi-core CPUs and the newest NVIDIA CUDA technology to offer users cool fast speed.
Best DVD copy software > 3: Support different sources,targets, and output types
You can import your DVD movie from DVD disk, from DVD file folder and ISO image file saved on your PC. And the output can be saved on any blank/rewritable DVD disk, or as file folder or ISO image file on your hard drive.
The output media type can be DVD 5 and DVD 9. You can choose either one according to your need. If the original DVD is DVD 9, then for 100% quality of the output, you should choose DVD 9 as target. Otherwise, choose DVD 5 with compression for smaller output size. But we all know that the quality is damaged to some extent, and what DVD Copy can do is decrease the damage to the least for your enjoyment.
Best DVD copy software > 4: Set subtitles and audio tracks freely and preview title in real time
You can freely choose multiple subtitles and audio streams as your favorite ones. And what's even more wonderful is that you can preview title in real time with the built-in video player on the bottom left corner of the main interface, so you can compare the setting result with the original effect.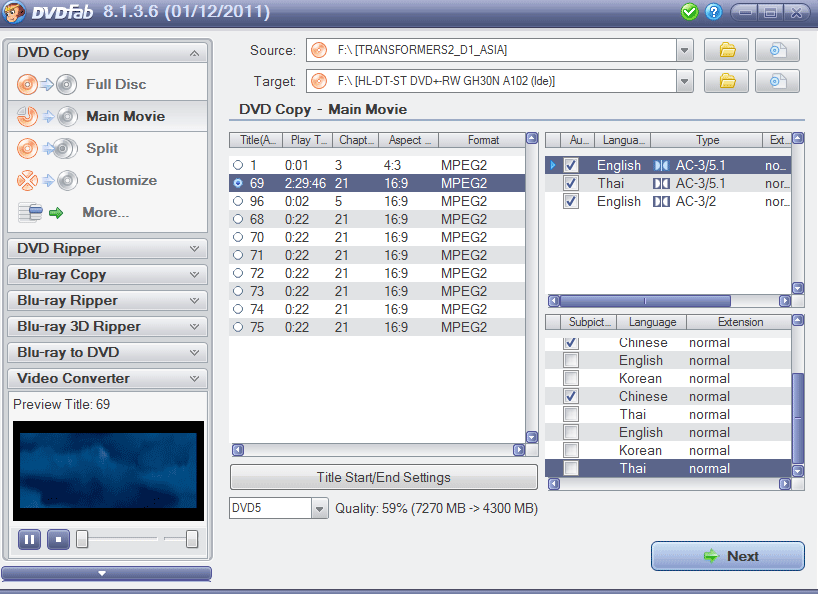 Best DVD copy software > 5: During the copy process
When the copy process is on, you can check the detailed information such as the start time of the mission, the elapsed time, the left time, current processing percentage, and the progress bar, etc.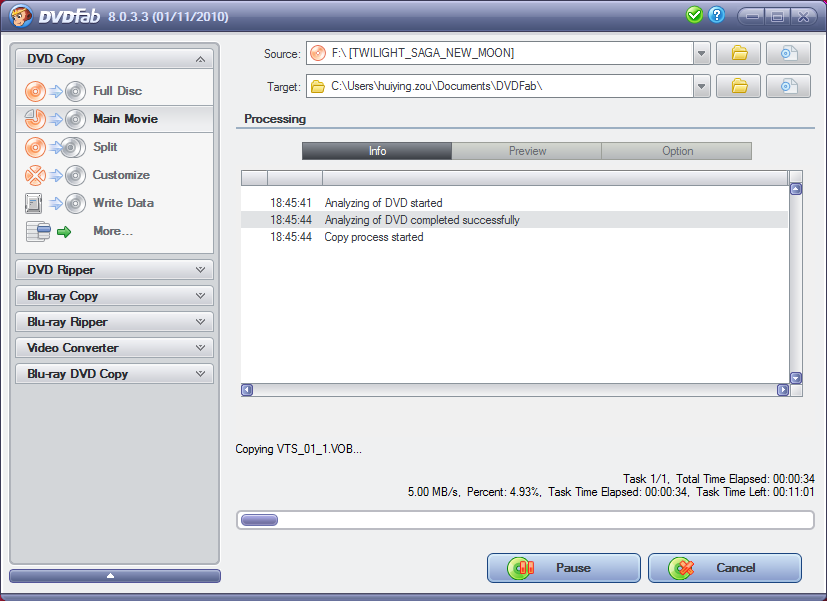 Your eyes will be feasted on the preview pictures from the very movie changing each half second which are corresponding to different processing stages.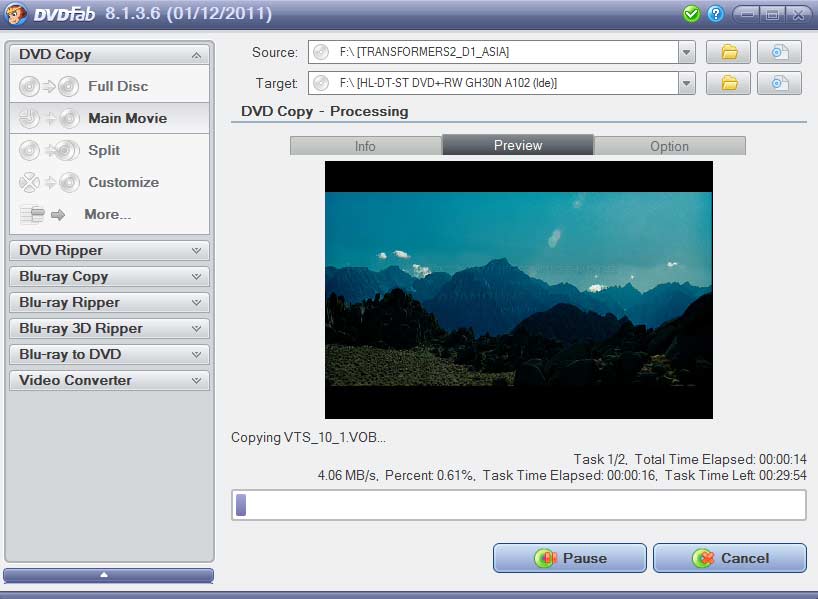 By the way, the output quality is perfect undoubtedly. And "loop" play is supported by DVD Copy.
So… What do you think about DVDFab DVD Copy now? Yeah, really fantastic DVD copy pro. I just simply tell you something about it generally, I strongly suggest you to test it out yourself. No waste of time to free download it and try it at: http://www.dvdfab.cn/download.htm