The best video converter for PS Vita
Dated back to the year of 2006, Sony released PS3, as part of the 7th generation game consoles, mainly to compete with Microsoft's Xbox 360 and Nintendo's Wii. Now, several years past, Microsoft does not give a successor of its game unit, but, Nintendo has its 3DS released, as the only big name in the 8th generation game consoles, that's why Sony hurried up to take counter actions and finally came up with PS Vita, the new flagship of its game console unit.
Whether PS Vita can compete with Nintendo 3DS, let the market law decide. But, from the point of watching videos, 3DS seems to be a little bit humble, as it only has a 3.53-inch top screen with 800*240 resolution and a bottom screen of 3.02 inch with 320*240 resolution, too petite to watch videos. In contrast, PS Vita features a 5 inch OLED touch screen with up to 32 GB expandable storage. It will absolutely perform better when game players want to relax their brain and watch a movie.
How to transfer videos to PS Vita? You can turn to DVDFab Video Converter for help, which is a well-known video converter software for converting personal owned videos to PS Vita compatible videos.
Here is a tip for your reference:
Convert Video for PS Vita: Step 1 ->Download the latest version of DVDFab Video Converter and install it on your computer.
Convert Video for PS Vita: Step 2 -> Launch DVDFab, navigate to Video Converter option and PS Vita mode, then simply drag and drop the video file you are about to convert into the main interface. Next, choose the audio and subtitle you need to keep.
Convert Video for PS Vita: Step 3 -> Click the "Edit" and "Video Effect Settings" buttons and do the Conversion Settings and Video Effect Settings respectively, then hit "Start" button to go converting. Next, wait for the task to be completed.
Note: the key point of this conversion is the PS Vita mode, pay enough attention.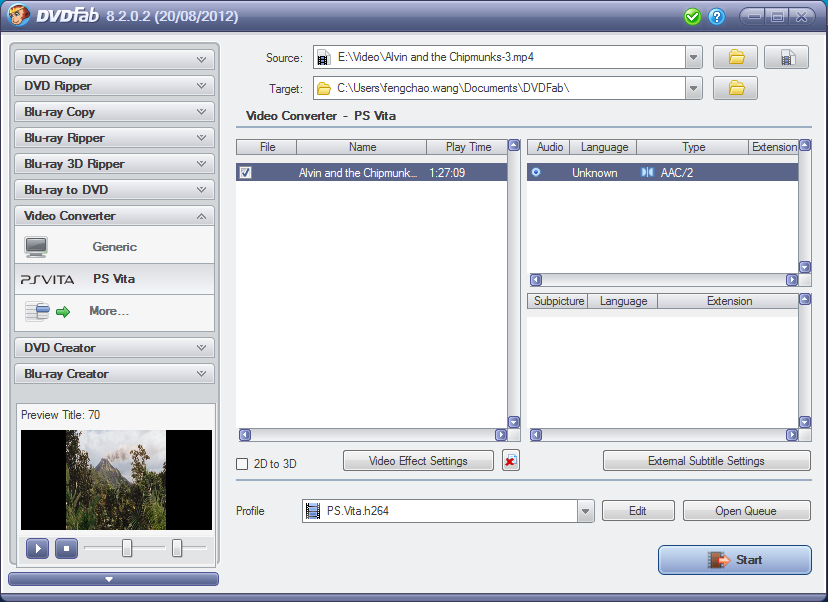 For more information, please go to DVDFab Video Converter page.