How to Get HBO on Apple TV?
Summary: With HBO GO Gone, how to Get HBO Now and HBO Max on Apple TV? Now, follow us to find the answer.
StreamFab All-In-One
• Download streaming video in 1080p from Netflix, Disney+, HBO, Hulu & Amazon Prime
• Download 4K/8K videos from 1000+ sites including YouTube, Facebook, and more
• Batch download YouTube videos or playlists to MP3 in 320kbps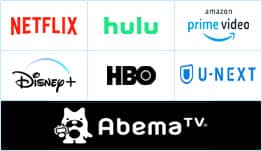 A higher percentage of people now subscribe to streaming networks to watch their favorite series, TV shows, movies, and even live TV. Apparently, you'll save more when you switch to digital streaming than purchasing physical DVDs or BDs that are liable to crack or damage much easily. Also, for cordcutters, digital Live TV streaming is much affordable than local cable TV monthly fee.
The increasing popularity of digital streaming networks is not unconnected to the fact that they actually make things easier. Thanks to digital streaming, one can enjoy their favorite content on various devices, even while on the go. More so, virtually all of these digital streaming networks supports on-demand video content. Here, our focus is HBO and how you can access the network on your Apple TV.
The HBO streaming network has seen several upgrades from its inception. First, it was HBO GO, and then came HBO Now, and again, the company launched a new network, HBO Max in 2019.
HBO Max is a general network for all HBO offerings. That is to say, every thing HBO has to offer is available on HBO Max, including Max originals. Interestingly, as its rivals - YouTube, Netflix, Disney+, Hulu, and many others - HBO Max is available across various devices, TVs, and consoles.
It works via an app - you need to get the HBO app for your device and then you can sign in ans enjoy everything the company has to offer, of course there are amazing movies you'd love to watch, including Wonder Woman 1984 and other WarnerMedia classics. Now, in regards to Apple TV, how do you get the new HBO app on your smart TV?
There has always been an HBO app available for Apple TV users. The app lets you stream HBO offering (then HBO Go and HBO Now) on your Apple TV. However, the old HBO app you used to launch on Apple TV is gone, and it's been replaced with the new app called HBO Max.
Some Apple TV user woke up to see that their HBO App is no longer working, or it has disappeared from their app list; well, it's not something to worry about as you can get on the new app and still enjoy streaming the HBO network.
Up till today, some persons are still confused about the various HBO networks, which are HBO GO, HBO Now, and HBO Max. Well, here's a detailed overview about these different digital networks offered by HBO.
This was the first digital cable network offered by the American premium cable network, HBO. It was launched in 2010 and it was meant to offer American cordcutters an alternative to watch HBO offerings as on-demand video. The network was great and gained a lot of subscribers while it lasted.
HBO Now is the later network from HBO. It was offered as a subscription video on demand streaming service. This version of HBO digital streaming launched in 2014 and lasted for six (6) years. As of 2018, HBO Now reportedly has about 5 million paying subscribers. The app was available across devices and televisions, including Apple TV and Roku streaming devices.
This is the latest, and probably the last we may see from HBO. The new HBO Max is advertised to offer everything you'd get from HBO GO and HBO Now, with the addition of more new stuff, which includes Max originals. HBO Max launched in 2019 and was officially supported on Apple TV in 2020. There are a lot of new features provided by HBO in the HBO Max network.
Actually, nothing happened to the app; it was only discontinued for the new HBO Max to replace it's position in the app store. The new HBO Max network is more closely an alternative to other rival networks such as Netflix, YouTube, Hulu, and many others. This new HBO network offers originals; there are a lot of exclusive movies here, too.
Sadly, not all Apple TVs support the new HBO app, HBO Max. As it stands right now, only select Apple TVs can get the HBO Max app, others may need to use another external streaming hardware to get the network on their TV. Here are the selected Apple TVs that are supported to run the official HBO Max app; older devices aren't supported.
According to HBO (WarnerMedia), HBO Max app is supported on 4th Gen. Apple TVs or newer models. "Apple TV 4K or Apple TV HD with the latest tvOS software."
So, if your Apple TV isn't the 4th Gen version, there's no way you're getting the new HBO Max app on your smart TV, sound annoying right? Well, there are many ways to get the HBO network to play on your TV. It is available on Google Chromecast Ultra and Chromecast with Google TV. The HBO is available on Roku devices, and even on PlayStation 4 or 5 consoles. There are just many ways to get the HBO app on your smart TV if your Apple TV failed.
The HBO Max app launched on Apple TV on May 2020. For new persons who don't understand what we mean by TV - this is not the regular television set you know. Apple TV is actually an external set up box that you will connect to your standard TV to turn it into a smart TV that runs iOS apps and programs. There are different versions/models of Apple TV available in the market at different prices. Already, we have mentioned the supported models that can run the HBO Max app.
Okay, with much already said about Apple TV and HBO Max app, let's see how you can install the HBO app on your Apple TV box; it's pretty more like installing a new app on your iOS device.
Steps:
Before going on with the steps below, you need to sign up for HBO Max. However, if you were already on HBO Go or HBO Now, there's no need to sign up again for HBO Max. According to HBO, all HBO Now subscribers are automatically upgraded to HBO Max at the same subscription fee. The sign up is for new users, existing users with active subscription can go ahead with the steps explained below.
First Step:
Open the App Store on your Apple TV box; use the remote controller to locate the App Store and launch it.
Second Step:
Search for HBO Max on app store. You will see the app if your Apple TV is compatible (supported). If your device is not compatible, the app won't appear in the search results.
Third Step:
If the appeared in the search results, select the "Download" option to install it on your Apple TV box.
Fourth Step:
After installation, go on to launch the app and sign in using your HBO Now or HBO Max credentials; either of them would sign you in to use the app on your Apple TV.
Once you're signed in, you can search and watch any movie of your choice. If your network is suitable for 4K streaming, and the movie you're about to watch is available in 4K, you'd automatically stream HBO Max in 4K quality with Dolby Atmos audio.
There are many ways to get HBO Max subscription, you can pay with various supported providers. However, the standard subscription fee for HBO Max is $14.99, which is approx. $15 per month. Well, with that subscription, you'll stream HBO ad-free and you will stream on any device you have. The HBO Max price is cheaper than Netflix's premium plan (the ad-free plan).
Apparently, you should know that HBO Max is limited to people living within the Unites States or any of its territories. If you live outside the US, getting HBO Max would require you using a VPN service to bypass the Geo restriction.
Truth be told, in this current generation, almost everything is possible - you only need to be informed, and then you need the right tools, too. Well, yes, you can download HBO Max movies, and it's not like the regular "download for offline" feature offered by most streaming platforms.
Here, the guide below details how you can grab a video, movie, or show from HBO Max and have the media saved on your computer's local storage (hard disk). This way, you can now play the movie at any time you like and on any device (or software player like DVDFab Player 6).
If you're a fan of streaming services, chances are that you have hear about online video downloaders (popularly called YouTube video downloaders by most people). These are tools that allow you to download movies and videos from video hosting platforms such as YouTube, Facebook, Twitter, and the rest of them.
However, when you talk of premium streaming networks such as Netflix, Hulu, YouTube TV, HBO Max, and others, you can't use those basic online video downloaders to grab movies from these premium networks. So, how can you download HBO Max movies? Let's see below.
DVDFab HBO Max Downloader is a professional software application that works perfectly for downloading movies from the HBO Max platform. This software is designed with an intuitive interface and comes with a bunch of impressive features.
i Free Download i Free Download
The DVDFab HBO Max Downloader software lets you download HBO Max movies in 1080p quality and 5.1 audio. It supports batch downloading - meaning that you can download multiples videos at the same time. Simply put, DVDFab HBO Max Downloader is the perfect solution to downloading your favorite movies from the network. It is fast, easy, and available for both Windows and macOS computer users.
Features of DVDFab HBO Max Downloader:
Downloads any video from HBO Max and HBO Now
Save your HBO videos in H.264 format
High quality downloads: 1080p, 720p, AC3 5.1, and AAC 2.0 audio all supported.
Pre-select audio and subtitles per the UI language
Save subtitles as SRT files or remux into video
Batch downloading with faster speed
Downloads media server-friendly metadata info
Guide:
Install and launch DVDFab HBO Max Downloader on your computer system
Go to "Streaming Services" on the left pane and click on the HBO Max card.
Sign in to your HBO Max account and search for the movie you want to download
Play the video and DVDFab HBO Max downloader would start downloading it immediately.
You can search for other movies and download all of them at the same time.
Once you have a supported Apple TV box, simply visit the app store to install HBO Max on your device. If you had HBO Now subscription, automatically, you'll be on HBO Max for the same fee.