6 DVD copy modes available: Full Disc, Main Movie, Customize, Split, Merge, Clone/Burn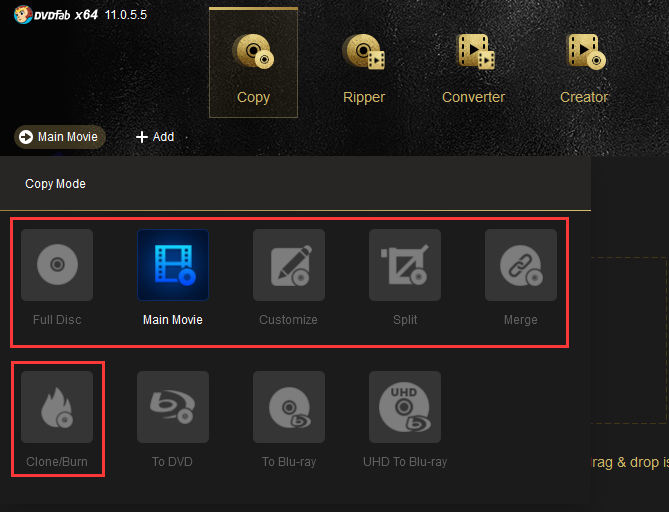 * Full Disc: All movies, menus and trailers, are copied to a DVD with just one click. Compress long movies to fit on a DVD5 single layer disc.

* Main Movie: Copy the main title only, with specific audio/subpicture.

* Customize: Personalize your DVDs! You can select just your favorite titles, specify the title playback order, with or without original menus, include/exclude and set default audio/subpicture to create a DVD with only the stuff you want, that plays the way you choose!
* Split: Copy a DVD-9 onto two DVD-5 discs with 100% quality, and preserve original menus on both discs. This mode splits by chapter. Ideal for long movies to maintain Quality without using DVD-9 blank media.

* Merge: Combine several titles of several sources into one DVD. Combine two DVD-9 into one DVD-9. Merge season DVDs to fewer discs. Create your own special features collection disc.
* Clone/burn: Make perfect 1:1 bit-to-bit copy of DVDs. Make perfect dual layer DVD copy by using the original layer break position. Use this mode to copy a data DVD disc, like PS2 DVD.