2021 Free Image Editor [Class Act in Different Fields]
Summary: There are four kinds of free image editors introduced, helping you with jpeg/gif reading, text adding, photo enhancement as well as image to video. Read this post and let the best free image editor be your lifelong friend.
DVDFab Photo Enhancer AI
• Enlarge photos up to 40x with more details added
• Sharpen photos by reducing background/chroma/luminance blur
• Make photos clearer by removing motion blur and out-of-focus blur
• Suitable for both beginners and experts
Free image editor is your ideal class act to edit files. Facing an image, we have numerous ways to edit it. Add text, filter, overlay, element and mosaic; rotate, brighten and color it; upscale an image for photo enhancement as well as make a video out of photos and music. Which way do you want to edit your image? Then choose the best class act in different fields to start a trip.
Table of Contents:
What is the best free image editor for JPEGs and GIFs? When we choose an image editor, supported file formats may be the first thing we have to take into account. With so many devices available to take a picture like smartphone and camera, it is natural that image formats can be different and diversified. Then which free image editor is able to read the most image formats? It is more terrific if this editor can recognize video or audio formats as well.
VideoCruise
Pro: Versatile as a video editor, audio editor and image editor
Con: Only work on Windows
Here is such an image editor free capable of reading considerable video, audio and image formats. And this class act is called VideoCruise. What format is your image in, NMP, JPG, PNG, TIF, JPEG, TIFF or HEIC? As long as it is one of these image formats I have listed, VideoCruise will recognize and display your file immediately. Then supported audio formats by this free image editor include AAC, AC3, FLAC, M4A, MP2, MP3, WAV, and supported video formats cover GIF, MP4, AVI, 3GP, ASF, MOV, F4V, MPEG, MPG, TS, MTS, MKV, WMV, WEBM, FLV, etc. Thus, VideoCruise is viewed as the best free image editor for JPGs and GIFs. You can import as many formats of files to this Windows image editor.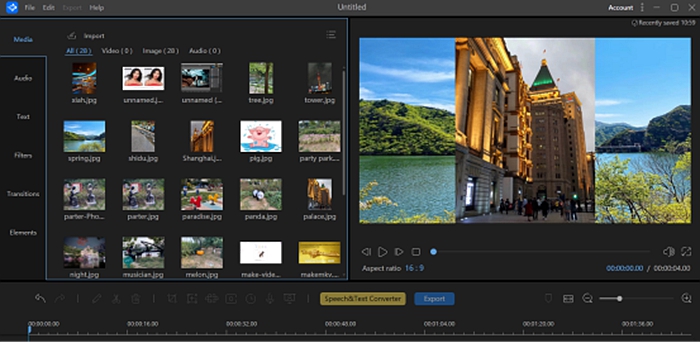 Which image-free image editor has the best text fonts and text effects? Befunky deserves your attention most.
Befunky
Pro: Lots of options to edit photo
Con: Most functions are paid
Befunky is an online image editor that you can start using the option of "Get Started". Then click the "A" button and "Add Text" by entering what you want to express in your picture. As a free image editor, it provides many options for you to customize your text in an image. For example, there are options of "font", "Word Size", "Spacing", "Bold" "Italic", "Align", "Background", "Outline", "Highlight", "Blend Mode", "Opacity", "Flip Horizontally/Vertically", "Move Backwards/Forwards" in this image editor for you to use.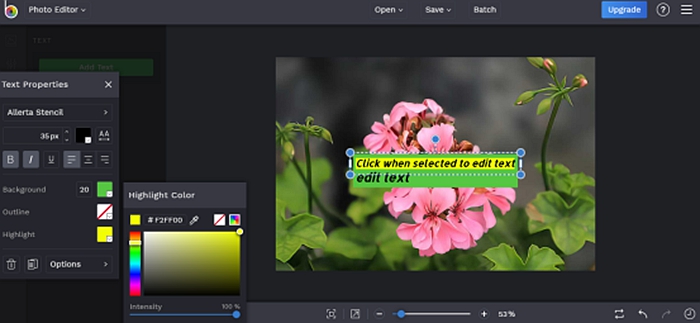 Besides adding text to photos, you can also use this photo editor to crop, resize, rotate, cutout, sharpen, replace color, edit background, exposure, clarity, glow, auto enhance, fill light, blur & smooth, embellish skin, eyes, mouth, apply effects, artsy, frames, textures to your file. The output destination this photo editor supports include computer, Befunky, Google Drive, Google Photos, Facebook, Dropbox, Pinterest, Twitter. Also, can save your file as a project. However, Befunky is not always a free image editor. For most advanced image effects, It charges money as is shown below. If you continue to learn how to edit an image using this image editing software, just come to its official website and start a free or paid trial. It is $6.99 per month and $59.88 per year.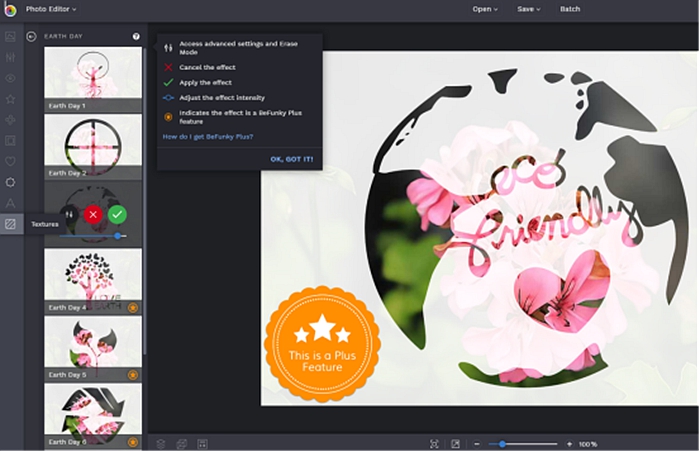 Alternatives: VideoCruise, Free Online Image Editor, Picfont, Fotor, Visual Watermark, IMG2GO, Photopea, Lunapic, Kapwing, PNG Image Editor
After simple image editing like rotation, adding texts to photos, color correction, filter effects as well as brightness and saturation adjustment, there is higher pursuit of image quality. Facing old photos and blur images, why not make it clearer? Now, there is a free image editor allowing you to process 5 images in a free trial. Follow me to learn its Pros and Con below.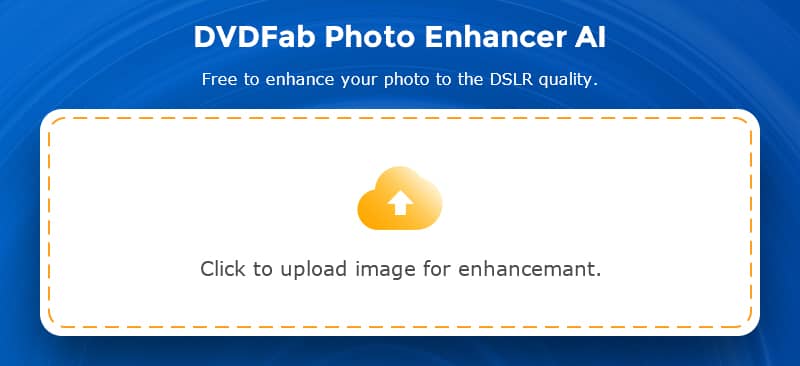 Empowered by Artificial Intelligence as a free image enhancer
Able to perfect photos, reaching the image effects shot by a Pro with DSLR camera
Enable you to enlarge images up to 40x and add more details
Remove motion blur and out-of-focus blur
Reduce background, chroma and luminance noise
Only accessible on Windows as a free image editor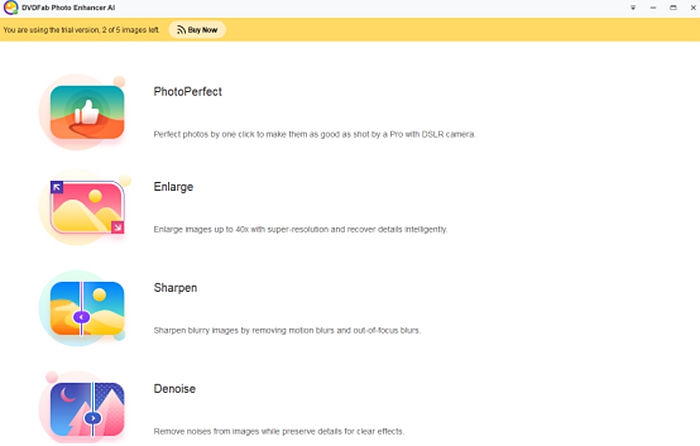 How to use this free image editor?
Then, I want to take one of the functions of this free image editor as example to show you how to improve image quality while enlarging it. That is, the "Enlarge" function in this image editing software. First, you need to install this best free image editor on your computer. Then click the button of "Enlarge" after starting this program. After that, DVDFab Photo Enhancer AI will prepare AI model to help you enlarge photo. Wait one minute and Open Images you want to upscale. You can choose "Split" or "Side by Side" mode to display your image. Then look at the options on the right and choose a value to scale up your image up to 40x at most. Below "Scale", there are also options like "Denoise" (Suppress Noise, Remove Blur), Brightness (Brightness, Saturation, Contrast) you can set. By the way, you can preview your file at any time you want, and there is a rectangle in the right small picture which you can move to display any section of your image.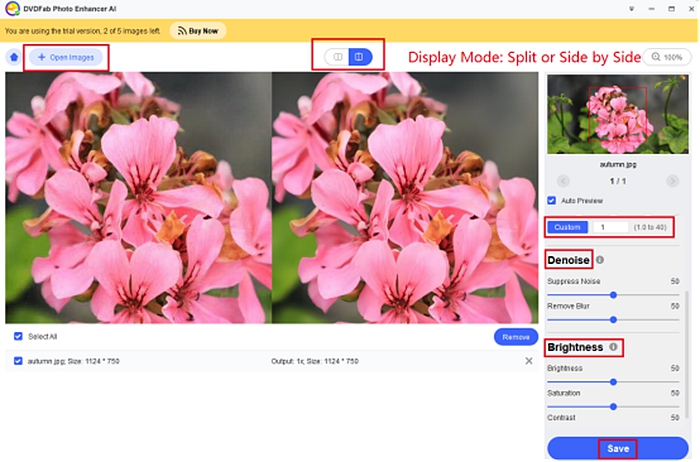 At last, click the button of "Save" in the lower-right corner. Then you will be navigated to select output format (PNG, JPG, JPEG, TIF, TIFFF), enter file name, and set output directory. DVDFab Photo Enhancer AI is the best free image editor. As to the level to scale up images, no other software can defeat it. There is information on some top image upscaler.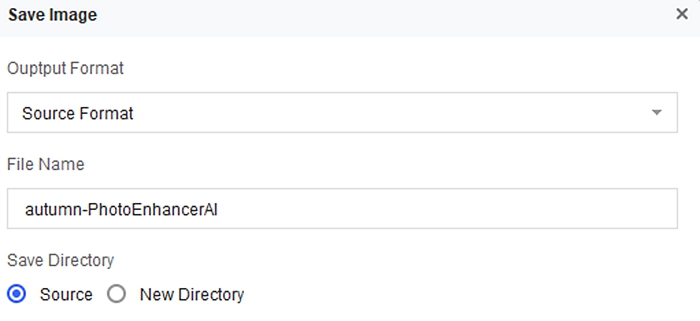 Another kind of free image editor I want to introduce is about how to make a video with photos and music. If you want to add image to video, VideoCruise can do that. Then for this "create image to video" operation, I want to inform you of Toolkit, another free image editor able to edit video, audio, image and subtitles.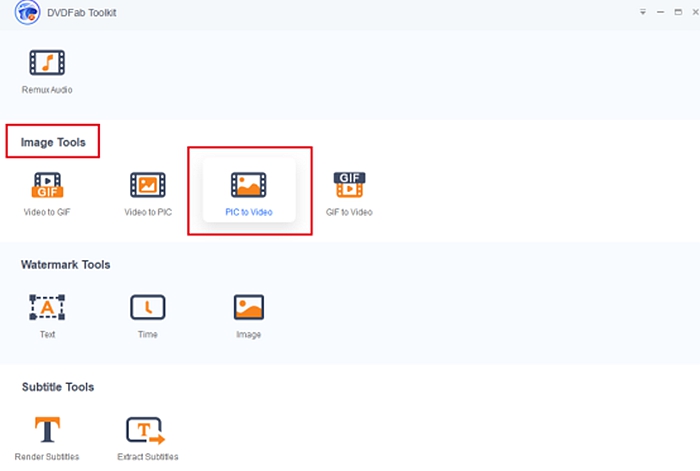 Toolkit
Pros: numerous tools for you to edit your file
Con: Only accessible on Windows
Here is a list about what functions are embedded in each tool of Toolkit, free image editor.
Video Tools: Converter, Trim, Speed Up/Down, Mirror/Flip, Rotate, Crop, Sharpen/Unsharpen, Deshare (GoPro), De-interlace, Merge, Extract Videos
Audio Tools: Converter, Trim, Volume Adjust, Denoise (GoPro), Normalization, Merge, Extract Audio, Remux Audio
Image Tools: Video to GIF, Video to PIC, PIC to Video, GIF to Video
Watermark Tools: Text, Time, Image
Subtitles: Render Subtitles, Extract Subtitles
How to make a video with pictures with this free image editor:
Click "Image to Video" under "Image Tools"
Add or drag your photos to this free image editor
Set the options like "Title", "Output", "Resolution", "Scaling Options", "Delay"
Insert audio to make your video perfect
Set the output destination using the option below
Click the button of "Start"
Then this free image editor will work fast to process your file. One thing you there is no need to worry about is your files will not be given any tag even in a free trial of this image editing software. So use it to make a video out of photos and images free and fast.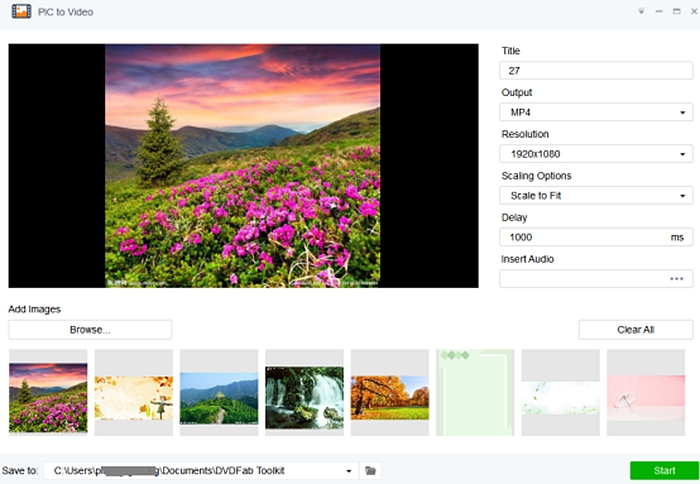 Here are the four kinds of free image editors I want to talk about. Each of them have its strength in image editing. For example, VideoCruise is competent to read video, audio and images of considerable formats and edit them free and fast. Befunky is a good text image editor, allowing you to share edited images to multiple platforms. DVDFab Photo Enhancer AI is the best free image editor for photo enhancement, able to scale up, denoise and remove motion blur as well as eliminate out-of-focus blur. Toolkit is qualified to make a video out of photos and music. Choose one free image editor based on your need and start to edit image smoothly and fast.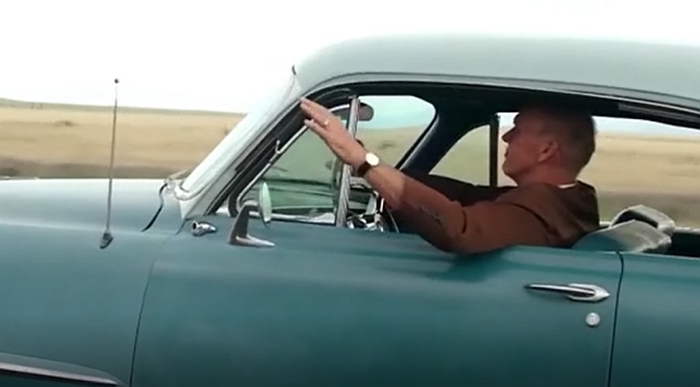 Other Articles You May Like:
Anime Movies Free Watching and Download 2020
Unblur Photos Free and Fast [Remove Blur from Photo]
How Can I Download Songs from WeSing
Increase Video Resolution with Video Quality Enhancer
Denoise [Noise Reduction from Video and Noise Removal in Audio]
The Founder: Download, Play and Convert It for Free
Top Bollywood Movies & Songs Download on PC/Smartphone
HEVC Codec Extension Free Download and HEVC Codec Players Windows/Mac