How to Convert AVI to MP4 Online with Free Tools
Summary: How to convert AVI to MP4 online? Here we have picked up some online AVI to MP4 converters and show you how to use them to do the conversion job.
DVDFab Video Converter
• Convert videos from one format to another like MKV to MP4
• Support video to video and audio conversion
• Enable you play converted files on mobile devices or home theater
• Competent to enhance video quality with Enlarger AI
AVI is the video format used by Microsoft. When you capture video from your camcorder into Windows-based video editing software via Firewire, the video is captured in the AVI format.
AVI promises quality built its main drawback is its large file size.
AVI's popularity fell when newer formats promising higher quality and lower file sizes emerged.
If you have some AVI files you wish to play back or even edit and share, you could do well to convert them to MP4.
MP4 is on the lips of everyone who deal with videos these days. Not surprising because of its impressive quality and smaller file sizes to boot.
Furthermore MP4 is compatible with a wide range of platforms from HDTV to mobile devices.
Chances are if you have an MP4 file, you don't have to worry about playing it back on any modern device or editing it in any latest software program or mobile app.
So, if you want to convert AVI to MP4 online you should train your sights on AVI to MP4 online converters.
With that in mind, let's look at the services that convert AVI to MP4 for free online.
Convert AVI to MP4 online with Media.Io
Media.io is a free online service offering audio and video conversion. It also offers a desktop version of its video converter for Windows. If you've a small AVI file to convert you could choose this MP4 Online video converter.
Under the Formats tab it provides a list of input audio and video formats supported by the service.
This AVI to MP4 converter online supports a host of input formats including AVI.
The first thing you would want to do when you head to the Media,io website is to choose the Video Converter tab.
The next step would be to add your file to this AV! to MP4 converter online.
Choose Convert to MP4 and then hit the Convert button.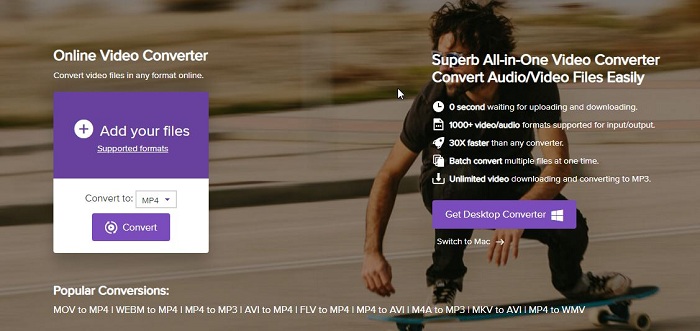 Once the conversion is complete, the file will be automatically downloaded to your computer.
Take note that the file size of each video file you upload shouldn't exceed 100MB.
Also, you're allowed to upload up to two videos only at any one time.
Convert AVI to MP4 Online with Zamzar
Zamzar is a free online service that offers file conversion for documents, image, music, video and eBook. This service has been around for more than a decade.
Zamzar strives to complete all file conversion in less than 10 minutes.
Heading to the website, you're informed that there's a four-step process to convert your video to your desired format. Clear directions are offered to that end.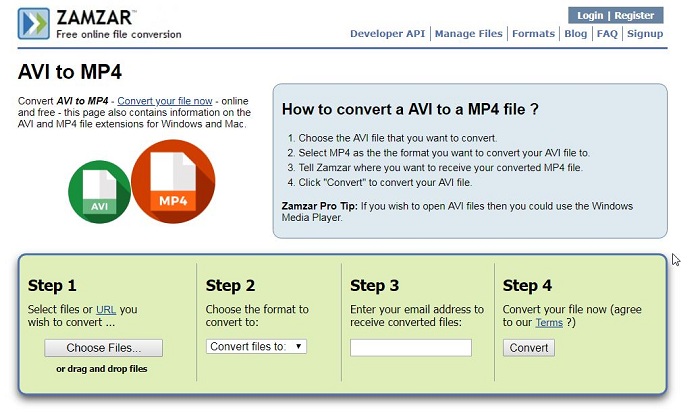 The first step involves uploading your file to Zamzar. Either you enter a video URL or upload a file from your computer.
In either case, your file size shouldn't exceed 50MB.
In Step 2, you choose the file you want to convert to. In this case, it will be MP4.
The next step requires you to provide a valid email address. This is where the link to download your converted file will be sent.
Finally, hit the Convert button and wait for the download link in your email from this AVI to MP4 converter online service.
Now that you've learnt how to convert AVI to MP4 online, let's look at powerful option to perform the same task.
Convert AVI to MP4 with DVDFab Video Converter
You would have noticed services that converting AVI to MP4 for free online come with a limitation as to the small file size handled.
If you're looking towards converting a large AVI file, it pays to choose a stable and powerful video converter which could do the job quickly and error-free.
One such software program is DVDFab Video Converter. It's part of the all-in-one video software suite includes a DVD/Blu-ray copier-cum-ripper, DVD/ Blu-ray disc burner and a host of other useful video tools.
Download and try it for 30 days without any charge and with no obligation to purchase it in future.
DVDFab Video Converter supports the input of most of the mainstream AV formats and converts them to other popular formats error-free, no matter what the file size.You do not need to worry about the quality, because it always outputs video with outstanding quality. It also comes with many advanced tools for you to customize your video in your way.
Here are the steps to convert AVI to MP4 with DVDFab Video Converter.
Launch DVDFab and hit the + button in the middle of the interface. This will allow you to input your AVI file. You may also click the + Add under the DVDFab logo.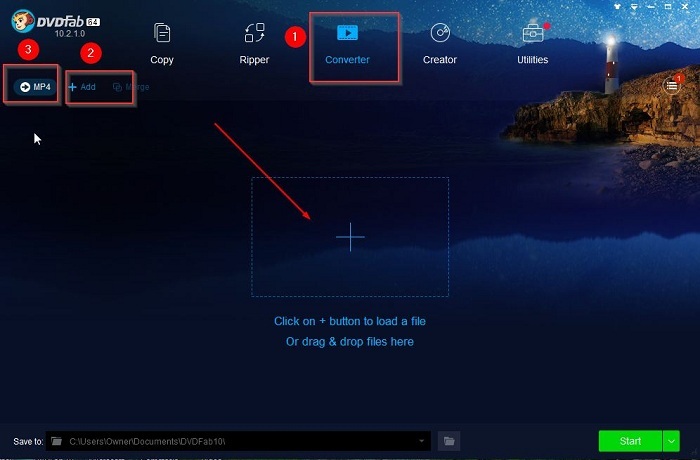 With the AVI file loaded, select your output format by clicking on the arrow button below the DVDFab logo. Select MP4 as your output format.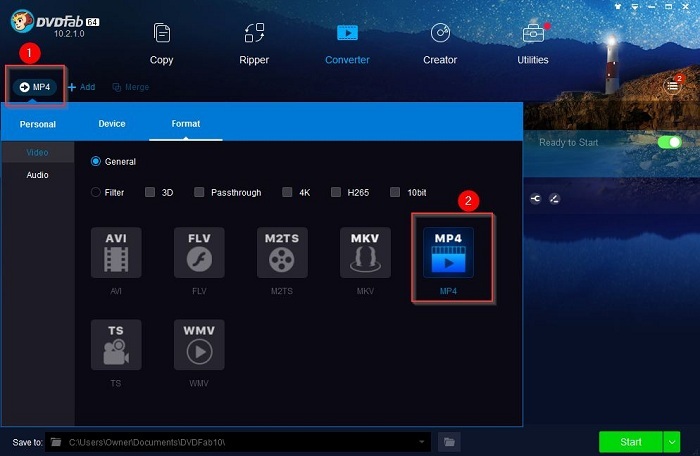 Preview your input video by clicking on the Play button.
Further customization of your output MP4 file is possible with Advance Settings next to the play button.
If you wish to perform minor edits to your clips before conversion, click the video editor icon.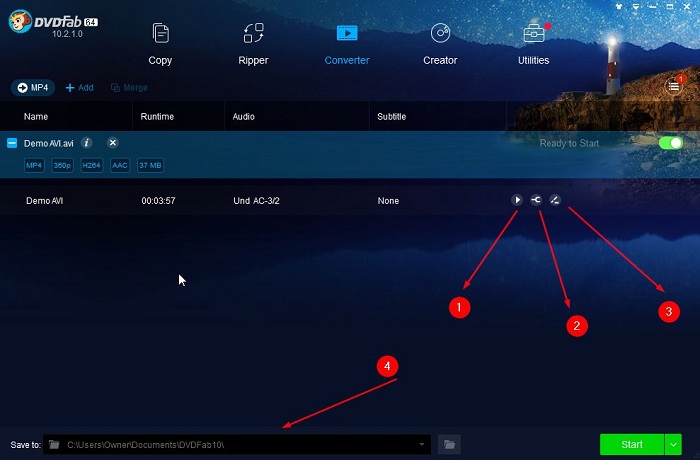 Next, you may want to select a preferred output folder by changing the location at the bottom of the interface.
Finally, click on the green Start button and wait for conversion to be completed.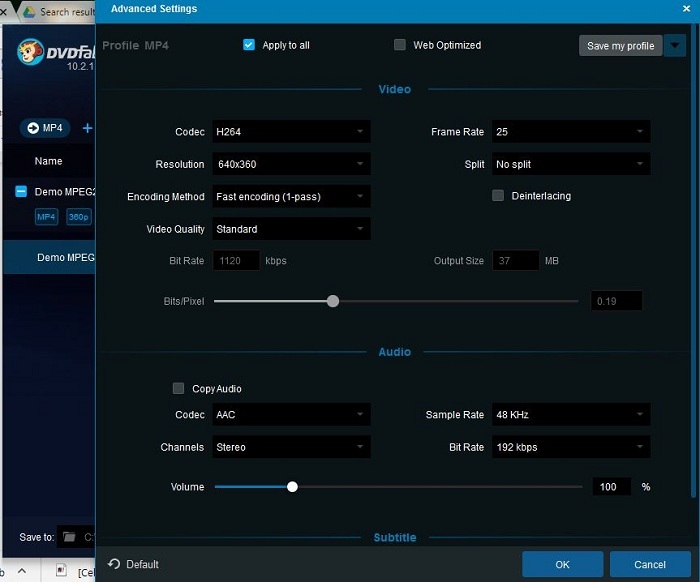 After locating your converted file in the output folder, you may want to play it back with your favorite media player to ensure the conversion process went smoothly.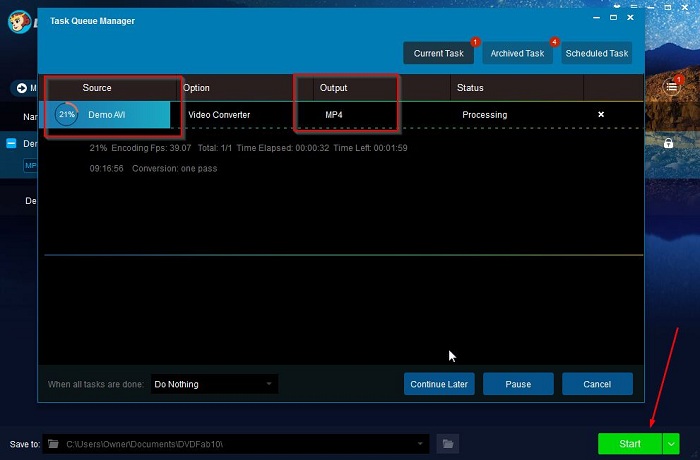 Now it's your turn to convert AVI to MP4. Do it by downloading and installing DVDFab Video Converter for free today.