Methods to Convert Videos to MP3
Summary: If you convert your favorite videos to MP3 you can listen to them on your MP3 players anytime and anywhere. Here we will teach you how to convert videos to MP3 files using a variety of different methods.
DVDFab Video Converter
• Convert videos from one format to another like MKV to MP4
• Support video to video and audio conversion
• Enable you play converted files on mobile devices or home theater
• Competent to enhance video quality with Enlarger AI
Video-to-video conversion is a pretty straightforward process that can be achieved by a wide variety of tools, both free and premium. But is it also possible to convert video to MP3 just as easily? The short answer is yes. Video-to-audio conversion is similar to video-to-video conversion only in this case you get rid of the video part and just keep the audio tracks. With that in mind, today we're going to teach you how to convert videos to MP3 files using a variety of different methods. Some of these methods are better than others at this type of conversion but ultimately it will be up to you to decide which of the methods works best for you.
Part 1: How to Convert Videos to MP3 with the Best Video to MP3 Converter
The best tool to convert video to MP3 is undoubtedly DVDFab Video Converter. The tool specializes in conversion between many different formats and offers many great tools that can help you edit and customize files to your liking. Although the tool was designed primarily with video-to-video conversion in mind, DVDFab Video Converter can just as easily turn YouTube videos into MP3 files. Of course, you can convert any type of video but it works especially well with YouTube thanks to another DVDFab tool known simply as YouTube Video Downloader.
When combined, YouTube Downloader and Video Converter allow you to download virtually any video you can think of and then convert it to MP3 for easy listening. You probably already know how to use the YouTube Downloader so for now, let's take a look at how to convert a video to MP3 using DVDFab Video Converter.
1. Open DVDFab 11 and go to the Converter module in the top menu to get started. Add any type of video file you want (whether it's from YouTube or not) by using the aptly named "Add" buttons or by dragging and dropping the file into the center area.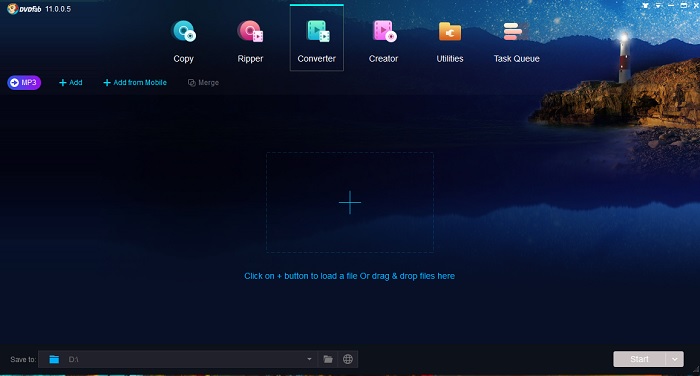 2. You now have two options to consider, both of which involve accessing the Profile Switcher in the upper left corner. Firstly, you can leave the video as is or choose a different video profile and use the trimming tool found under the Video Edit menu to trim the video. This is very useful when you want to extract specific audio (like a song) from a longer video. Alternatively, if you're looking to convert the video to MP3 without making any other changes, go to the Profile Switcher, click the Audio category and pick the MP3 option. Keep in mind that if you converted to a different video format earlier you'll need to come back and convert that video to MP3 now.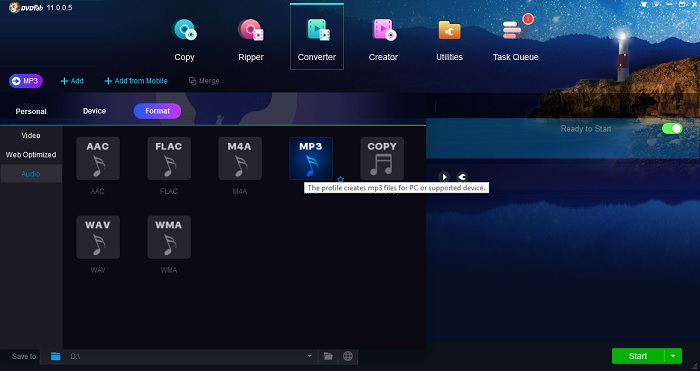 3. Before you turn the video into MP3, click the Advanced Settings button to make changes to the output file if necessary. Here you can change things like volume, sample rate, bit rate, codec, split, and channels. Once you've made the changes, click OK and proceed to the final step.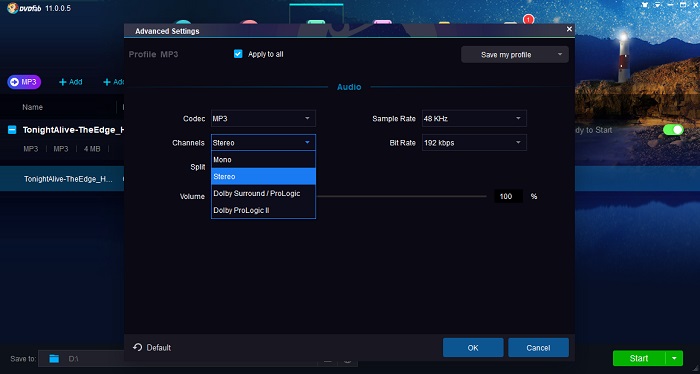 4. Use the bottom menu to choose a suitable location for the file you're about to convert. With that out of the way, all you have to do now is simply click the Start button and wait until the software finishes converting the video to MP3. Needless to say, a short video will take significantly less time to convert than a longer one.
Part 2: How to Convert Videos to MP3 Using VLC Media Player
VLC is one of the most popular multimedia players around and with good reason. The software is free, can support almost any format you throw at it, and offers a few extra features that can often come in handy. One of these features is a tool that lets you convert video to MP3 in a way that's pretty similar to DVDFab Video Converter. The tool offers fewer audio formats to choose from but it does the job pretty well otherwise. Here's how it works: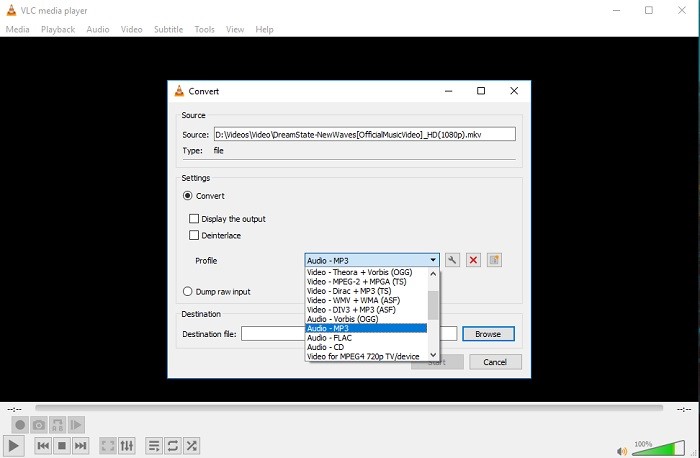 1. Open VLC Media Player and click the Media tab. Here you will find a number of different options but in order to turn video to MP3 we only need the "Convert/Save" option so click on it. Alternatively, you can also use the keyboard shortcut CTRL + R if you're on Windows.
2. Click the "+Add" button and navigate to the video you want to convert to MP3. Click the Tick the "Show more options" box if you want to trim the video or make other changes. Click the "Convert/Save" button to proceed.
3. Open the menu found next to "Profile" and scroll down until you find the "Audio – MP3" option. Click the little icon next to it if you want to make changes to this particular profile or the last icon if you want to create a brand new one.
4. Click "Browse" in order to pick a destination folder and then finally click "Start" to convert the video to MP3.
Part 3: How to Convert Video to MP3 Using Online Tools
Converting video to MP3 is usually better when you use downloadable software, however, it's possible to also convert directly online if you're in a hurry. There are plenty of tools out there that allow this type of conversion and the process usually works the same. This method isn't that great if you have slow internet or if you don't like ads because there are usually plenty of them on these websites. Aside from that, converting video to MP3 online is fairly easy and doesn't have too many other disadvantages. Here's an example of how it works using OnlineVideoConverter.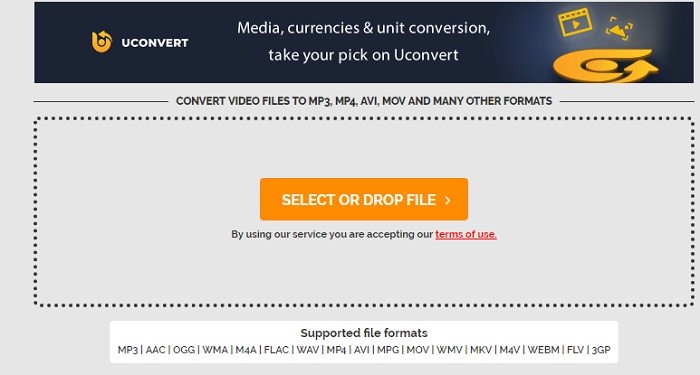 1. Visit the OnlineVideoConverter website and pick the option labeled "Convert A Video File" to get started.
2. On the next page, click the orange button to navigate to the video you want to convert or simply use the drag & drop method to load it up. Uploading the video may take a few seconds or more depending on the file size and your internet connection.
3. The next page only features a menu so click the little arrow and look for the MP3 option under the audio category. If you want to convert the video to MP3 without making any changes click the Start button. If you want to change the audio quality or trim the video a bit click the "More Settings" option found under the aforementioned menu.
4. After the file has been processed, you will be taken to a new page where you can choose to either download the video or go back and use a different conversion option. Simply click the Download button and then go to your Downloads folder (you can't pick the destination) to access the MP3 file.
Conclusion
Converting video to audio is very simple and can be done is a variety of different ways, each of which has its advantages and disadvantages. For example, online tools require good internet while a free tool like VLC only offers a few different audio formats to choose from and not a lot of editing options. DVDFab Video Converter, on the other hand, is a professional tool and thus has more to offer than regular software. Whether you want to convert video to MP3 or video to a different format, DVDFab Video Converter is always the best tool for the job.