Ember Media Manager and Its Alternative
Summary: Ember Media Manager is a Windows-based media manager application that helps you manage your media libraries. Here we will also recommend you an Ember Media Manager alternative, which has more powerful features.
DVDFab Player 6 Free
• Offer two display modes: PC Mode and TV Mode
• Provide menu support for DVD and Blu-ray discs, folders and ISO files
• Play 4K UHD, HEVC videos and 3D media contents with HDR 10 and HD audio output support
Videos are the best entertainment stuff, especially the movies which we can watch on TV, laptop and even on our phone. But, when we watch some movies at home, we always want to get the best image quality, and for that having a media manager is the best choice. In this article, we are going to talk about two good media managers, Ember Media Managerand DVDFab Media Server.
An application that collects and maintains your media and writes metadata and images to the directory where the media is stored is a media manager. The media centre application can access that data to display the assembled information and media for the movie, like its rating, cast, reviews, movie posters, box art, etc.
We usually get media manager hardware or software for our home to enjoy the best picture quality.
What is Ember Media Manager?
Ember Media Manager is a Windows-based media manager application that helps you manage your media libraries. Initially, it was created to use with Kodi. Ember Media Manager movie sets work primarily to export the data and images to a format that can be imported to your media centre application but it can also be used as a standalone movie catalogue. For that, Ember Media Manager stores all the images and data in files with the media files. Then as a final result, the media centre application picks up those files and imports the required information to their internal database and save it for future reference.
Initially, the application will ask you to provide the location of every media type and where you want it to store the media. Then it will go through the library and build up its database with all your content. Now, you can navigate through all the files and if you want to make any changes in the name of the file or other information, you can do that too.
DVDFab Movie Server- A Media Manager to Manage All Your Movies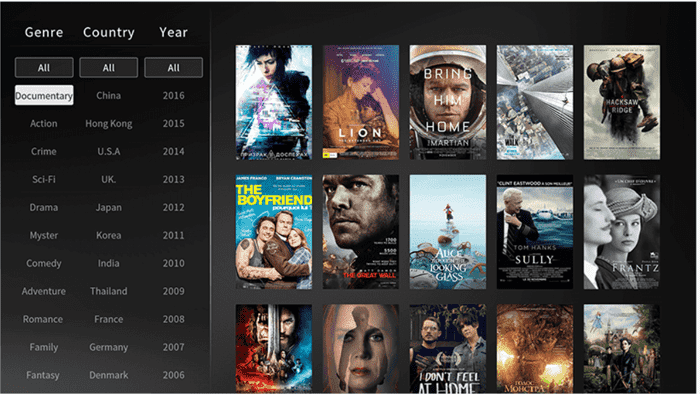 If you find ember media manager not that effective and want an alternative for this then DVDFab Movie Server is the best 4K multimedia ember media manager alternative to manage and playback all your movie files. It offers all format audio support, smart media managing and searching, a full-featured DVD and Blu-ray navigation menu, exclusive poster walls, and much more. Let's have a look:
Automatic Media Manager
This movie server will transform the way you manage your media library. It will sort your media files automatically and put them into the correct category. Not only this, it maintains all the information like the title, plot, reviews, release date, etc. and present it with the movie poster.
Different Format Support
DVDFab Movie Server supports all the video formats, such as 3D, 4K UHD, H.265, etc. to ensure that you get the best quality videos. So, with DVDFab, you can watch your favourite 3D movies right at your home.
Features and Functionalities
· It digitalizes your DVD, Blu-ray, and 4K Ultra HD Blu-ray movies.
· Its navigation menu supports DVDs & Blu-rays & 4K Ultra HD Blu-rays.
· It beautifully manages and organizes your movie library and displays movies with posters having every detail of the movie inside.
· It is compatible with 3D, H.265 and 4K UHD and other videos.
· DVDFab Movie Server cooperates well with DVDFab 10 software. DVDFab 10 allows users to save the files from its Copy and Ripper module to Movie Server directly.
· You can directly access the NAS contents from the DVDFab Movie Server.
· It comes with smart sorting, searching, and filtering feature.
· You also get the advantage of manually correcting the metadata if you find it incorrect or you don't need it there.
· You also get Google Play, Google Search, and YouTube as preinstalled apps.
· You will get all the top-notch components in hardware in the DVDFab Movie Server.
· Besides watching DVDs and Blue-ray, you also get lots of other applications to choose from, like playing video games, online shopping, listening music, online news, and much more with an app for each thing.
· You can use your Smartphone or Tablet to control the playback process on the DVDFab Movie Server. You just have to download the app for this in your device.
Conclusion
Ember Media Manager is good, but DVDFab Movie Serveris an excellent choice for a media server that gives you a lot of options. It playbacks everything from DVDs to 4K Ultra HD Blu-rays. It is unarguably the best replacement for your all-digital multimedia needs.
So, if you really want to improve your movie watching experience at your home, get a media server, possibly get the DVDFab Media Server which is the best in the business.