Top 5 Best FLV to AVI Converters to Convert FLV to AVI Easily
Summary: AVI is one of the most famous formats to keep movies and other videos stored. So it's normal that you may need to convert FLV or other videos to AVI. Here we will list some versatile and easy FLV to AVI converters for you to use.
DVDFab Video Converter
• Convert videos from one format to another like MKV to MP4
• Support video to video and audio conversion
• Enable you play converted files on mobile devices or home theater
• Competent to enhance video quality with Enlarger AI
AVI is the most famous format to keep movies and other videos stored on your PC or Mac. However, online videos are usually only in MP4 or FLV format like on YouTube. If you are downloading any video online then you need to convert it to AVI format and this is where FLV to AVI converters come to use. Let's see the most versatile and easy to use tools that you can use to convert FLV to AVI.
DVDFab Video Converter
To convert FLV to AVI, you can make use of DVDFab Video Converter. A highly mature product with years of market presence, this FLV to AVI converter provides you with all the tools you can want while converting FLV to AVI. It supports batch conversion, comes with video editor, lets you modify video properties and can do media conversions between all major formats currently available.
Step 1. Download and install the FLV to AVI Video Converter.
Step 2. On the home screen, click on the + button to locate the media file(s) or drag and drop the files to the application screen.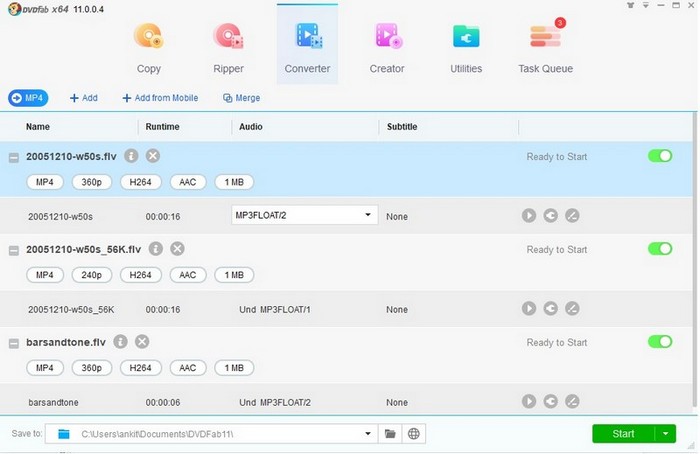 Step 3. After importing all the files, now we have to set the output file format as AVI. To do so, select Converter option from the top section icons. After that click on the Profile Switcher button (left of the +Add button). Click on Video in the left bar and on Format in the top section. This will give you multiple formats out of which one will be AVI. Click on the button and your output format will be selected as AVI. If the FLV file contains multiple audio or subtitle tracks, you can use the the drop-down present in the main screen to choose the right one you want in your output AVI file.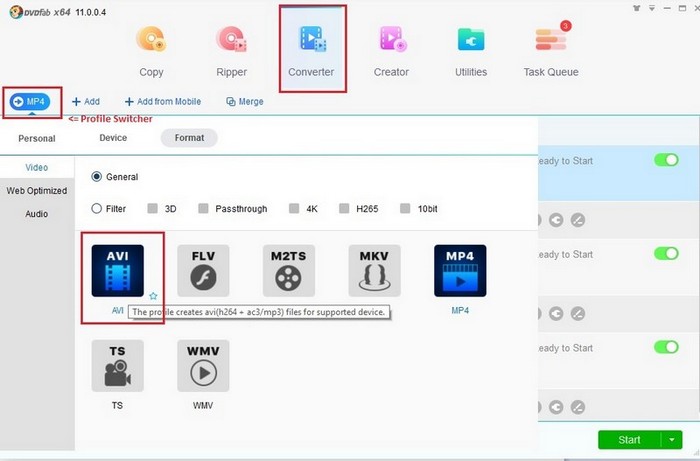 Step 4. This step is to do any advance changes in the output video like changing video resolution, frame rate, bitrate, encoding method or more. To do this, click on the Wrench icon in front of the video name in the main screen. This will open a new window for Advanced Settings where you can enter your settings for output video property.
If you are going to do many different settings you might want to save those settings for future use. To do so just click on the Save my profile button in the Advanced Settings window.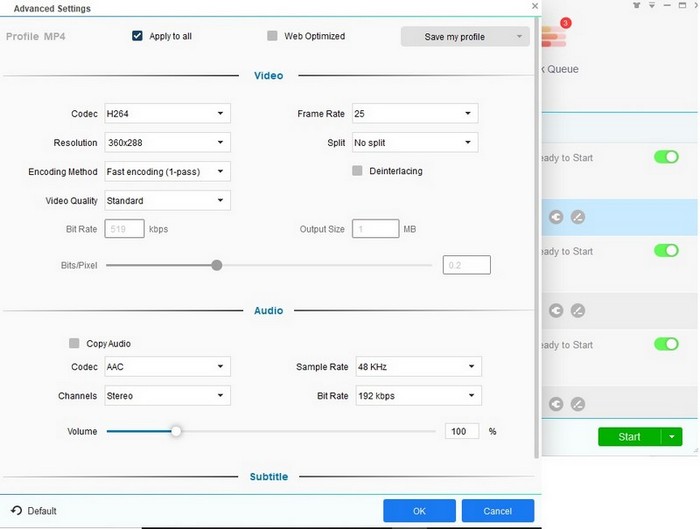 Step 5. DVDFab Video converter has an inbuilt video editor with which you can trim, cut, merge you video or adjust its brightness, contrast or saturation level. To launch it, click on the Pen icon just beside the Advanced Settings icon in front of the video.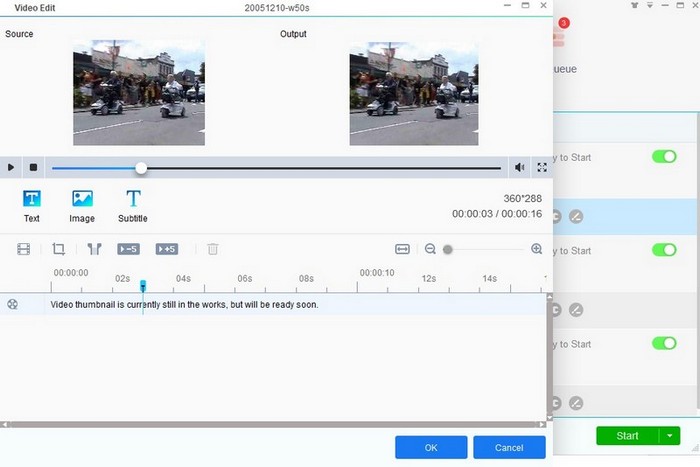 Step 6. Once all the changes are done, click on the Start button to start the conversion. Your FLV to AVI converted file will be saved in the output directory specified in the "Save to" section at the bottom section of the application.
Online-convert.com
This is an online FLV to AVI converter that just needs you to upload your FLV file and you can get your AVI file as download. You can upload your file directly from your computer or you can give the URL of the file it is online or is stored in your Google Drive or Dropbox cloud storage.
You can upload multiple files at once for conversion. What is best about this FLV to AVI converter is that it also offers you a lot of other options to customize your AVI output file. You can choose one of the presets like Nintendo-3DS or Wii or PS3 if you are planning to play the video in either of the players.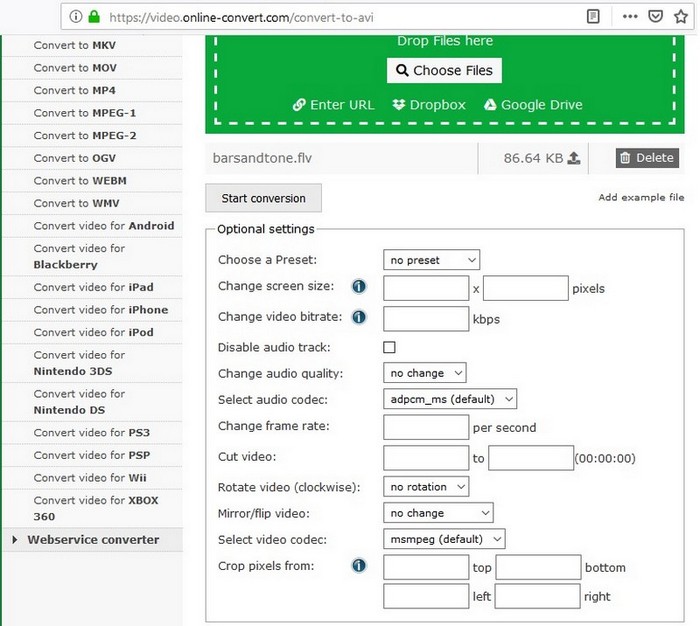 There are many other things too that you can do with the video like change the screen size, bitrate, disable audio track, select a different video/audio codec and much more.
Any Video Converter
This FLV to AVI converter is available both as a free and paid tool. However, for converting FLV to AVI you can easily use the free version without any limitation. You can use it to convert FLV to AVI, edit those video and even burn them to DVD using this converter.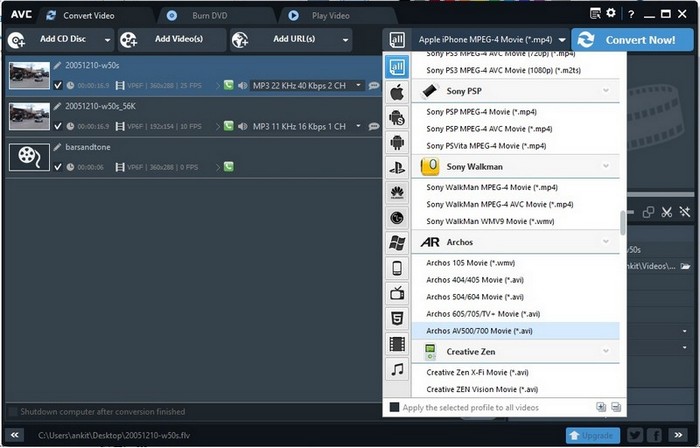 VLC Media Player
For those of you who don't know, yes, the famous and completely free media player - VLC player is also a full fledged FLV to AVI converter which can convert FLV to AVI for free. To do so, in the menu bar click on Media > Convert/Save… or just hit Ctrl+R. Add your files using the Add button and click on the Convert/Save button.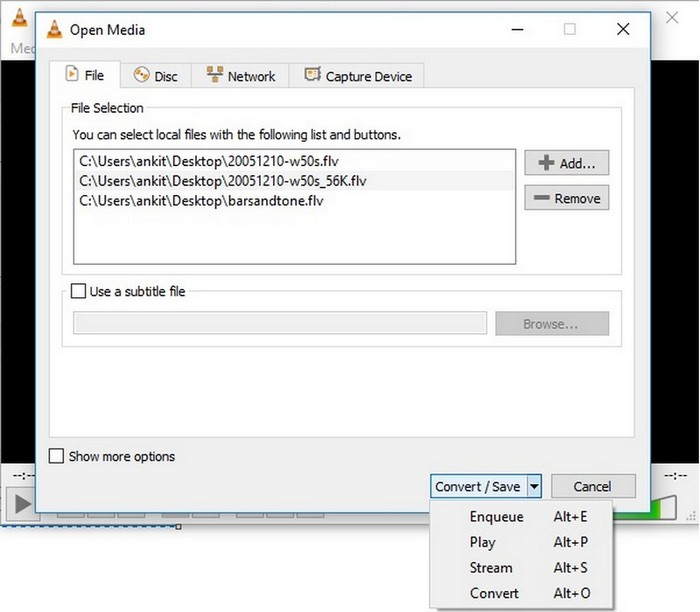 In the next window make sure the Convert radio button is selected. Where "Profile" is written, at the right side click on the Wrench option and a new window will open. Select the AVI radio button, give a profile name and click on Create. Now from the Profile drop-down select the recently created profile and click on Start to begin the conversion.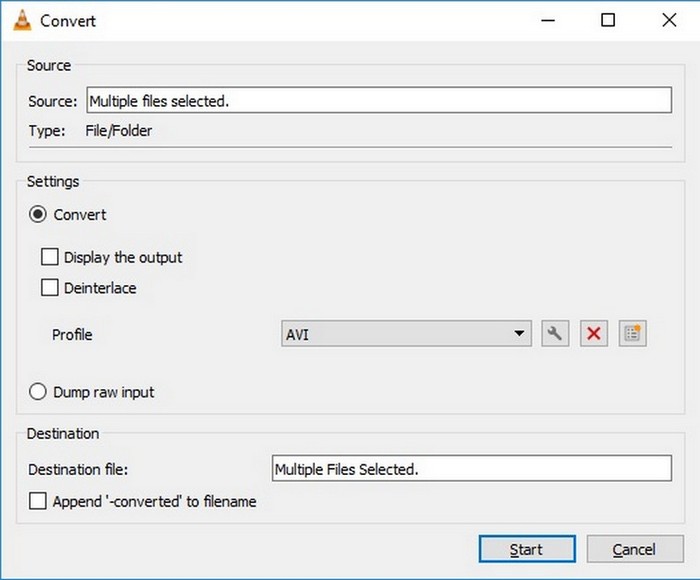 HD Video Converter Factory
HD Video Converter is a free to use tool that can in just 2 steps convert FLV to AVI. Once you have installed the software, just add the files you want to convert to AVI. Select the output format as AVI and click on Run. You can also merge multiple FLV files to a single AVI file in case you are creating a playlist to run.