Free Video Upscaling Software: How Much Do You Know?
Summary: Know any free video upscaling software? How much do you know about 4K video upscaling software? Want to try some best free video upscaling software to enhance your old videos, movies, or TV shows for a better view? Read through this post to get your desired answers.
DVDFab Video Enhancer AI
• Best free AI-based video enhancer software
• Upscale low-res videos to 4K resolution
• Enhance old videos to better quality
• Remove video noise and blur automatically
Have you heard of video upscaling software applied to edit videos or upscale video quality? What kind of free video upscaling software would like to choose when it comes to improving video quality for personal sharing or business marketing? How much do you know about 4K video upscaling software for home theater entertainment? If you are seeking right answers to such questions, it's a matter of a single mouse click.
Table of Contents:
When speaking of video upscaling software, let's figure out what video upscaling is at first.
What is video upscaling? How does it work?
Technically, video upscaling is a process aimed at matching the pixel count of a forthcoming video signal to the displayable pixel count on a TV display or video projector, through an upscaling processor able to analyze the pixel resolution of the source, use interpolation to create additional pixels, or apply machine learning, deep learning, or super-resolution technology to recognize and create extra pixels without losing original image quality based on millions of enhanced trained samples. Now take a quick look at common display resolutions:
1280x720 or 1366x768 (720p, HD)
1920x1080 (1080p, Full HD)
3480x2160 or 4096x2160 (2160p, 4K, UHD)
7680x4320 (4320p, 8K)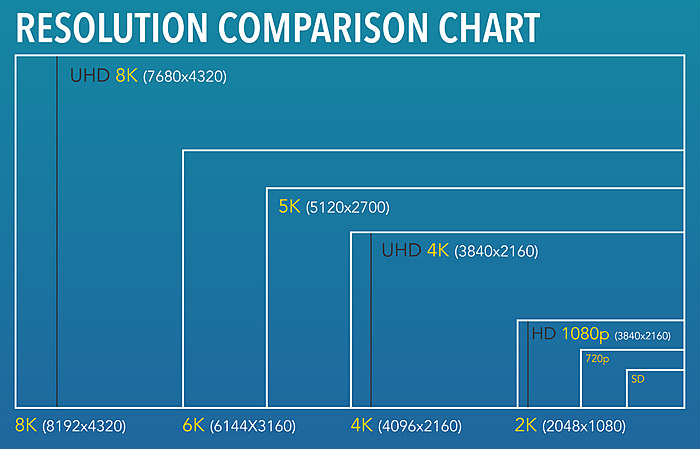 For instance, if a 4K Ultra HD TV receives and displays a 1080p resolution image without any video upscaling process, the image would theoretically fill one-forth of the whole screen. Hence, to achieve a better viewing experience, the TV has to increase the number of pixels. So how does it increase additional pixels? Likewise, if you want to watch 1080p video on a 4K Ultra HDTV, you had better upscale HD video to 4K first for the sake of better viewing experience. How to achieve that? Video upscaling software comes in handy to resolve this problem.
What is video upscaling software?
In a very real sense, video upscaling processor or video upscaling software is designed to upscale video resolution for a better view on high-res display or devices. Actually, there are countless video upscaling software on the market boasting the ability to upscale or enhance video quality as desired. In this sense, you need to tell true from false. Good video upscaling software like Adobe Premiere Pro has been the leading video editing software filled with packed features to improve video quality via basic tools and creative effects, which adopts Interpolation technology that easily causes video noise or blur. How about AI-based video upscaling software? Truth is that AI-based video upscaler software outshines traditional video upscaling software in terms of video resolution upscaling and quality enhancement.
Looking around, easy to-use but professional AI-based video enhancer using AI technology is few and far between. In this part, we will focus on AI-based video upscaling programs designed to upscale and enhance video quality. In terms of comprehensive properties and user experience, here takes DVDFab Video Enhancer AI as an example.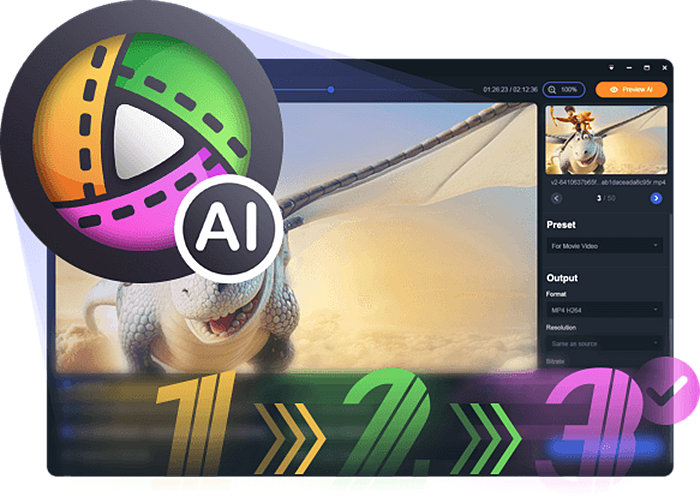 How does Video Enhancer AI work?
Upscale low-res videos to 4K
Powered by Super-resolution technology able to predict and add the missing pixels via neural network, Video Enhance AI can upscale old videos, movies, or TV shows of low resolution up to 4K without losing image quality, thus delivering unbelievable quality output. Meanwhile, video size can be enlarged by 200% without quality loss. Those aspiring to vitalizing old footage and share with families or friends are suggested to give first priority to this video upscaling software. No need to take an arm and a leg to spend dollars purchasing high-res videos. That being said, you can upscale 720p or 1080p video to 2160p for better quality.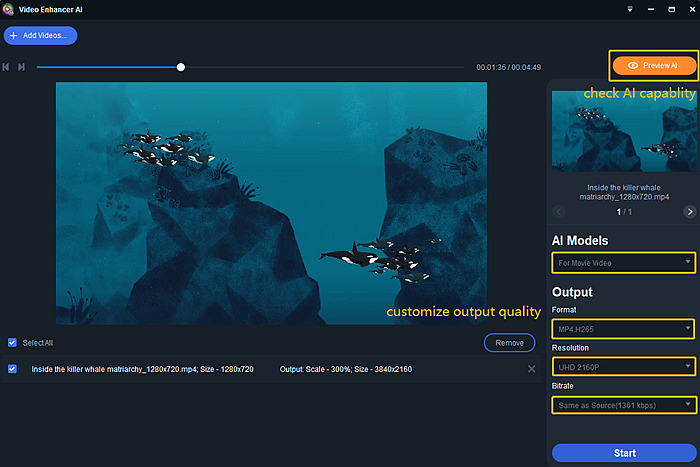 Warm tips: This best free video upscaling software supports 5 videos at most when processing videos, movies or TV shows for better resolution and quality. If you have no intention of further subscription, free version can also meet your needs.
Enhance old videos to better quality
In the process of upscaling videos, Video Enhance AI will simultaneously enhance video quality through reducing video blur, video noise, increasing brightness and saturation so as to display video color in ideal balance.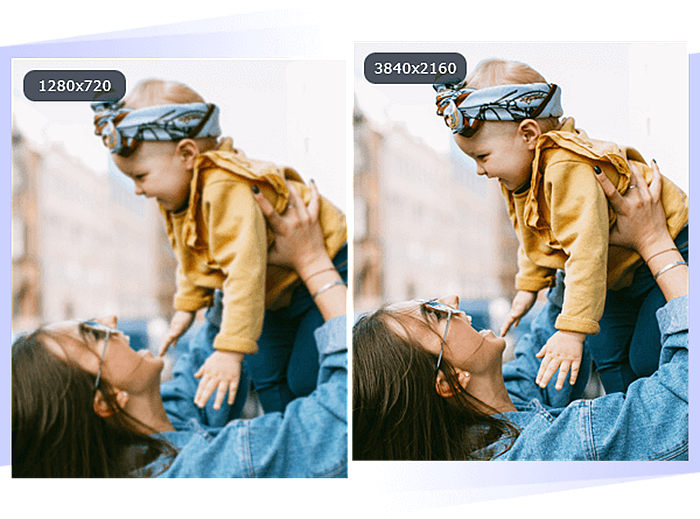 Warm tips: if you wonder how to remove blur from video, do not forget to make the best of this good helper.
Present quality image via powerful GPU support
Supported by advanced GPU based machine learning, deep learning, and computer vision, Video Enhancer AI has complete confidence in creating higher image fidelity and achieving higher work efficiency. In addition, with this AI-driven video upscaling software, the whole video upscaling process is automatic, meaning no need to set dozens of parameters. Just choose output resolution and quality, and wait for the final work.
Note that you are advised to ensure necessary system requirement (GPU and CPU higher preferred) since this video enhancing software is merely available on Windows 10 currently. Besides, the processing time of upscaling and enhancing videos depends on the video size and system configuration. If you are looking for other video enhancing software, move your finger tips at this post.
More tips: Aside from Video Enhancer AI, you can take a look at Topaz Video Enhance AI, available on Win & Mac, usually used for commercial purposes. However, this video upscaling software will come at a price since it is able to upscale video to 8K with the aid of AI technology. One more word, want to try web-based video upscaling software for a change? GDFLab will be a good choice since it requires no installation. What you need to do is upload video source, choose output parameters, click Start button to wait for the final enhanced result.
There might be occasions when you need 4K video upscaling software to upscale video resolution and enhance video quality for diverse uses.
Upscale low-res videos to 4K for home theater system
Suppose you are a 4K video buff and wealthy enough to support home theater system, 4K video upscaling software will be a hot property from your perspective. Just forget your extra budget plan for purchasing piles of the latest 4K movie discs. Instead, you can download your wanted SD or HD videos, movies from streaming service providers such as Amazon Prime and Netflix with less cost and further upscale them to 4K for quality for amazing view with 4K video upscaling software. In this way, you can enjoy 4K-resolution movies on 4K display or 4K media player with families or friends at home instead of squashing in cinemas filled with crowd.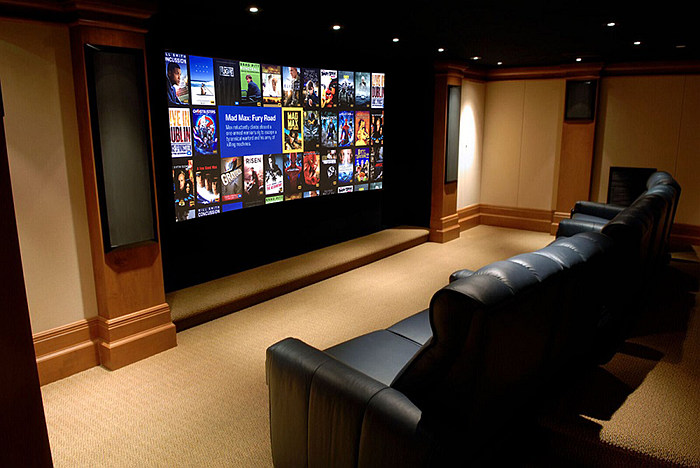 Enhance videos for business marketing to boost conversion
Imagine you are about to attend an international exhibition in hope of promoting your products or services worldwide, a piece of a 4K quality video footage displaying your product superiority or service highlights will be more convincing and compelling. Moreover, you can upload your 4K footage on video sharing platforms to increase viewers and potential buyers.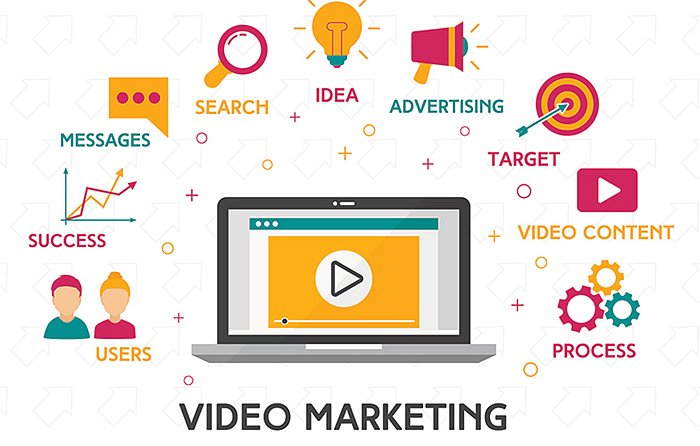 Actually, Video Enhancer AI can be widely used in different situations including teaching, training, film post-production, and movie collection. One more word, if you aim to upscale video from 480p to 1080p, or from 1080p to 4K, Enlarger AI will help you out as well. The only limit of this video upscaling software lies in that it works seamlessly with other modules including DVD Ripper, Blu-ray Ripper, DVD to Blu-ray Converter, and Video Converter.