How to Play MKV Files on Various Devices?
Summary: Do you want to play MKV files on your Windows, Mac, Android, and iOS devices without any hassle? Here we will show you how to play MKV files freely using a few very simple methods.
DVDFab Player 6 Free
• Offer two display modes: PC Mode and TV Mode
• Provide menu support for DVD and Blu-ray discs, folders and ISO files
• Play 4K UHD, HEVC videos and 3D media contents with HDR 10 and HD audio output support
MKV is part of a group of extensions that fall under the Matroska umbrella, which also includes MK3D, MKA, and MKS. You may not be familiar with those three but you definitely know MKV as it is one of the most common extensions you're likely to encounter when playing videos on your computer. Nowadays a lot of multimedia players can handle MKV right off the bat, however, you may still run into situations where you can't run these types of files and you're not sure why. Well, don't worry because today we're going to take a look at how to play MKV files using a few very simple methods that are guaranteed to work.
Part 1: Play MKV files on Windows with DVDFab Player 5
DVDFab Player 5 is a professional multimedia player that supports all the latest formats and can play MKV files on Windows without any issues. The player comes with a clean and intuitive interface, two playback modes for PC and TV, navigation menu support for DVD, Blu-ray, and even 4K UHD Blu-ray discs, and more. In addition, the software also supports HDR10, Hi-Res audio output, and all manner of 3D content you can think of. DVDFab Player 5 is also a great media manager that allows you to create and customize playlists to your liking. With great customization tools and support for all available formats, DVDFab Player 5 is the perfect software to play MKV files on any compatible device.
1. Visit the official DVDFab website and then go to the More section. Click on DVDFab Player 5 and then on the next page pick one of the available versions of the software and download it.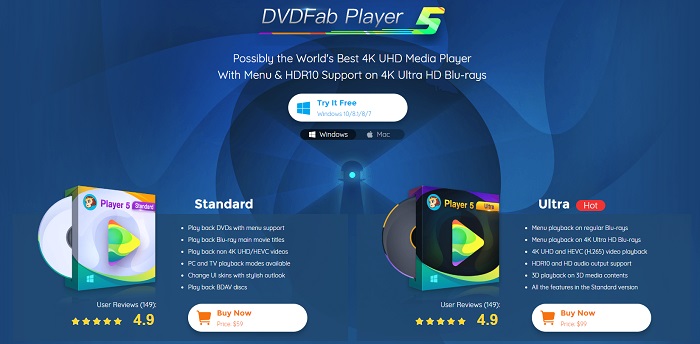 2. Open DVDFab Player 5 and choose the playback mode you want to use. We're picking PC for this example but you can also use TV if it's more suitable to your needs.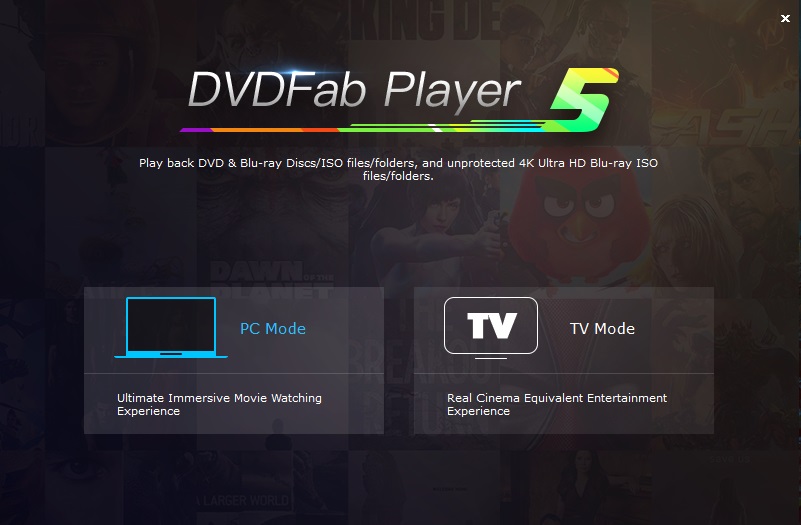 3. To play an MKV file, simply load it into the software by pressing the "+" button and then navigating to its location or use the drag & drop method. If you want to play a video from a disc, simply insert the disc in your optical drive and the software will do the rest. Once DVDFab Player 5 reads the disc you will be able to play directly from the main menu.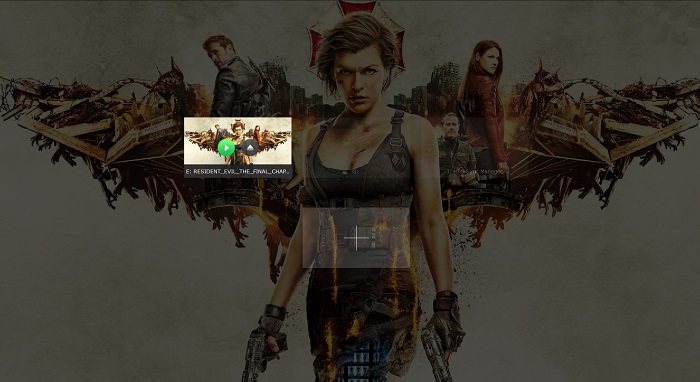 4. With the movie now playing, feel free to use DVDFab Player 5 like you would any other media player and right-click anywhere on the UI to gain access to all the extra options.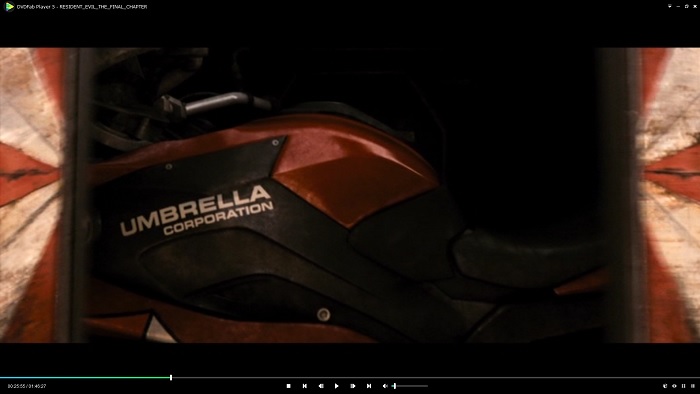 Part 2: Play MKV Files on Various Devices with VLC Media Player
VLC is a popular media player that can handle pretty much any format you throw at it. The software is completely free and available on all platforms, including Windows, Mac and various mobile devices. On desktop, there are a few better options to consider, such as DVDFab Player 5, but on mobile VLC is probably the best tool to play MKV files right now. In addition to great playback support for most formats, VLC is also highly customizable and offers a variety of useful features. This includes a screen capture tool, the ability to convert and edit videos, and even a free streaming service. With VLC you can play MKV files on iPhone, Android and even Linux so try it out if you're looking for a free media player.
Part 3: Convert MKV Files to the Format Supported by Your Current Player
If you really want to play MKV files with your current player on your Windows, Mac or mobile devices but it doesn't work no matter how hard you try, you can always just convert the files you want to watch to a different format that you're certain the player can play. We recommend using DVDFab Video Converter for this job as this is a fast and powerful tool that can handle conversion between all the popular formats. In addition to file conversion, the software also offers some very helpful editing and customization tools that will come in handy when you want to modify videos before converting them. Here's how it works:
1. Open DVDFab 11 and select the Converter module from the top menu to get started. Use the "+Add" button to load the file you want to convert or use the drag & drop method. Alternatively, you can use the "+Add from Mobile" button to load files directly from your mobile device and you can also output videos back to them as MP4 files.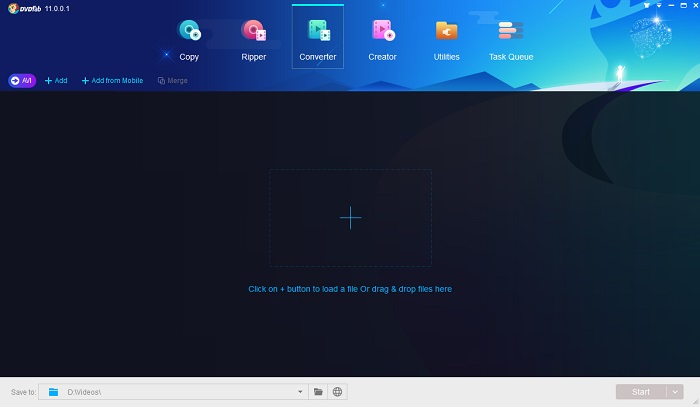 2. Go to the Profile Switcher to select the output format. In this example, we want to convert the MKV file to AVI so we're going to choose the AVI option but a different format might work better in your situation so feel free to use any of the other available options.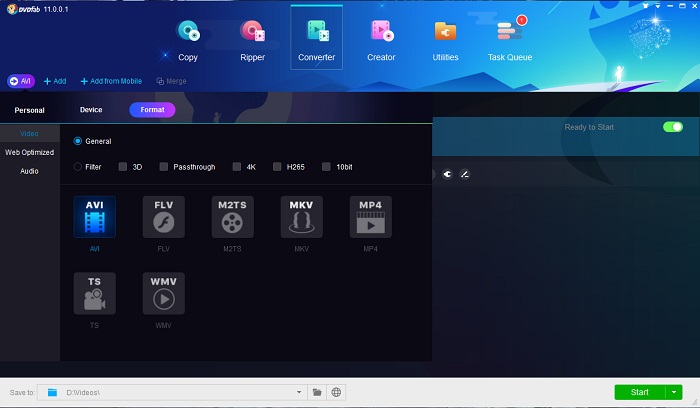 3. Use the Advanced Settings options if you want to change things like resolution, video quality, frame rate, codec, audio volume, and more. Alternatively, if you want to trim or crop the video and add watermarks or subtitles use the Video Edit button.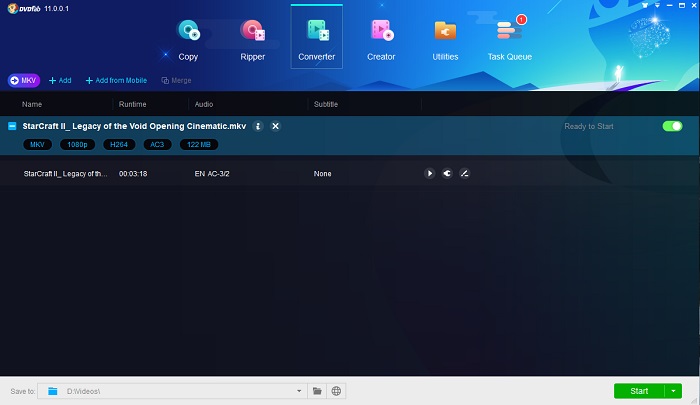 4. Use the menu at the bottom to choose where you want to save the output file and then click the Start button to begin the conversion process.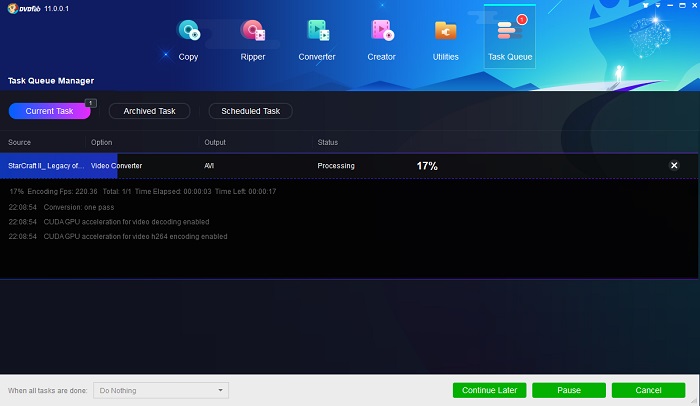 Conclusion
After reading this article we hope you'll never have to wonder how to play MKV files ever again. If you're on Windows, we strongly recommend using DVDFab Player 5 because it can play MKV files without any hassle, as well as any other format you may want to run. Another good option is to simply convert your MKV files to a different format using DVDFab Video Converter and also customize the files in the process. Both of these methods work flawlessly so the choice is up to you.