Top 5 Best Online Screen Recorders
Summary: Online screen recorders allow you to record your screen without installing a recorder software program on your computer. Here is the list of top 5 best online screen recorders for your reference.
DVDFab Video Converter Pro
• Provides more than 20 video and audio editing tools
• Enhanced video editing ability, such as editing filters, transitions, etc
• 3-in-1 video editing tool that offer the most comprehensive solution
If you want to capture videos running on your device you're going to need a good screen recording software. However, before you decide which tool you want to use you have to think about why you need to use a screen recorder in the first place. Do you plan on making YouTube videos or do you just want to capture some quick footage quickly for a one-time project? The purpose of wanting to use a tool like this is important because there are two types of screen recording software.
On one hand, you have regular screen records that you have to download and install just like any other piece of software. On the other hand, there's also online screen recorder software that you don't have to download but is generally more limited in terms of its functionality. However, a tool like this can get the job done a lot of the time and works well in situations when you don't need a lot of extra features.
With that in mind, today we're going to take a look at some of the best online screen recorder software currently available. There are plenty of options to choose from but we believe these 5 tools can get the job done better than their competitors. These are all free online screen recorder tools (with optional premium versions) so you can try them out at any time without having to spend a penny. At the end of the article we're also going to take a look at a premium screen recording tool and talk about some of its advantages over online screen recorder software.
1. Screen Toaster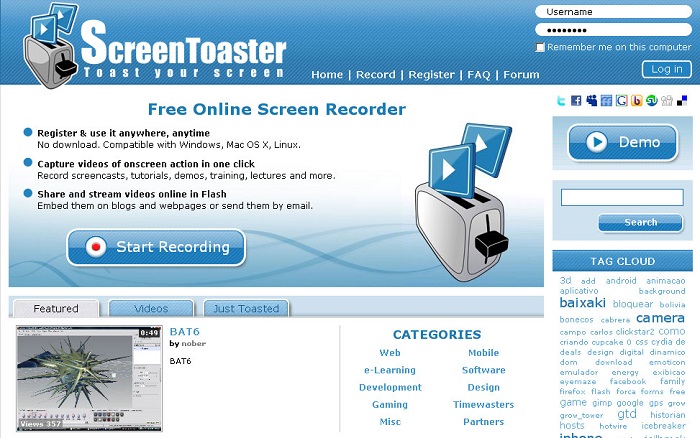 Screen Toaster is a simple to use online screen recorder that lets you capture videos and easily share them online with anyone. A major feature of this tool is that it gives you the option of recording only a section of the screen. This option is very useful for when you want to record a game running in window mode and don't want your whole desktop to appear in the video. The tool doesn't offer editing tools so you'll need to make do without them. That said, the free version of this online screen recorder will definitely get the job done if a basic recording is what you're looking for.
Pros:
Allows you to record the entire screen or just portions of it.
Gives you the option of uploading and sharing your recorded videos.
This online screen recorder is available on all major operating systems.
Cons:
The free online screen recorder can capture video but not audio.
Requires users to sign up to the website before using the software.
Does not come equipped with any editing tools.
2. Screencast-O-Matic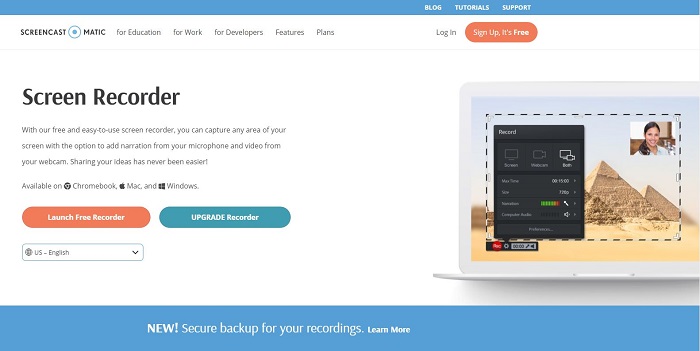 Screencast-O-Matic is a more advanced online screen recorder that offers a lot of nice features with the free version. This tool is great for those looking to upload their recorded videos to YouTube and even offers an overlay feature that's quite similar to that of YouTube. In addition, this online screen recorder also comes with webcam capturing capabilities, which is always a nice feature to have. On the flip side, the free version does have some limitations, such as the fact that it only allows users to capture fairly short videos.
Pros:
Basic editing tools allow users to personalize their captured videos.
Built-in support for uploading on YouTube and other similar platforms.
This online screen recorder also offers webcam capturing capabilities.
Cons:
The free version of the online screen recorder can only capture videos of up to 15 minutes long.
The free version also comes with a watermark that can't be removed.
The tool is able to record audio but only on Windows operating systems.
3. Toolster Video Recorder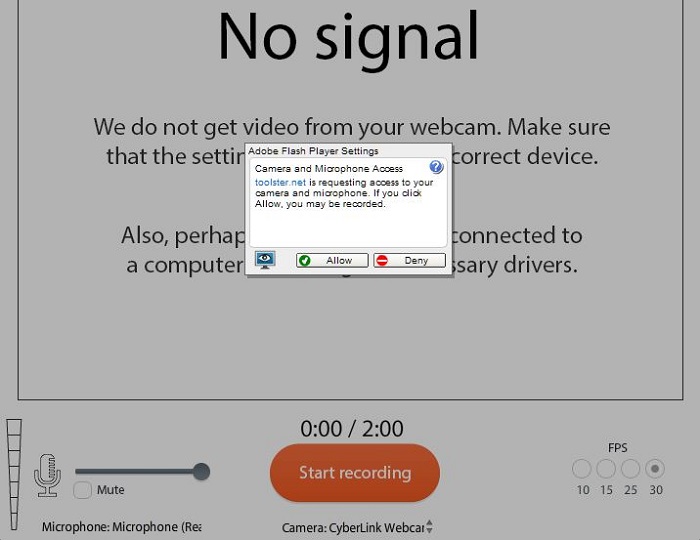 Another online screen recorder that requires no download, Toolster is ideal for capturing short videos fast and easy. The tool is fairly limited in terms of its capabilities but this simplicity can also be seen as an advantage in some situations. Another important thing to note about this online screen recorder is that it's meant to work alongside the user's webcam and cannot record anything without it.
Pros:
Very simple to use tool that records both video and audio.
No limit in terms of how many videos you can record using it.
The tool allows users to download their recorded videos.
Cons:
This online screen recorder only allows you to capture videos of up to 2 minutes long.
Requires the latest version of Adobe Flash Player in order to work.
Only works alongside a webcam.
4. AceThinker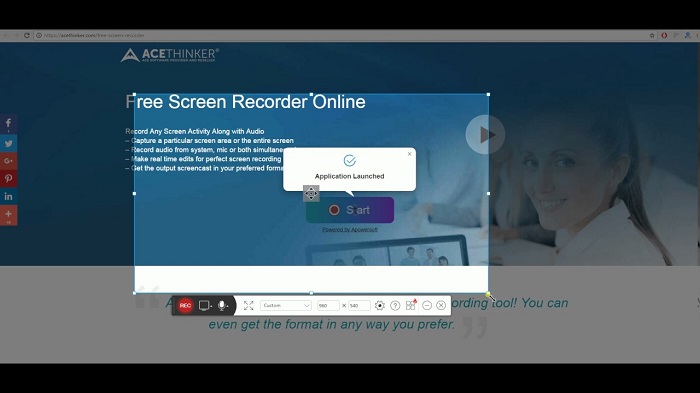 AceThinker is a popular online screen recorder that's available on a variety of platforms, including Windows, Mac, and iOS. The tool is able to record both video and audio as well as convert the output to a variety of different formats. There are also some editing tools to work with, though nothing out of the ordinary. The main drawback of this online screen recorder is that most of its advanced features are only available to premium users.
Pros:
Allows you to capture the whole screen or just portions of it.
Can convert the recordings to many different formats.
Captures both video and audio.
Cons:
Editing options could be better.
Downloading videos requires a separate tool.
The free version of this online screen recorder comes with a lot of limitations.
5. Pixel Prospector Screen Recorder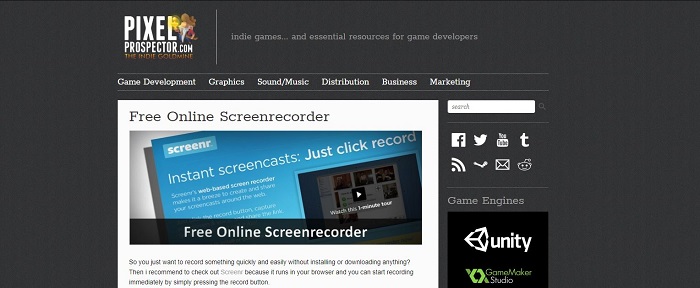 Pixel Prospector is another easy to use online screen recorder that can get the job done in minutes. The software takes pride in its simplicity and doesn't offer a lot of special features. That's much else to say about this one – it's free and lets you capture videos with little hassle.
Pros:
It's fast and very easy to use.
This online screen recorder is available on both Windows and Mac.
Converts videos to MP4 files.
Cons:
Video recording is limited to only 5 minutes.
Requires users to sign in with a Twitter account in order to download their videos.
Record Your iOS Screen on Windows Using a Premium Tool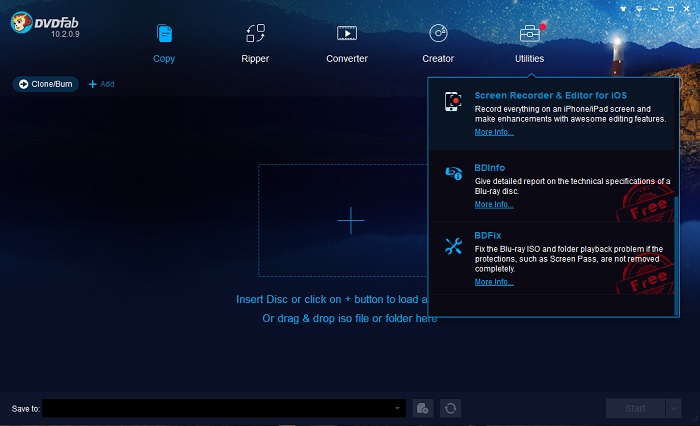 There are plenty of good options to choose from when looking for a free online screen recorder but what about a more reliable and professional option? Well, if that's what you're looking for you'll definitely love DVDFab Screen Recorder and Editor for iOS. This is a premium piece of recorder software available on Windows that lets you capture both video and audio from your iOS device. Unlike the free tools, there are no time restrictions with this software so you can record as much as you want. Moreover, the software also offers a lot of powerful editing tools and other quality features that greatly enhance the user's experience.
Conclusion
Hopefully today you've learned a lot about screen recording and you've probably already decided which online screen recorder you should use from now on. A common theme with these tools is that they are simple to use and offer basic recording functionality but are otherwise fairly limited in terms of how much they allow you to record. It's also clear that the best features are always available only to premium users, which is understandable.
However, if you need a professional tool it's a good idea to go for a traditional piece of software that you can download and install on your computer. This type of software tends to be more stable and you won't have to worry about slow internet speed or server issues when recording your videos. A tool like DVDFab Screen Recorder and Editor for iOS was designed to be as reliable as possible so make sure to give it a try because you get exactly what you pay for.