Top 5 Video Enhancing Software for Different Uses 2021
Summary: Are you looking reliable free video enhancing software to enhance video quality for personal or business purposes? You are on the right page. This post aims to offer top 5 video enhancing tools to meet your needs, be it for desktop, web browser, or mobile devices. Read on for more details.
DVDFab Video Enhancer AI
• Best free AI-based video enhancer software
• Upscale low-res videos to 4K resolution
• Enhance old videos to better quality
• Remove video noise and blur automatically
Have you ever thought of resorting to video enhancing software to enhance video quality for better view? Against the tide of video streaming, people begin to change their ways of entertainment and marketing approaches, and are counting on high-resolution and quality videos for utmost visual feast and better conversion rate. Under the circumstances, all sorts of video enhancing programs are born at the right moment. Thus, videos, especially quality videos are essential to individuals and organizations in the content-driven social media world. Likewise, enhancing video quality with the right tools is particularly important. Read on for more details and take your best pick from the recommended options.
Table of Contents:
Among all potential and existing video enhancment software on the market, AI-based video enhancer has become a hot property for home theatre buffs and video commercial entities. In terms of comprehensive properties and user reviews, there is one AI-driven video enhancing program shall be given top priority. Check here for details.
DVDFab Video Enhancer AI
Compatibility: Windows 10
Specific purposes: personal & commercial
Enhance old videos to better quality
Upscale low-res videos to 4K resolution
Enlarge videos by 200% without quality loss
Simple and intuitive interface, easy-to-use for beginners & professionals
Note that you can enjoy free video enhancing software download to enhance and upscale 5 videos at most to better quality and 4K resolution. If you are on a tight budget and have no intention of long-term subscription, go ahead and make the best of this best free video enhancing software dedicated to enhancing video resolution for a better view.
How to Use This Video Enhancing Software Free
Step 1: Launch Video Enhancer AI and load video source
Free download and install the video enhancing software from DVDFab site. Run the program to add video for latter enhancement.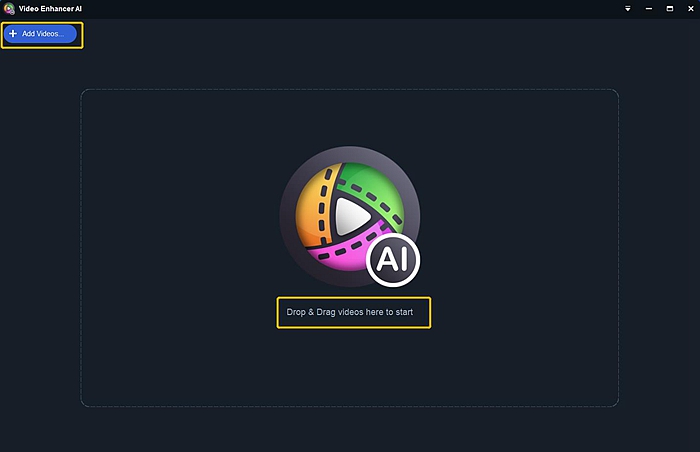 Step 2: Customize output video parameters
Choose your desired AI Models (Movie, Home, or Web video), Output Format (MP4.H264, MP4.265, MKV.264, MKV.265), Resolution (Same as Source, 200%, 480p, 720p, 1080p, 2160p), and Bitrate (Same as Source, Standard Quality, High Quality).
You are recommended to check your PC hardware information by clicking the Preview AI button, pointing out Your CPU or GPU is capable (not capable) of upscaling video with AI. This popup window reminds you to ensure basic system requirements for the sake of desirable video output.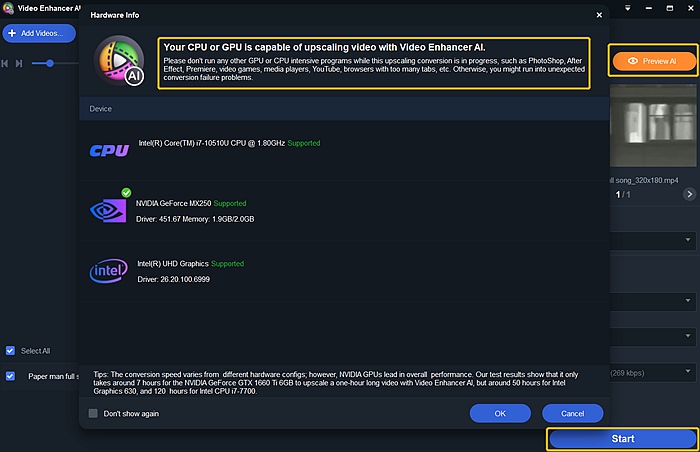 Step 3: Wait for and save the enhanced results
Most users are keen on free video enhancing software. Is there any nice option for enhancing video resolution? Here comes with a 4K-resolution movie trailer maker born to edit and create your own masterpieces.
iMovie
Compatibility: macOS & iOS
Make professional-looking 4K movie trailers from clips, titles, music, filters, and effects
Proceed with simple footage edit via packed tools to make your video personalized and compelling
Share your edited and created footage with others via Messengers, social media sites, upload to YouTube in stunning 4K resolution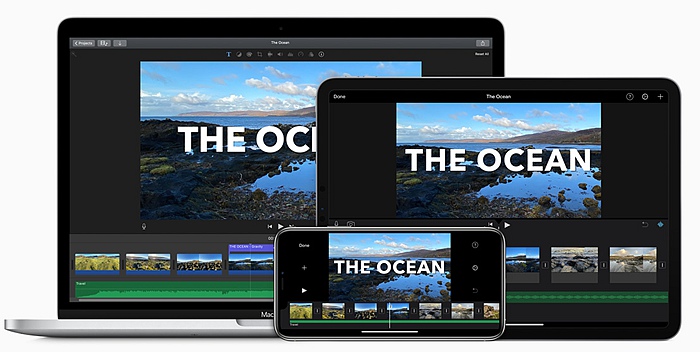 Steps of Enhancing Video Quality with iMovie
Step 1: Create/Open a new project
Step 2: Enhance video via selective tools
Step 3: Save enhanced videos to your device
Strictly speaking, iMovie is a simple-to-use video editor aimed at enhancing video quality via its packed editing features and handy video maker skilled in combining together clips, titles, logos, music, filters, and effects. Anyway, for macOS and iOS users, it is complete free video enhancing software.
If you prefer to full-featured video editing programs adept at enhancing video quality via multiple editing options and creative effects, VideoCruise will be a nice choice.
VideoCruise
Compatibility: Windows
Full-featured editing tools: crop, split, rotate, reverse, speed & volume change, color correction, mosaic, zoom, freeze frame, voiceover, speech & text converter, green-screen effects, PIP, mute
Tons of creative transitions, filters, overlays, effects, elements, texts, music to personalize videos
Export Full HD videos of various formats (MP4, MKV, AVI, WMV, MOV, GIF) and quality audios (MP3, AAC)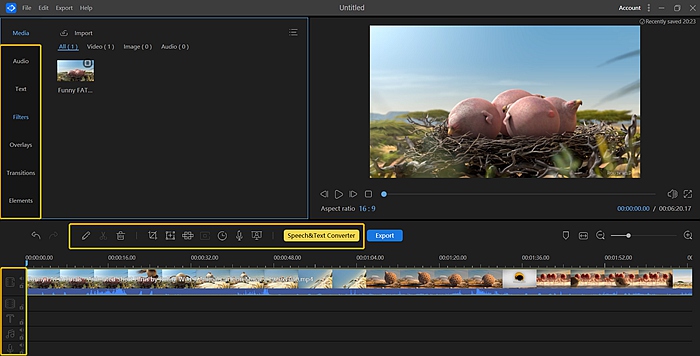 Step 1: Download and launch VideoCruise
Step 2: Import video file to the timeline and start to enhance video
Step 3: Export enhanced video
Note that HD resolution video export is available for paid users.
In a nutshell, VideoCruise can be considered as a video enhancing tool powered by options of editing and effects, but a video converter good at converting between video and audio of quality output.
If you do not intend to pay for a desktop video enhancing program, web-based video enhancing tool will be your alternative. When speaking of enhancing video quality, there do exist excellent video enhancing tools online to make your video better and fascinating.
Clipchamp
Combability: web-based
Clipchamp managed to be a reasonably advanced video editor targeted at personal and professional users who aspire to making pretty creative videos for diverse uses, both personal and business.
Born as a free online video editor, compressor, converter, and webcam recorder to create stunning videos for different purposes
Marvelous video templates, editing features, special effects to make videos lifelike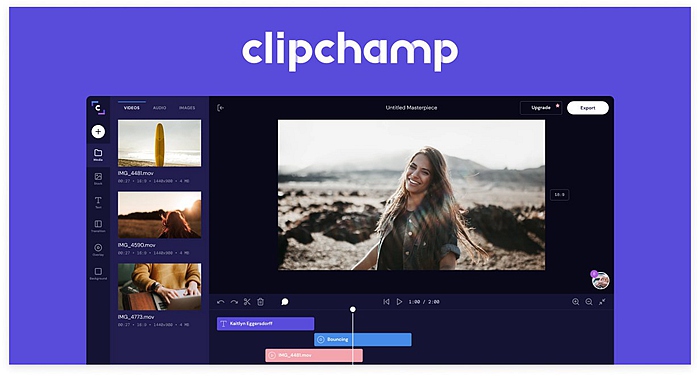 How to Use This Online Free Video Enhancing Tool
Step 1: Open ClipChamp via Google Chrome Extension
Step 2: Import video file and enhance clip
Step 3: Export enhanced video to your device or social platform
Note that you can enjoy the free version of this online video enhancing app or turn to its business plan for HD conversion.
If you are prone to edit and make videos on mobile devices, you are advised to resort to video enhancing apps for enhancing video quality. Here takes Videoshop as an example.
Videoshop
Compatibility: Android (Google Play), iOS (App Store)
Videoshop is a fast and easy-to-use app to personalize videos for better sharing on social platforms for personal or business purposes.
Basic edit tools: trim and merge video clips, change video speed
Add features: filters, transitions, music, titles, sound effects, subtitles
Direct share on Instagram, Facebook, YouTube, Snapchat, email, and more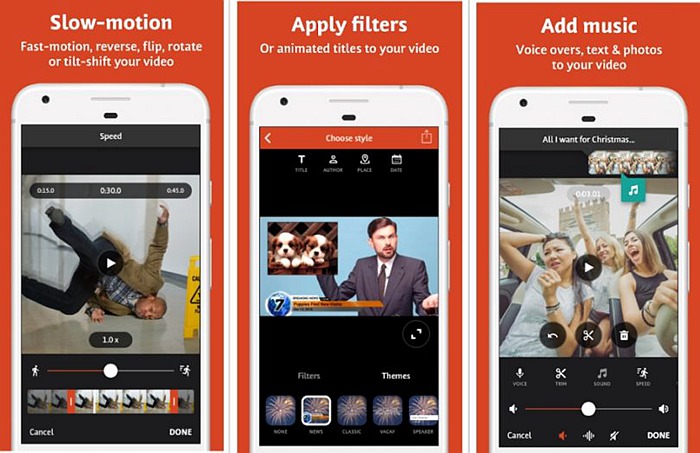 Note that this video enhancer app contains in-app purchases if you pursue quality output.
Now you have gained a better clue to top video enhancing software, or video enhancing app, both online and mobile, which share the common goal of enhancing video quality from multiaspects. Just explore them on your own and take the best pick from the given options.
Alternative Video Enhancing Programs
For Desktop: Enlarger AI (Windows, upscale video from 480p to 1080p, or 1080p to 4k), Topaz Video Enhance AI (Win & Mac, enhance video to 8K for commercial use), Adobe Premiere Pro (Win & Mac, traditional professional video editing and graphic tools)
For Online: WeVideo, Clideo, Adobe Spark, Animoto, Kizoa, Magisto, Kapwing
For Mobile: VivaVideo (Android & iOS), Inshot (Android & iOS), Videoshow (Android & iOS), YouCut (Android & iOS)