How to convert videos to MP3 audios?
Summary: From time to time, people may need to convert a video file to an MP3 audio file for playback on music players such as iPod. There are different ways to do this, and the article below talks about that.
DVDFab Video Converter
• Convert videos from one format to another like MKV to MP4
• Support video to video and audio conversion
• Enable you play converted files on mobile devices or home theater
• Competent to enhance video quality with Enlarger AI
How to convert videos to MP3 audios?
Broadly speaking, converting videos to MP3 is a very vague topic, because the definition of the video is not specified. The video here can be digital videos such as MP4, MKV, MOV, AVI, etc., or DVD videos, Blu-ray videos, even 4K Ultra HD Blu-ray videos. Therefore, depending on what kind of videos are referred to, the tools used to convert that specific kind of videos may vary.
In the following sections, let's talk about the commonly used means for converting all kinds of digital videos to MP3 audios, in great details. As for the DVD videos, Blu-ray videos and 4K Ultra HD Blu-ray videos, we'll discuss each topic separately in other articles.
Converting digital videos to MP3 audios can be very easy. There are many tools capable of doing that. Simply typing the keywords into your search engine, be it Google, Yahoo, or Bing, you will be presented with pages (hundreds) of entries in seconds. Some of them are dedicated MP3 converter software's, others might be media player software's that are able to convert the video being played into MP3 audio file, and still others might be simply online conversion services which allow individual users to upload a video file to convert on site. Moreover, among all those tools and services, some are free, while others might not; some give you premium MP3 files, while others might yield results with less than excellent quality.
DVDFab Video Converter — as the most full-featured and powerful video converter software, it can read almost all the popular video formats from the Internet, digital camcorders, capture cards, etc., and then convert these videos to all the popular video/audio formats. The resulting videos and audios are compliant on diversified multimedia playback devices, including smart phones like iPhones and Android phones, tablet computers like iPads and Android pads, all the Apple iPod series, PDAs, and MP3/MP4 playback devices.
Here below are the detailed steps to convert videos to MP3 audios.
Step 1 — choose the Converter module after DVDFab 10 launches up;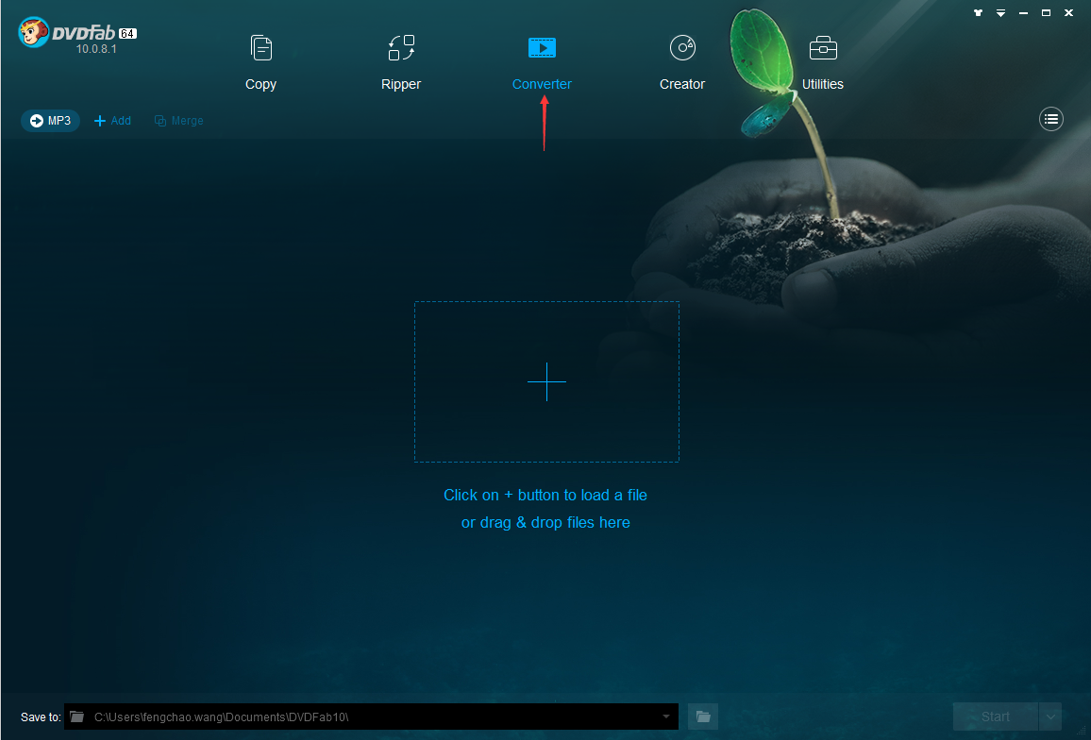 Step 2 — click the Profile Switcher near top left corner to choose the MP3 conversion profile from the Audio section and Format column of the built-in Profile Library;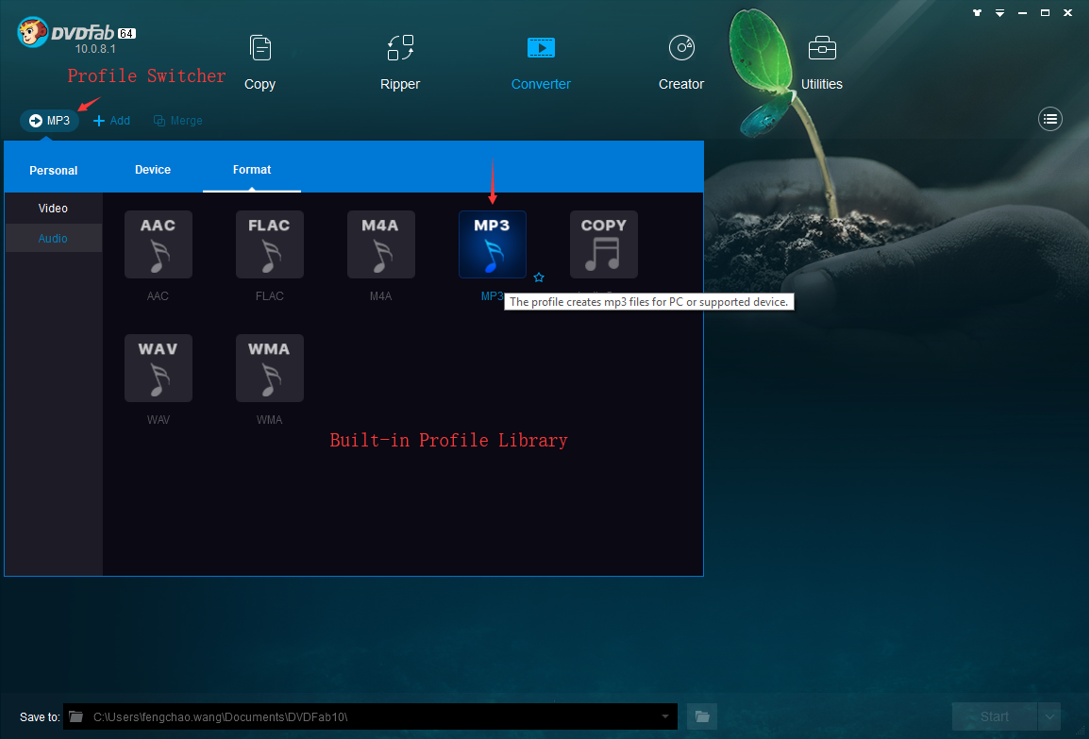 As a sidenote: aside from the MP3 preset, there are also other presets including AAC, WAV, WMA, M4A, FLAC and AudioCopy.
Step 3 — click the small plus icon right next to the Profile Switcher or the giant plus icon centered at the main interface to load the video file from which the audio is to be extracted.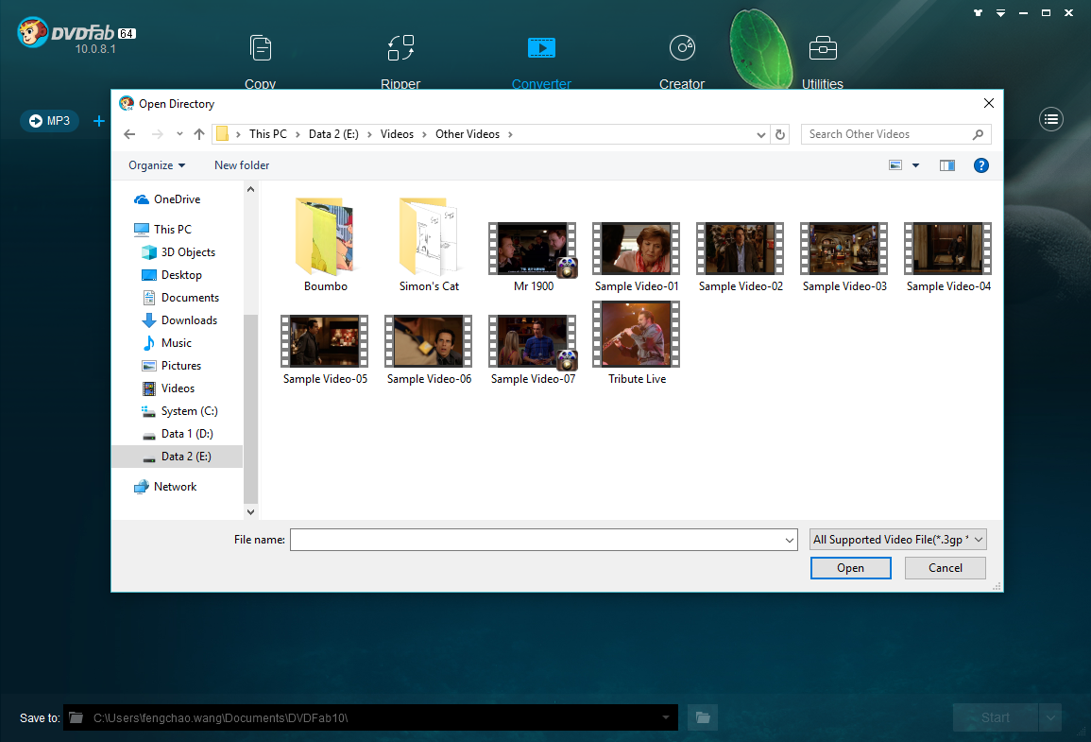 Step 4 — click the small reverse triangle icon at the audio selection box to choose the preferred audio track you want to keep. Be noted only one track can be selected even if there are multiple soundtracks inside the video file;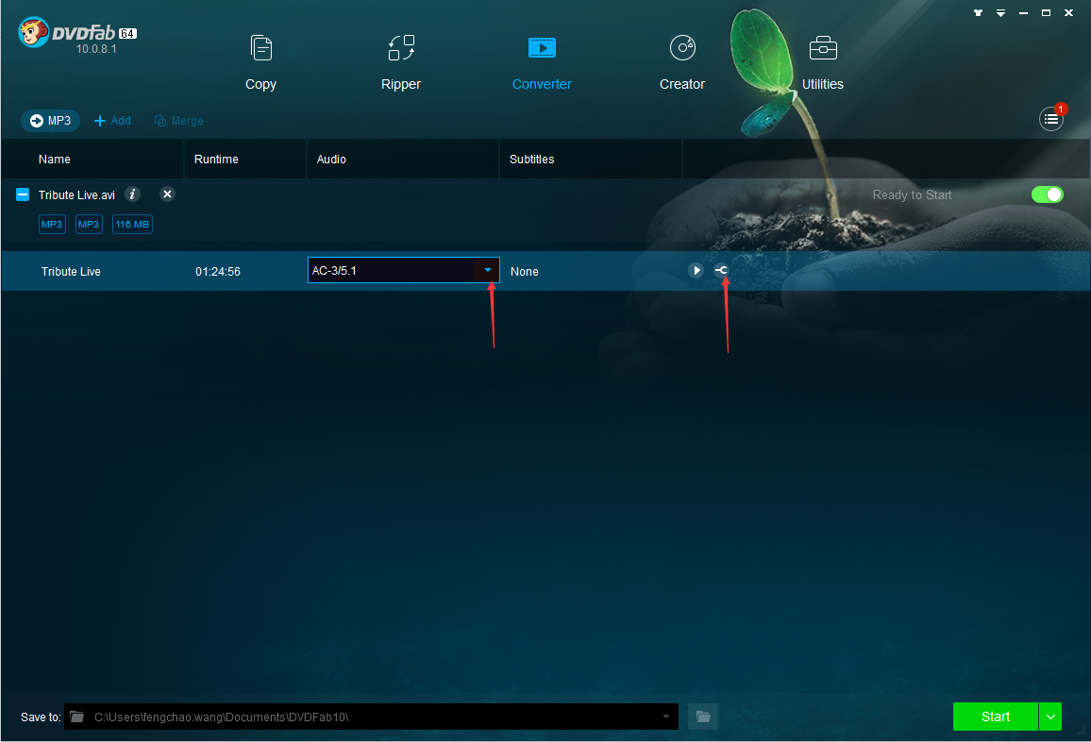 As a sidenote: the small triangle button beside the wrench is actually a playback button which allows users to preview the source video, with the built-in mini video player.
Step 5 — click the small wrench icon to open the Advanced Settings panel where users are allowed to specify the values there per their actual needs, including the sampling rate, audio channel, bitrate and volume. It even allows users to split the output audio file into multiple clips based on the chapter information (if there is any) of the source video;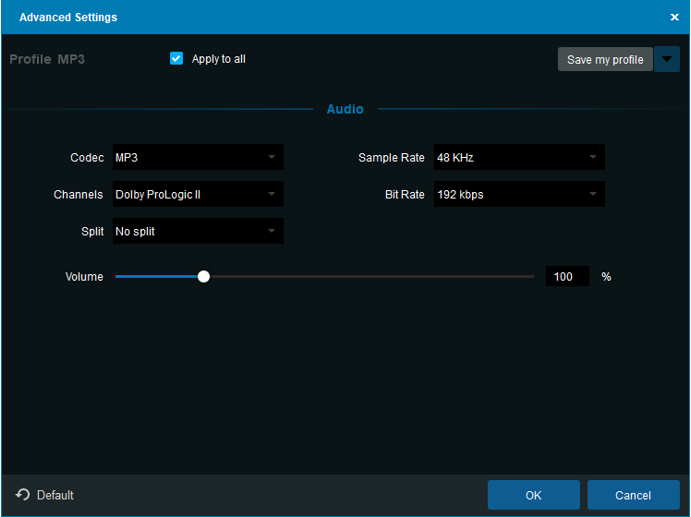 Step 6 — click the folder icon behind the destination selection box to choose a location on the computer hard drive to save the resulting MP3 file;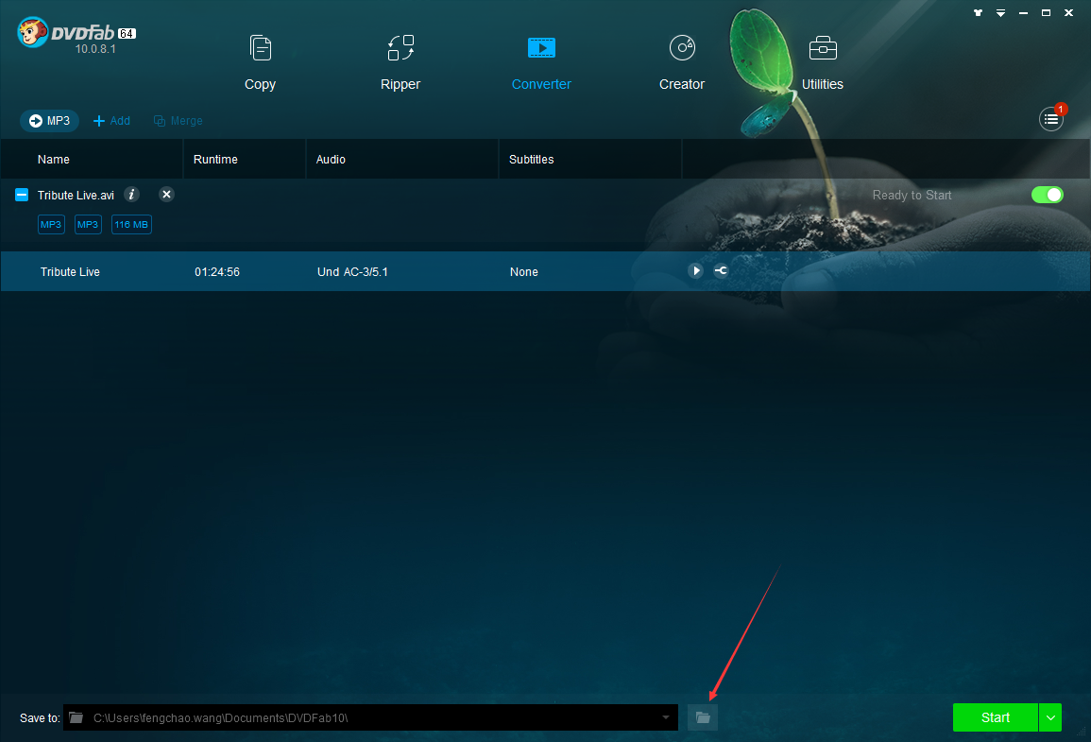 Step 7 — click the Start button at the top right corner to trigger the conversion procedure.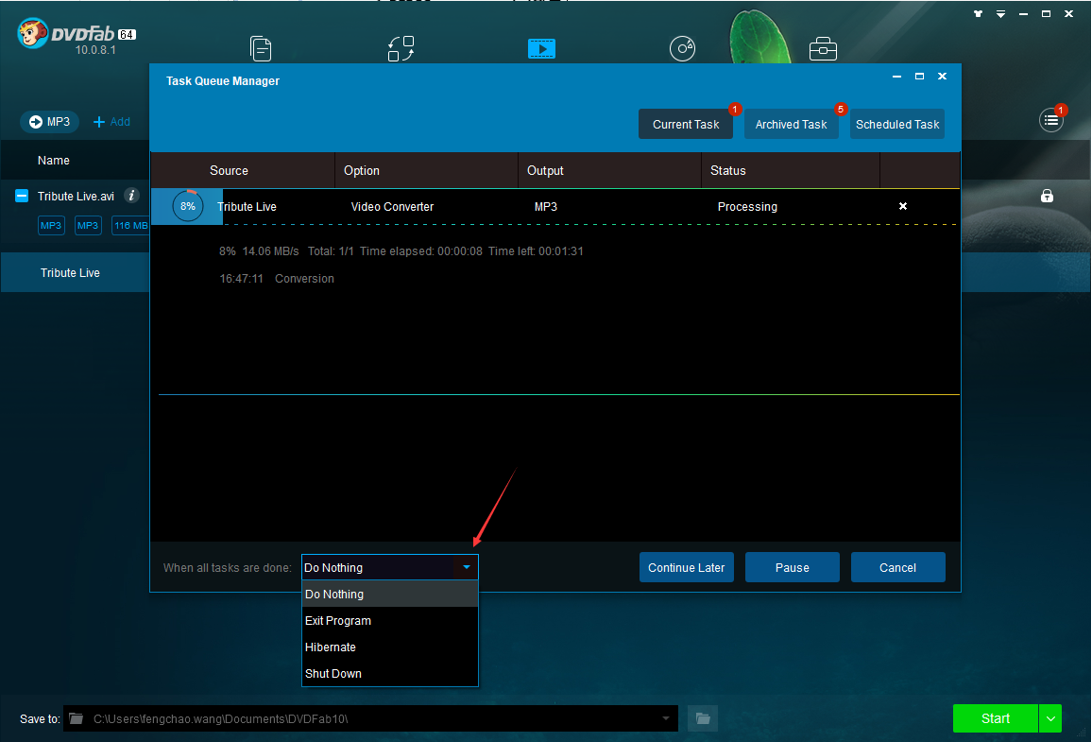 Step 8 — once the conversion procedure is in progress, users can monitor the detailed conversion status at the Task Queue Manager window.
As a sidenote: if necessary, users can configure the computer to exit the software, hibernate or shut down once the conversion process gets finished. This is really a nice feature.
Above, we talked about how DVDFab Video Converter can be used to convert videos to MP3 audios. Next, let's see some other options out there.
Online-Convert — this is a free online conversion service which allows users to convert audio files in other formats to MP3 in high quality with its free MP3 converter engine. It is also capable of extracting the audio track from a video file and then convert the extracted audio to MP3 format. To do that, simply follow the steps below: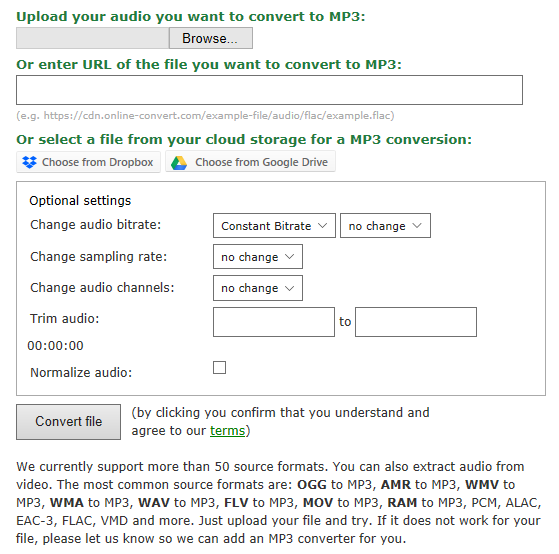 Free Video to MP3 Converter — this video to MP3 converter software is a freeware offered by the software vendor DVDVideoSoft. Its capacity includes converting videos of all formats into music audios in MP3 or WAV format, with three levels of quality, namely the high, standard and economy. Besides, this video to MP3 converter also can automatically fill the title tag and the artwork.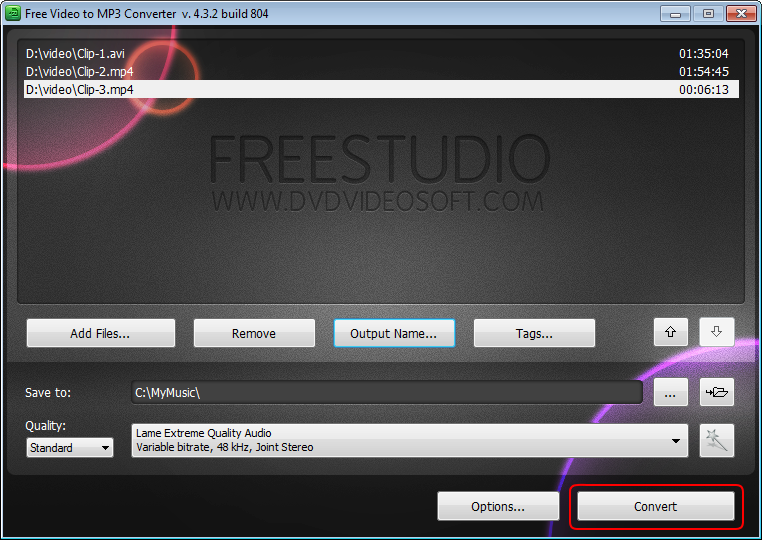 5KPlayer — apparently, 5KPlayer is a media player software, however, it has an additional feature to convert the soundtracks of online videos and movies to MP3 or AAC music file or ring tone. This is to say, if users want to listen to the video materials, they can just use this player as an independent video to MP3 converter software, but due to its nature as an added feature, it does not allow users to customize any relevant settings of the audios.