6 Best WAV Players for Mac
Summary: For a Mac user, you may have many options for listening to music, but how to select the best players to play your WAV files is difficult. Those were the top best WAV players for Mac. Each of these apps and tools come with varied functionalities.
DVDFab Player 6 Free
• Offer two display modes: PC Mode and TV Mode
• Provide menu support for DVD and Blu-ray discs, folders and ISO files
• Play 4K UHD, HEVC videos and 3D media contents with HDR 10 and HD audio output support
If you are on Mac, you would have access to multiple options for listening to your favorite music files. However,choosing the best player that meets your needs can be a tedious task. And then, imagine a situation where you want to access your WAV files. The tasks get even more difficult. That is precisely why we are here to help you out with the best WAV players for Mac.
Top 6 Best WAV Players for Mac
1. DVDFab 5
The DVDFab Player 5 is one of the excellent WAV player for mac. Its reinvented playback engine provides you access a great deal of stability, simplicity, and compatibility at its best. It now offers you a totally different playback options on PC and TV.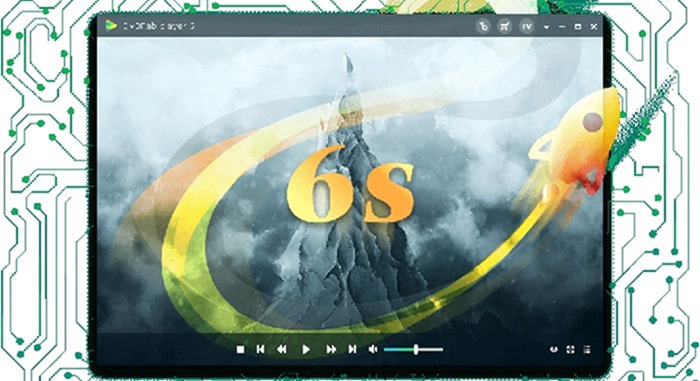 In fact, DVDFab is not just a WAV player but a great multimedia player, which is one of the best for DVDs, Blu-rays, and next-generation 4K Ultra HD Blu-rays. There is an advanced 3D upscaling algorithm for helping you out with the task of watching the 2D content in 3D. You also have access to the fastest preview option with thumbnails. The new playback engine lets you enjoy the overall enhanced performance.
Features of DVDFab Player 5
· It offers TV and PC playback modes with different user interfaces. Playback modes are optimized accordingly to offer optimum experience.
· While you play DVDs, Blu-rays, 4K UHD Blu-rays, it shows navigation menu that allows you to jump to a particular section othe DVD/Blu-rays.
· It opens 4k UHD Blu-ray disc 5x faster than its competitors.
· It offers HDR10 playback mode that offers high quality video viewing experience.
· It offers hi-resolution audio output. That means when you play MP3 or any other media filesit offers high quality audio output as it comes with the ability to output lossless high-resolution audios, such as Dolby Atmos, DTS-HD Master, Dolby TrueHD, and DTS:X, etc., with up to 7.1 channel output support.
· It supports 4K UHD, HEVC, and many other media file formats.
· Customize of the playlist can be done to sort the media files to organize them better.
2. Elmedia Music Player
A media player specifically designed for the Mac OS, the Elmedia Player is a good WAV playerto play your audio files with an enhanced ease. In fact, it can even work seamlessly with iTunes. Of course, you won't be able to play the DRM protected content.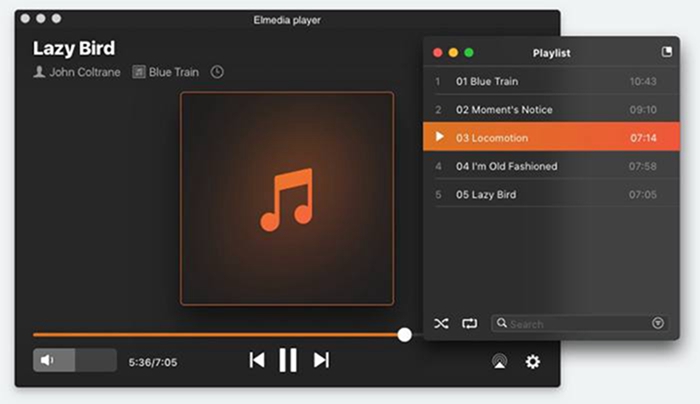 In addition to playing your favorite music files, you can even use it for streaming your content. What's more, it can also act as an audio receiver onto your Mac. The compatibility with AirPlay, Chromecast, and DLNA-enabled devices makes it work without the need for any codecs. It can play virtually any media player – whether video or audio. Hardware accelerated decoding is what would help you focus on an HD experience par excellence. This is another good WAV player for Mac.
3. VLC Media Player
If you are media gourmet, you would have definitely heard of VLC. In fact, for most of the Windows users, VLC is synonymous with media. VLC Media Player supports almost all audio and video files, and that includes a WAV file format as well.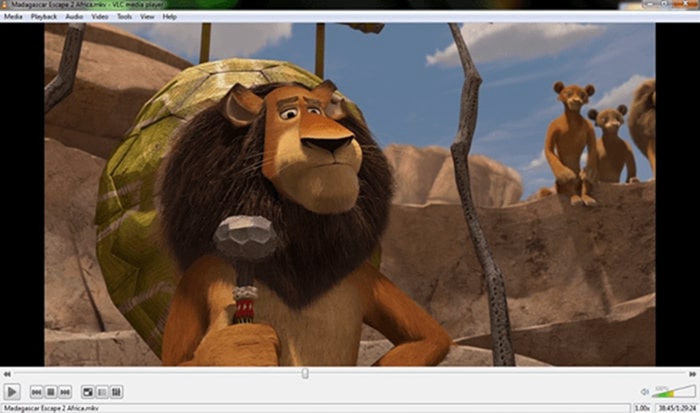 The software activates the hardware recording by default and thus lets you get 4K and 8K compatibility. VLC Media Player also supports 360 Video and 3D audio options. In fact, you can even use VLC Media Player for browsing the local network drives and NAS drives. The compatibility to play Blu-ray discs is what makes it a great choice. There are several interactive features like posting to Twitter or pulling movie information and subtitles from the internet. Without any doubt, VLC is one of the best WAV playersfor Mac.
4. Vox Music Player
Vox Music Player is perhaps one of the prominent, yet simple WAV music players for Mac. A cleaner and user-friendly interface should be one of the excellent options you would love with the software. The software works with custom playlists, iTunes library, and online radio.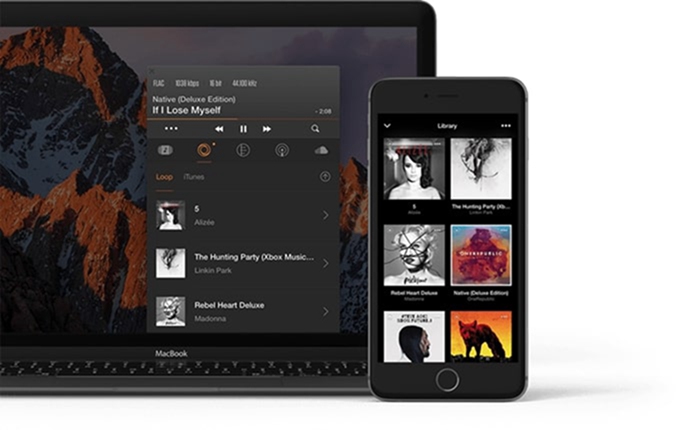 It provides you with multiple options to work with that includes a main window, Dock menu or main menu controls. It can even detect the entire iTunes album automatically. One of the best WAV players for Mac, Vox also provides you access to audio effects like reverb, echo, and distortion. The minimalistic design is one of the best features that you would love with the software. You also have access to a cloud music storage service called Loop.
5. WinAmp
WinAmp is perhaps one of the oldest music players and supports almost all music formats you can ever think of. It also supports CD Playback and importing as well. It can scan your computer and find the audio files automatically. It can even sort the audio and video files automatically. This is without any confusion, one of the best WAV players for Mac.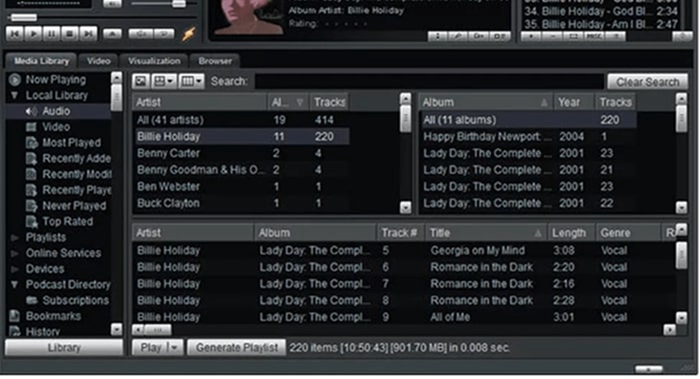 If you do not like the skin of your application, you can give a thought to download the endless number of skins from the available library. Owned by AOL, the media player is making a comeback, and perhaps we will be able to revisit the glory once again. It will be having a completely new listening experience. The service will have an added support for cloud, to podcasts, to streaming radio stations. Though the player is not as popular as it once had been, it still enjoys the love of over 100 million monthly users.
6. Decibel
Decibel is another WAV player for Mac. This is a perfect lookalike for the iTunes, Decibel is indeed one of the best options for the audiophiles with support for a wide range of audio formats. It even provides you with a gapless audio playback if you are looking for one.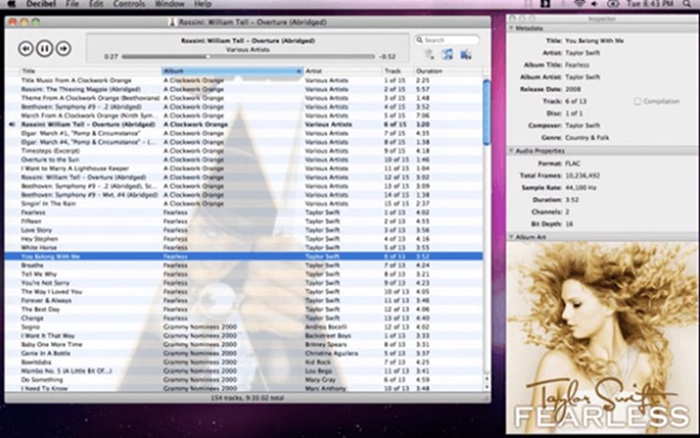 It even provides you access to a few extra features like tweaking the sampling rates of your tracks. This helps you avoid the audio distortion you may face when working with different devices. It comes with an easy to use and understand user interface. In fact, it would definitely appeal to you even when you are not someone who is fond of the tweaks. Decibel provides you access to the highest quality of playback performance, thanks to the 64-bit floating-point precision it offers you.
Conclusion
Those were the top best WAV players for Mac. Of course, each of these apps and tools come with varied functionalities, and thus you can choose the one that best meets your requirements. DVDFab Player5, however, offers you an excellent functionality and packs in multiple features and functionalities that would make it a great choice by any standard. In any case, go through the above list and make the perfect choice depending upon what features and functions you are looking for.
This sheer number of apps that you have at your disposal should in itself should be a huge concern.
There are several players that tend to be the best options for an enhanced experience of enjoying music on your Mac. However, since our focus has been on the WAV file format, here are a few selectedmusic players that can be quite handy enough.
Don't forget sharing your preferences with us, though.
This article introduce 6 best WAV players for Mac to play your WAV files. Then as a WAV lover, do you want to convert MP4 to WAV? Here are great MP4 to WAV converters for your reference.